Order Ceramiales
Family Rhodomelaceae
Chondria capensis (Harvey) Askenasy 1888: 48
Plants dark purplish-green to blackish, up to 30 cm tall, stiff erect axes arising from small stoloniferous base; branches irregular, narrowing at both ends. Terminal branchlets spindle-shaped, often numerous and crowded, bearing apical tufts of trichoblasts, apical cell not sunken. Main axis cylindrical, to 3mm wide, in cross section with distinct central cell and five pericentrals surrounded by a cortex many cells thick; in longitudinal section central and pericentral cells long and cylindrical, cortical cells becoming progressively shorter towards surface of thallus.
Tetrasporangia ovate, ca. 150 x 100 um, immersed in terminal branchlets, developing laterally on radially elongated pericentral cells, usually four per segment. Antheridial stands disc-shaped, developing from first and second laterals of a trichoblast; up to 400 µm in diameter with sterile margin. Cystocarps globose, ca. 1 mm in diameter, clustered at apex of branchlets.
Collections, ecology and regional distribution
Common on the west coast in the sublittoral fringe of exposed localities, but extending to Tsitsikamma (1-32) (see note below).
World distribution: Also recorded from Namibia, Angola, Madagascar and Amsterdam and St Paul Islands (MD Guiry in Guiry & Guiry 2016).)
Type locality: Table Bay, Western Cape (Silva et al 1996).
Note: Some south coast specimens in BOL that are identified as C. capensis are very much smaller than the typical west coast entity in all dimensions, and may be of another species.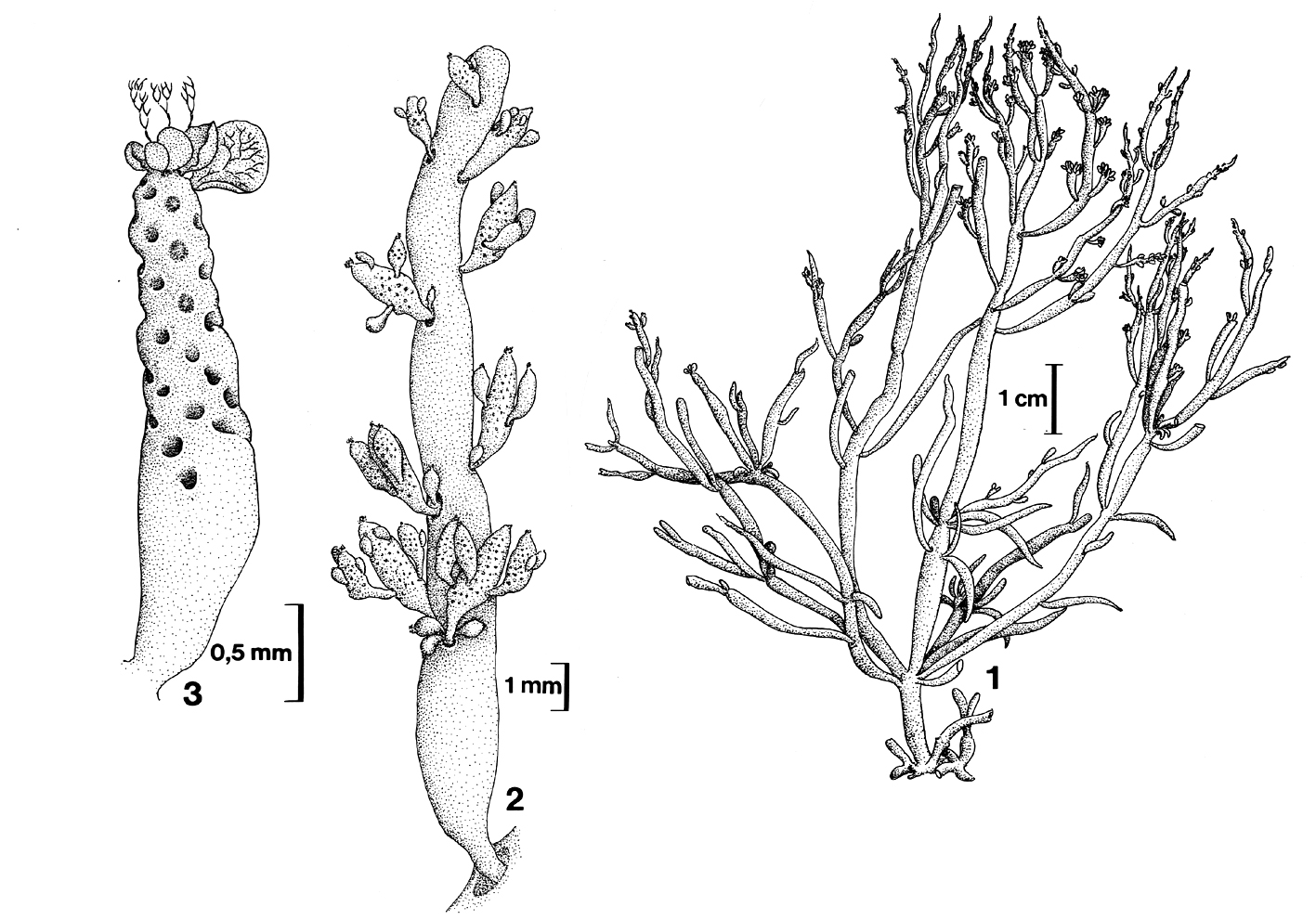 Chondria capensis. 1. Habit. 2. Tetrasporiferous ramuli. 3. Ramulus of male plant, showing antheridial discs. Reproduced from Stegenga et al. 1977 (west coast material).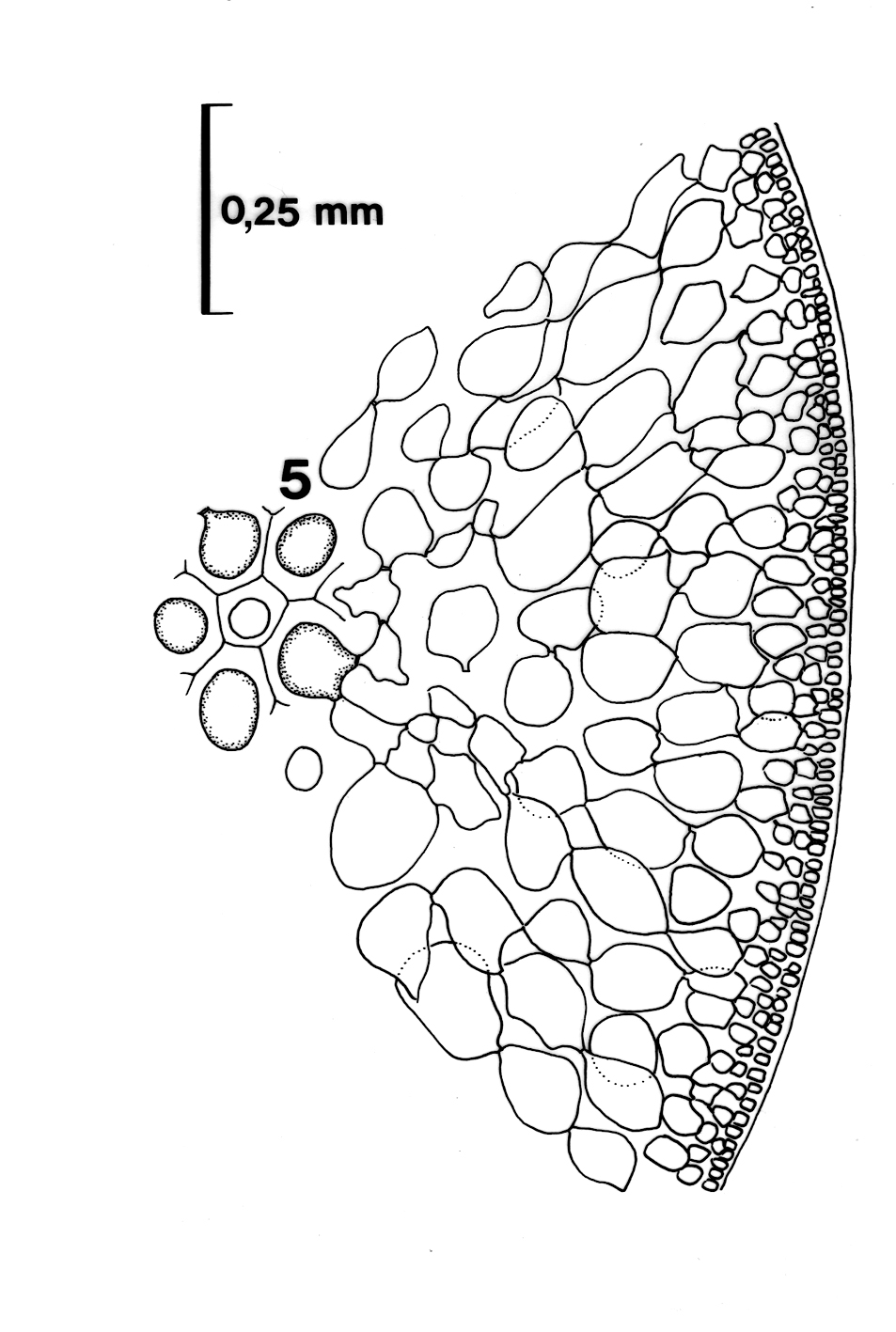 Chondria capensis. Plate 214, Fig 5 from Stegenga et al. (1997), showing cross section of axis.
References Chondria capensis
Askenasy, E. 1888. Algen mit Unterstützung der Herren E. Bornet, E. Grunow, P. Hariot, M. Moebius, O. Nordstedt bearbeitet. In: Forschungsreise S.M.S. "Gazelle". Theil 4: Bot. (Engler, A. Eds), pp. 1-58. Berlin.
Guiry M.D. in Guiry, M.D. & Guiry, G.M. 2016. AlgaeBase. World-wide electronic publication, National University of Ireland, Galway. http://www.algaebase.org; searched on 31 May 2016.
Silva, P.C., Basson, P.W. & Moe, R.L. 1996. Catalogue of the benthic marine algae of the Indian Ocean. University of California Publications in Botany 79: 1-1259.
Stegenga, H., Bolton, J.J. & R. J. Anderson. 1997. Seaweeds of the South African west coast. Contributions from the Bolus Herbarium 18: 655 pp.
Cite this record as:
Anderson RJ, Stegenga H, Bolton JJ. 2016. Seaweeds of the South African South Coast.
World Wide Web electronic publication, University of Cape Town, http://southafrseaweeds.uct.ac.za; Accessed on 25 September 2023.