Order Ceramiales
Family Rhodomelaceae
Chondria dasyphylla (Woodward) C.Agardh 1817: XVIII
Plants purplish-red to yellowish, soft, comprising solitary or clumped terete erect axes arising from a discoid holdfast. Main axes 0.5-1.5 mm in diameter, lateral branches thinner, arising in spiral pattern at irregular intervals, decreasing in length distally and imparting rather pyramidal shape to thallus; branch apices obtuse, with terminal pit sometimes with trichoblasts. Young main axes with distinctive diamond pattern visible through cortex; structure of axial cell, 5 distinctive pericentral cells, 3-5 layers of subcortical cells interwoven with rhizoidal filaments in older axes and single layer of cortical cells. Branches club-shaped and constricted basally when young, ultimate branchlets up to about 0.5 mm diameter.
Tetrasporangia 150-200 µm in diameter, in subcortical layer of last two branch orders. Cystocarps on short stalks, globose becoming rather flask-shaped, up to about 1 mm long. Spermatia borne in plates grouped near apices of young branches.
Collections, ecology and regional distribution
Although this species has been recorded from Tsitsikamma through to northern Kwazulu-Natal, including from Hluleka (Bolton & Stegenga 1987), the only south coast specimen that appears to fit the description is one from the Kowie Lagoon, Port Alfred (see note). The distribution is therefore uncertain.
World distribution: virtually worldwide in temperate and tropical seas (MD Guiry in Guiry & Guiry 2016).
Type locality: Norfolk, England (Silva et al 1996).
Notes: 1. for a detailed descriptions of this species in the UK, see Maggs & Hommersand (1993). 2. The illustration of this species from Hluleka (Bolton & Stegenga 1987, Fig 3d) does not appear to show the "conspicuous diamond pattern visible through the cortex of young axes" that Maggs & Hommersand (1993) report as characteristic of this species.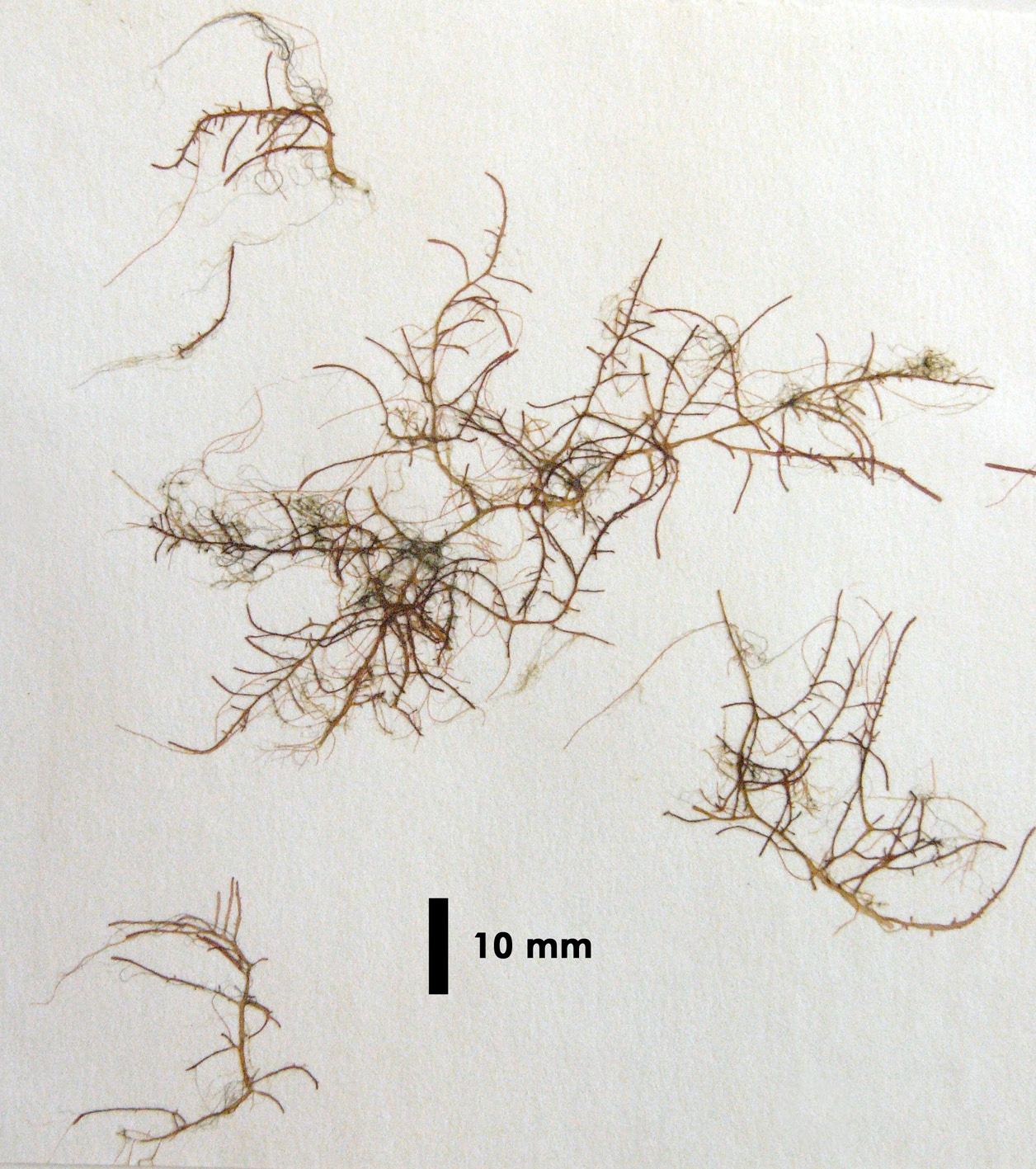 Chondria dasyphylla, Kowie Lagoon, Port Alfred.
References Chondria dasyphylla
Agardh, C.A. 1817. Synopsis algarum Scandinaviae, adjecta dispositione universali algarum. pp. [i]-xl, [1]-135. Lundae [Lund]: ex officina Berlingiana.
Bolton. J. J. & H. Stegenga. 1987. The marine algae of Hluleka (Transkei) and the warm temperate/sub-tropical transition on the east coast of southern Africa. Helgoländer Meeresuntersuchungen 41: 165-183.
Guiry M.D. in Guiry, M.D. & Guiry, G.M. 2016. AlgaeBase. World-wide electronic publication, National University of Ireland, Galway. http://www.algaebase.org; searched on 31 May 2016.
Maggs, C.A. & Hommersand, M.H. 1993. Seaweeds of the British Isles. Volume 1. Rhodophyta. Part 3A. Ceramiales. pp. xv + 444, 129 figs, map. London: HMSO.
Silva, P.C., Basson, P.W. & Moe, R.L. 1996. Catalogue of the benthic marine algae of the Indian Ocean. University of California Publications in Botany 79: 1-1259.</p
Cite this record as:
Anderson RJ, Stegenga H, Bolton JJ. 2016. Seaweeds of the South African South Coast.
World Wide Web electronic publication, University of Cape Town, http://southafrseaweeds.uct.ac.za; Accessed on 25 September 2023.