Order Hapalidiales
Family Hapalidiaceae
Subfamily Choreonematoideae
Choreonema thuretii (Bornet) F.Schmitz 1889: 455
Plants borne on certain geniculate corallines (e.g. Jania spp.), usually 0.2 – 1 mm in size, comprising endophytic vegetative portions that produce globular conceptacles external to the host. Structure diffuse, filamentous to partly pseudoparenchymatous, comprising simple or branched filaments 5 – 20 µm in diameter, within the host tissue; conceptacles almost completely external to host tissue, whitish, globular to urceolate, about 100-120 µm in diameter, containing tetrasporangia, carposporangia or spermatangial filaments.
Collections, ecology and regional distribution
Recorded from False Bay in the Western Cape to the Durban area of KwaZulu-Natal (18-51), as an endophyte on certain geniculate coralline species.
World distribution: Widespread in tropical and warm temperate regions, including Mozambique and Mauritius (Guiry & Guiry 2015).
Type locality: Atlantic France (Guiry & Guiry 2015).
Note: See Womersley (1996) for a detailed description and illustrations of Australian material.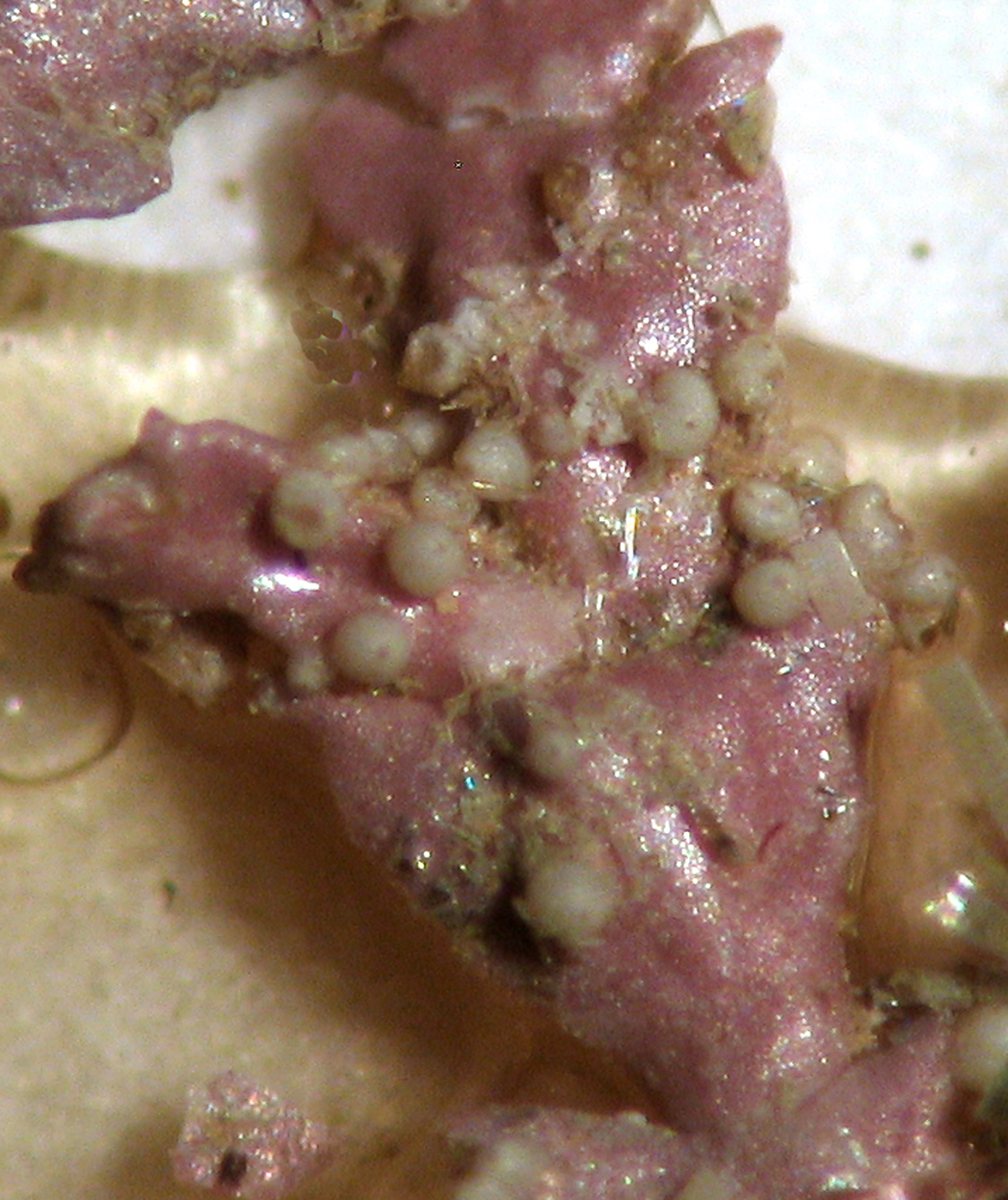 Choreonema thuretii on Jania sp. (Double Mouth).
References Choreonema thuretii
Guiry M.D. in Guiry, M.D. & Guiry, G.M. 2015. AlgaeBase. World-wide electronic publication, National University of Ireland, Galway. http://www.algaebase.org; searched on 02 September 2015.
Schmitz, F. (1889). Systematische Übersicht der bisher bekannten Gattungen der Florideen. Flora oder Allgemeine botanische Zeitung 72: 435-456, pl. XXI.
Womersley, H.B.S. (1996). The marine benthic flora of southern Australia - Part IIIB - Gracilariales, Rhodymeniales, Corallinales and Bonnemaisoniales. Vol. 5 pp. 1-392, 160 figs. Canberra & Adelaide: Australian Biological Resources Study & the State Herbarium of South Australia.
Cite this record as:
Anderson RJ, Stegenga H, Bolton JJ. 2016. Seaweeds of the South African South Coast.
World Wide Web electronic publication, University of Cape Town, http://southafrseaweeds.uct.ac.za; Accessed on 21 September 2023.