Order Colaconematales
Family Colaconemataceae
Colaconema codicola (Børgesen) H.Stegenga, J.J.Bolton, & R.J.Anderson 1997: 248, pl. 76 (1-2)
Plants bushy, up to 5 mm tall, with a multicellular filamentous endophytic base and several erect axes. Laterals polystichously arranged or in short secund series. Erect filaments 15-17 µm in diameter, towards the apex of the filaments tapering to 10-12 µm, but not developing pseudohairs; cells up to 60 µm long, with 2-4 lobed, parietal chloroplasts, each with a central pyrenoid. In older cells seemingly one parietal chloroplast, the separate pyrenoids remaining distinct. Monosporangia single or in small clusters, usually on the proximal cells of the laterals, cylindrical or truncate in shape 25-30 x 15-16 µm; tetrasporangia in similar positions, ovate, up to 35 x 25 µm, cruciately divided.
Collections, ecology and regional distribution
Recorded from Cape Agulhas to Hluleka (22-45), as an epiphyte on Codium spp.
World distribution: fairly widespread (under several names) in temperate seas (see Guiry & Guiry 2014).
Type locality: Canary Islands, without precise locality (Guiry & Guiry 2014).
Notes: also recorded from Langebaan Lagoon (Stegenga et al. 1997), which despite being on the west coast, can become very warm.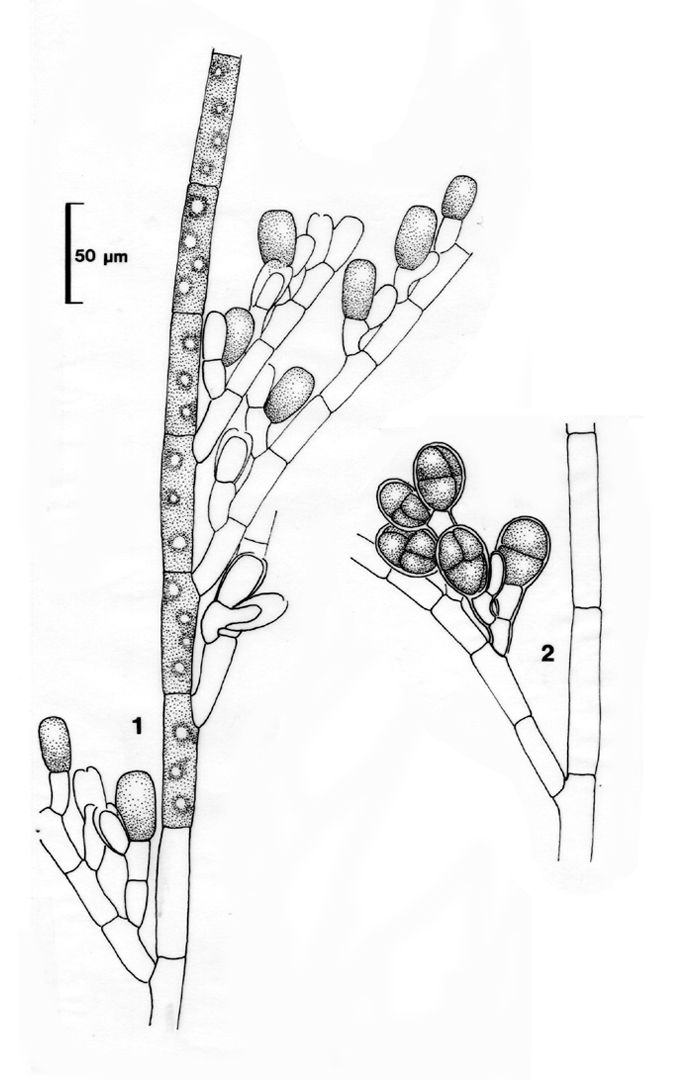 Colaconema codicola. 1. Detail of erect axis with monosporangia. 2. Tetrasporangia. (Reproduced from Stegenga et al. 1997).
References Colaconema codicola
Guiry, M.D. in Guiry, M.D. & Guiry, G.M. 2014. AlgaeBase. World-wide electronic publication, National University of Ireland, Galway. http://www.algaebase.org; searched on 30 October 2014.
Stegenga, H., Bolton, J.J. and R. J. Anderson. 1997. Seaweeds of the South African west coast. Contributions from the Bolus Herbarium 18: 655 pp.
Cite this record as:
Anderson RJ, Stegenga H, Bolton JJ. 2016. Seaweeds of the South African South Coast.
World Wide Web electronic publication, University of Cape Town, http://southafrseaweeds.uct.ac.za; Accessed on 25 September 2023.