Order Colaconematales
Family Colaconemataceae
Colaconema daviesii (Dillwyn) Stegenga 1985: 317, 320, fig. 20
Plants bushy, numerous erect filaments arising from a multicellular basal part. Erect filaments rarely over 1 mm high, (8.5) 9.5-11 µm in diameter, the cells 1-2 times as long as broad. Cells with a single parietal chloroplast and one pyrenoid. Indeterminate laterals few, polystichous; determinate branch systems with monosporangia more abundant. Monosporangia terminal in small corymbose branch systems, somewhat dome-shaped, 12-13.5 x 8.5-9.5 µm, with a cup-shaped pedicel.
Collections, ecology and regional distribution
Recorded along the west coast and as far as Hluleka (1-45). Plants epiphytic on various larger algae, or sometimes epizoic.
World distribution: virtually worldwide under various names (Guiry & Guiry 2014).
Type locality: probably North Wales (Silva et al. 1996).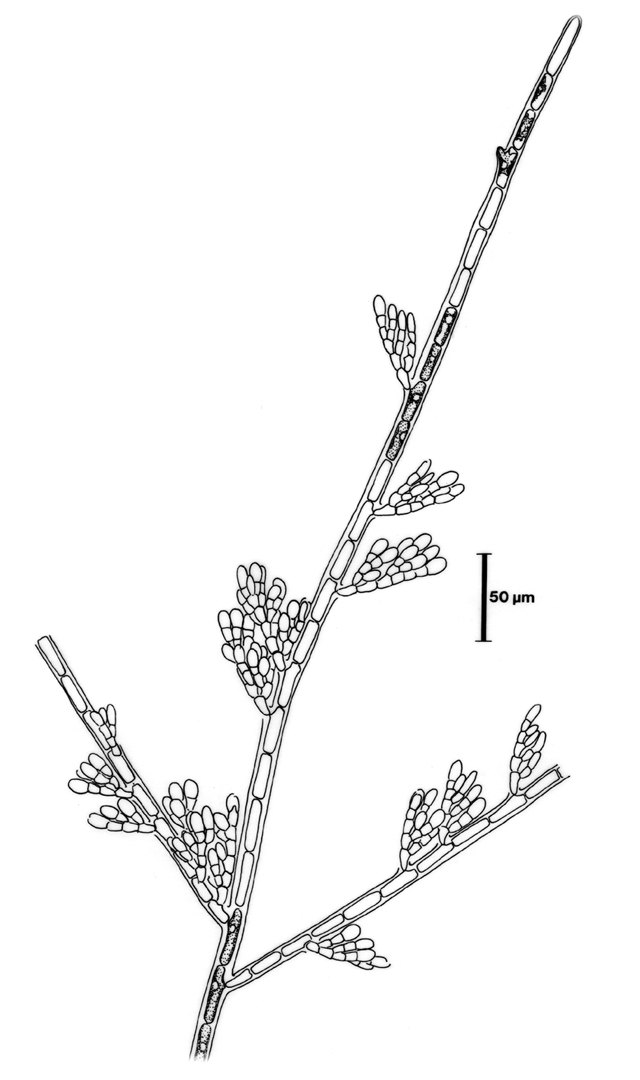 Colaconema daviesii, erect axis with monosporangia. (Reproduced from Stegenga et al. 1997).
References Colaconema daviesii
Guiry M.D. in Guiry, M.D. & Guiry, G.M. 2014. AlgaeBase. World-wide electronic publication, National University of Ireland, Galway. http://www.algaebase.org; searched on 30 October 2014.
Silva, P.C., Basson, P.W. & Moe, R.L. (1996). Catalogue of the benthic marine algae of the Indian Ocean. University of California Publications in Botany 79: 1-1259.
Stegenga, H. (1985). The marine Acrochaetiaceae (Rhodophyta) of southern Africa. South African Journal of Botany 51: 291-330, 25 figs, 1 table.
Stegenga, H., Bolton, J.J. and R. J. Anderson. 1997. Seaweeds of the South African west coast. Contributions from the Bolus Herbarium 18: 655 pp.
Cite this record as:
Anderson RJ, Stegenga H, Bolton JJ. 2016. Seaweeds of the South African South Coast.
World Wide Web electronic publication, University of Cape Town, http://southafrseaweeds.uct.ac.za; Accessed on 25 September 2023.