Order Colaconematales
Family Colaconemataceae
Colaconema endophyticum (Batters) J.T.Harper & G.W.Saunders 2002: 473 (as "endophytica")
Plants completely endophytic except for monosporangia. Filaments growing parallel to the host's surface, irregularly branched, not coalescent. Cells cylindrical, 1-2 µm in diameter at filament apices, 3-4 µm in older parts of the plant; cells 10-15 µm long. Monosporangia developing terminally on short 'erect' filaments, projecting slightly from the surface of the host, 5-6 x 3-4 µm. (Description from Stegenga et al. (1997), as Audouinella endophytica).
Collections, ecology and regional distribution
Recorded from the Cape Hangklip area on the west coast to Tsitsikamma (19-32), on larger algae.
World distribution: Namibia, temperate eastern Atlantic, Mediterranean, Kamchatka (records from Guiry & Guiry 2014).
Type locality: Devon, England (Parke & Dixon 1976).
Note: this species resembles the two endozoic species Colaconema (as Audouinella) endozoica and Colaconema (as Audouinella) spongicola, but has even thinner filaments (Stegenga et al 1997).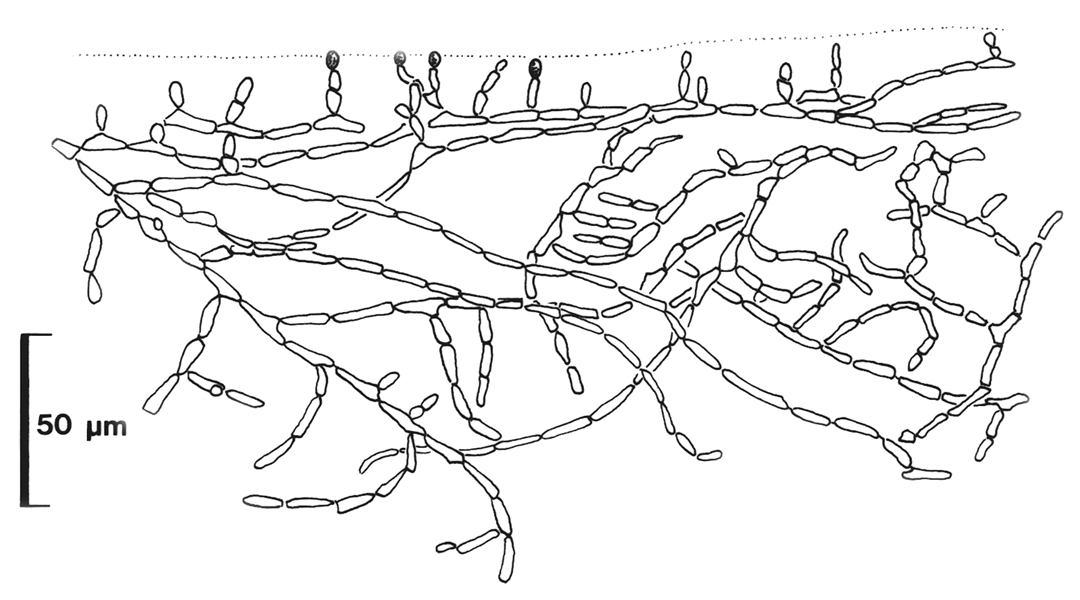 Colaconema endophyticum. Habit of plant in cell wall of ceramiacean alga. (Reproduced from Stegenga et al. 1997).
References Colaconema endophyticum
Guiry, M.D. in Guiry, M.D. & Guiry, G.M. 2014. AlgaeBase. World-wide electronic publication, National University of Ireland, Galway. http://www.algaebase.org; searched on 30 October 2014.
Harper, J.T. & Saunders, G.W. (2002). A re-classification of the Acrochaetiales based on molecular and morphological data, and establishment of the Colaconematales, ord. nov.. European Journal of Phycology 37: 463-475.
Parke, M. & Dixon, P.S. (1976). Check-list of British marine algae - third revision. Journal of the Marine Biological Association of the United Kingdom 56: 527-594.
Stegenga, H., Bolton, J.J. and R. J. Anderson. 1997. Seaweeds of the South African west coast. Contributions from the Bolus Herbarium 18: 655 pp.
Cite this record as:
Anderson RJ, Stegenga H, Bolton JJ. 2016. Seaweeds of the South African South Coast.
World Wide Web electronic publication, University of Cape Town, http://southafrseaweeds.uct.ac.za; Accessed on 25 September 2023.