Ceramiales
Family Rhodomelaceae
Dasyclonium palmatifidum (Grunow) Scagel 1962: 1029-1030, figs. 7, 8, 29, 30
Plants procumbent, red, up to 3 cm long, epiphytic, composed of polysiphonous axes attached over most of their ventral surface by paired rhizoidal pads from two adjacent pericentral cells; distichous determinate laterals arising every second segment. Axes cylindrical, about 170 µm in diameter, comprising central axial filament and 6 pericentral cells; determinate laterals polysiphonous, each with 4-5 side branches on adaxial side, side branches formed from every second segment; lowermost lateral similarly branched but laterals partly fused. Tetrasporangia in a straight series of up to 12 segments in distal parts of indeterminate axes, one per segment, cover cells 3 initially but sometimes dividing again.
Collections, ecology and regional distribution
Recorded from the Tsitsikamma area to Shelly Beach, southern KwaZulu-Natal (31-50). Epiphytic on various algae from the lower eulittoral down to at least 40 m depth.
World distribution: South African endemic.
Type locality: Algoa Bay (Silva et al. 1996).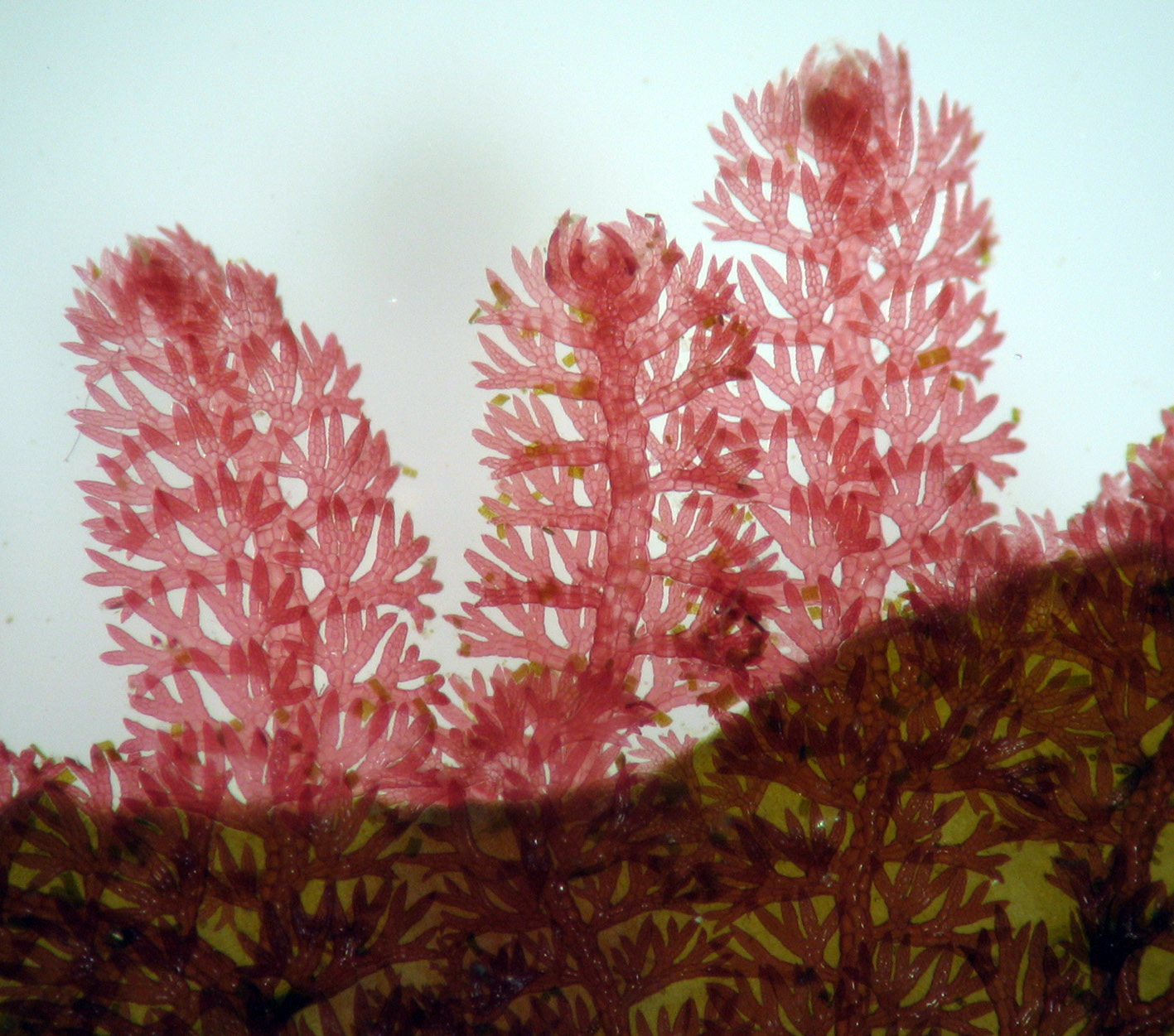 Dasyclonium palmitifidum, epiphytic on Zonaria.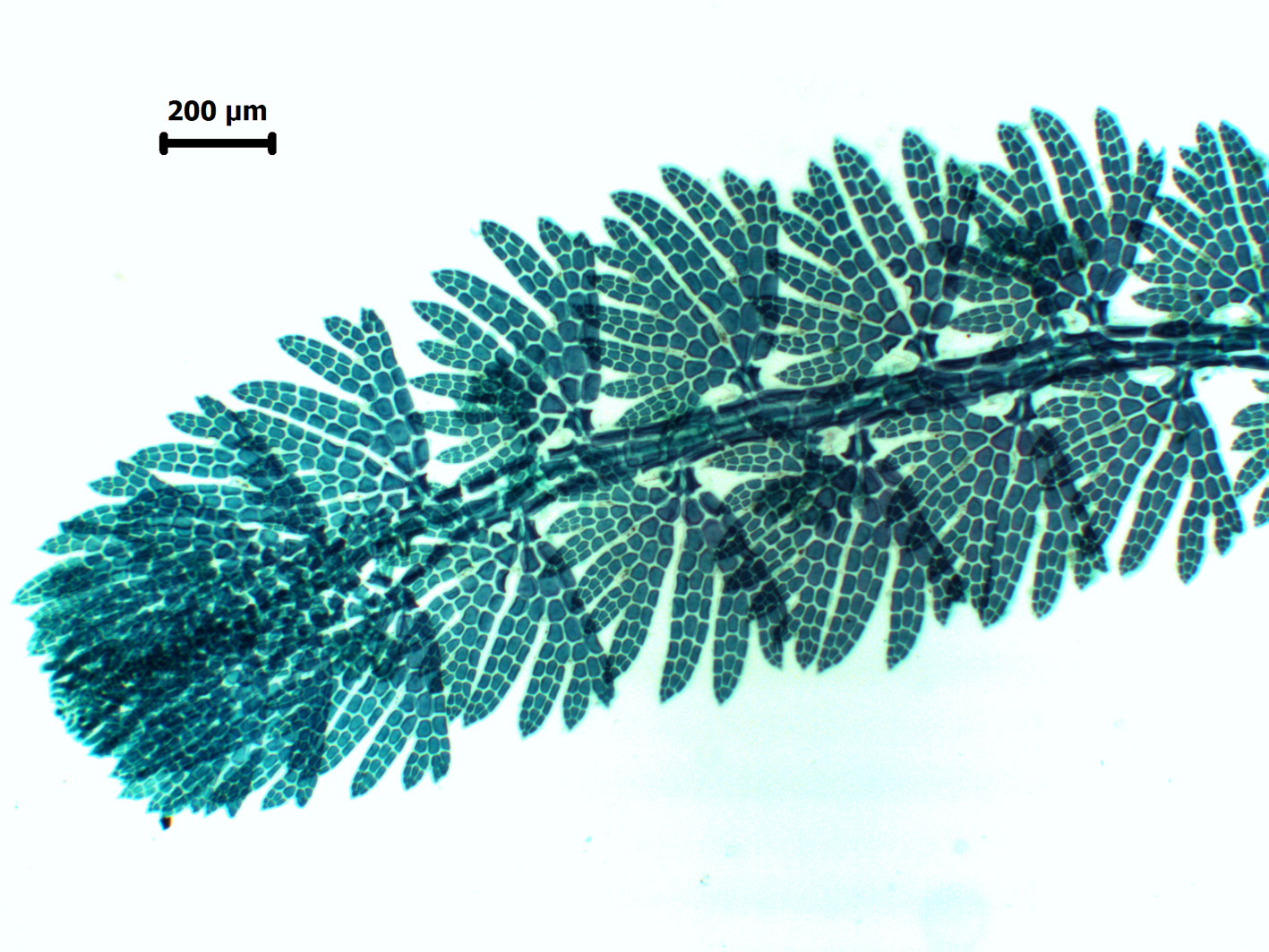 Dasyclonium palmitifidum, stained slide.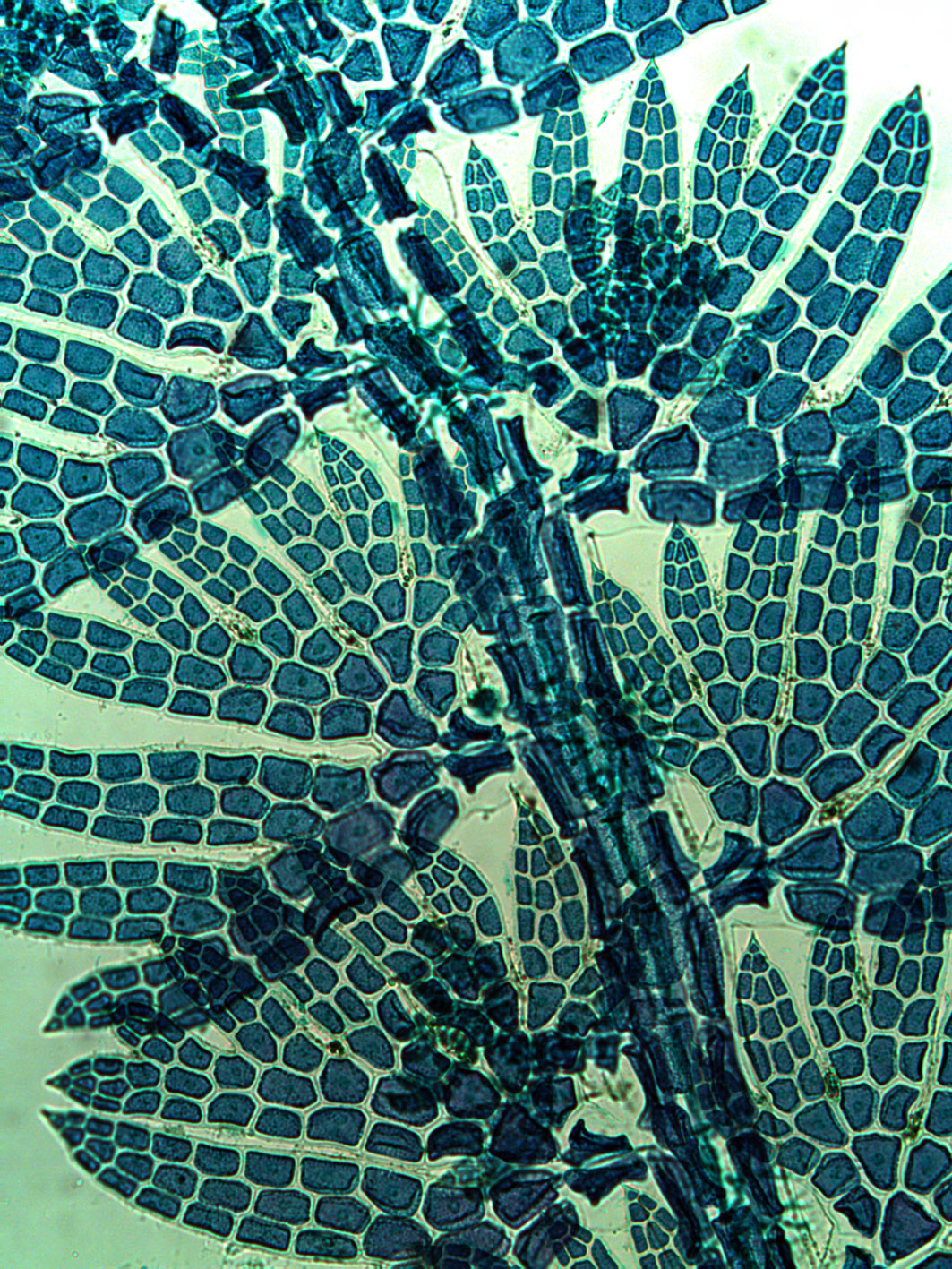 Dasyclonium palmitifidum, detail, stained slide.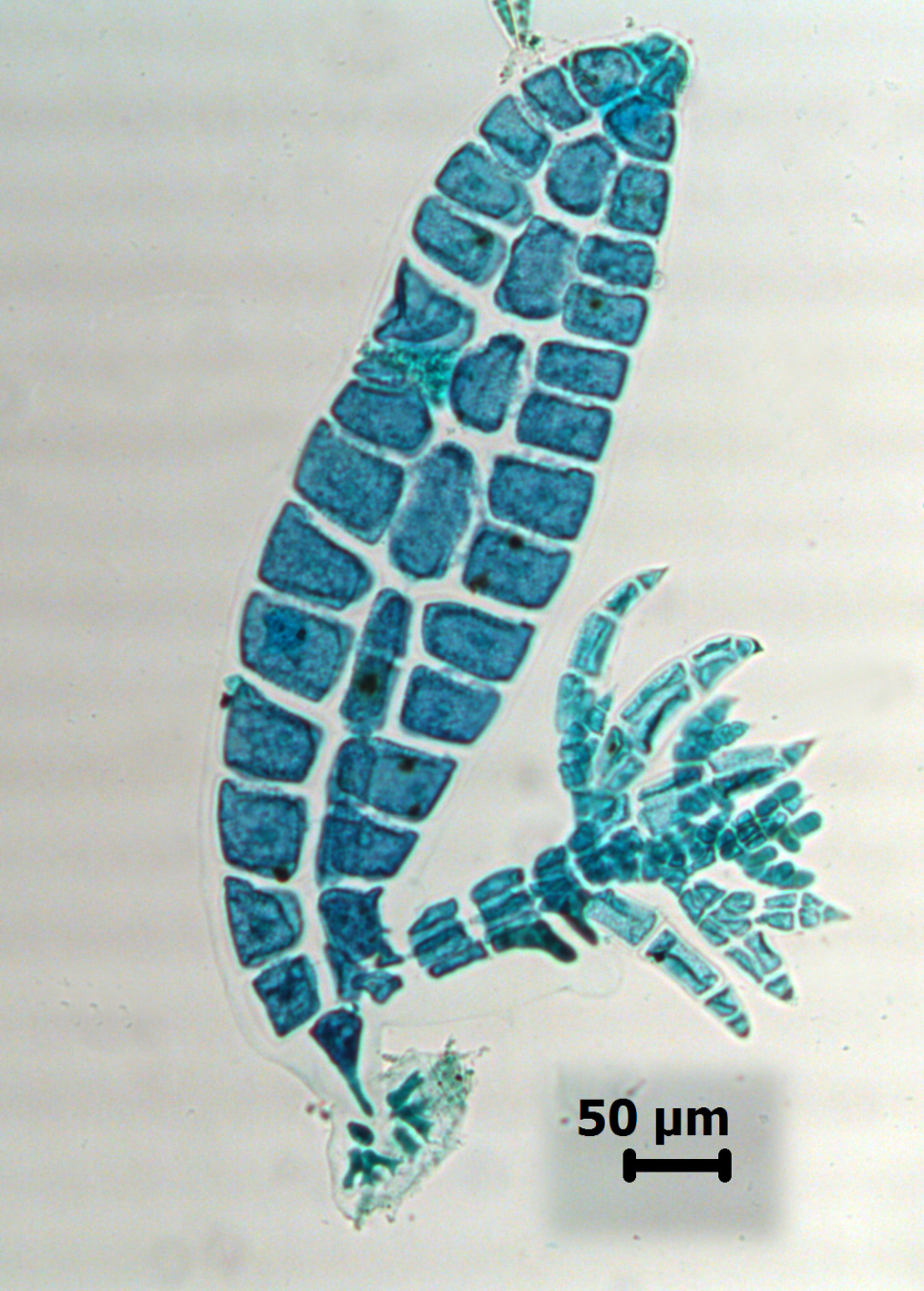 Dasyclonium palmitifidum, juvenile.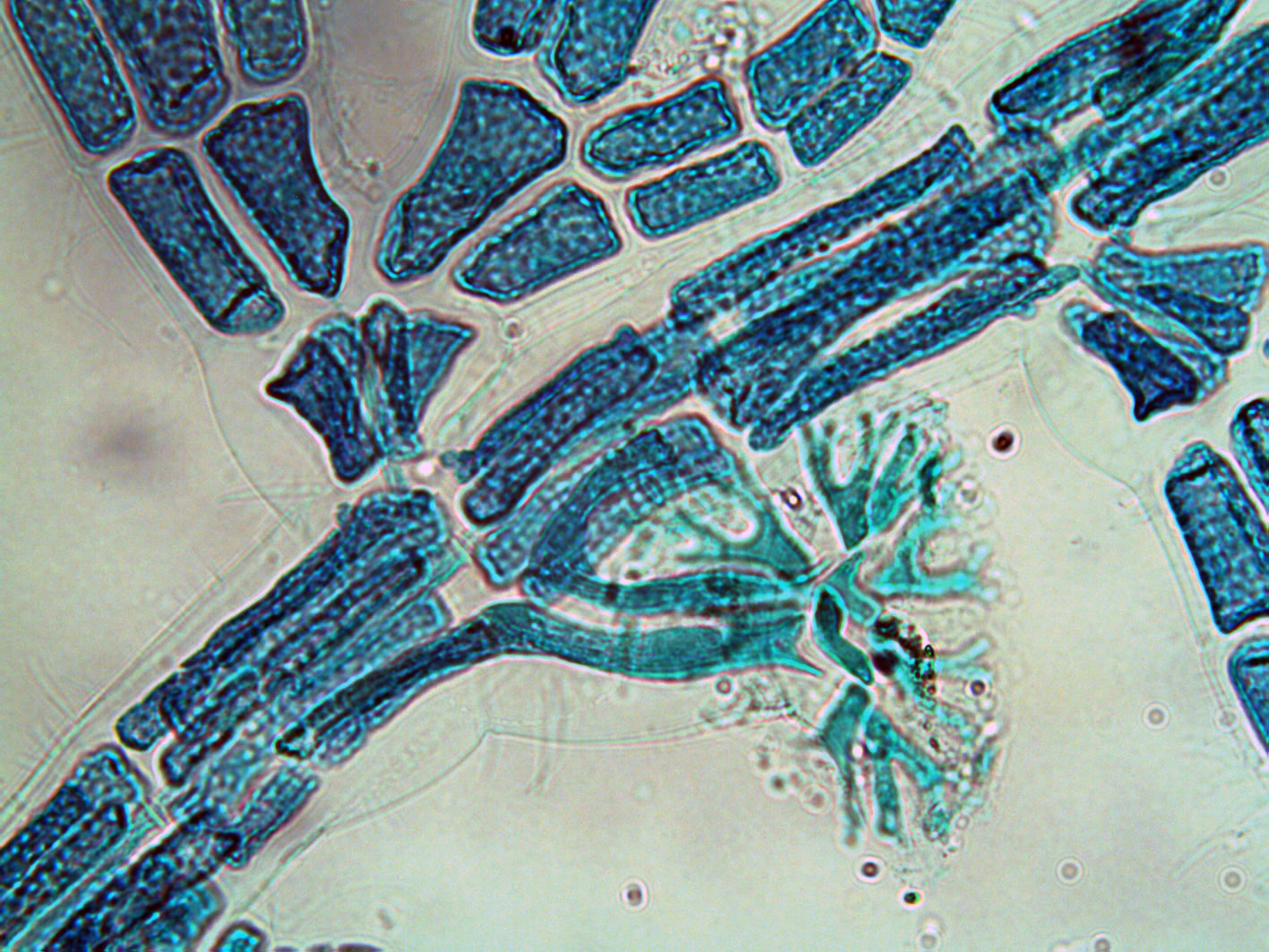 Dasyclonium palmitifidum, cell details with rhizoidal holdfast pad.

Dasyclonium palmitifidum, tetrasporangium.
References Dasyclonium palmitifidum
Scagel, R.F. 1962. The genus Dasyclonium J. Agardh. Canadian Journal of Botany 40: 1017-1040.
Silva, P.C., Basson, P.W. & Moe, R.L. 1996. Catalogue of the benthic marine algae of the Indian Ocean. University of California Publications in Botany 79: 1-1259.
Cite this record as:
Anderson RJ, Stegenga H, Bolton JJ. 2016. Seaweeds of the South African South Coast.
World Wide Web electronic publication, University of Cape Town, http://southafrseaweeds.uct.ac.za; Accessed on 21 September 2023.