Order Ceramiaceae
Family Wrangeliaceae
Dasyphila cryptocarpa (Holmes) F. Schmitz 1896: 8
Plants as found only a few cm high, regularly branched in a single plane. Determinate laterals simple, alternating, emitted every third segment, reaching a length of ca. 2 mm. Indeterminate laterals at irregular intervals, apparently developing from determinate branches a little distance below the thallus apex. Axes in cross section with a prominent central cell, surrounded by six periaxial cells, two of which are in the plane of branching and larger than the other four. Axis about 500 µm broad, and half as thick. Periaxial cells and immediate derivatives partly parenchymatous, but producing some filamentous tissue around the central axis and profusely on the outside, the epidermal cells only 3-4 µm in diameter. Thallus apices (main axis and laterals) clothed with short (4-6-celled) filamentous outgrowths. Reproductive specimens not seen.
Collections, ecology and regional distribution
Apparently a rare species, originally described from the Kowie area, also recorded at Mbotyi (39-48).
World distribution: South African endemic.
Type locality: near mouth of Kowie River, Port Alfred, Cape Province, South Africa (Silva et al. 1996).

Dasyphila cryptocarpa, apex of thallus. Stained slide material, Mbotyi.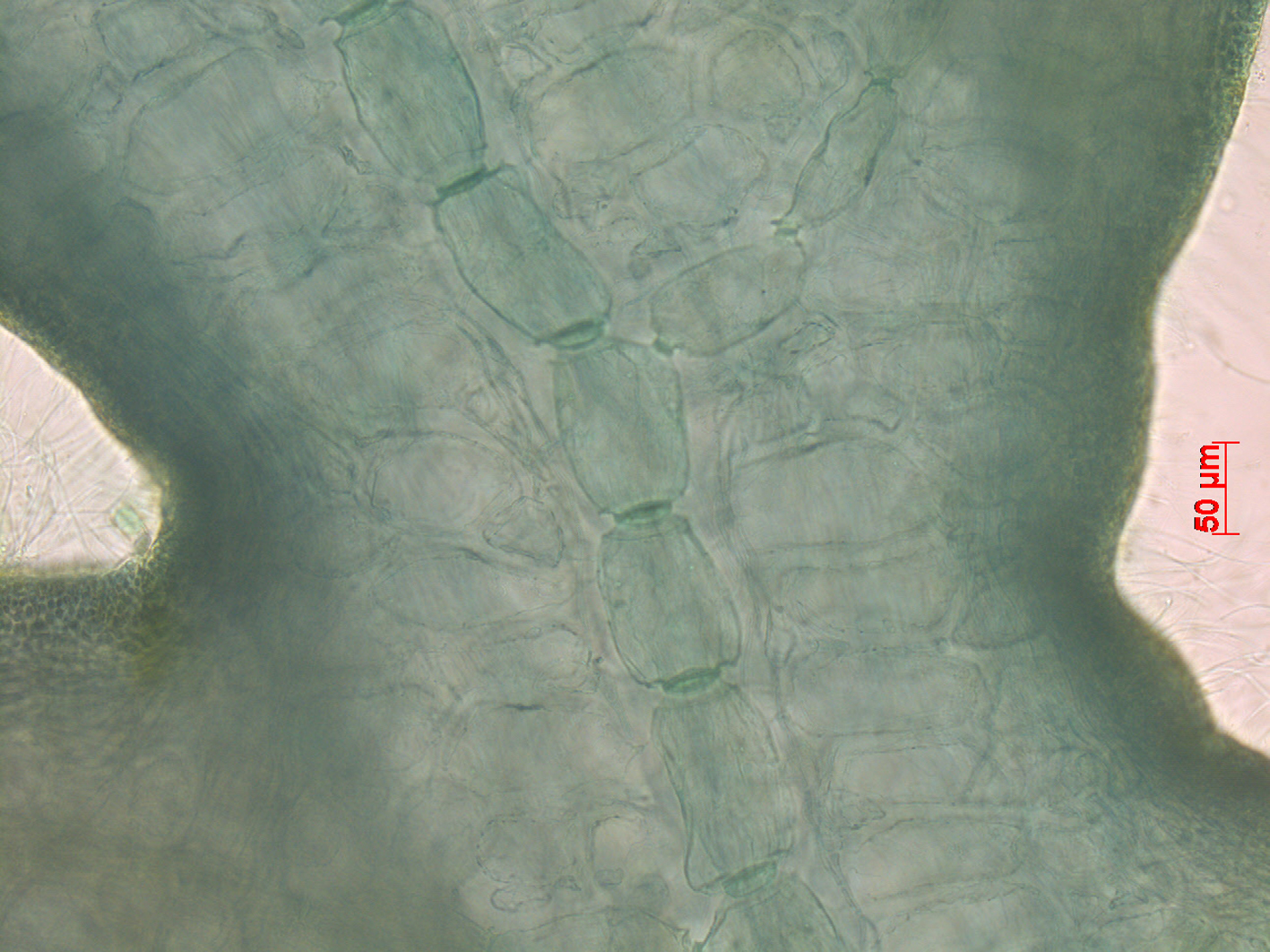 Dasyphila cryptocarpa, longitudinal section of axis showing central filament. Stained slide material, Mbotyi.
References Dasyphila cryptocarpa
Schmitz, F. 1896. Kleinere Beiträge zur Kenntniss der Florideen. VI. Nuova Notarisia 7: 1-22.
Silva, P.C., Basson, P.W. & Moe, R.L. 1996. Catalogue of the benthic marine algae of the Indian Ocean. University of California Publications in Botany 79: 1-1259.
Cite this record as:
Anderson RJ, Stegenga H, Bolton JJ. 2016. Seaweeds of the South African South Coast.
World Wide Web electronic publication, University of Cape Town, http://southafrseaweeds.uct.ac.za; Accessed on 25 September 2023.