Order Nemaliales
Family Galaxauraceae
Dichotomaria obtusata (J. Ellis & Solander) J. V. Lamouroux 1816: 262-263
Thallus erect, pink to dark red, smooth or hirsute, or up to 25 cm tall, terete, moderately calcified, regularly dichotomously branched, arising from compact rhizoidal holdfast; axes cylindrical, distinctly segmented with marked constrictions, segments varying in size from 0.5-2.5 cm long and 1-3.5 mm in diameter, rounded at both ends, usually hairless, but sometimes covered with short red fur of assimilatory filaments. Internal structure of filamentous medulla and 3-layered cortex; outer epidermis of adherent pigmented cells, inner layers of clear, closely adherent, larger cells.
Collections ecology and regional distribution
Recorded from Goukamma eastwards to the north of Kwazulu-Natal (29-58). A subtidal species found down to at least 37m but also found in deep rock pools.
World distribution: Widespread in tropical seas, including Mozambique, Tanzania and Kenya (W. Guiry in Guiry & Guiry 2015).
Type locality: Bahamas (Silva et al. 1996).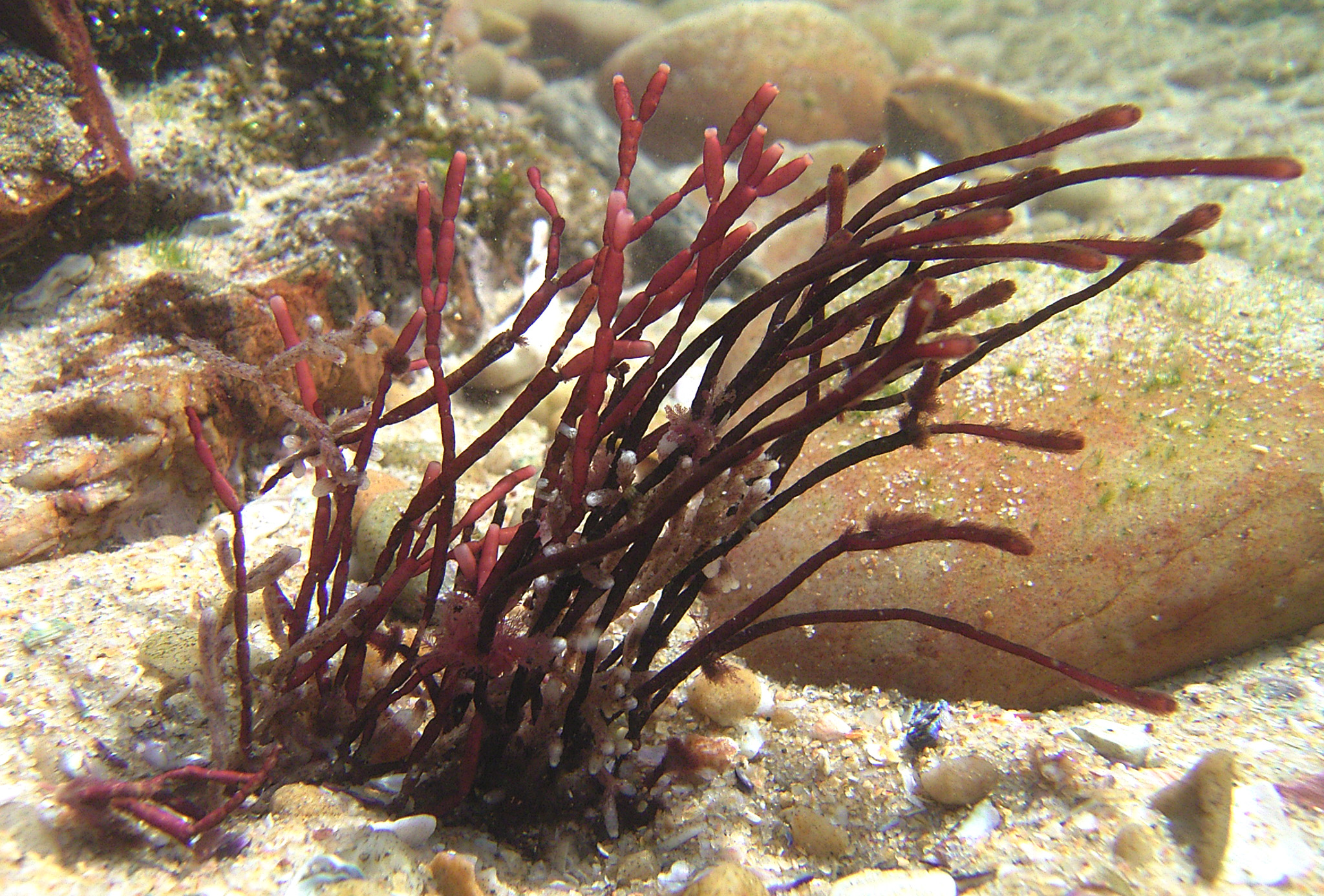 Dichotomaria obtusata. Gametophyte on left (smooth surface) and tetrasporophyte on right (hirsute).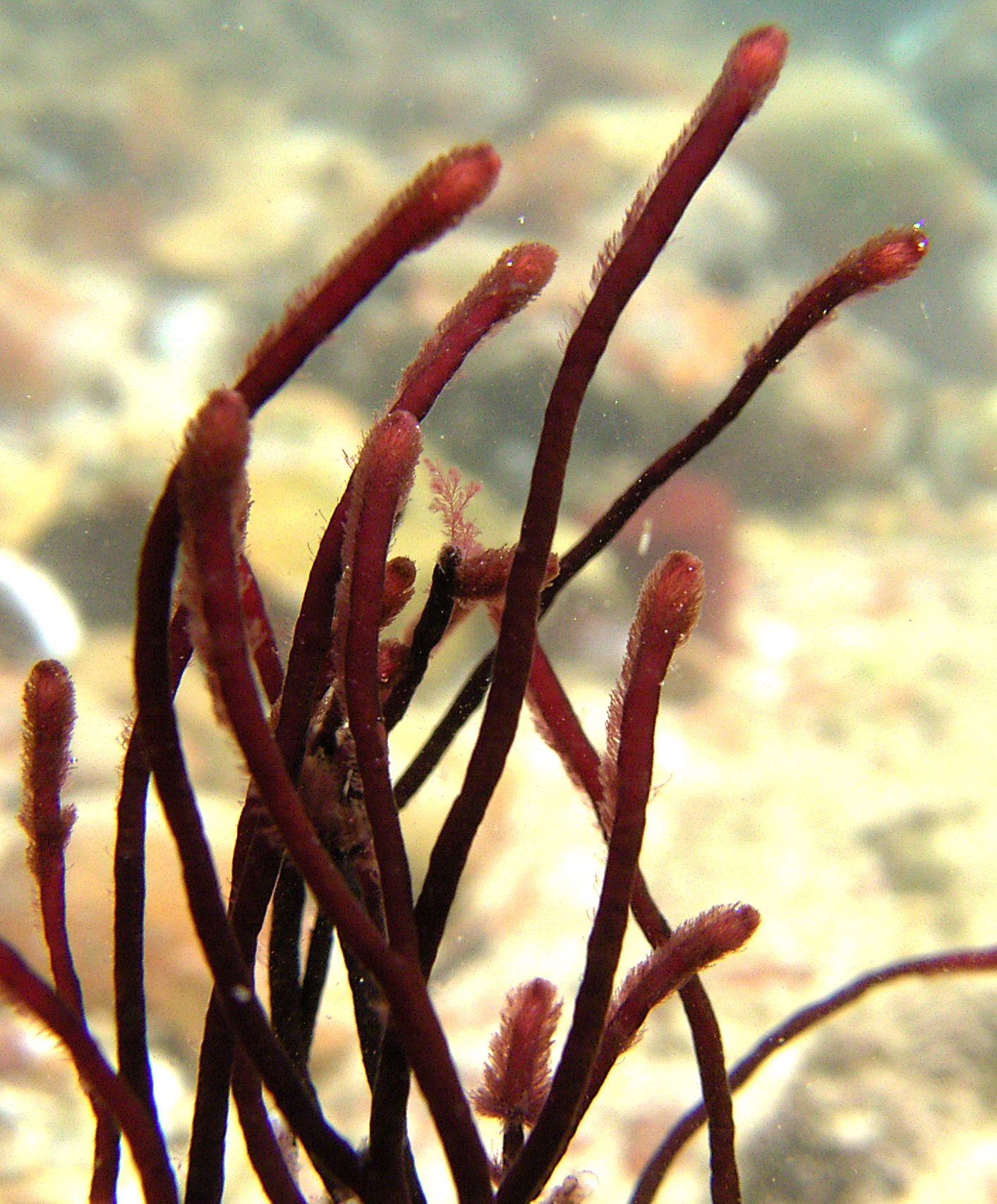 Dichotomaria obtusata: tetrasporophyte with surface hairs.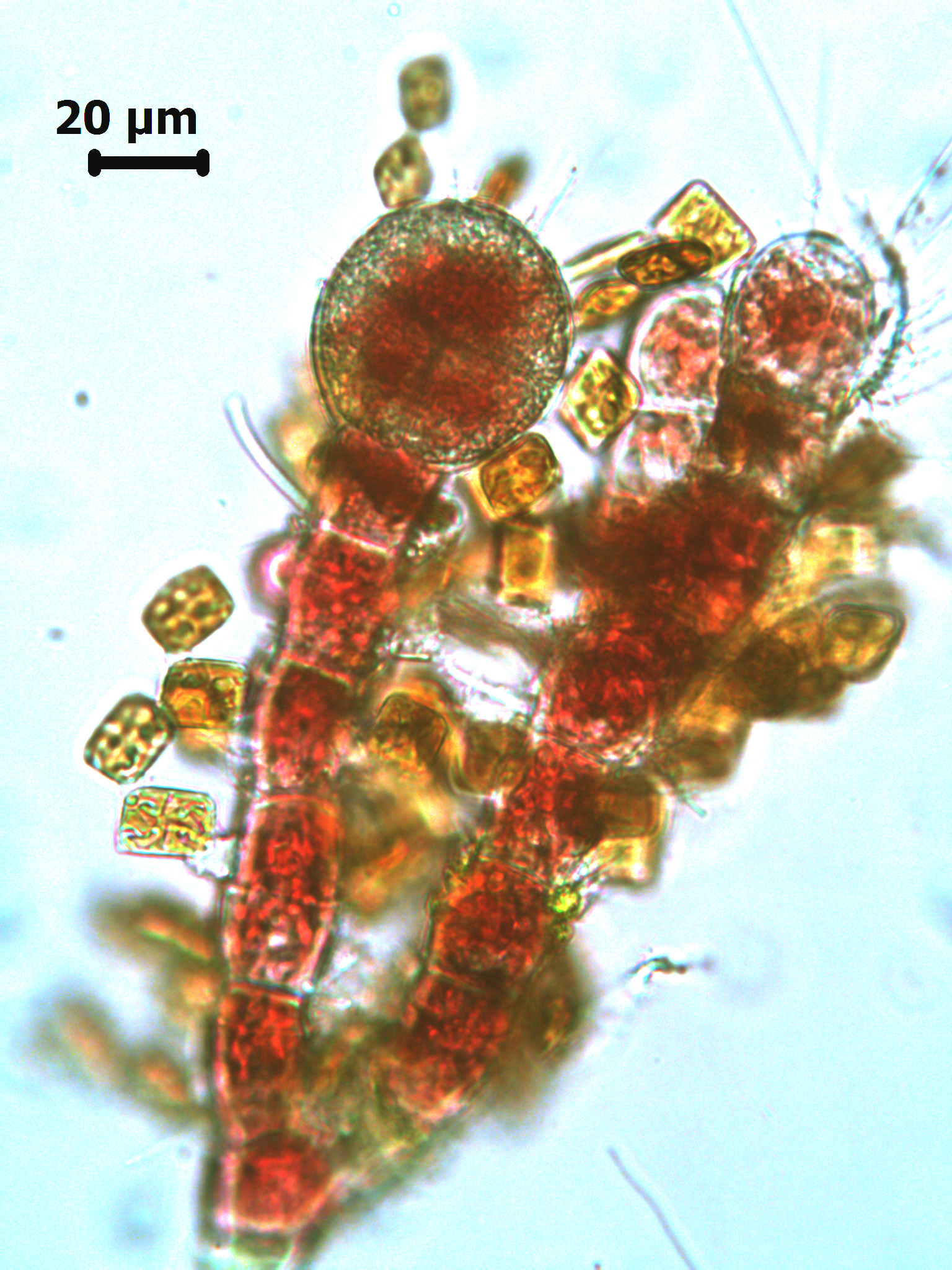 Dichotomaria obtusata, tetrasporangia borne on surface hairs of thallus, with numerous diatoms attached (Nature's Valley).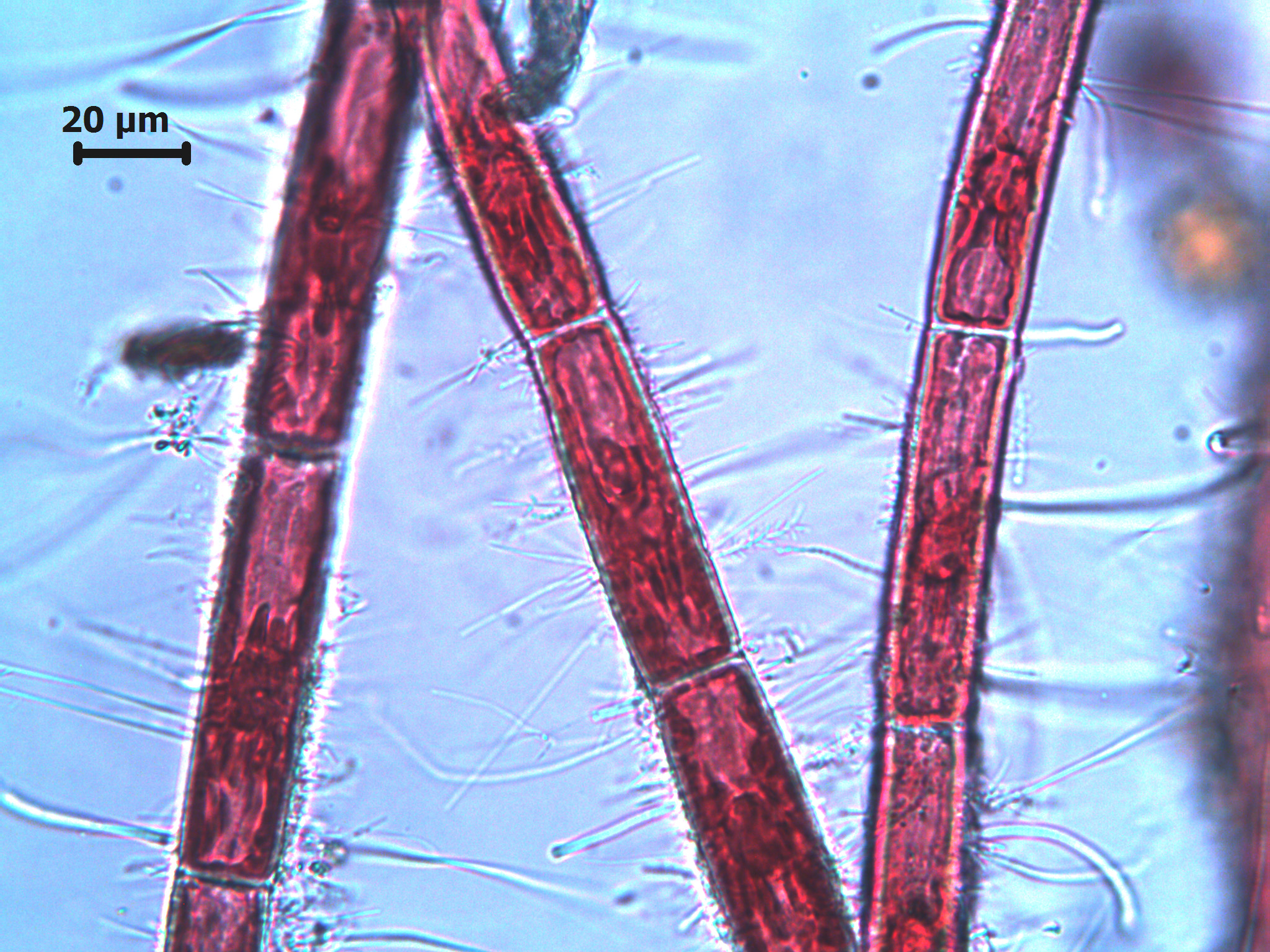 Dichotomaria obtusata, detail of surface hair on sporophyte.
References Dichotomaria obtusata
Guiry in Guiry, M.D. & Guiry, G.M. 2015. AlgaeBase. World-wide electronic publication, National University of Ireland, Galway. http://www.algaebase.org; searched on 03 March 2015.
Lamouroux, J.V.F. (1816). Histoire des polypiers coralligènes flexibles, vulgairement nommés zoophytes. pp. [i]-lxxxiv, chart, [1]-560, [560, err], pls I-XIX, uncol. by author. Caen: De l'imprimerie de F. Poisson.
Silva, P.C., Basson, P.W. & Moe, R.L. (1996). Catalogue of the benthic marine algae of the Indian Ocean. University of California Publications in Botany 79: 1-1259.
Cite this record as:
Anderson RJ, Stegenga H, Bolton JJ. 2016. Seaweeds of the South African South Coast.
World Wide Web electronic publication, University of Cape Town, http://southafrseaweeds.uct.ac.za; Accessed on 21 September 2023.