Order Gelidiales
Family Gelidiaceae
Gelidium arenarium Kylin 1938: 8, fig. 2D
Plants up to 30 (-60) mm tall, comprising prostrate terete or compressed branches attached by rhizoids and bearing erect terete axes; branching irregular throughout, upright axes often unbranched, prostrate and erect axes up to about 250 µm in diameter. Anatomy of outer cortical cells (7-13 µm in diameter) subtended by larger inner cortical cells; medulla of large cells, rhizines sparse and mostly in medulla. Tetrasporangia in sori borne on spatulate apices of fertile uprights.
Collections, ecology and regional distribution
Lower eulittoral , often forming a turf with or without other seaweeds. Recorded from East London area to just north of Durban (41-51).
World distribution: Recorded from Kenya (Silva et al. 1996) and also from China (Xia et al. 2002).
Type locality: Isipingo Beach, south of Durban (Silva et al. 1996).
Note: Norris (1992) describes this species in some detail.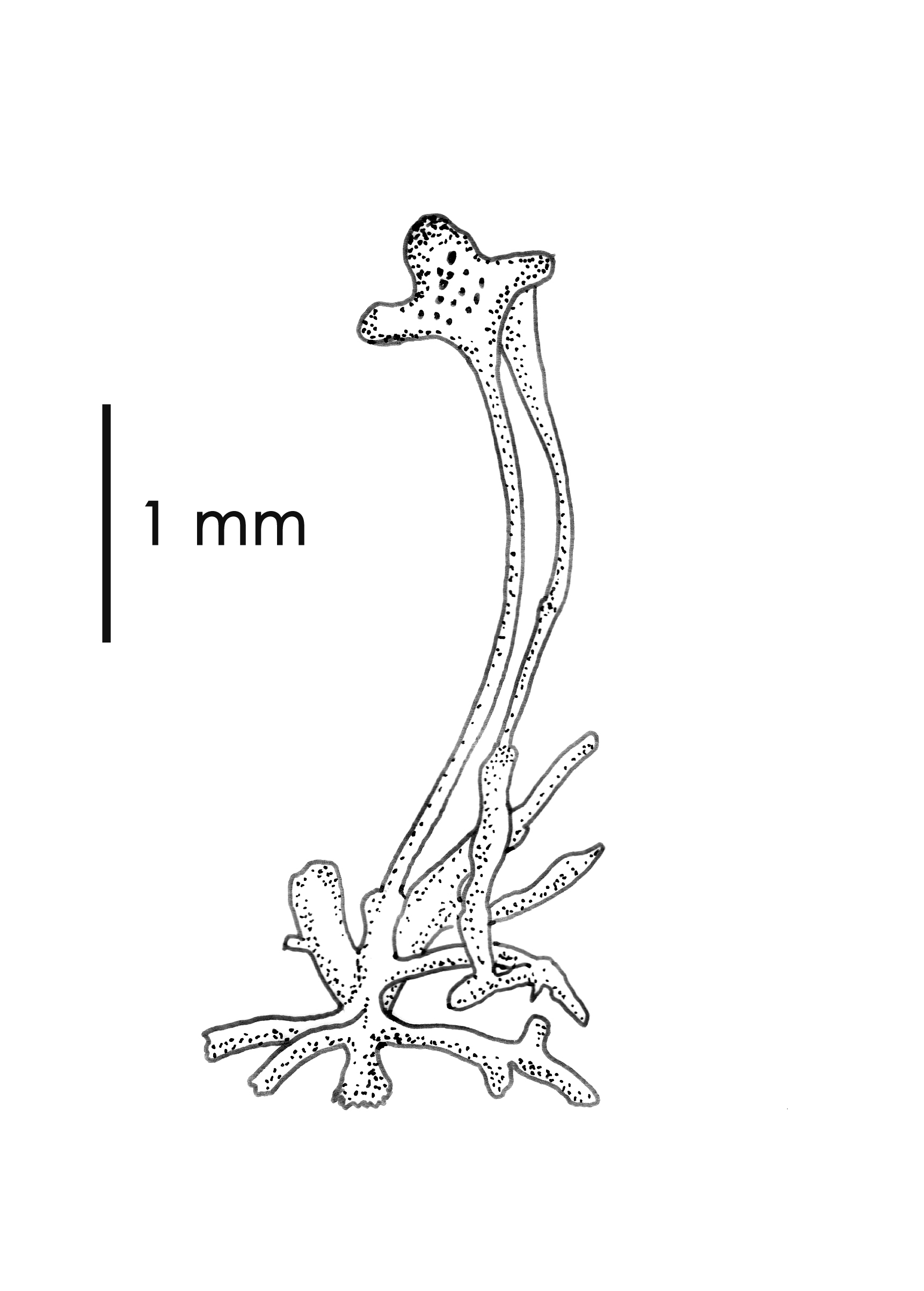 G. arenarium: part of plant showing two uprights (one tetrasporangial) and basal branching system (re-drawn from Norris 1992, Fig 2A).
References Gelidium arenarium
Kylin, H. 1938. Verzeichnis einiger Rhodophyceen von Sudafrika. Acta Univ. Lund 34: 1-25.
Norris RE 1992. The marine red algae of Natal, South Africa: Order Gelidiales (Rhodophyta). Memoirs of the Botanical Survey of South Africa 61: 43 pages.
Silva, P.C., Basson, P.W. & Moe, R.L. (1996). Catalogue of the benthic marine algae of the Indian Ocean. University of California Publications in Botany 79: 1-1259.
Xia, B.M., Tseng, C. K. and Wang, Y.Q. (2002). Synopsis of the Chinese species of Gelidium (Gelidiales, Rhodophyta). In: Taxonomy of Economic Seaweeds with reference to some Pacific species. Vol. VIII (Abbott, I. A. and McDermid, K. J. Eds) Vol. 8, pp. 183-205. La Jolla: California Sea Grant College.
Cite this record as:
Anderson RJ, Stegenga H, Bolton JJ. 2016. Seaweeds of the South African South Coast.
World Wide Web electronic publication, University of Cape Town, http://southafrseaweeds.uct.ac.za; Accessed on 21 September 2023.