Order Gelidiales
Family Gelidiaceae
Gelidium isabelae W.R.Taylor 1945: 154,155, pl. 5: figs 8-12
Plants light to dark red, small (to 10 mm tall), turf-forming; terete prostrate axes attached by holdfasts of consolidated rhizoids, bearing erect axes of flattened, simple or branched blades. Erect axes lanceolate to clavate, 300 – 700 µm wide, terete at bases, branching distichous, apices obtuse, with prominent apical cell. Erect branches with cortex of 3-5 layers basally, 2-3 layers in distal flattened regions, surrounding medulla of thick-walled cells; rhizines in flattened distal regions restricted to medulla, also present in inner cortex in basal regions. Reproductive material not found in our area.
Collections, ecology and regional distribution
Recorded from Swartklip, False Bay to Port Elizabeth (17-36, but see note 2 below) forming a short turf in the eulittoral zone (Tronchin 2003).
Type locality: Isla Isabela, Galapagos Islands, Ecuador (Taylor 1945).
Notes: 1. See Millar & Freshwater (2005) for a detailed description of Australian material of this species. They report that adventitious attachments may form from terete outgrowths of erect blades, but we have not seen this in our material.
Norris (1992) described Gelidium minisculum (Weber-van Bosse) R.E. Norris, from Kwazulu-Natal, based largely on cultured material. Tronchin (2003) and Millar & Freshwater (2005) point out that cultured seaweeds can be morphologically different to those in nature. Based on morphological and indirect molecular evidence, they suggest that G. minusculum from South Africa may be referable to G. isabelae. If this is so, then the distribution would extend from False Bay to northern Kwazulu-Natal (17-58).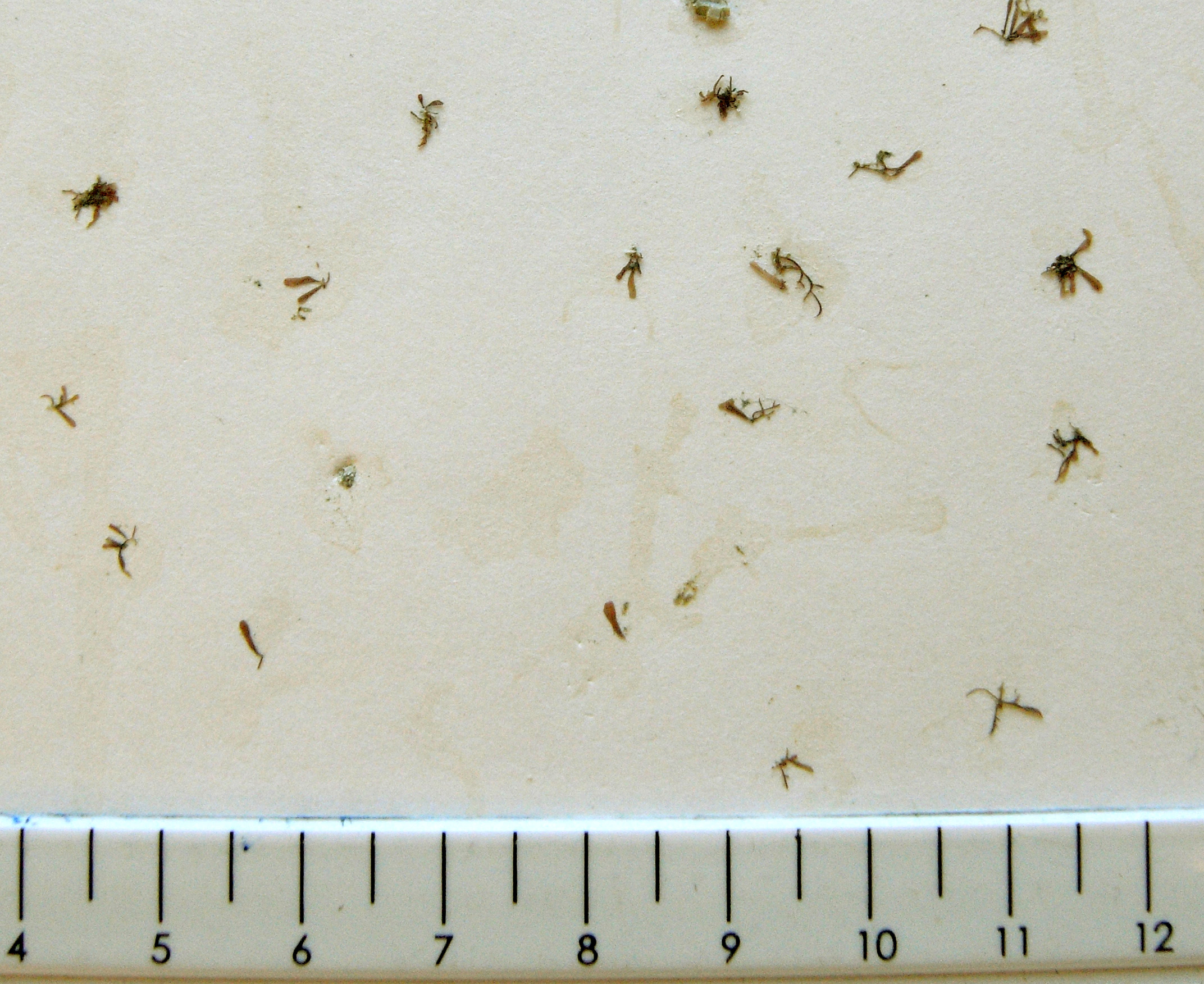 G. isabelae, Schoenmakerskop. Port Elizabeth (BOL, coll E.M. Tronchin).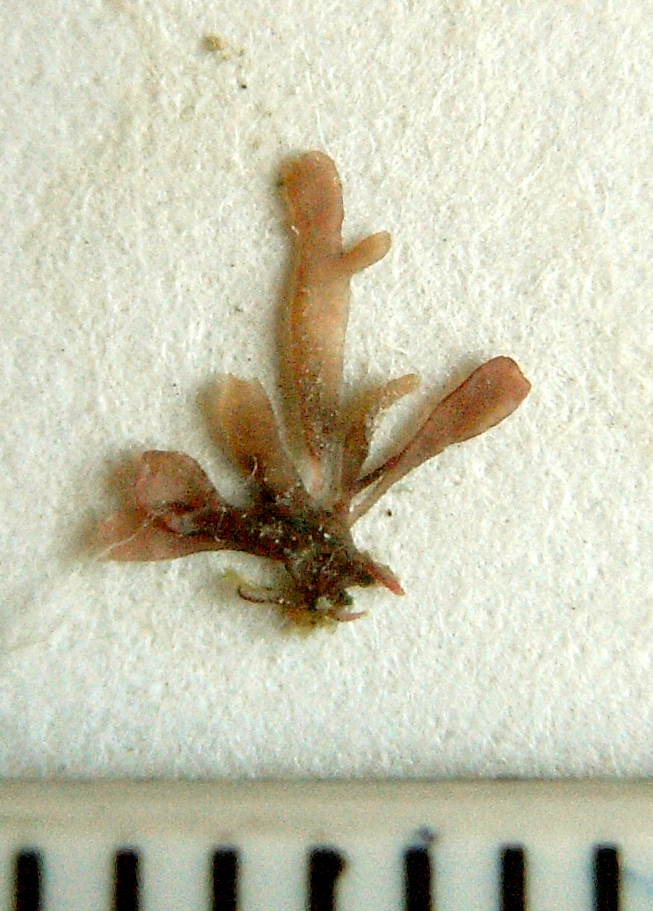 G. isabelae, Schoenmakerskop. Port Elizabeth (BOL, coll E.M. Tronchin) (Scale divisions 1 mm).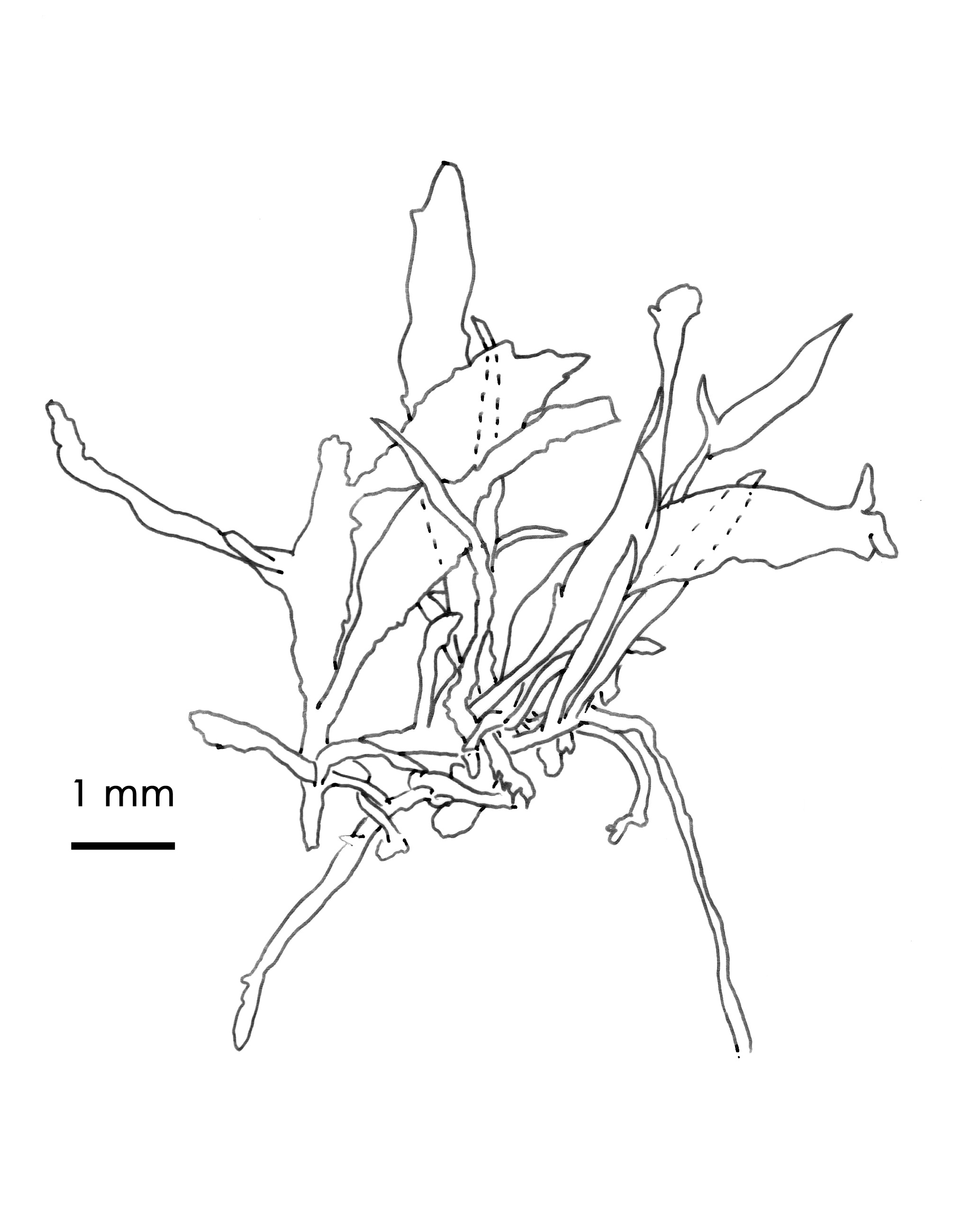 G. isabelae, Specimen from Lord Howe Island, Australia (re-drawn from Millar & Freshwater 2005).
References Gelidium isabelae
Millar AJK and DW Freshwater 2005. morphology and molecular phylogeny of the marine algal order Gelidiales (Rhodophyta) from New South Wales, including Lord Howe and Norfolk Islands. Australian Systematic Botany 18: 215-263
Norris RE 1992. The marine red algae of Natal, South Africa: Order Gelidiales (Rhodophyta). Memoirs of the Botanical Survey of South Africa 61: 43 pages.
Taylor, W.R. 1945. Pacific marine algae of the Allan Hancock Expeditions to the Galapagos Islands. Allan Hancock Pacific Expeditions 12: iv + 528, 3 figs, 100 pls.
Tronchin, E.M. 2003. The systematics, biology and distribution of the Gelidiaceae (Rhodophyta) of South Africa and related taxa. Ph D thesis, Department of Botany, University of Cape Town, 214 + xv pp.
Cite this record as:
Anderson RJ, Stegenga H, Bolton JJ. 2016. Seaweeds of the South African South Coast.
World Wide Web electronic publication, University of Cape Town, http://southafrseaweeds.uct.ac.za; Accessed on 01 October 2023.