Order Gelidiales
Family Gelidiaceae
Gelidium reptans (Suhr) Kylin 1938: 6-7, figs. 2A-C
Plants brownish-red, sometimes with orange tips in the upper eulittoral, comprising creeping cylindrical axes bearing rhizoidal attachment pads and short erect blades at regular intervals; erect blades 0.5 – 2 cm long and up to 1 mm wide, single or in bundles, flattened or partly terete, lanceolate to ligulate, simple at first becoming sparsely irregularly to pinnately branched, branching at point of injury often digitate, apices rounded, margins entire. Anatomy of 2-3 layers of darkly pigmented, small cortical cells; medulla of thick-walled filaments interspersed with rhizines. Reproductive structures (tetrasporangia or bilocular cystocarps) in sori in slightly widened apices of erect axes or lateral branchlets.
Collections, ecology and regional distribution
Recorded from False Bay to Mozambique (17-58; De Clerck et al. 2005). Usually forming a sand-binding turf, found anywhere from the upper eulittoral to shallow subtidal zones, in rock pools and in estuary mouths; epilithic or epizoic on limpets or barnacles.
World distribution:Southern African endemic, also recorded from Namibia (Rull Lluch 2002).
Type locality: Cape of Good Hope (Silva et al. 1996).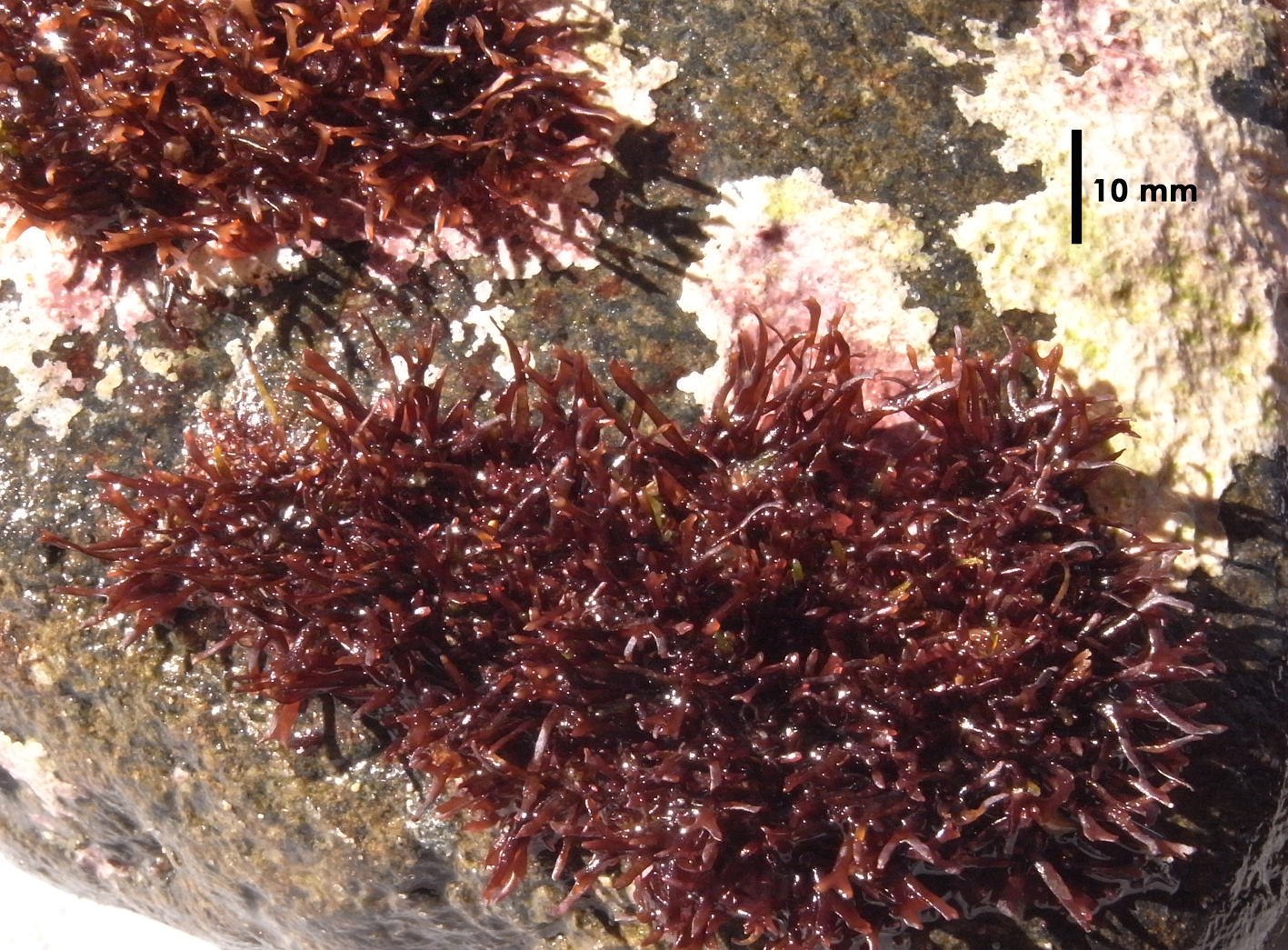 Gelidium reptans, on rock from the shallow sublittoral, Morgan Bay.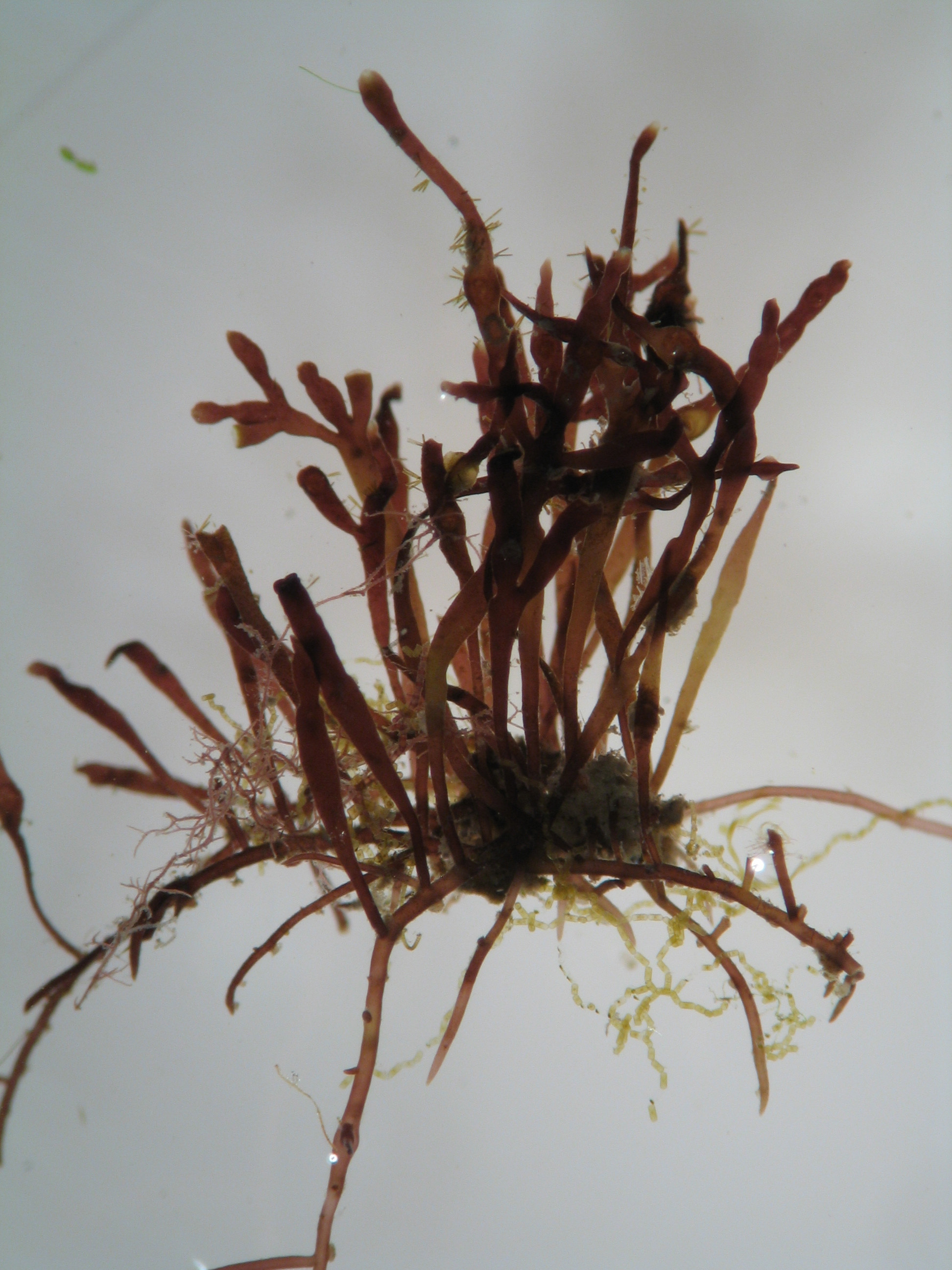 Gelidium reptans, tuft approx 15 mm tall, showing creeping base – fresh material, Morgan Bay.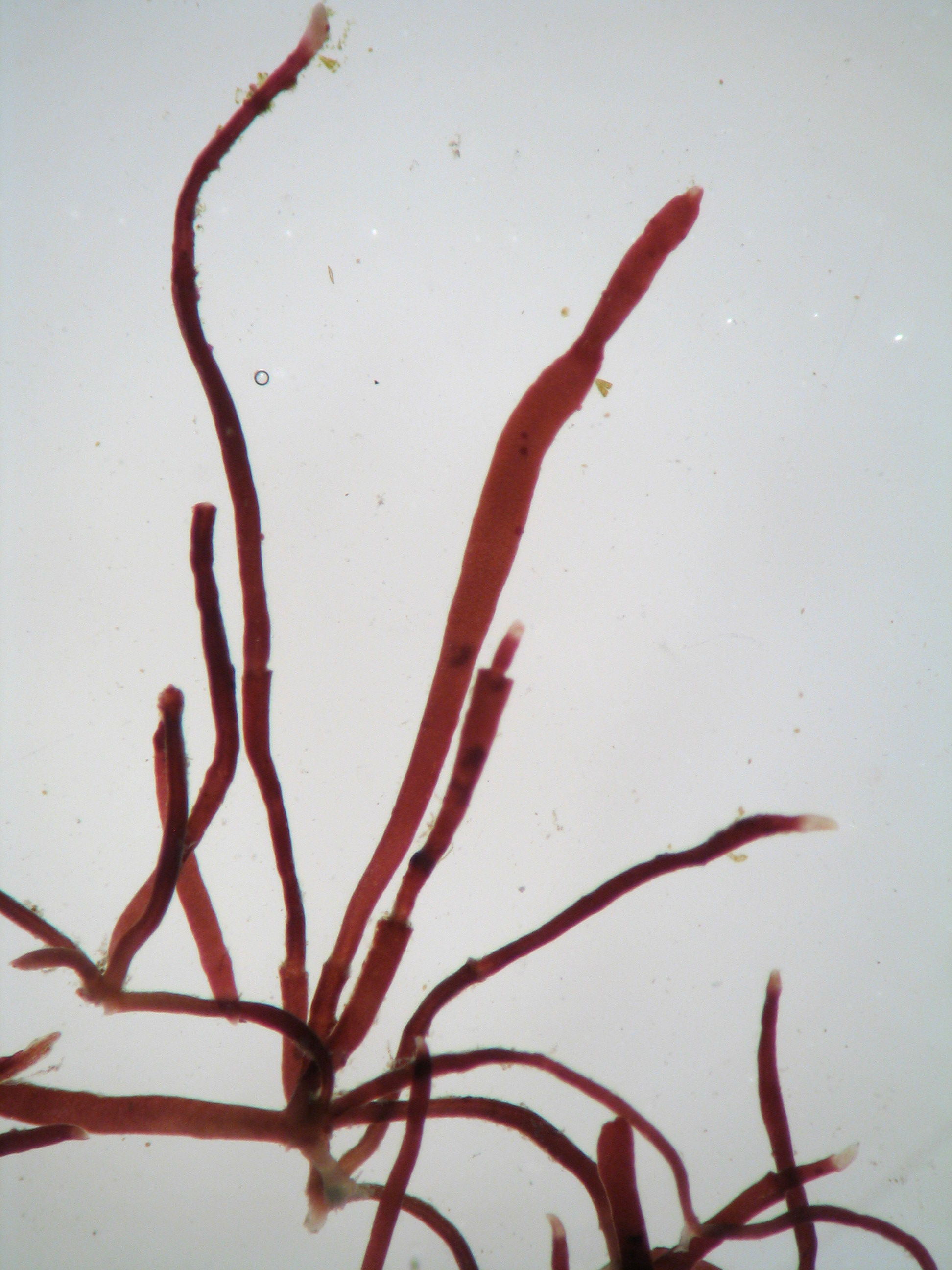 Gelidium reptans, detail under dissecting microscope. Plant approximately 12 mm high.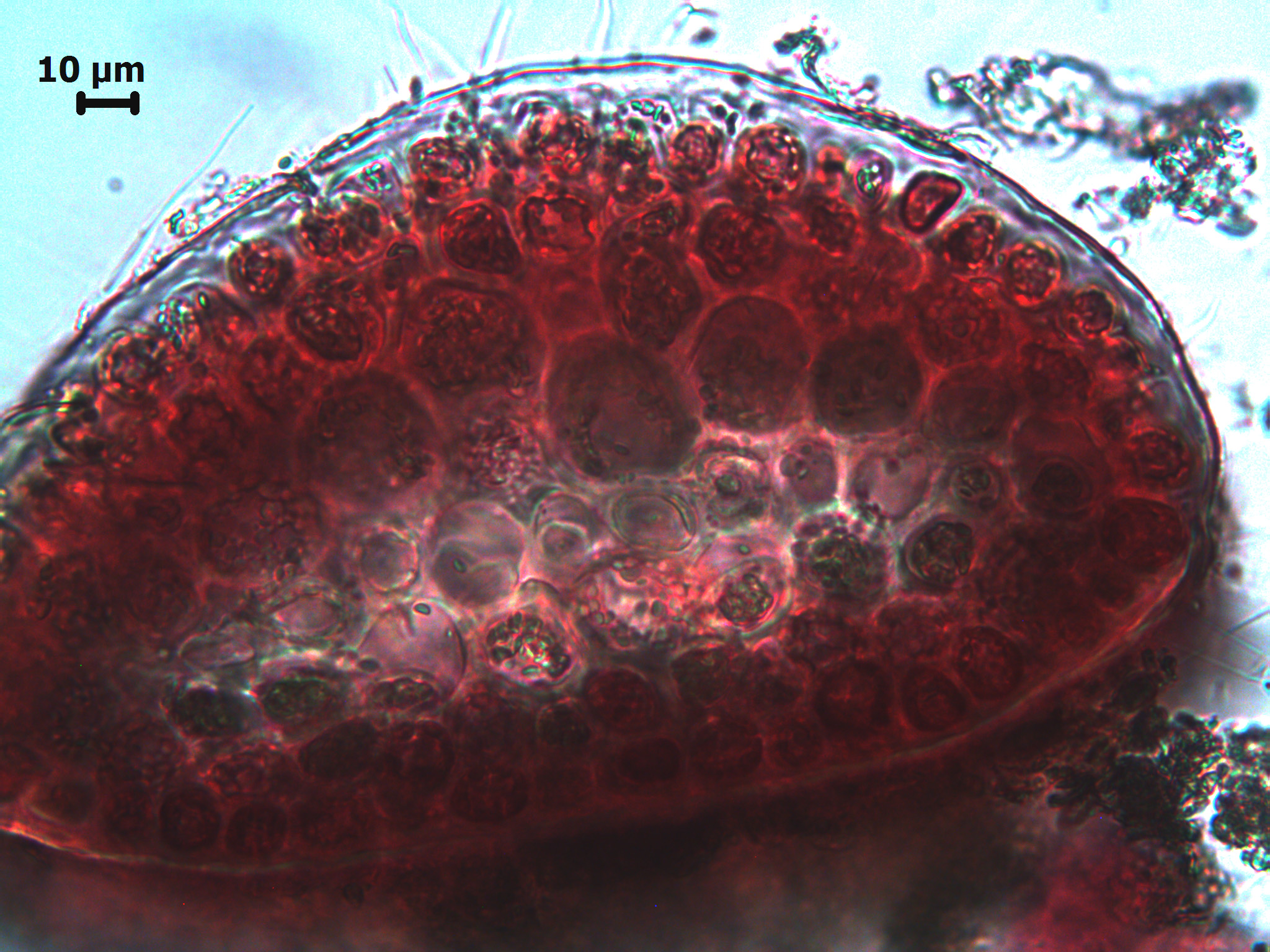 Gelidium reptans, XS of thallus.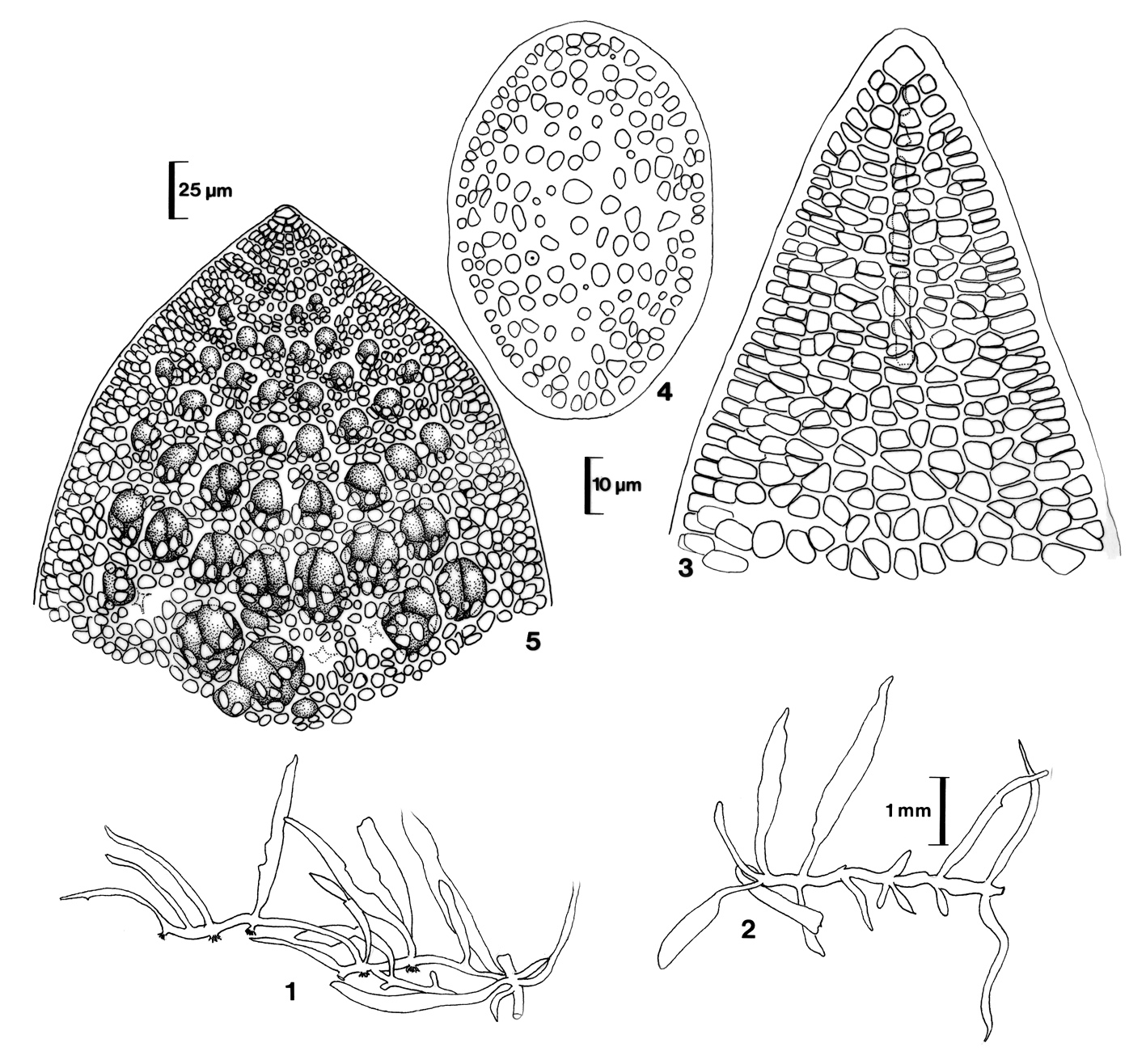 Gelidium reptans. 1-2. Habit. 3. Apex of erct thallus. 4. Cross section of prostrate thallus. 5. Apex of tetrasporiferous blade. Reproduced from Stegenga et al. (1997).
References Gelidium reptans
De Clerck, O., J.J.Bolton, R. J. Anderson and E. Coppejans. 2005. Guide to the Seaweeds of Kwazulu-Natal. National Botanic Garden of Belgium, Brussels (Scripta Botanica Belgica), 294 pp.
Kylin, H. 1938. Verzeichnis einiger Rhodophyceen von Sudafrika. Acta Univ. Lund 34: 1-25.
Rull Lluch, J. 2002. Marine benthic algae of Namibia. Scientia Marina 66 (Supplement 3): 258 pp.
Silva, P.C., Basson, P.W. & Moe, R.L. 1996. Catalogue of the benthic marine algae of the Indian Ocean. University of California Publications in Botany 79: 1-1259.
Stegenga, H., Bolton, J.J. and R. J. Anderson. 1997. Seaweeds of the South African west coast. Contributions from the Bolus Herbarium 18: 655 pp.
Cite this record as:
Anderson RJ, Stegenga H, Bolton JJ. 2016. Seaweeds of the South African South Coast.
World Wide Web electronic publication, University of Cape Town, http://southafrseaweeds.uct.ac.za; Accessed on 21 September 2023.