Order Gracilariales
Family Gracilariaceae
Gracilaria aculeata (Hering) Papenfuss 1967: 99, 100
Plants yellow-brown to dark red, cartilaginous, erect, up to 20 cm tall, attached by discoid holdfast. Axes terete, 2-3 mm in diameter, with regular swellings bearing whorls of spiny teeth up to 2 mm long. Axes sparsely and somewhat irregularly branched, branches slightly constricted at bases. Anatomy of large-called medulla with cells in central region up to 250 µm in diameter, decreasing radially and surrounded by a cortex of 1-3 layers of small pigmented cells. Tetrasporangia cruciately divided, up to 25 x 25 µm. Cystocarps scattered over surfaces of branches, ostiolate, up to 1.2 mm high and 1.4 mm wide, pericarp up to 26 cell layers thick.
Collections, ecology and regional distribution
Recorded from Kenton-on-Sea to Cape Vidal in northern Kwazulu-Natal (38-56). Found in the lower eulittoral and shallow subtidal, usually in clumps in wave-exposed areas.
World distribution: South African endemic.
Type locality: Durban, South Africa (Iyer et al. 2004).
Note: Described in detail by Iyer et Al. (2004), who point out that this species is closely related to the tropical G. salicornia, from which it may have evolved.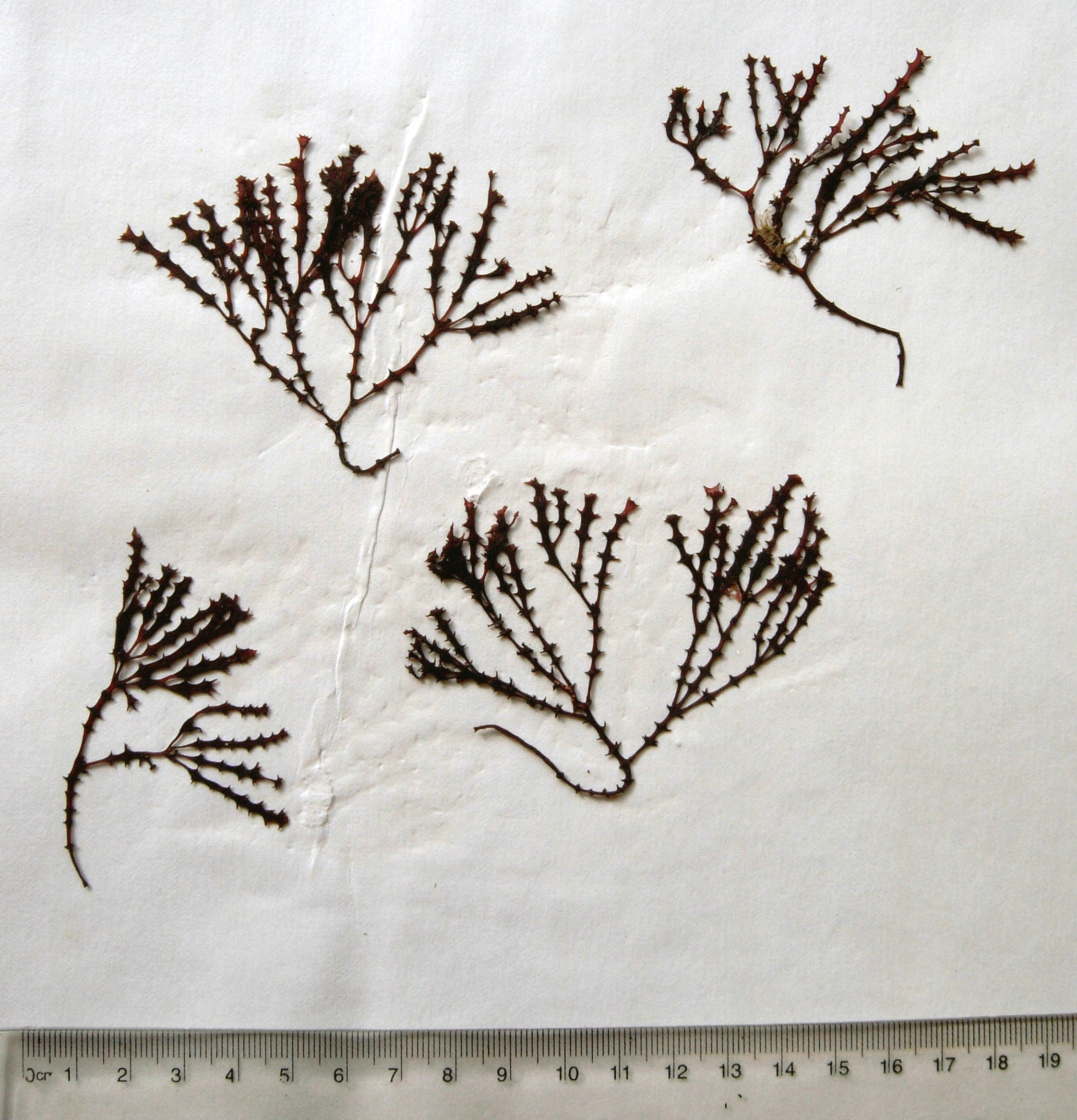 G. aculeata, Palm Beach (BOL).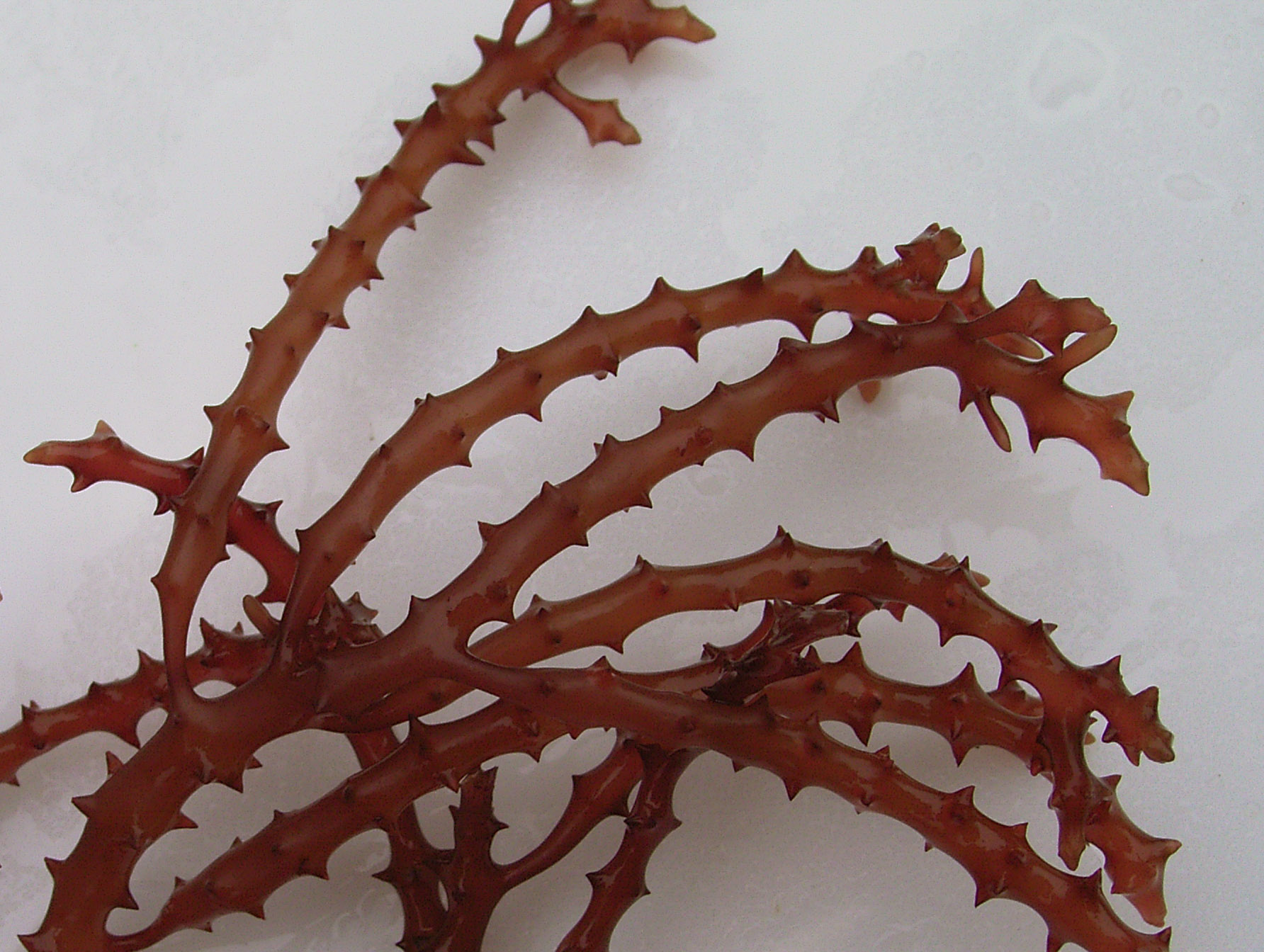 G. aculaeata, Port Alfred.

G. aculeata, cross section showing medulla.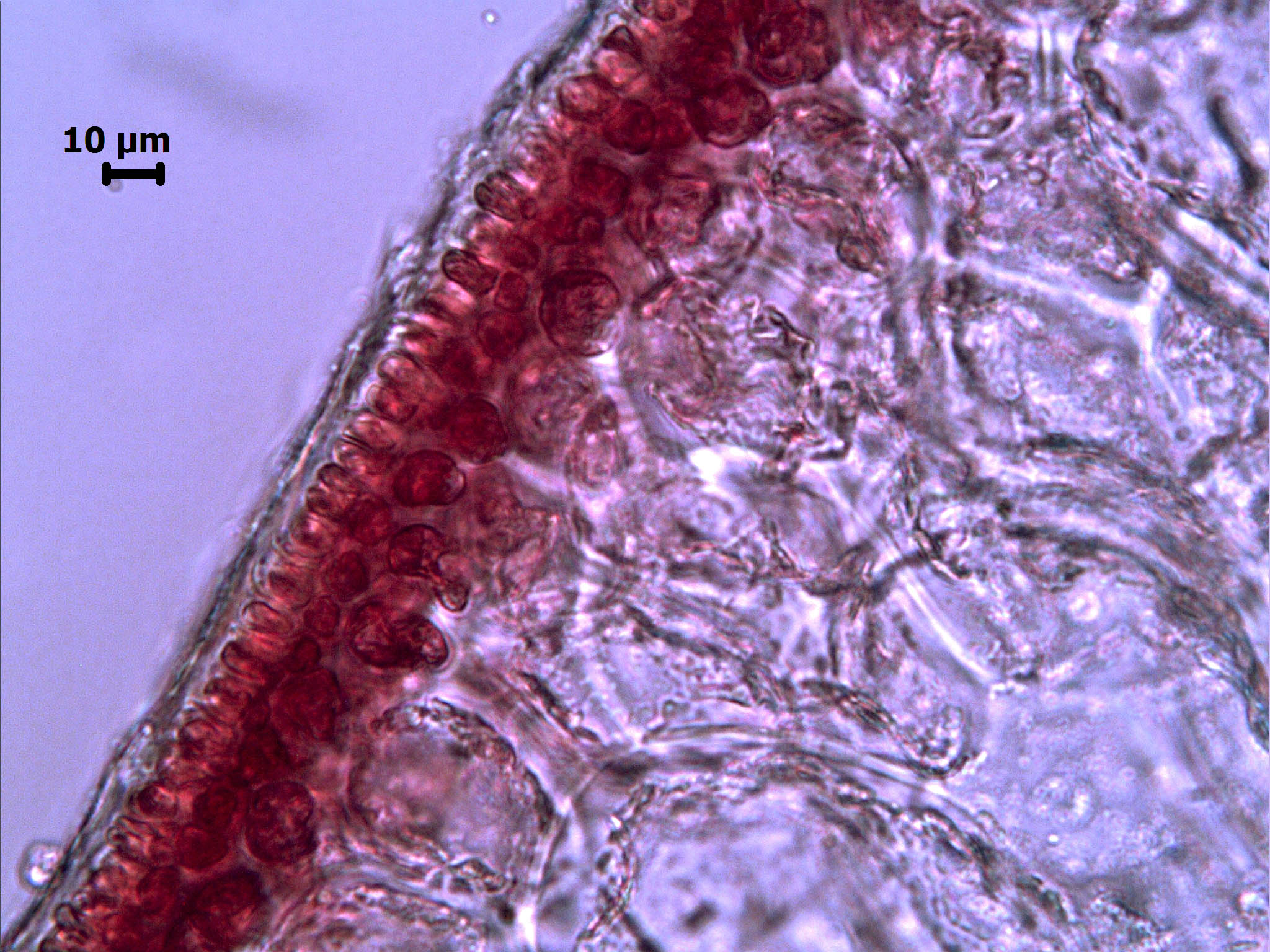 G.aculeata, cortex and part of medulla.
References Gracilaria aculeata
Iyer, R., De Clerck, O, Bolton J.J. and V.E. Coyne. 2004. Morphological amd taxonomic studies of Gracilaria and Gracilariopsis species (Gracilariales, Rhodophyta) from South Africa. South African Journal of Botany 70: 521-539.
Papenfuss, G.F. 1967. Notes on algal nomenclature - V. Various Chlorophyceae and Rhodophyceae. Phykos 5: 95-105.
Cite this record as:
Anderson RJ, Stegenga H, Bolton JJ. 2016. Seaweeds of the South African South Coast.
World Wide Web electronic publication, University of Cape Town, http://southafrseaweeds.uct.ac.za; Accessed on 25 September 2023.