Order Gracilariales
Family Gracilariaceae
Gracilariopsis longissima (S.G.Gmelin) M.Steentoft, L.M.Irvine & W.F.Farnham 1995: 117
Plants reddish-brown to red or yellowish-brown, terete, firm, stringy, up to 1 m long, usually in clumps anchored in sand. Main axis fairly distinct, up to 2 mm in diameter, repeatedly and irregularly branched in up to 4 orders, branches tapering at both ends. Medullary cells up to about 250 µm in diameter in centre of cross-section, decreasing in size radially, transition to cortex abrupt; cortex 1-3 cells thick, pigmented, about 10 µm in diameter. Tetrasporangia not seen in our material. Cystocarps scattered irregularly over surfaces of branches, ostiolate, up to 1 mm high and 1.4 mm wide, lacking tubular nutritive (traversing) cells. Note that this species can only be distinguished from a stringy, terete Gracilaria such as G. gracilis by molecular methods or by microscopic examination of the cystocarps: nutritive cells are present in Gracilaria but absent from Gracilariopsis. For more details on South African Gracilariopsis, see Iyer et al. (2005a, 2005b).
Collections, ecology and regional distribution
Records from the west coast (St Helena Bay, Langebaan Lagoon and in Simonstown harbour) and on the south coast (Knysna Estuary), have been confirmed by molecular methods (Iyer et al. 2004)(11-30). This species is probably confined to very sheltered waters, and may be restricted to a few estuaries on the south coast. Plants are inevitably anchored in subtidal sand.
World distribution: Widely reported from tropical and temperate localities, but most records would require molecular methods to distinguish them from other "stringy" Gracilaria and Gracilariopsis species.
Type locality: Sheerness, Kent, England (Iyer et al. 2004).
Note: A new species of Gracilariopsis, G. funicularis Iyer, Bolton et Coyne, was described from Swakopmund, Namibia, and the De Mond (Heuningnes) Estuary on the south coast, by Iyer et al. (2005b), using molecular methods. This species is morphologically indistinguishable from Gs. longissima and Gracilaria gracilis. Gs. funicularis is typical of the genus in that traversing nutritive sells are absent from cystocarps.

Gracilariopsis longissima, Knysna (BOL).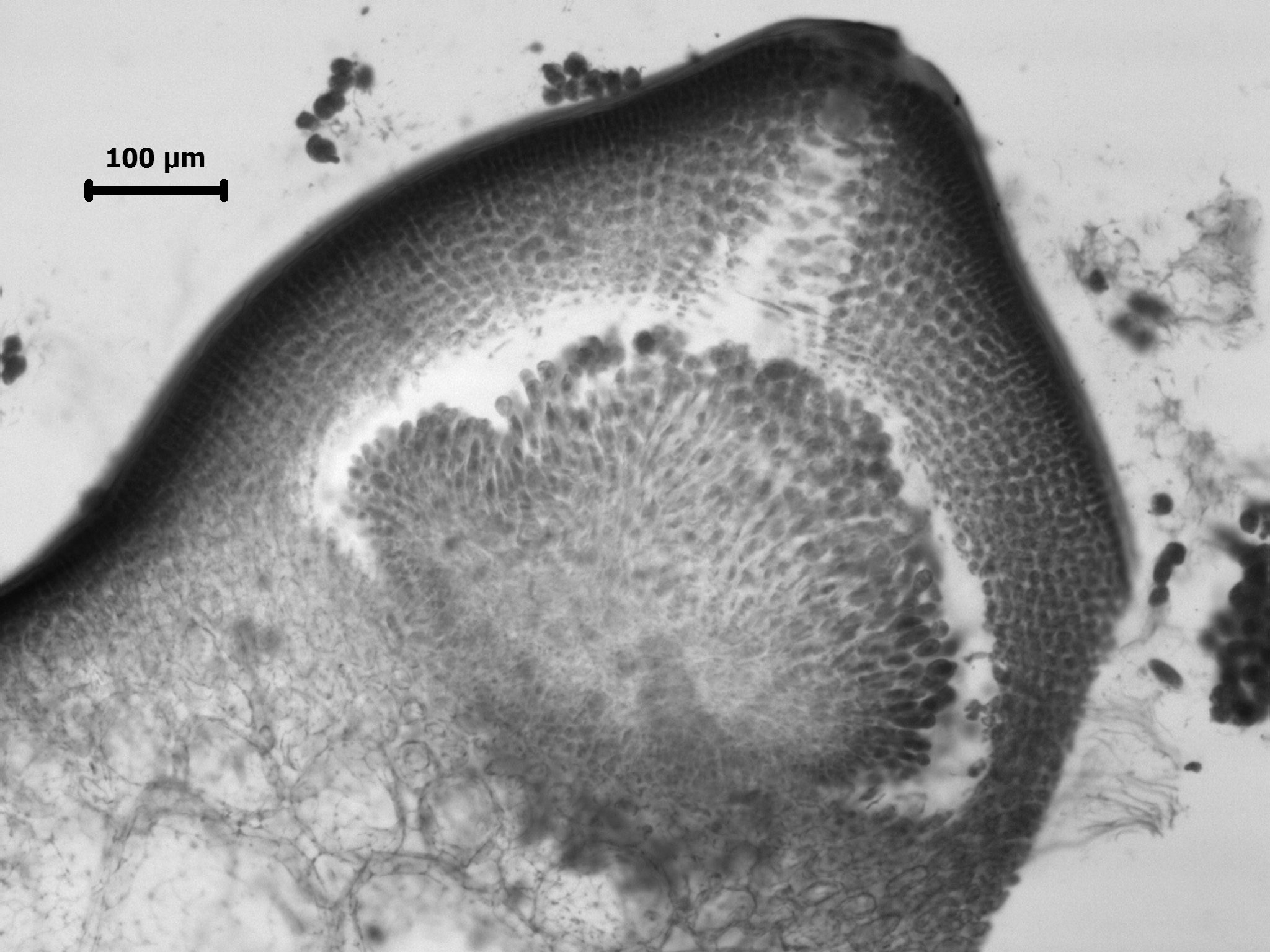 Gracilariopsis longissima, Simonstown, cross section of cystocarp. Note absence of nutritive filaments between pericarp and gonimoblast.
References Gracilariopsis
Iyer, R., De Clerck, O, Bolton J.J. and V.E. Coyne. 2004. Morphological amd taxonomic studies of Gracilaria and Gracilariopsis species (Gracilariales, Rhodophyta) from South Africa. South African Journal of Botany 70: 521-539.
Iyer, R., Tronchin, E. M. and J. J. Bolton. 2005a. Molecular systematics of the Gracilariaceae (Gracilariales, Rhodophyta) with emphasis on southern Africa. Journal of Phycology 41: 672-684.
Iyer, R., Bolton, J.J. and V.E. Coyne. 2005b. Gracilarioid species (Gracilariales, Rhodophyta) in southern Africa, with a description of Gracilariopsis funicularis sp. nov. African Journal of Marine Science 27(1): 97-105.
Steentoft, M., Irvine, L.M. & Farnham, W.F. 1995. Two terete species of Gracilaria and Gracilariopsis (Gracilariales, Rhodophyta) in Britain. Phycologia 34: 113-127, 37 figs.
Cite this record as:
Anderson RJ, Stegenga H, Bolton JJ. 2016. Seaweeds of the South African South Coast.
World Wide Web electronic publication, University of Cape Town, http://southafrseaweeds.uct.ac.za; Accessed on 01 October 2023.