Order Ceramiales
Family Wrangeliaceae
Haloplegma duperreyi Montagne 1842: 258, pl. 7: fig. 1
Plants reddish-grey to reddish-brown, erect, flat, complanately branched, lobed to flabellate, a few to 15 cm tall, branches expanding upwards to about 1.5 cm wide distally, margins smooth, irregular, ruffled or lacerate. Holdfast rhizoidal, discoid to conical. Thallus ca 500 µm thick, texture spongy. Structure of branched filaments intermeshed in one plane to form a flat network with short filaments directed towards the thallus surface, imparting a felt-like texture.
Tetrasporangia borne at apices of short branches that are directed towards the surface, cruciately divided, 40-50 µm long. Gametophytes not seen, but reported in Haloplegma to be dioecious, with carposporangia exserted above the blade surface.
Collections, ecology and regional distribution
Recorded from De Hoop area to cape Vidal in KwaZulu-Natal (23-56). Apparently uncommon and subtidal, it has been collected from drift (e.g. at Port Alfred) and by diving (e.g. 6m depth, northern Transkei).
World distribution: in Africa also collected from Kenya, Tanzania and Mauritius, but apparently widespread in tropical and warm temperate seas (records in Guiry & Guiry 2014).
Type locality: Martinique, West Indies (Silva et al. 1996).
Note: see Womersley (1998) for further details of structure.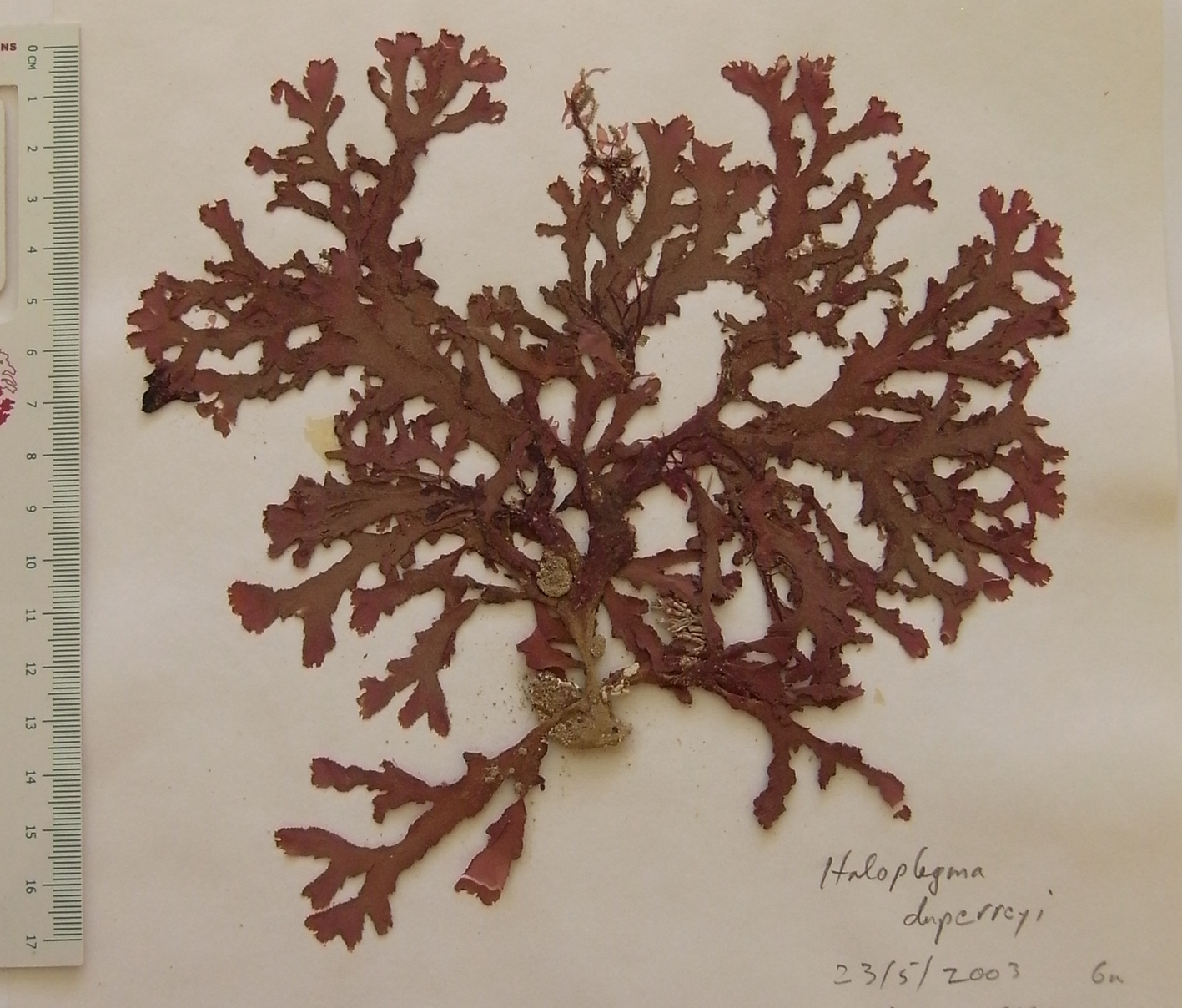 Haloplegma duperreyi, 6m, Pondoland, northern Transkei. (Herbarium specimen).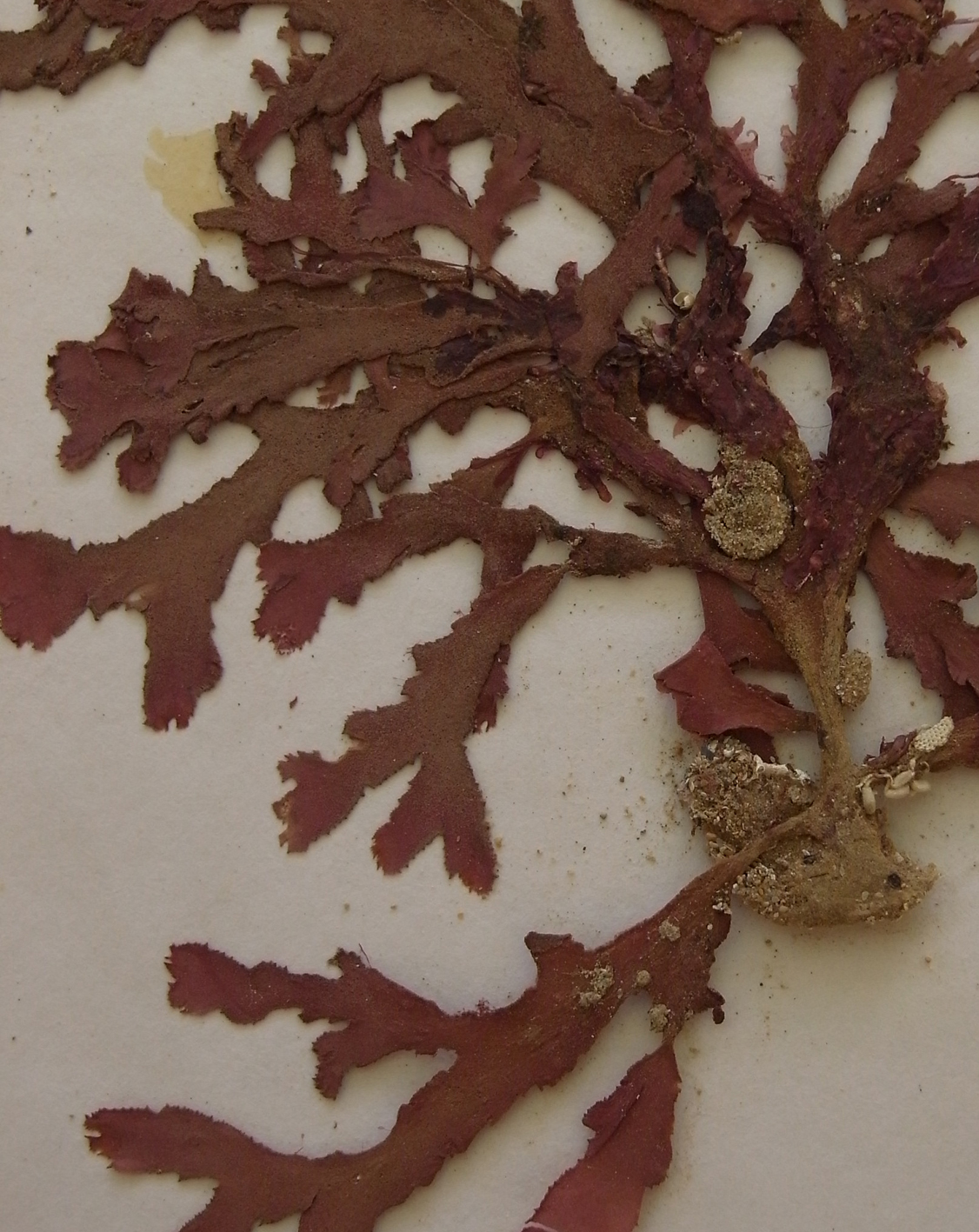 Haloplegma duperreyi, 6m, Pondoland, northern Transkei. (Herbarium specimen).
References Haloplegma duperreyi
M.D. Guiry in Guiry, M.D. & Guiry, G.M. 2014. AlgaeBase. World-wide electronic publication, National University of Ireland, Galway. http://www.algaebase.org; searched on 14 November 2014.
Montagne, C. 1842. Botanique. Plantes cellulaires. In: Histoire physique, politique et naturelles de l'île de Cuba. (Sagra, R. De La Eds) Vol. 11, pp. i-x, 1-549. Paris.
Silva, P.C., Basson, P.W. & Moe, R.L. 1996. Catalogue of the benthic marine algae of the Indian Ocean. University of California Publications in Botany 79: 1-1259.
Womersley, H.B.S. 1998. The marine benthic flora of southern Australia - Part IIIC. Ceramiales - Ceramiaceae, Dasyaceae. pp. 535. Canberra & Adelaide: Australian Biological Resources Study & State Herbarium of South Australia.t!
Cite this record as:
Anderson RJ, Stegenga H, Bolton JJ. 2016. Seaweeds of the South African South Coast.
World Wide Web electronic publication, University of Cape Town, http://southafrseaweeds.uct.ac.za; Accessed on 30 September 2023.