Order Hildenbrandiales
Family Hildenbrandiaceae
Hildenbrandia lecanellierii Hariot 1887: 74, fig. 6
Plants crustose, dark red or brownish-red, several cm (or more) in diameter. Margins smooth but central (older) parts becoming rugose or tuberculate and several mm thick, often with sand grains included in the thallus; older parts easily removed from the substratum. Cells throughout the thallus of rather uniform size (3-5 µm diameter), rectangular, slightly longer than broad, arranged in vertical rows, several minute chloroplasts per cell. Tetrasporangial conceptacles ranging in shape (possibly with age) from shallow to globose to deeper depressions, about 80 µm in diameter and up to 150 µm deep; tetrasporangia regularly zonately divided, up to 40 x 12 µm in size.
Collections, ecology and regional distribution
Recorded from the Orange River to the Port Elizabeth area (1-37) but very seldom collected and may be more widespread. Epilithic, very common throughout the eulittoral zone, especially where water is held in crevices and hollows.
World distribution: Australia, New Zealand, Antarctica and some sub-Antarctic islands, Chile, Tierra del Fuego, Falkland Islands (Guiry & Guiry 2013).
Syntype localities: Fuegia and various in Strait of Magellan and Tierra del Fuego (Silva et al. 1996).
Note: In South Africa this entity was formerly known as Hildenbrandia pachythallos Dickinson ined. (Stephenson 1948) but was never formally described.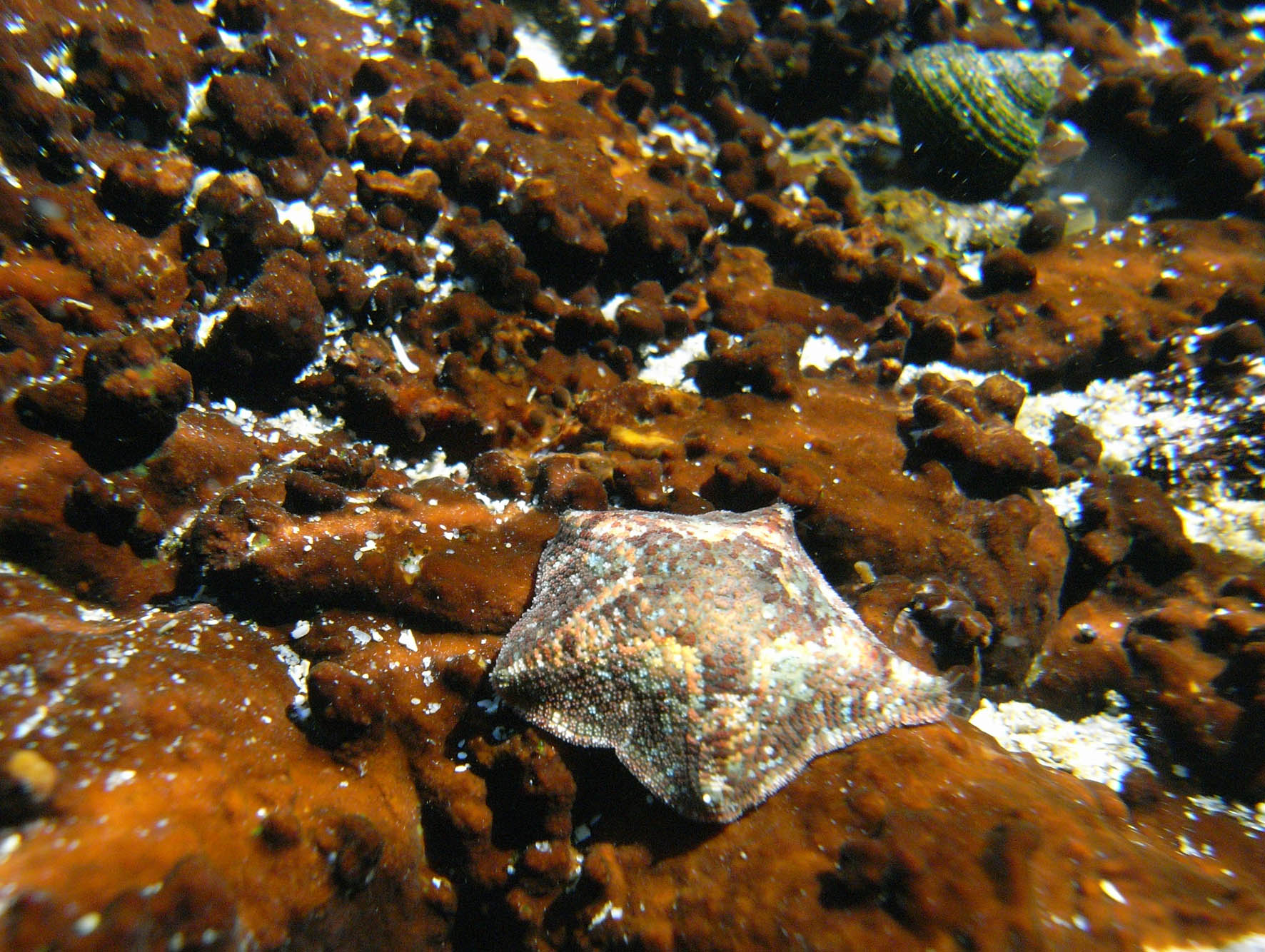 Hildenbrandia lecanellierii, in a rock pool at Cape St Francis. Cushion star about 20 mm diameter.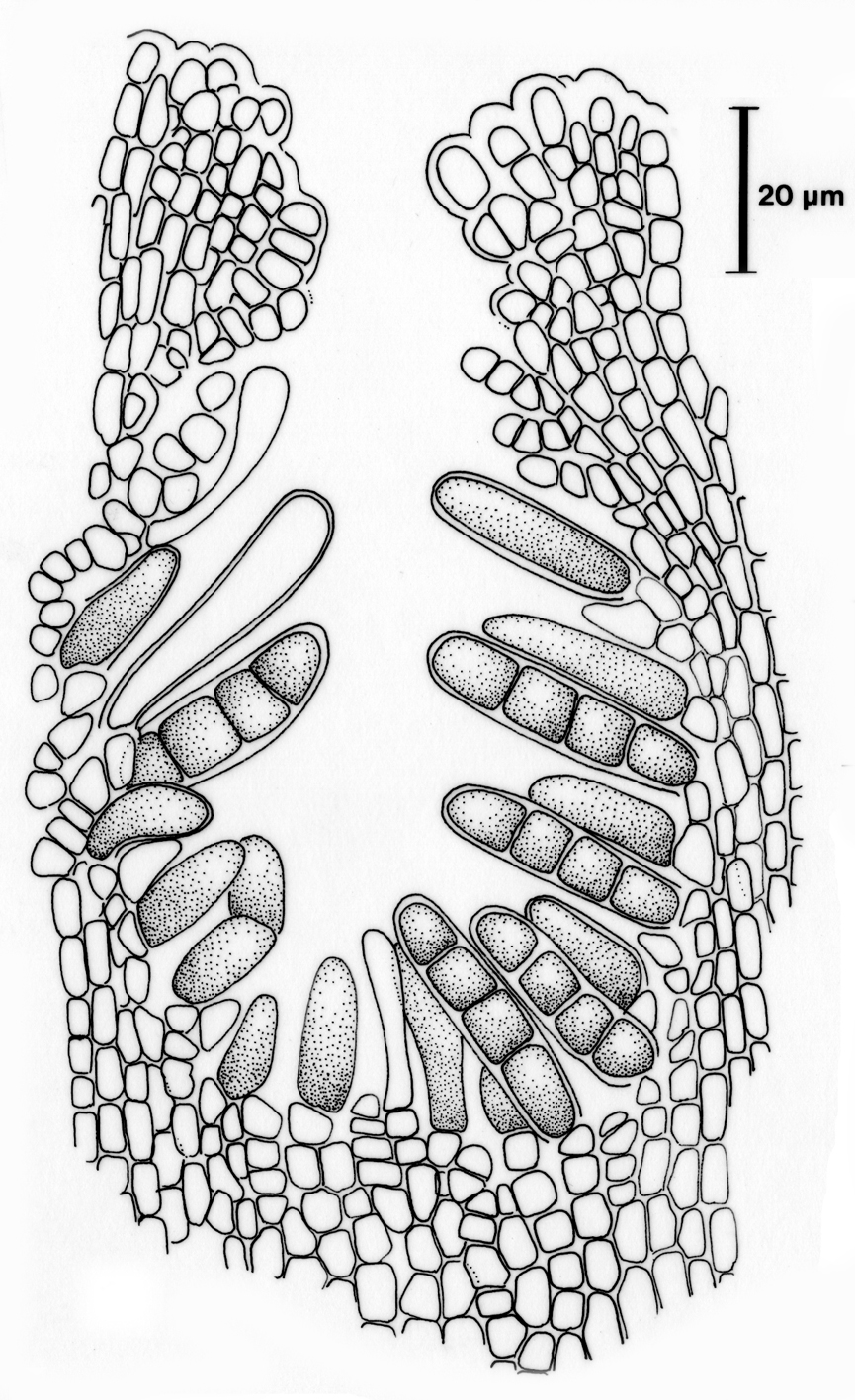 Hildenbrandia lecanellierii, section of tetrasporangial receptacle. Reproduced from Stegenga et al. (1997).
References Hildenbrandia lecanellierii
Guiry, M.D. & Guiry, G.M. 2013. AlgaeBase. World-wide electronic publication, National University of Ireland, Galway. http://www.algaebase.org; searched on 27 September 2013.
Hariot, P. 1887. Algues Magellaniques nouvelles. Journal de Botanique 1: 55-59; 72-74, Figs 1-6.
Silva, P.C., Basson, P.W. & Moe, R.L. 1996. Catalogue of the benthic marine algae of the Indian Ocean. University of California Publications in Botany 79: 1-1259.
Stegenga, H., Bolton, J.J. and R. J. Anderson. 1997. Seaweeds of the South African west coast. Contributions from the Bolus Herbarium 18: 655 pp.
Stephenson, T. A. 1948. The constitution of the intertidal fauna and flora of South Africa III. Annals of the Natal Museum 11(2): 207-324, pl. XV, XVI.
Cite this record as:
Anderson RJ, Stegenga H, Bolton JJ. 2016. Seaweeds of the South African South Coast.
World Wide Web electronic publication, University of Cape Town, http://southafrseaweeds.uct.ac.za; Accessed on 25 September 2023.