Order Gigartinales
Family Cystocloniaceae
Hypnea intricata Kylin 1938: 11, figs 4B, C.
"Thallus 2-3 cm tall, rather irregularly branched with long and short axes mixed together; longer axes with hooked apices; terminal axes 0.5 mm thick." This very brief description is from Kylin (1938).
Collections, ecology and regional distribution
Apparently recorded from Tsitsikamma to the Durban area (32-51). We have only applied the name to a specimen from Addo, and then with some doubt.
Type locality: Port Elizabeth (Kylin 1938).
Note: This species appears to be distinguished from some others (some specimens of H. tenuis, H. rosea, H. musciformis) almost entirely on size, especially axis width. The result is that some specimens cannot clearly be ascribed to any one of these species.

Hypnea intricata (BOL), smallest scale divisions 1 mm.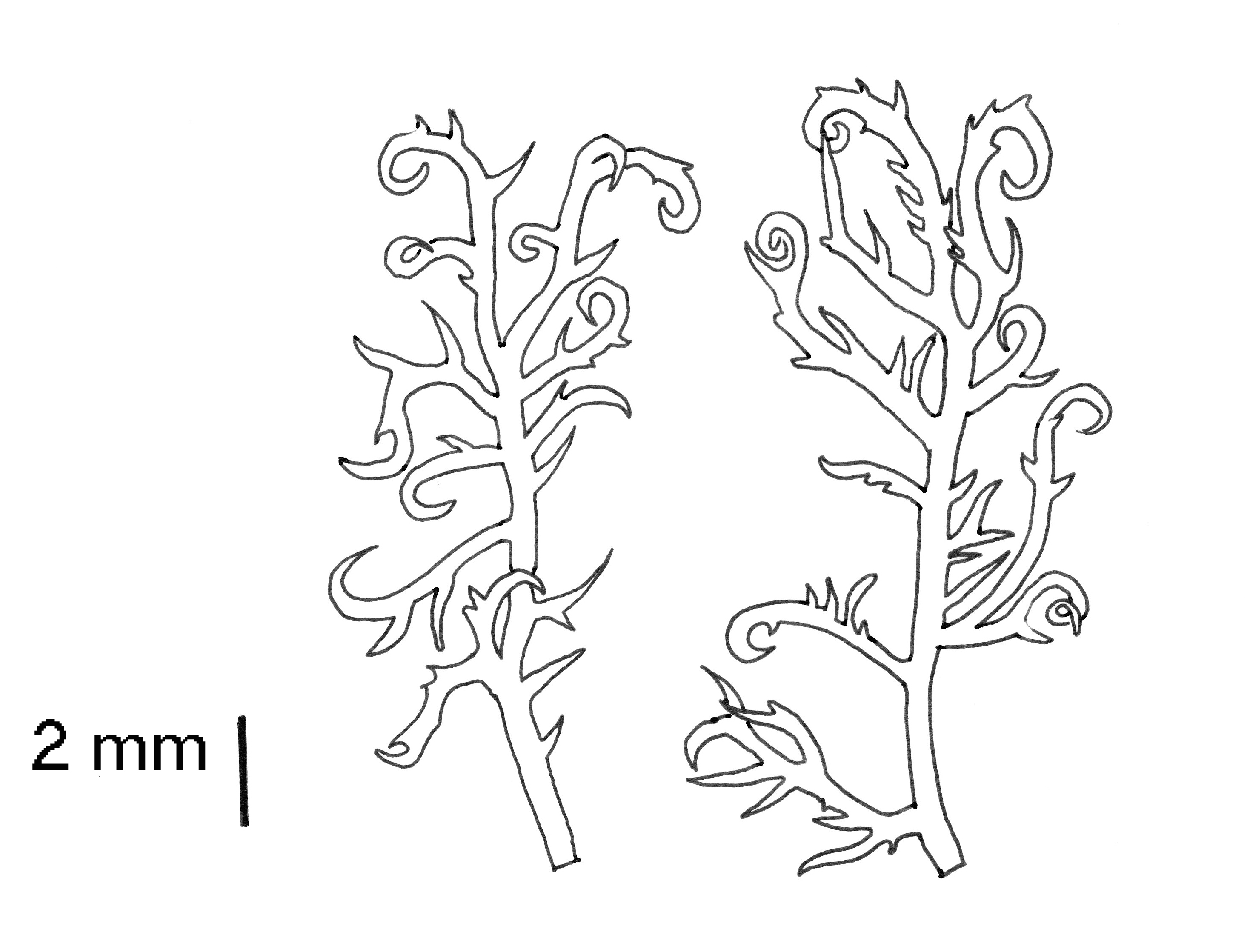 Hypnea intricata, re-drawn from Kylin (1938).
References Hypnea intricata
Kylin, H. 1938. Verzeichnis einiger Rhodophyceen von Südafrika. Lunds Universitets Årsskrift, N. F. Avd. 2, 34(8): 1-26, 10 figs, 8 plates.
Cite this record as:
Anderson RJ, Stegenga H, Bolton JJ. 2016. Seaweeds of the South African South Coast.
World Wide Web electronic publication, University of Cape Town, http://southafrseaweeds.uct.ac.za; Accessed on 01 October 2023.