Order Ceramiales
Family Inkyuleeaceae
Inkyuleea beckeri (F.Schmitz ex Mazza) H.-G.Choi, Kraft & G.W.Saunders 2000: 285
Plants up to 10 cm tall, dark red, more or less spreading horizontally, though not frequently secondarily attached. Thallus with strong main axes, regularly three determinate branchlets per segment and infrequent indeterminate axes. Determinate branchlets dimorphic: one large branchlet and two smaller branchlets, the occasional indeterminate branch replacing the large determinate branchlet. Main axis up to 250 µm broad, naked apart from the occasional filaments that grow downwards from the basal cells of all three laterals. All three branchlets with a short basal cell, the other cells about twice as long as broad. The basal cell with one or a few small ramuli, the other cells in the large branchlet with three laterals basally – one or two strictly pinnately branched, the other(s) simple or little branched; two laterals more toward the apex. The two smaller branchlets usually with two simple, occasionally re-branched, laterals. Especially the large branchlets strongly incurved. Tetrasporangia mainly in branched clusters on proximal segments of the ramuli of large branchlets, but also in similar clusters on the basal segments of smaller branchlets. Tetrasporangia oval, ca. 35 x 30 µm, cruciately divided, the first division being horizontal. Other reproductive specimens not seen.
Collections, ecology and regional distribution
Recorded from Port Alfred to northern KwaZulu-Natal (39-56). On the south coast very common only at Mzamba, where most material was attached in the lower intertidal. Otherwise mainly found in drift in the east of the area (see also De Clerck et al. 2005).
World distribution: South African endemic.
Type locality: Mouth of Kowie River, Port Alfred, South Africa (Silva et al. 1996).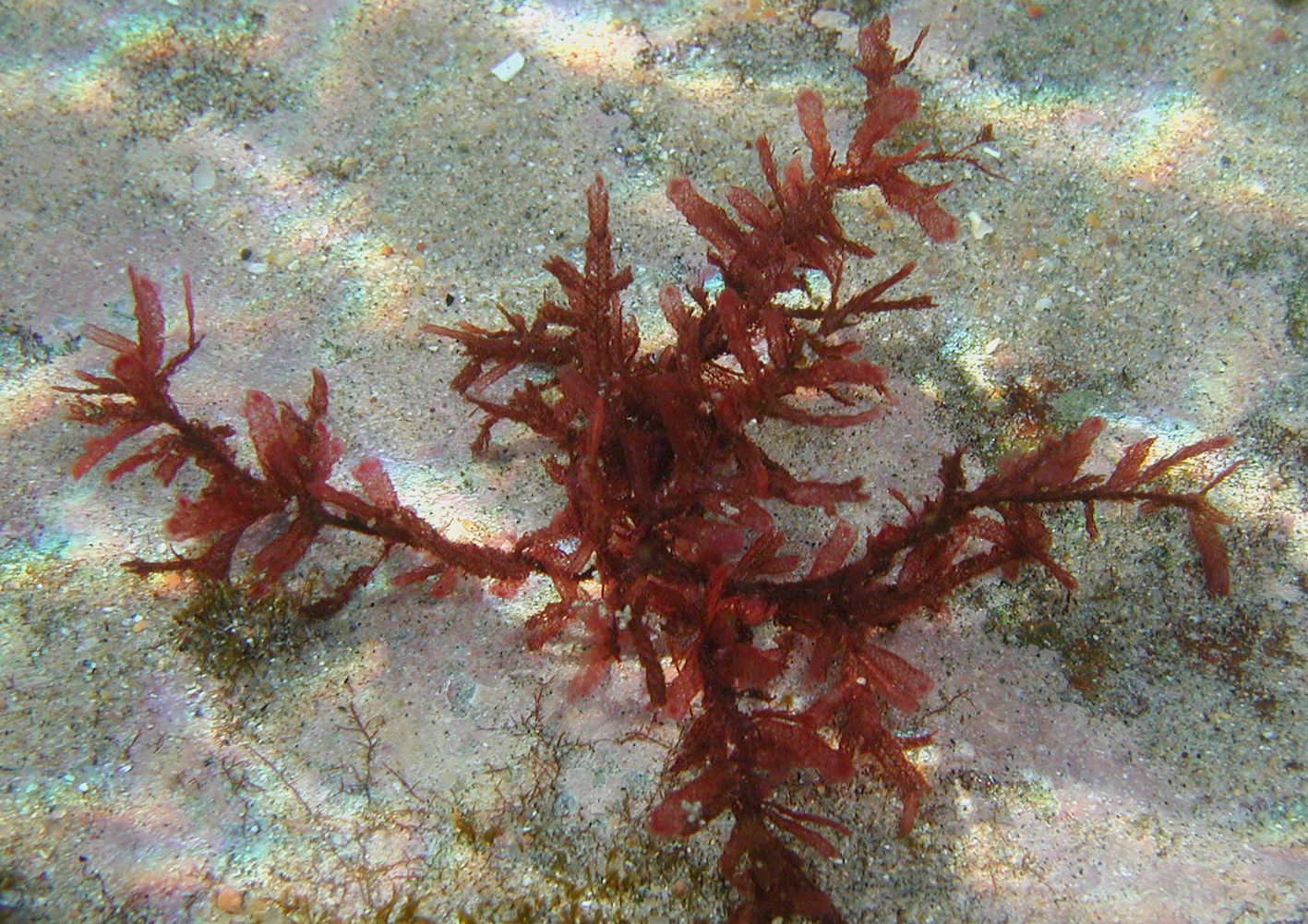 Inkyuleea beckeri (photo H. Verbruggen, from De Clerck et al. 2005).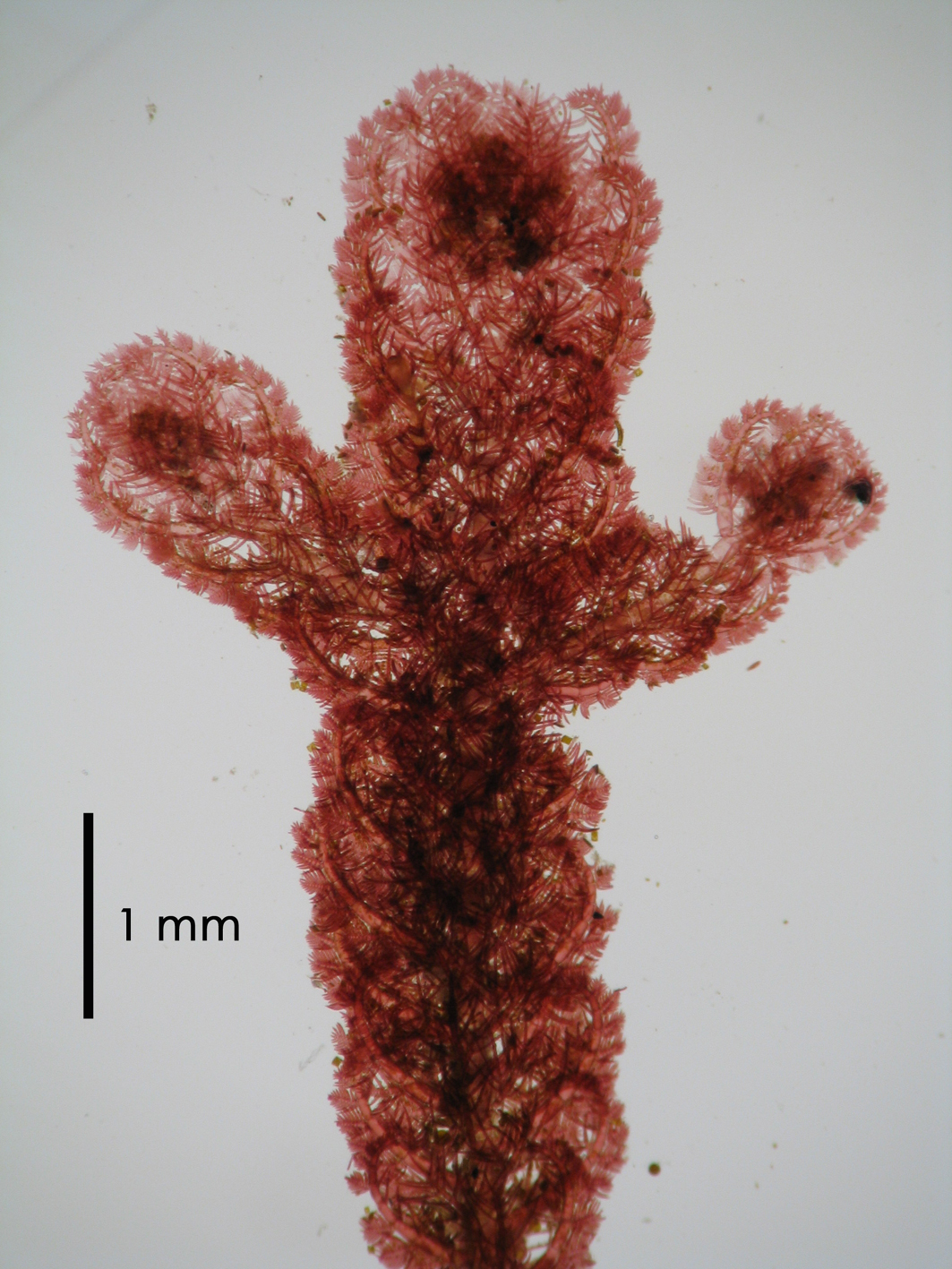 Inkyuleea beckeri, part of thallus showing feathery appearance.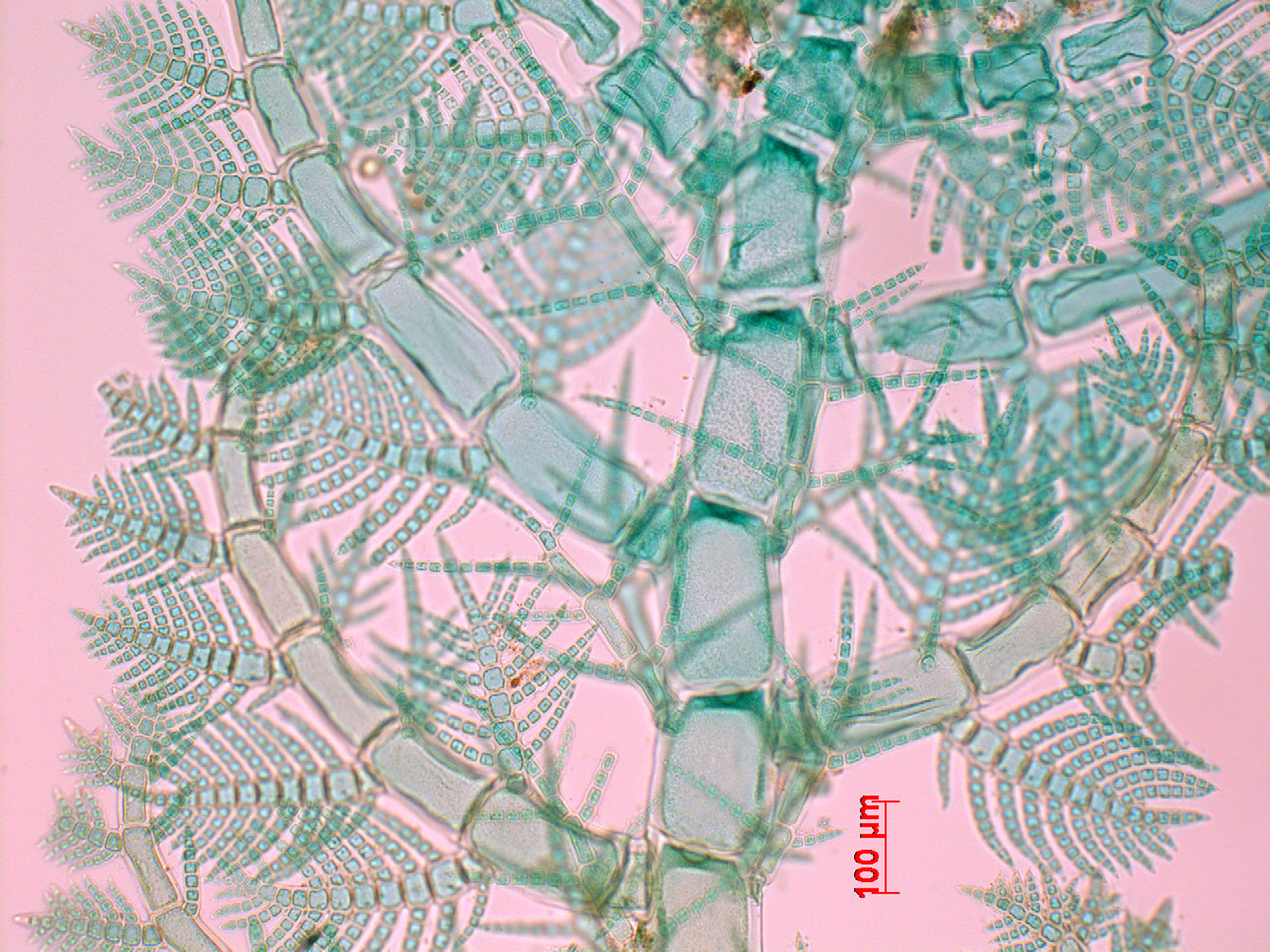 Inkyuleea beckeri, detail of sterile thallus, Mzamba (Stained slide).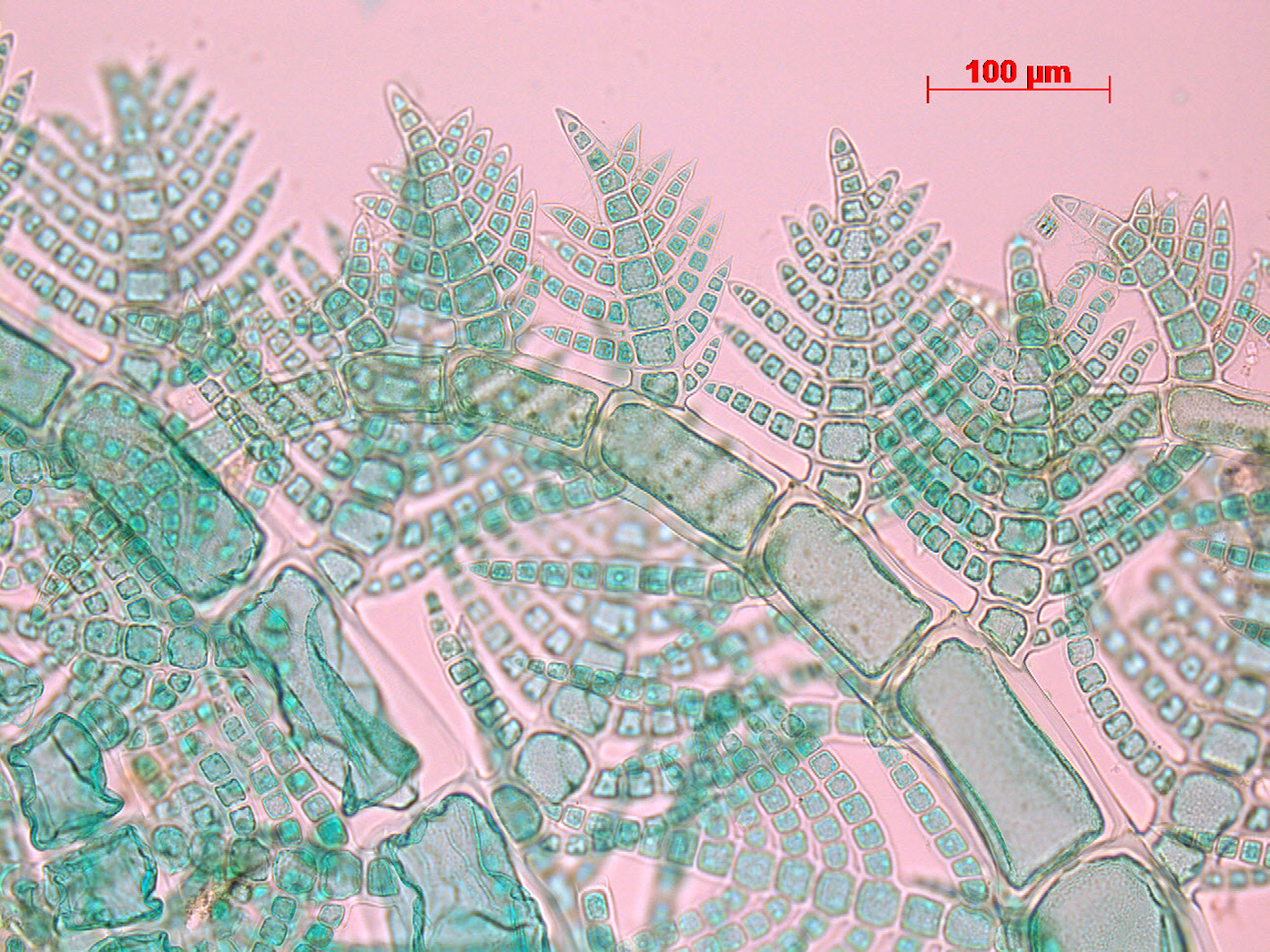 Inkyuleea beckeri, detail of branchlets. Mzamba specimens, stained slide.
References Inkyuleea beckeri
Choi, H.-G., Kraft, G.T. & Saunders, G.W. 2000. Nuclear small-subunit rDNA sequences from Ballia spp. (Rhodophyta): proposal of the Balliales ord. nov., Balliaceae fam. nov., Ballia nana sp. nov. and Inkyuleea gen. nov. (Ceramiales). Phycologia 39: 272-287.
De Clerck, O, Tronchin, E. M., Schils, T. 2005. Red algae. In: De Clerck, O., J.J. Bolton, R. J. Anderson and E. Coppejans, 2005. Guide to the Seaweeds of Kwazulu-Natal. National Botanic Garden of Belgium, Brussels (Scripta Botanica Belgica), pp. 130-269.
Silva, P.C., Basson, P.W. & Moe, R.L. 1996. Catalogue of the benthic marine algae of the Indian Ocean. University of California Publications in Botany 79: 1-1259.
Cite this record as:
Anderson RJ, Stegenga H, Bolton JJ. 2016. Seaweeds of the South African South Coast.
World Wide Web electronic publication, University of Cape Town, http://southafrseaweeds.uct.ac.za; Accessed on 01 October 2023.