Order Ceramiales
Family Rhodomelaceae
Janczewskia meridionalis M.T.Martin & M.A.Pocock 1953: 62, figs. 3 a, 3b
Plants parasitic, forming lobed, translucent whitish pustules 1-3 mm in diameter on the hosts (Laurencia spp). Rhodomelacean structure only apparent in apices: apical cells in depressions, cutting off row of central cells which give rise to trichoblasts, elongate radiating pericentral cells and a cortex. Attachment to host by penetrating rhizoidal filaments, developing pit connections with host cells. Reproductive structures sunken in conceptacles. Tetrasporangia ovate, ca.70x40 µm, tetrahedrally divided, lining conceptacles; surface of conceptacle also with free branched filaments. Antheridia in plumose clusters lining interior of conceptacles. Cystocarps globose, forming lobes on thallus surface, ostiolate.
Collections, ecology and regional distribution
Recorded from Brandfontein (just west of Cape Agulhas) to the Cape St Lucia area in northern KwaZulu-Natal (22-55). Parasitic on Laurencia flexuosa and other species of Laurencia.
World distribution: South African endemic.
Type locality: Riet River, Eastern Cape Province, South Africa (Martin & Pocock 1953).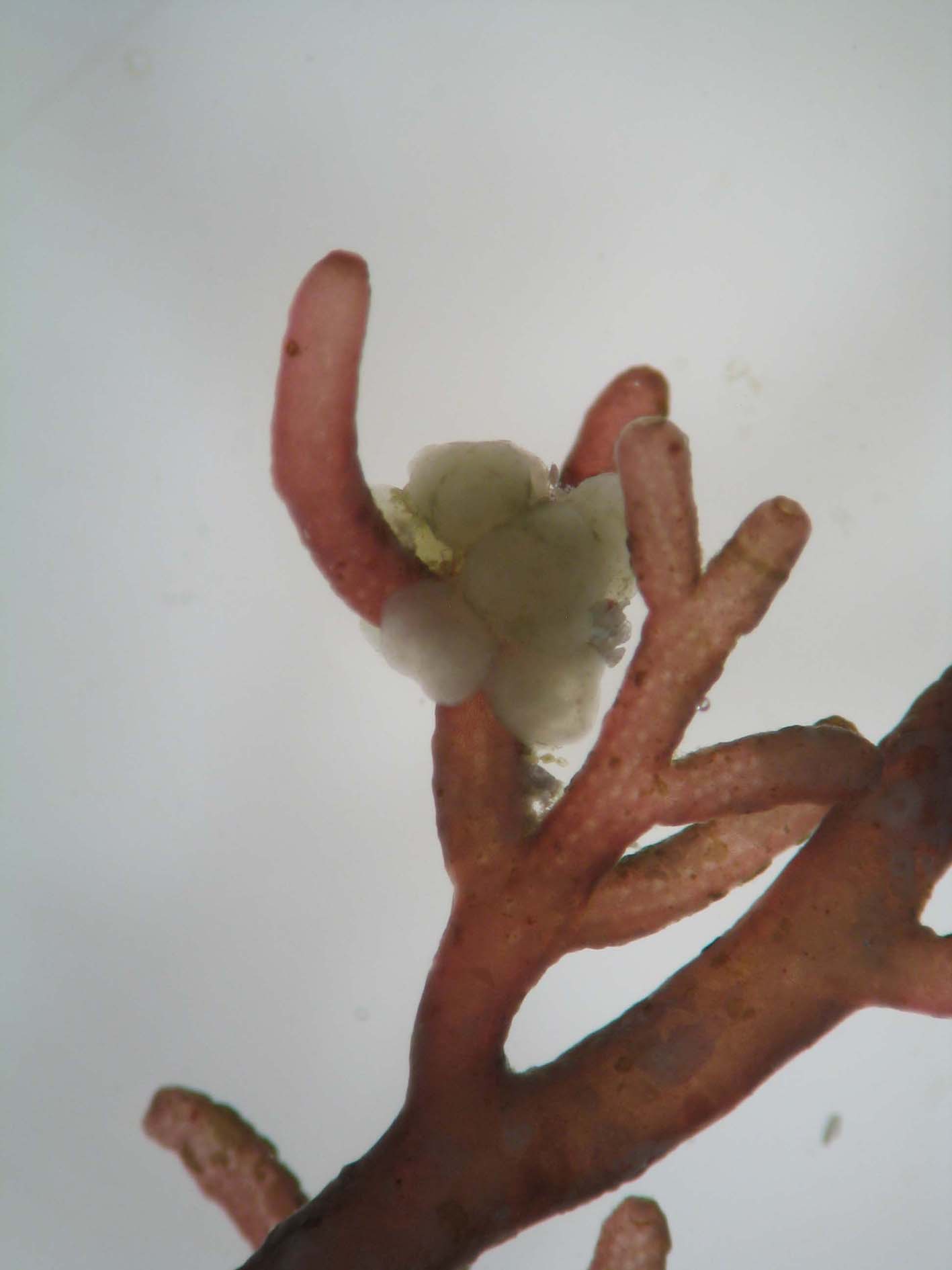 Janczewskia meridionalis on Laurencia sp.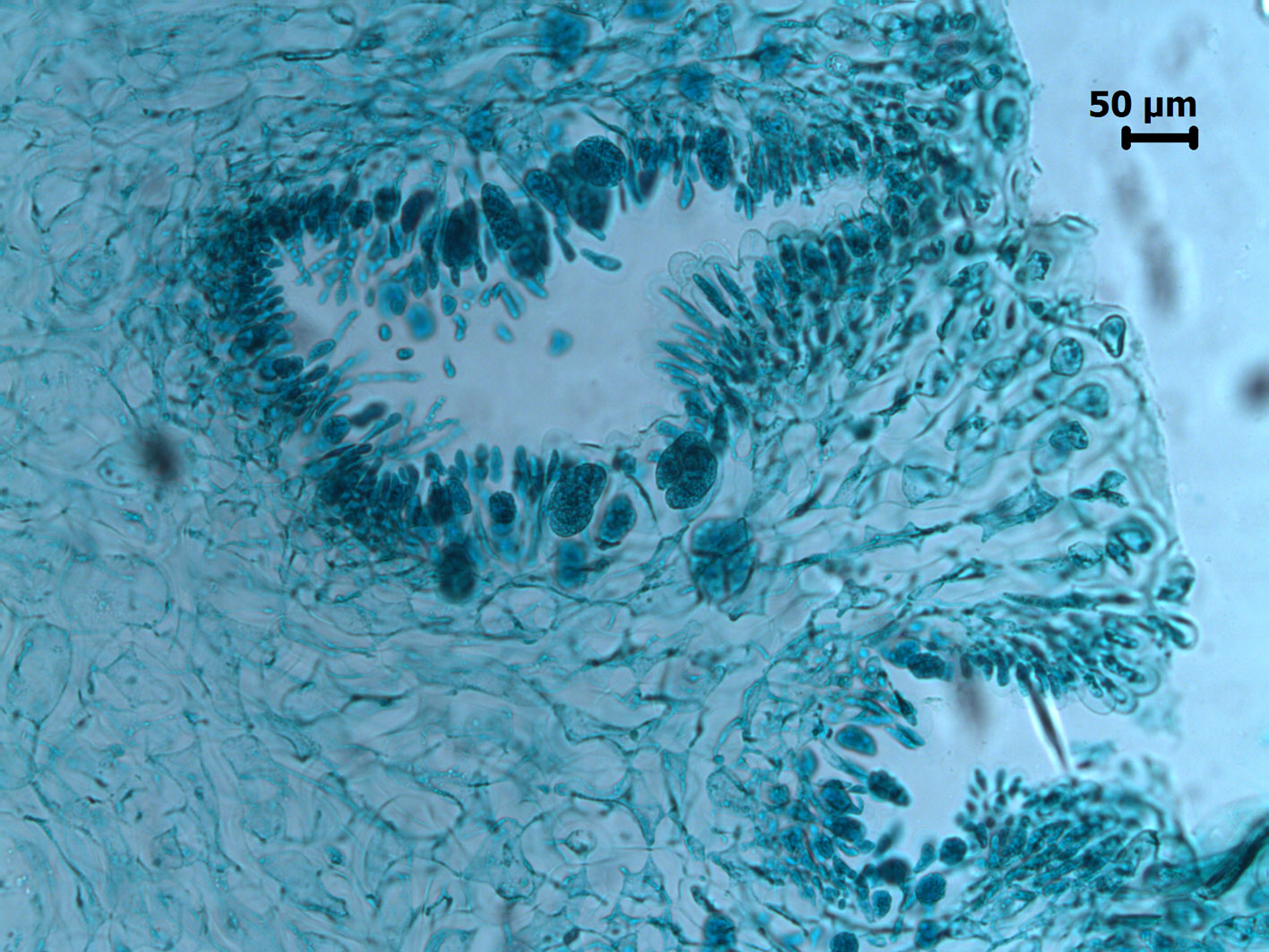 Jancczewskia meridionalis cross section through conceptacles (stained slide)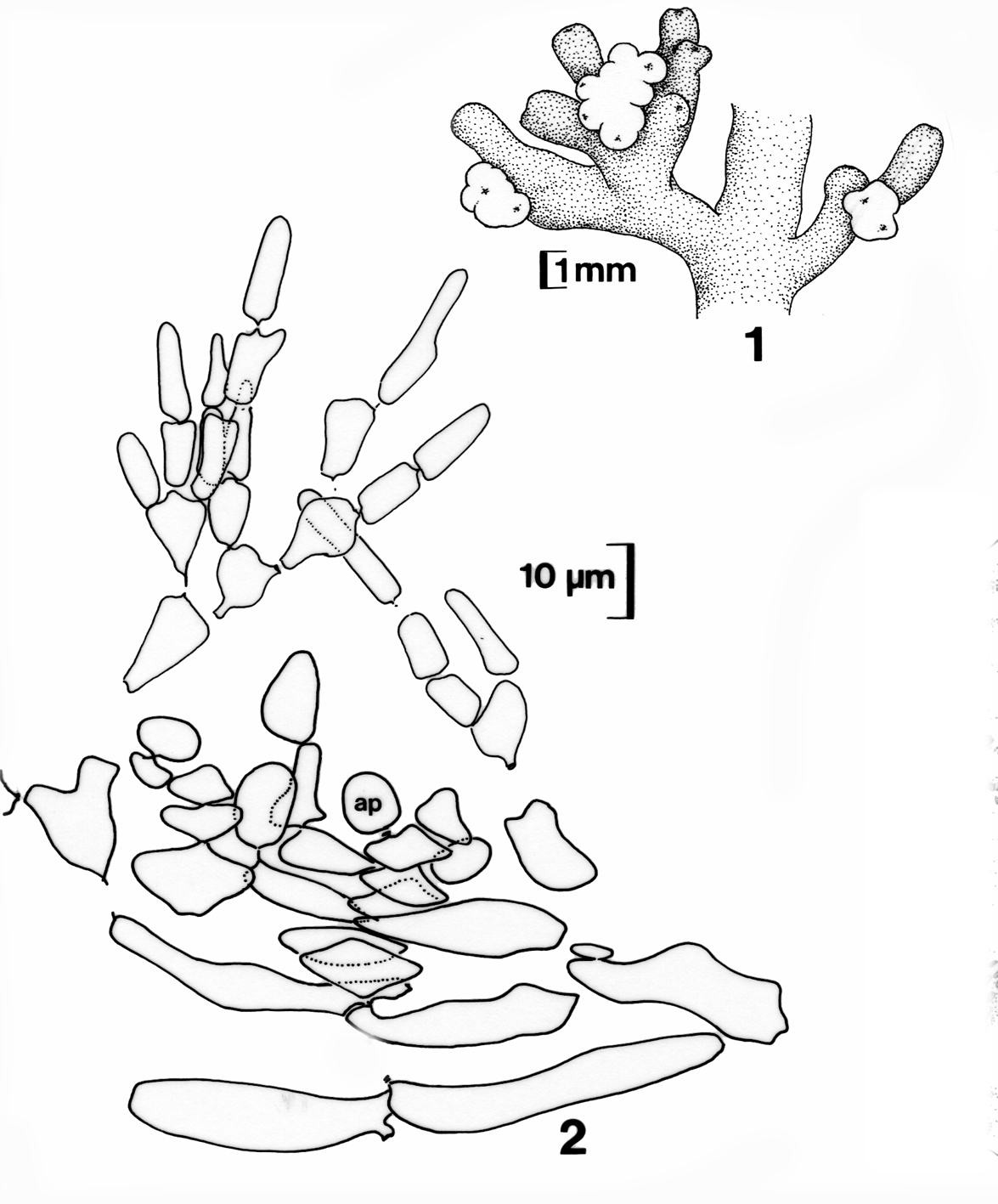 Jancczewskia meridionalis 1. Habit (white) on Laurencia sp. 2. Thallus apex in longitudinal section. Reproduced from Stegenga et al. (1997).

Jancczewskia meridionalis 1. Section of thallus with tetrasporangial conceptacles. 2. Detail of Fig. 1. Reproduced from Stegenga et al. (1997).
References Janczewskia
Martin, M.T. & Pocock, M.A. 1953. South African parasitic Florideae and their hosts. 2. Some South African parasitic Florideae. Journal of the Linnean Society of London, Botany 55: 48-64, 7 figs, pls 10-12.
Stegenga, H., Bolton, J.J. & R. J. Anderson. 1997. Seaweeds of the South African west coast. Contributions from the Bolus Herbarium 18: 655 pp.
Cite this record as:
Anderson RJ, Stegenga H, Bolton JJ. 2016. Seaweeds of the South African South Coast.
World Wide Web electronic publication, University of Cape Town, http://southafrseaweeds.uct.ac.za; Accessed on 21 September 2023.