Order Ceramiales
Family Rhodomelaceae
Kentrophora natalensis (J.Agardh) S.M.Wilson & Kraft in R.J.F. Henderson, S.M. Wilson & Kraft 2001: 175
Plants dark red to blackish, erect, up to 20 cm tall, comprising somewhat tangled bushy mass of ligulate branches with dentate margins. Attached by discoid holdfast. Erect axes 0.5 – 1 mm wide, irregularly branched; marginal teeth (determinate branchlets) about 0.6 mm long, opposite, curved towards branch apex, bearing sharp dorsal spine about 100 µm long. Central axial filament surrounded by 6 pericentral cells, medulla of up to 5 cell layers and cortex of 2-3 layers; proximal axes with secondary cortication; trichoblasts at apices of branches and marginal teeth, dichotomously branched. Tetrasporangia in lanceolate stichidia borne near apices of marginal teeth. Sexual plants not known.
Collections, ecology and regional distribution
Subtidal, recorded from Dwesa along the whole KwaZulu-Natal coast (44-58).
Worldwide distribution: South African endemic.
Type locality: Port Natal (Durban), South Africa (Silva et al. 1996).
Note: previously known as Plectrophora natalensis (J. Agardh) Wilson & Kraft (2000).

Kentrophora natalensis, Mzamba.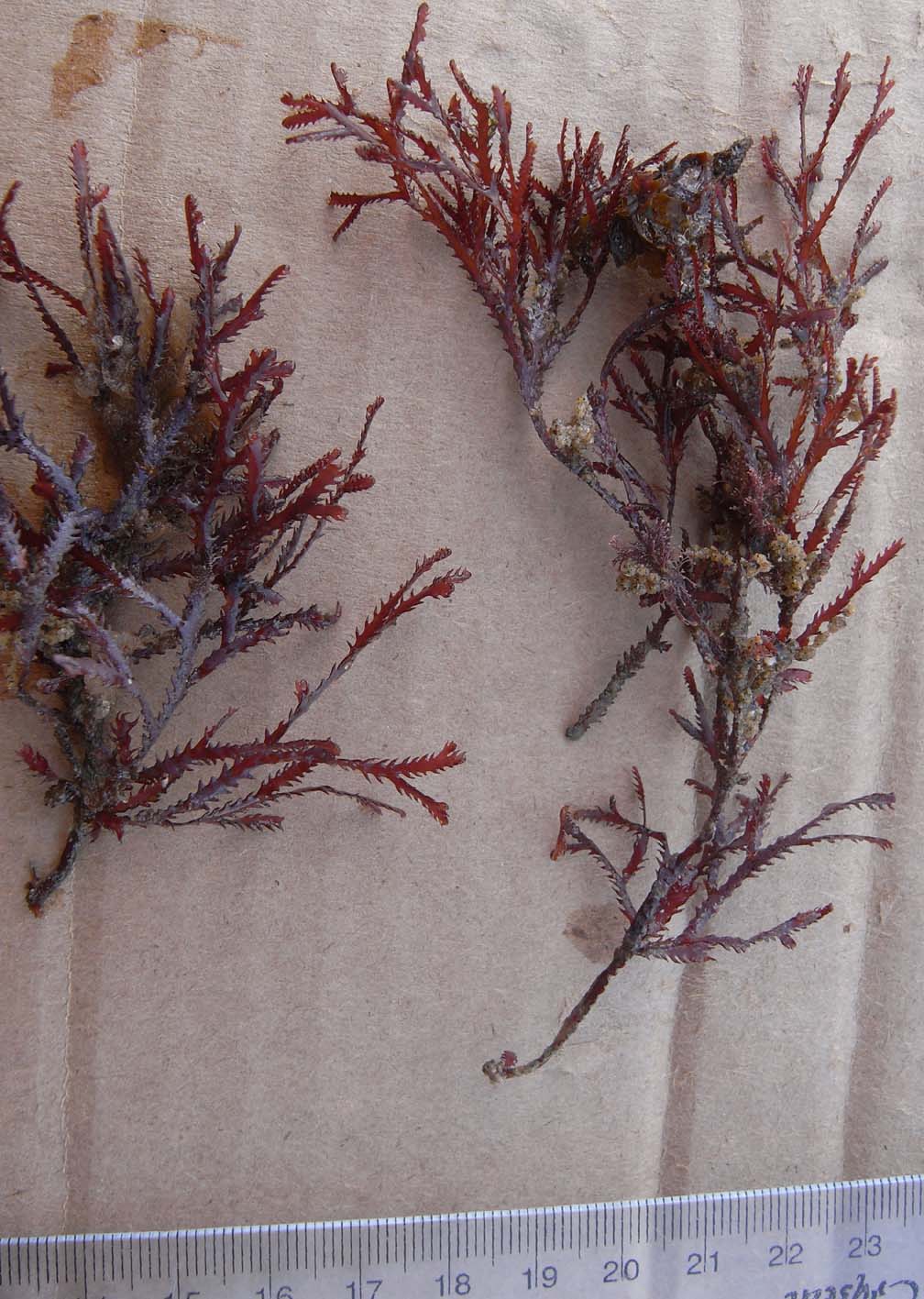 Kentrophora natalensis, whole thalli.

Kentrophora natalensis, frond detail.
References Kentrophora
Henderson, R.J.F., Wilson, S.M. & Kraft, G.T. 2001. Kentrophora S.M. Wilson & Kraft, a new name for an algal genus in tribe Amansieae (Rhodomelaceae, Rhodophyceae). Austrobaileya 6: 175-176.
Silva, P.C., Basson, P.W. & Moe, R.L. 1996. Catalogue of the benthic marine algae of the Indian Ocean. University of California Publications in Botany 79: 1-1259.
Wilson, S.M. & Kraft, G.T. 2000. Morphological and taxonomic studies of selected genera from the tribe Amansieae (Rhodomelaceae, Rhodophyta). Australian Systematic Botany 13: 325-372.
Cite this record as:
Anderson RJ, Stegenga H, Bolton JJ. 2016. Seaweeds of the South African South Coast.
World Wide Web electronic publication, University of Cape Town, http://southafrseaweeds.uct.ac.za; Accessed on 01 October 2023.