Order Ceramiales
Family Rhodomelaceae
Laurencia glomerata (Kützing) Kützing 1849: 857
Plants dark red, bushy, often pyramidal in outline, up to 40 cm tall, several erect axes arising from a single discoid holdfast. Axes terete, 1-3 mm in diameter, branched in up to 3 orders. First order branching spiral to polystichous, second and higher order branches shorter and branching distichous, sub-opposite or verticillate. Laterals arising at long interval: basal constrictions absent from branches. Ultimate branches ca 0.5 mm wide and 1 mm long, apices truncated. In cross section central and pericentral cells not distinguishable; medulla of isodiametric , rather thick-walled cells, cell-wall thickenings sometimes present, Outer cortical cells deeper than wide, especially in older parts of thallus; in surface view at first isodiametric, becoming longitudinally elongate with secondary pit-connections, sometimes interspersed with a network of small-celled filaments and containing 1 (rarely 2) corps en cerise per cell.
Collections, ecology and regional distribution
Recorded from Port Nolloth on the west coast to Island Rock in KwaZulu-Natal (2-57). Epilithic in the lower eulittoral and shallow subtidal zones, in exposed and sheltered areas. Stegenga et al. (1997) point out that in very sheltered bays, this species exhibits a very lax form.
Word distribution: Also reported from India, Pakistan, Indonesia and temperate South America (references in Guiry & Guiry 2017).
Type locality: Cape Peninsula, South Africa (Kützing 1847).
Note: A DNA study of South African Laurencia (Francis et al. 2017) confirms that phylogenetically, L. glomerata emerges as a distinct species.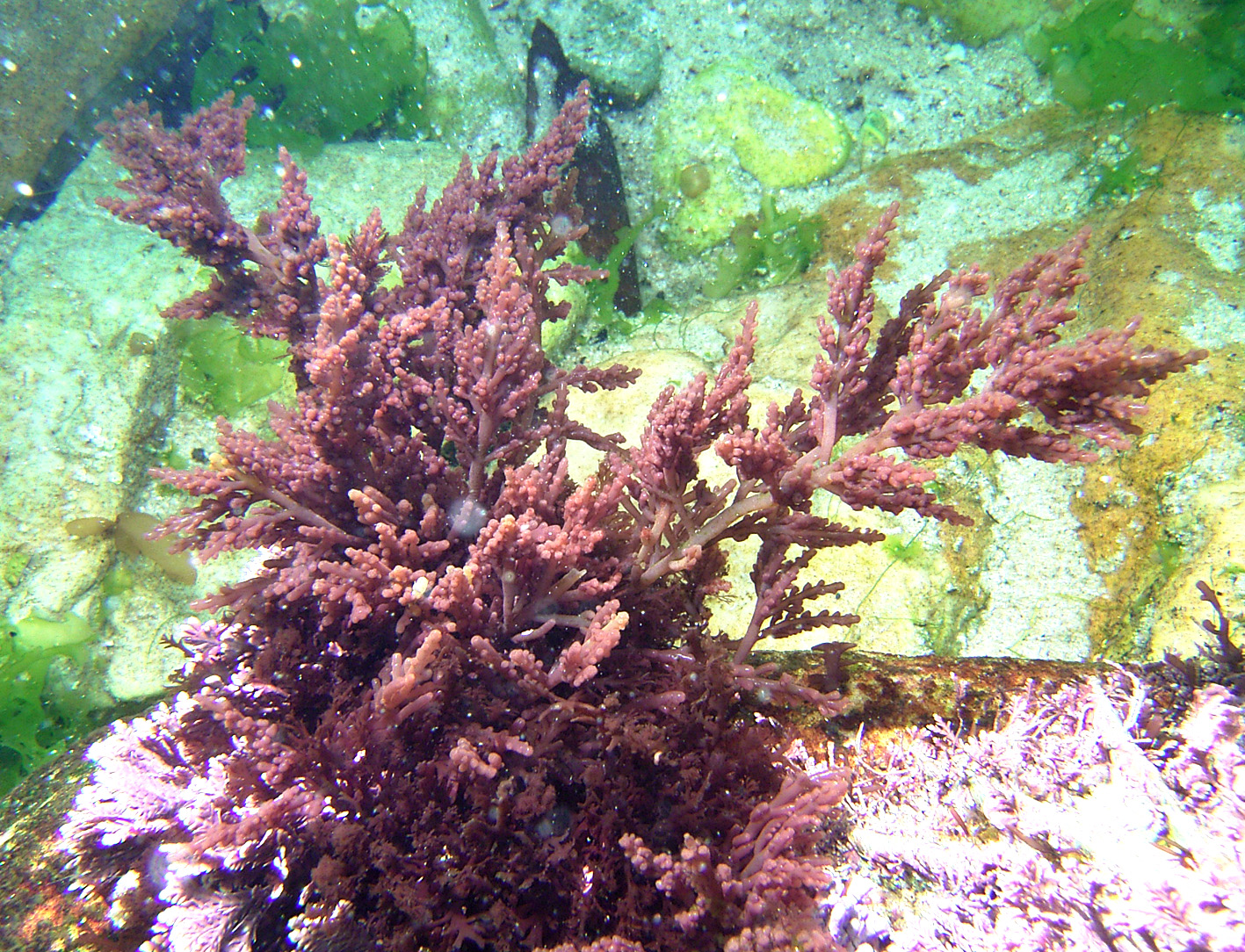 Laurencia glomerata, False Bay, Western Cape.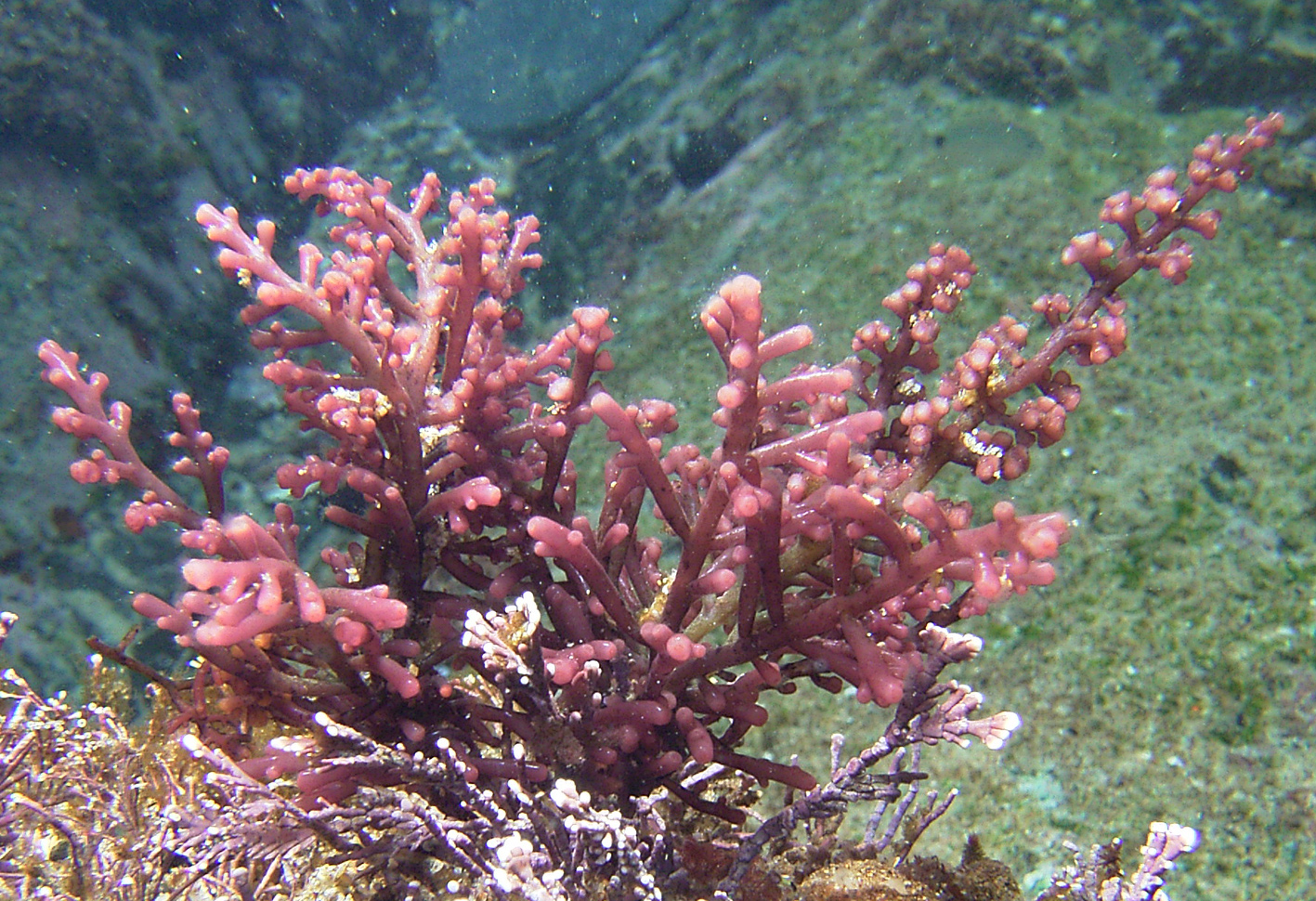 Laurencia glomerata.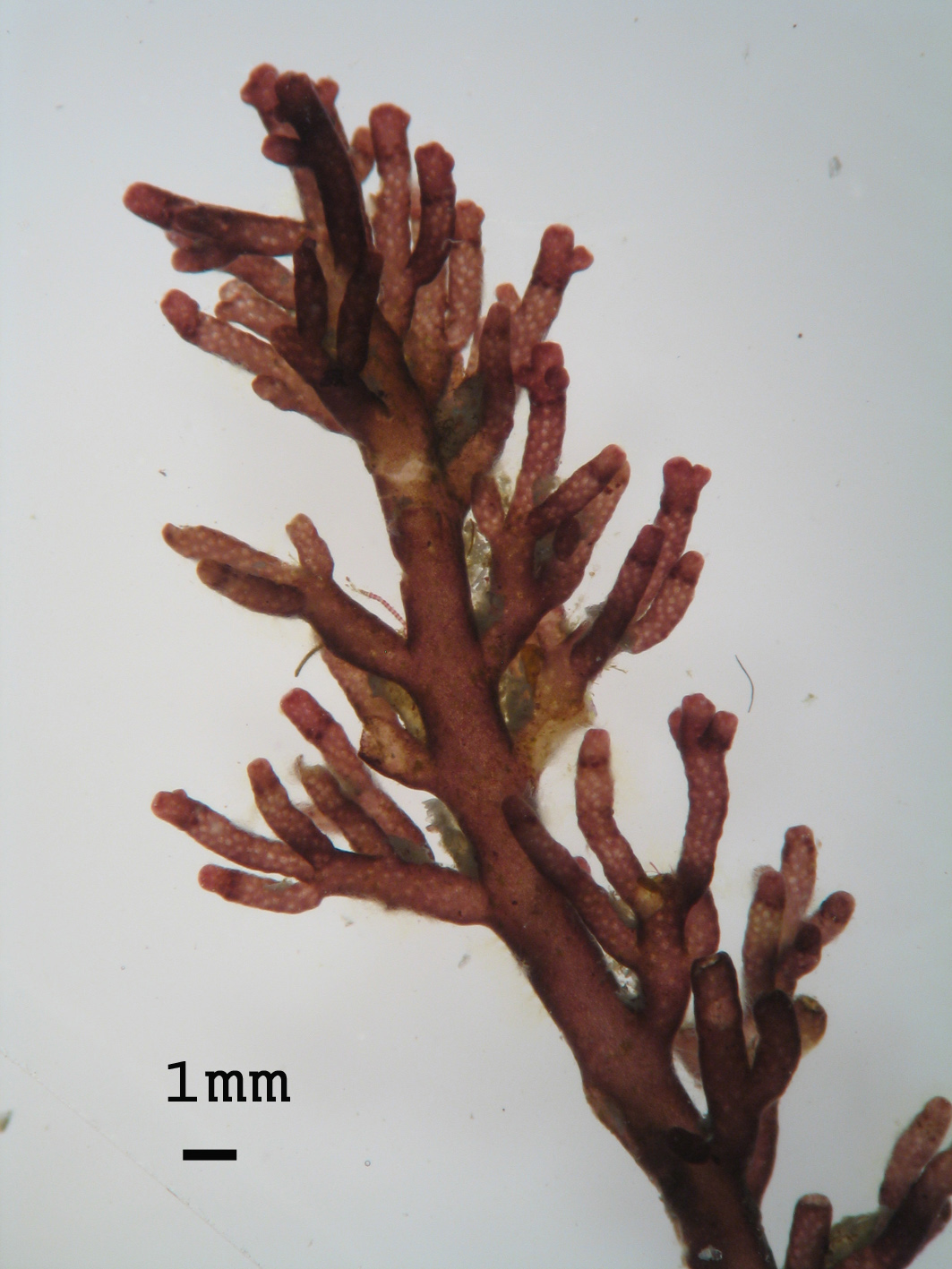 Laurencia glomerata, detail of tetrasporic branch.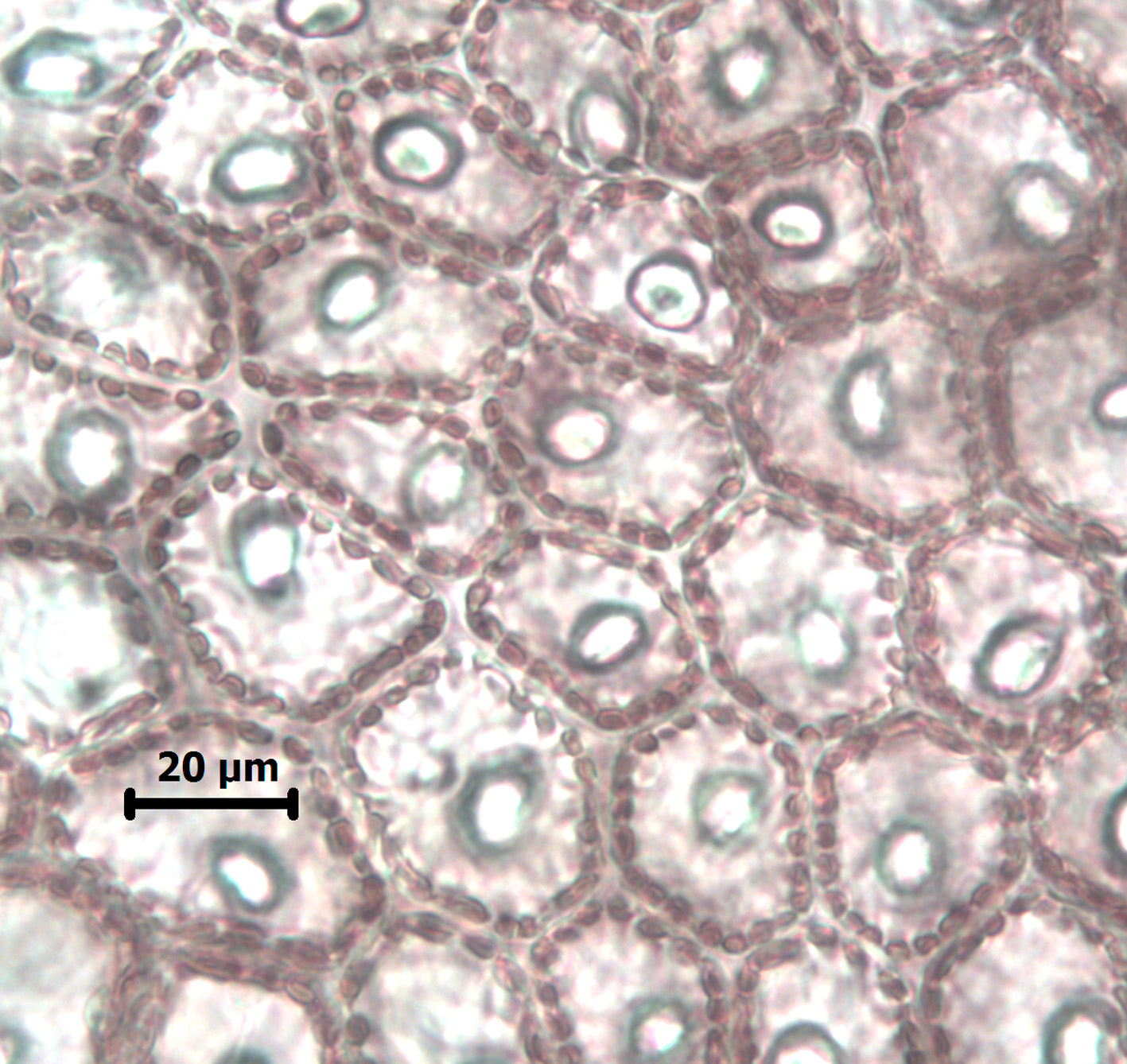 Laurencia glomerata, surface view of outer cortical cells showing single corps en cerise per cell.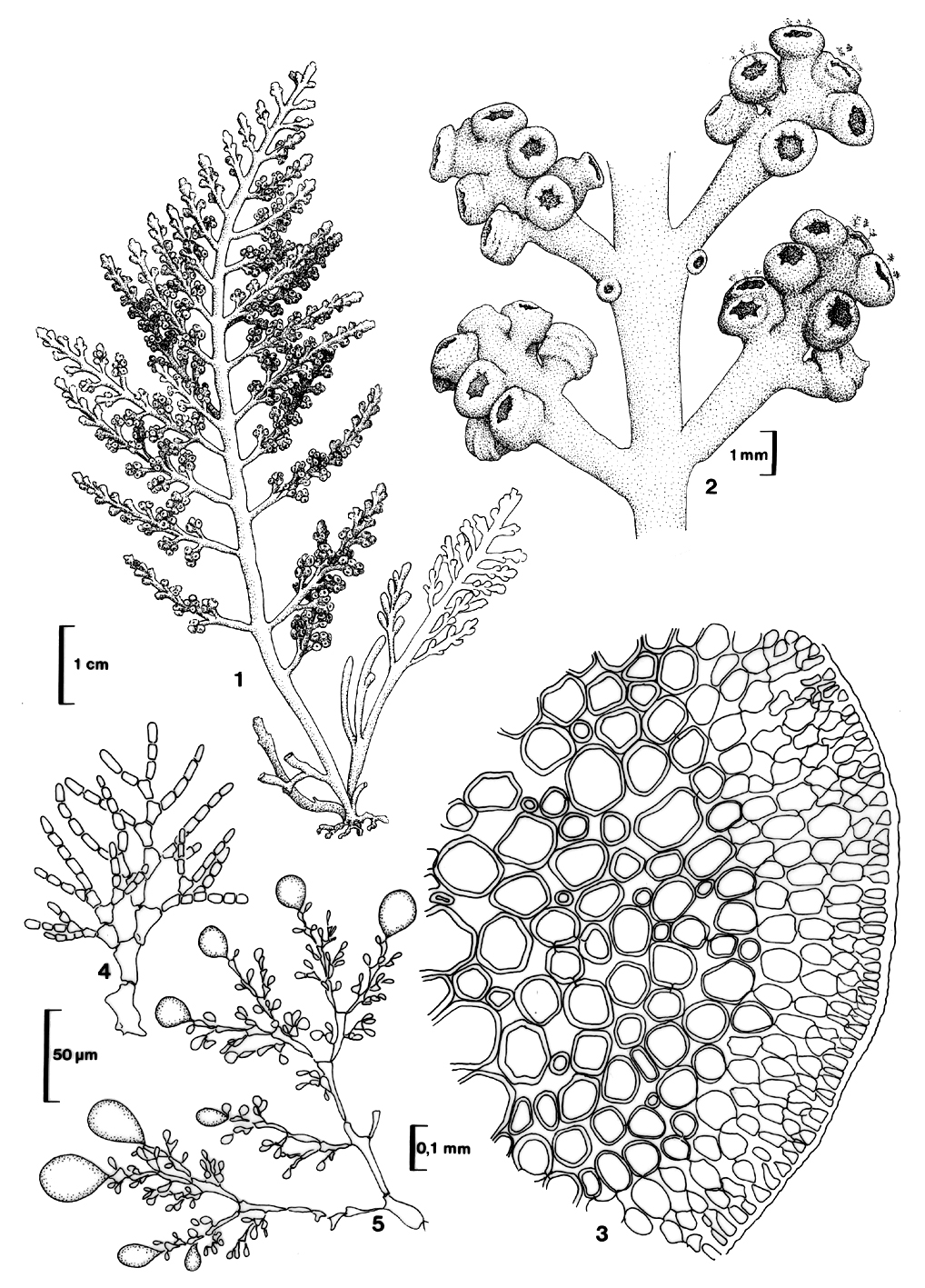 Laurencia glomerata. 1. Habit. 2. Detail of branchlets (releasing spermatia). 3. Cross section. 4. Young male trichoblasts. 5. Detail of spermatangial head (note swollen terminal cells). Reproduced from Stegenga et al. (1997).
References Laurencia glomerata
Kützing, F.T. 1849. Species algarum. pp. [i]-vi, [1]-922. Lipsiae [Leipzig]: F.A. Brockhaus.
Francis, C.M., Bolton, J.J., Mattio, L., Mandiwana-Neudani, T. & Anderson, R.J. 2017. Molecular systematics reveals increased diversity within the South African Laurencia complex (Rhodomelaceae, Rhodophyta). Journal of Phycology 53: 804-819.
Guiry, M.D. & Guiry, G.M. 2017. AlgaeBase. World-wide electronic publication, National University of Ireland, Galway. http://www.algaebase.org; searched on 18 April 2017..
Cite this record as:
Anderson RJ, Stegenga H, Bolton JJ. 2016. Seaweeds of the South African South Coast.
World Wide Web electronic publication, University of Cape Town, http://southafrseaweeds.uct.ac.za; Accessed on 25 September 2023.