Order Rhodymeniales
Family Lomentariaceae
Lomentaria amplexans RE Norris 1987: 36, figs 1-4
Plants dark red, up to 5 cm long, cylindrical, mostly prostrate, epiphytic, with constricted segments, erect branches usually with slightly swollen hooked tips; hooked tips tending to wrap around host branches and produce lateral branches of similar dimensions to main axes that closely encircle the host and attach by rhizoidal discs. Segments hollow, up to 2 mm long and 750 µm wide, separated by septa comprising several layers of cells that are ovate to irregular in shape and up to 40 µm diameter; cortex of 2-3 layers of cells, cells of inner layer angular to ovate, up to 40 µm long; outer cortical cells ovate, variable in size, up to 25 µm long; medulla of longitudinally arranged filamentous cells of about 8 µm diameter, often with laterally-attached gland cells. Tetrasporangia in sunken sori, mainly proximal on axes, tetrahedrally divided, up to 45 µm in diameter. Male and female plants not found.
Collections, ecology and regional distribution
Recorded from Mkambati to northern Kwazulu-Natal. (47-58). Found from the lower eulittoral to shallow sublittoral, epiphytic on larger algae (often Amphiroa ephedraea or Gelidium spp.), the branches of which may be bound together by the hooked axes.
World distribution: South African endemic.
Type locality: Rocky Bay, Kwazulu-Natal (Norris 1987).
Note: See Norris (1987) for further details and illustrations.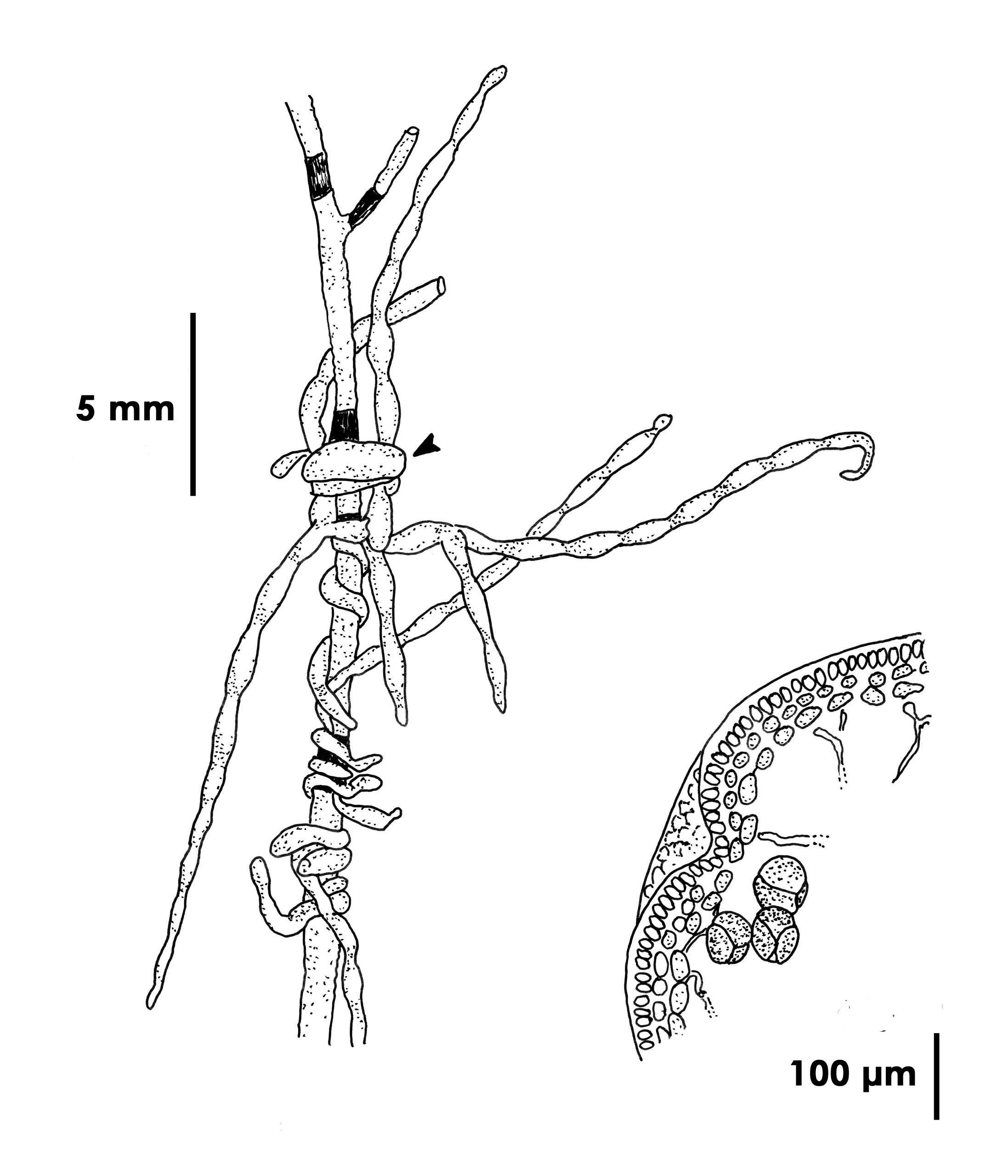 Lomentaria amplexans, habit on left with arrow showing hooked axis binding thallus to an articulated coralline seaweed. Lower right, XS of thallus through tetrasporangial sorus (re-drawn from Norris, 1987 Figs 1 and 3).
References Lomentaria amplexans
Norris, R.E. 1987. The first confirmed records of Lomentaria (Lomentariaceae, Rhodophyceae) in South Africa, with a description of Lomentaria amplexans, sp. nov. South African Journal of Botany 53 (1): 35-38.
Cite this record as:
Anderson RJ, Stegenga H, Bolton JJ. 2016. Seaweeds of the South African South Coast.
World Wide Web electronic publication, University of Cape Town, http://southafrseaweeds.uct.ac.za; Accessed on 25 September 2023.