Order Rhodymeniales
Family Lomentariaceae
Lomentaria corallicola Boergesen 1939: 113-116, figs 30-32
Plants red, prostrate but with erect branches to 7 mm tall, about 750 µm in diameter, epiphytic in seaweed turfs, axes cylindrical, constricted only at their bases. Septa present only at point of origin of major segments; cortex of 2 layers of cells; outer cortical cells up to 45 µm long x 15 µm wide, sparsely interspersed with smaller cells; inner cortical cells up to 90 x 30 µm; medulla of filamentous cells 75-100 µm long x 10 µm in diameter, lining central cavity and bearing small (5 µm) gland cells. Tetrasporangial sori immersed in thallus cavity, with small pore, tetrasporangia tetrahedrally divided, up to 40 µm in diameter. Cystocarps urn-shaped, about 500 µm in diameter, borne externally and laterally, usually on upright branches.
Collections, ecology and regional distribution
Recorded from Tsitsikamma to northern Kwazulu-Natal (32-58). Epiphytic in the sublittoral fringe and probably below.
World distribution: Seychelles, Iran, Western Australia, some Pacific islands and Colombia (Guiry & Guiry 2009).
Type locality: Iran (Boergesen 1939).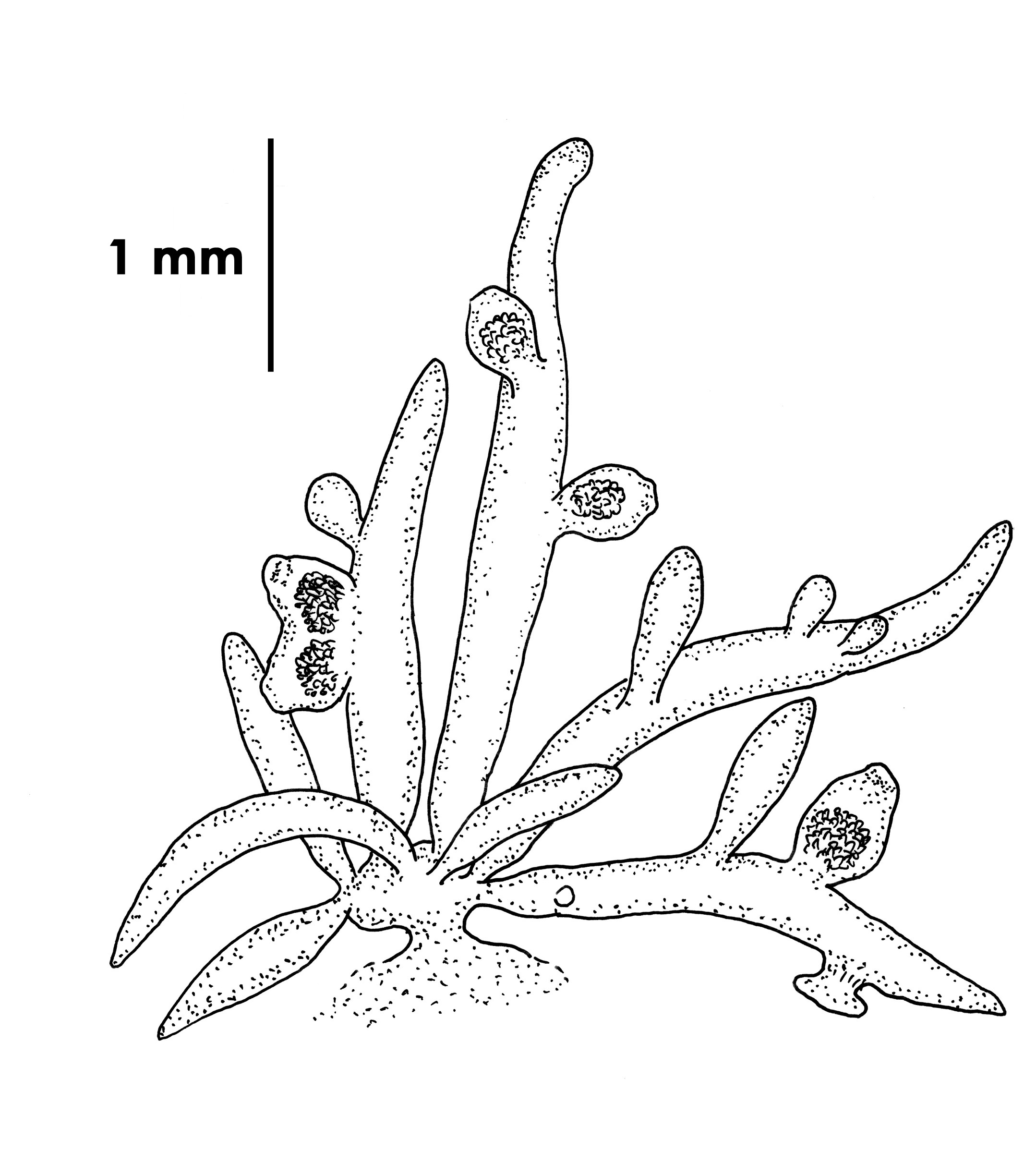 Lomentaria corallicola, habit (re-drawn from Norris, 1987 Fig. 5).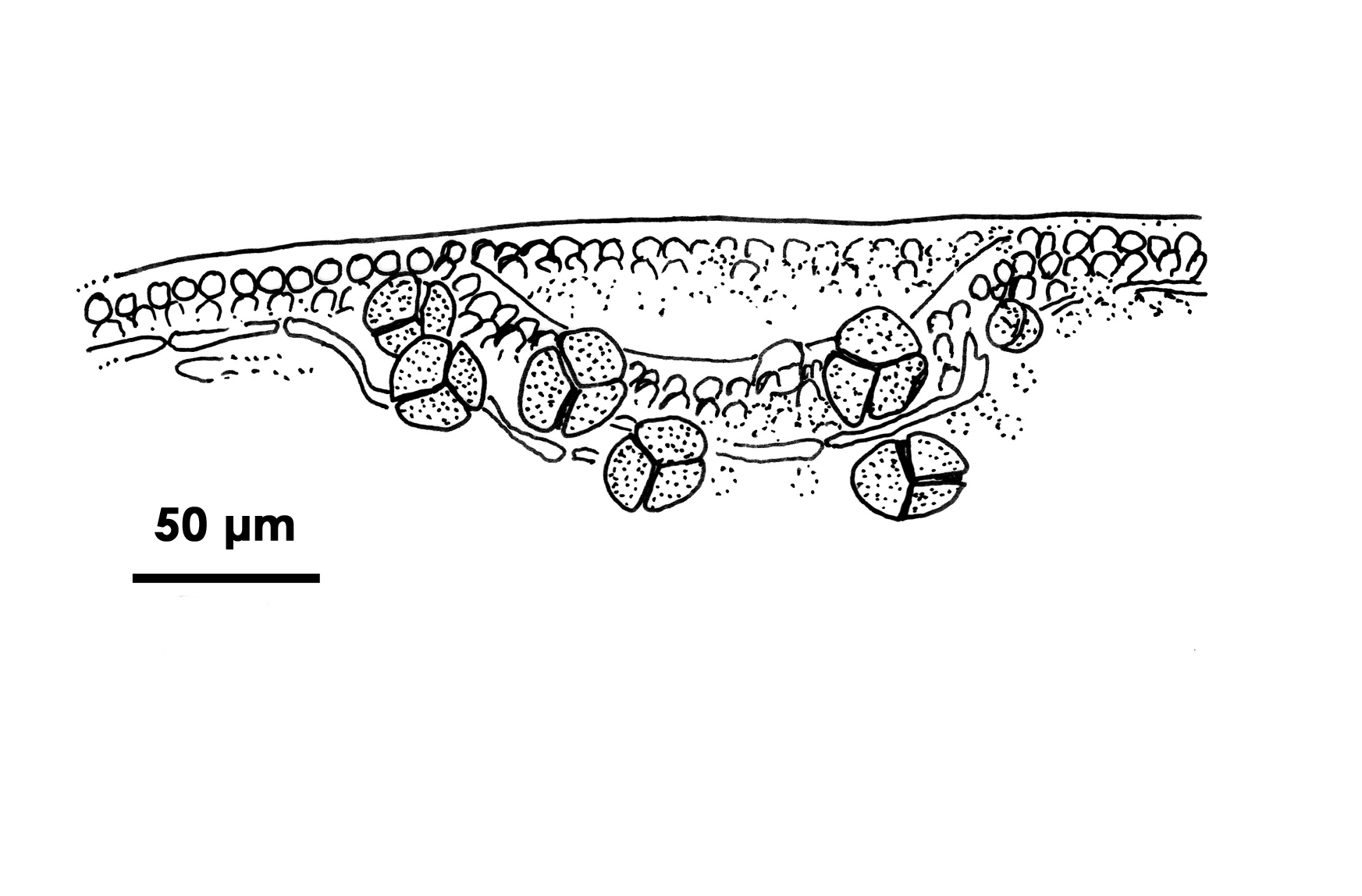 Lomentaria corallicola, habit , XS of thallus through tetrasporangial sorus (re-drawn from Norris, 1987 Fig. 8).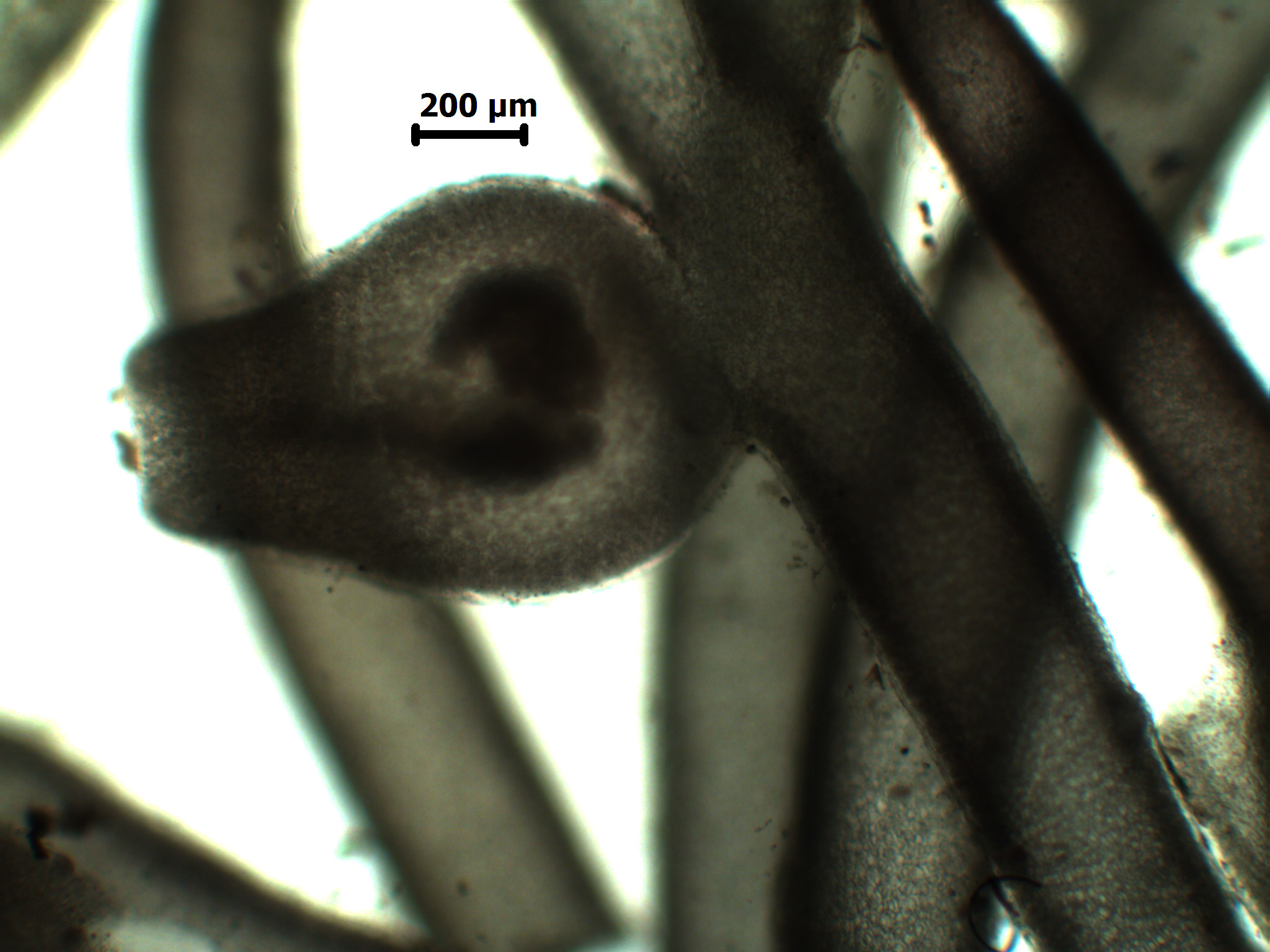 Lomentaria corallicola, cystocarp (specimen from northern KwaZulu-Natal).
References Lomentaria corallicola
Boergesen F. 1939. Marine algae from the Iranian Gulf especially from the innermost part near Bushire and the Island Kharg. Danish Scientific Investigations in Iran, Part 1, pp. 47-141, Copenhagen.
Guiry, M.D. & Guiry, G.M. 2009. AlgaeBase. World-wide electronic publication, National University of Ireland, Galway. http://www.algaebase.org; searched on 8 May 2009.
Norris, R.E. 1987. The first confirmed records of Lomentaria (Lomentariaceae, Rhodophyceae) in South Africa, with a description of Lomentaria amplexans, sp. nov. South African Journal of Botany 53 (1): 35-38.
Cite this record as:
Anderson RJ, Stegenga H, Bolton JJ. 2016. Seaweeds of the South African South Coast.
World Wide Web electronic publication, University of Cape Town, http://southafrseaweeds.uct.ac.za; Accessed on 25 September 2023.