Order Palmariales
Family Meiodiscaceae
Meiodiscus concrescens (K.M.Drew) P.W.Gabrielson in Gabrielsen et al. 2000: 42 (footnote)
Plants with a relatively extensive basal disc, consisting of confluent radiating cell rows, lateral cell fusions occurring at times. Erect filaments in clusters, short, usually not over 30 µm high, 7-10 µm in diameter, the cells about as long as broad. Tetrasporangia, the only known reproductive structures, terminal on the erect filaments, 17-20 µm x 15-17 µm, cruciately divided. (As Audouinella concrescens in Stegenga et al. 1997).
Collections, ecology and regional distribution
Known from sublittoral samples, on larger algae, west coast of Cape Peninsula to Tsitsikamma (16-32).
World distribution: widespread in cold temperate seas (Stegenga et al. 1997).
Type locality: Carmel Bay, California, USA (Guiry & Guiry 2015).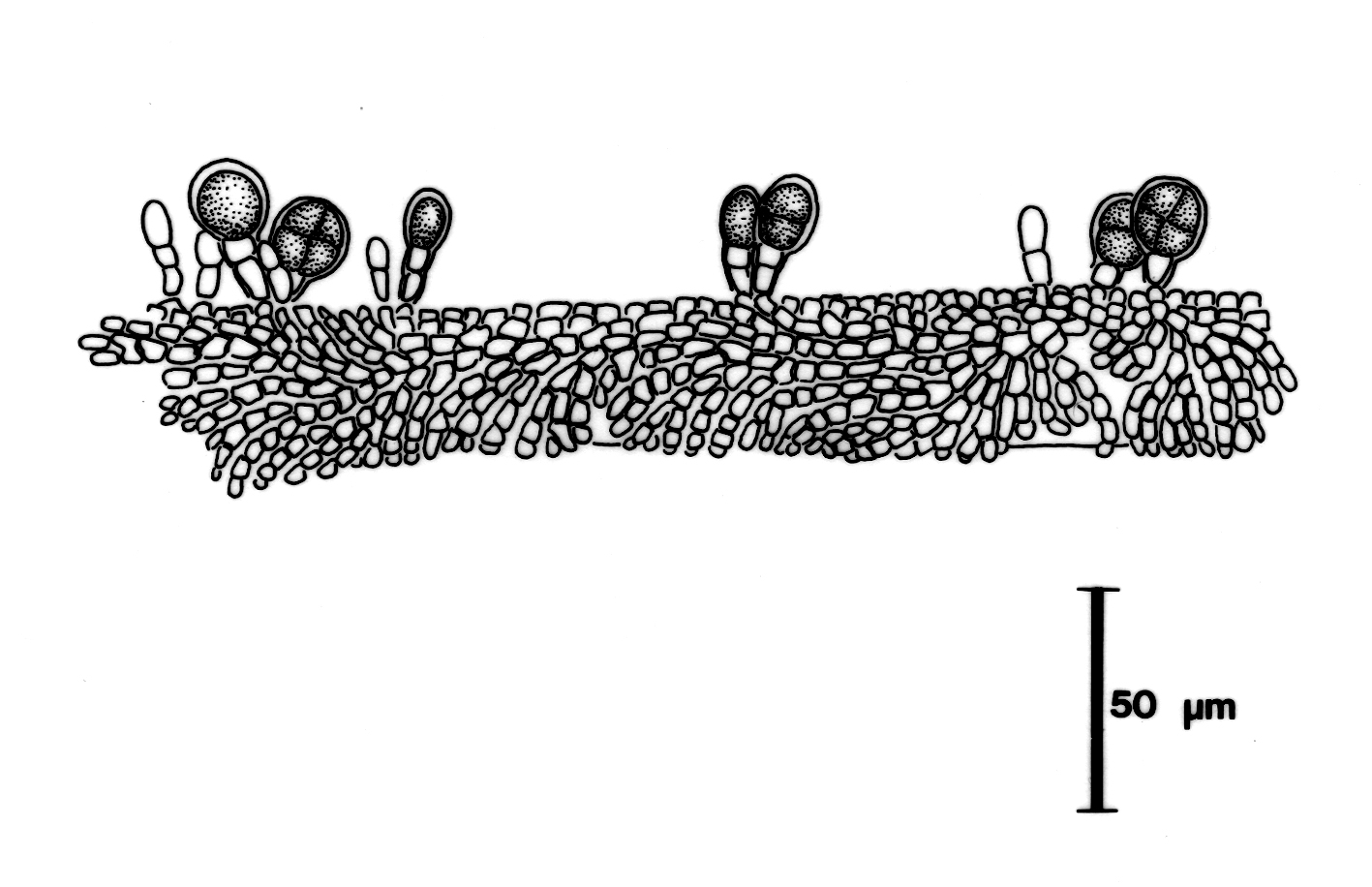 Meiodiscus concrescens, habit of plant on Ballia sertularioides, with tetrasporangia. Reproduced from Stegenga et al. (1997) (as Audouinella concrescens).
References Meiodiscus concrescens
Gabrielson, P.W., Widdowson, T.B., Lindstrom, S.C., Hawkes, M.W. & Scagel, R.F. 2000. Keys to the benthic marine algae and seagrasses of British Columbia, Southeast Alaska, Washington and Oregon. Phycological Contribution from the Department of Botany, University of British Columbia. Vol. No. 5 pp. i-iv, 1-189.
Guiry M. D. in Guiry, M.D. & Guiry, G.M. 2015. AlgaeBase. World-wide electronic publication, National University of Ireland, Galway. http://www.algaebase.org; searched on 14 May 2015.
Stegenga, H., Bolton, J.J. & R. J. Anderson. 1997. Seaweeds of the South African west coast. Contributions from the Bolus Herbarium 18: 655 pp.
Cite this record as:
Anderson RJ, Stegenga H, Bolton JJ. 2016. Seaweeds of the South African South Coast.
World Wide Web electronic publication, University of Cape Town, http://southafrseaweeds.uct.ac.za; Accessed on 25 September 2023.