Family Corallinaceae
Subfamily Metamastophoroideae
Metamastophora flabellata (Sonder) Setchell 1943: 131
Plants erect, pink to purplish with bluish iridescence when fresh, comprising compressed to flattened uprights up to about 20 cm tall, somewhat calcified, arising from a discoid holdfast. Stipe short, up to 2 mm wide, compressed. Axes irregularly to dichotomously branched, usually 1.5-2 mm wide but may widen to about 10 mm wide near the flabelliform apices; apices and blade margins usually downward-curved. Internal structure pseudoparenchymatous, with some dorso-ventral organization. Reproductive structures in swollen conceptacles borne singly or in groups on dorsal surface of blades.
Collections, ecology and regional distribution
Epilithic or epiphytic, from the lower eulittoral down to at least 37 m. Recorded from Hluleka to northern Kwazulu-Natal (45-58).
World distribution: Mozambique, Australia, Micronesia, Israel (Guiry & Guiry 2015).
Type locality: Western Australia, near mouth of Swan River (Silva et al. 1996).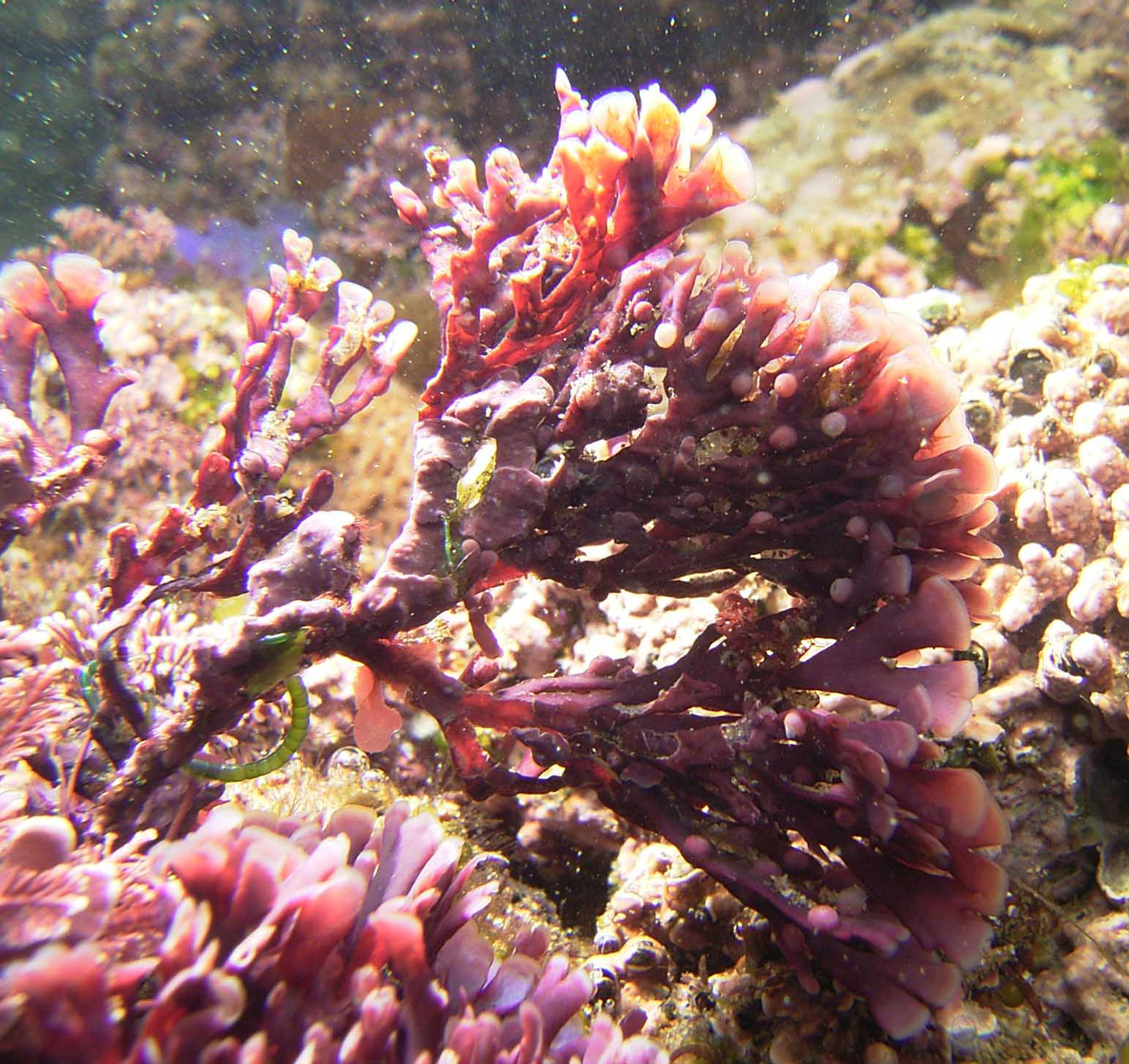 Metamastophora flabellata, Mzamba.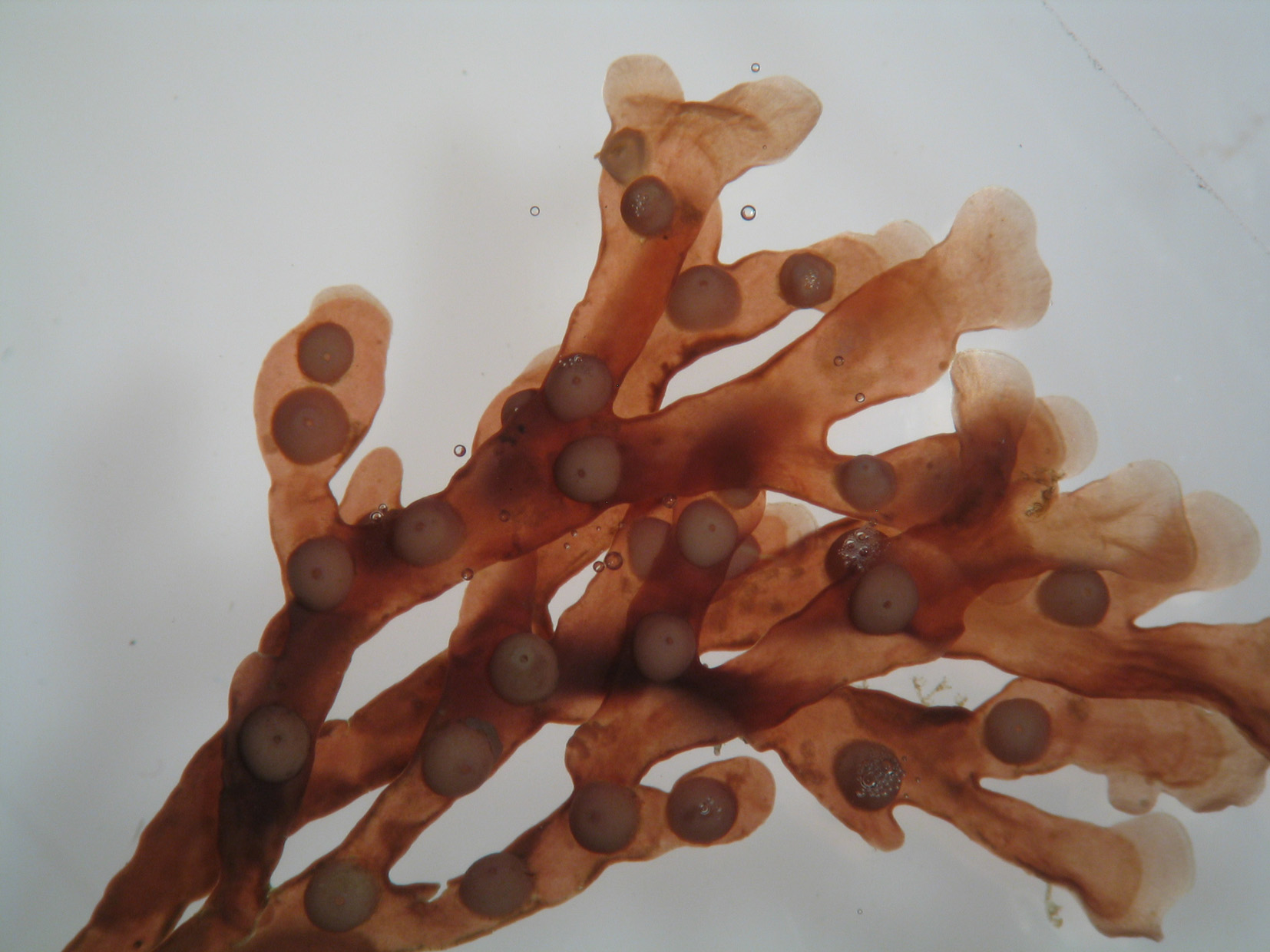 Metamastophora flabellata, conceptacles.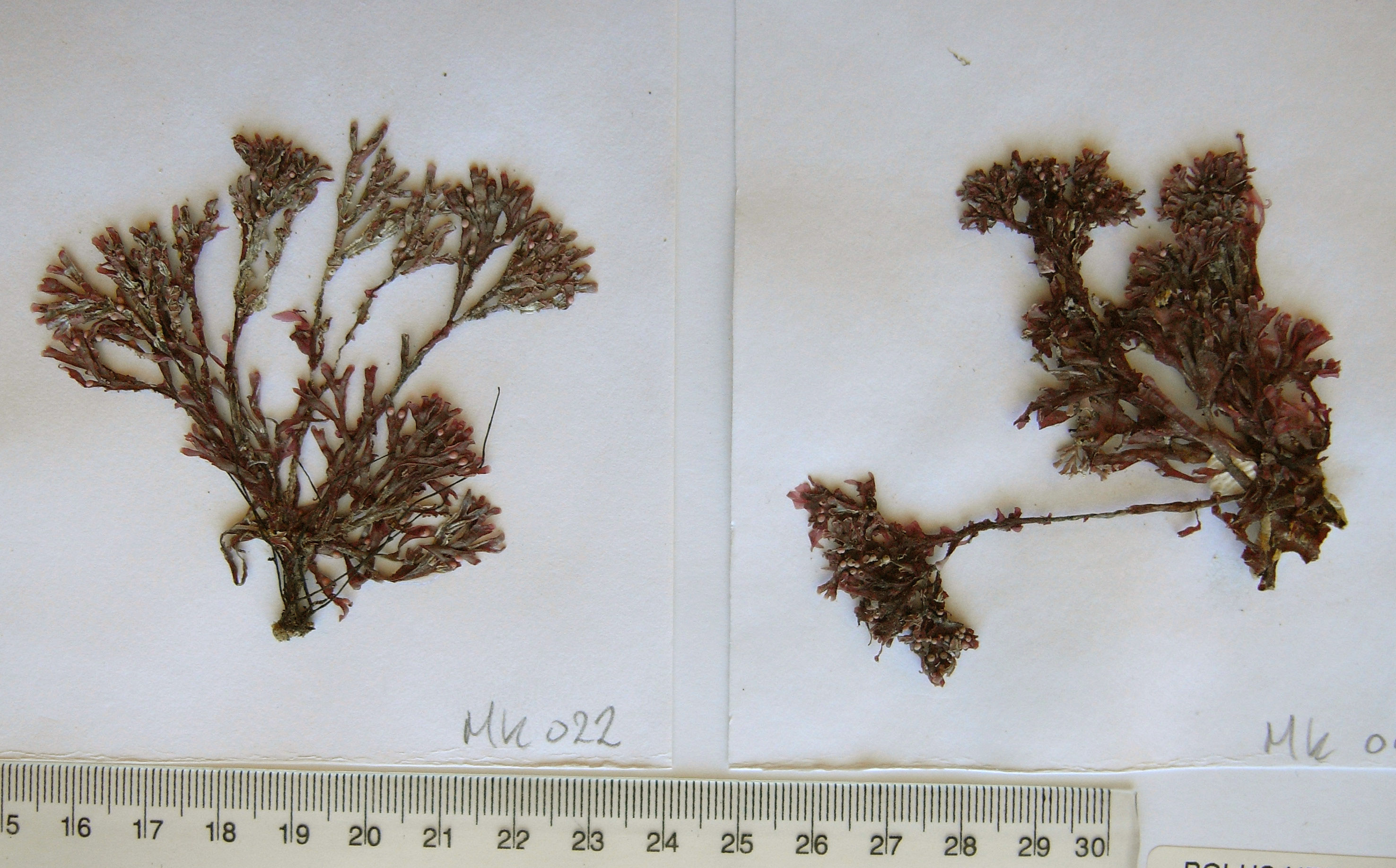 Metamastophora flabellata, (BOL), showing size of thalli
References Metamastophora
Guiry, M.D. & Guiry, G.M. 2015. AlgaeBase. World-wide electronic publication, National University of Ireland, Galway. http://www.algaebase.org; searched on 02 September 2015.
Setchell, W.A. (1943). Mastophora and the Mastophoreae: genus and subfamily of Corallinaceae. Proceedings of the National Academy of Science of the United States of America 29: 127-135.
Silva, P.C., Basson, P.W. & Moe, R.L. (1996). Catalogue of the benthic marine algae of the Indian Ocean. University of California Publications in Botany 79: 1-1259.
Cite this record as:
Anderson RJ, Stegenga H, Bolton JJ. 2016. Seaweeds of the South African South Coast.
World Wide Web electronic publication, University of Cape Town, http://southafrseaweeds.uct.ac.za; Accessed on 30 September 2023.