Order Nemaliales
Family Scinaiaceae
Nothogenia ovalis (Suhr) Parkinson 1983: 609.
Thallus a brownish- or yellowish-red, erect, gas-filled vesicle up to 5 cm tall; several vesicles arise from a common crustose base. Wall of vesicle composed of mainly anticlinal filaments, similar in structure to N. erinacea (above). Reproductive structure of gametophytes and crustose tetrasporophytes as for N. erinacea.
Collections, ecology and regional distribution
Epilithic in the eulittoral zone, where the small bladders may form patches. Found from Möwe Bay in Namibia, along the west coast, to Tsitsikamma (1-32).
World distribution: Also recorded from Tristan da Cunha (Baardseth 1941).
Type locality: "Cape of Good Hope" (Silva et al. 1996).
Note: Life history described by Anderson & Stegenga (1985).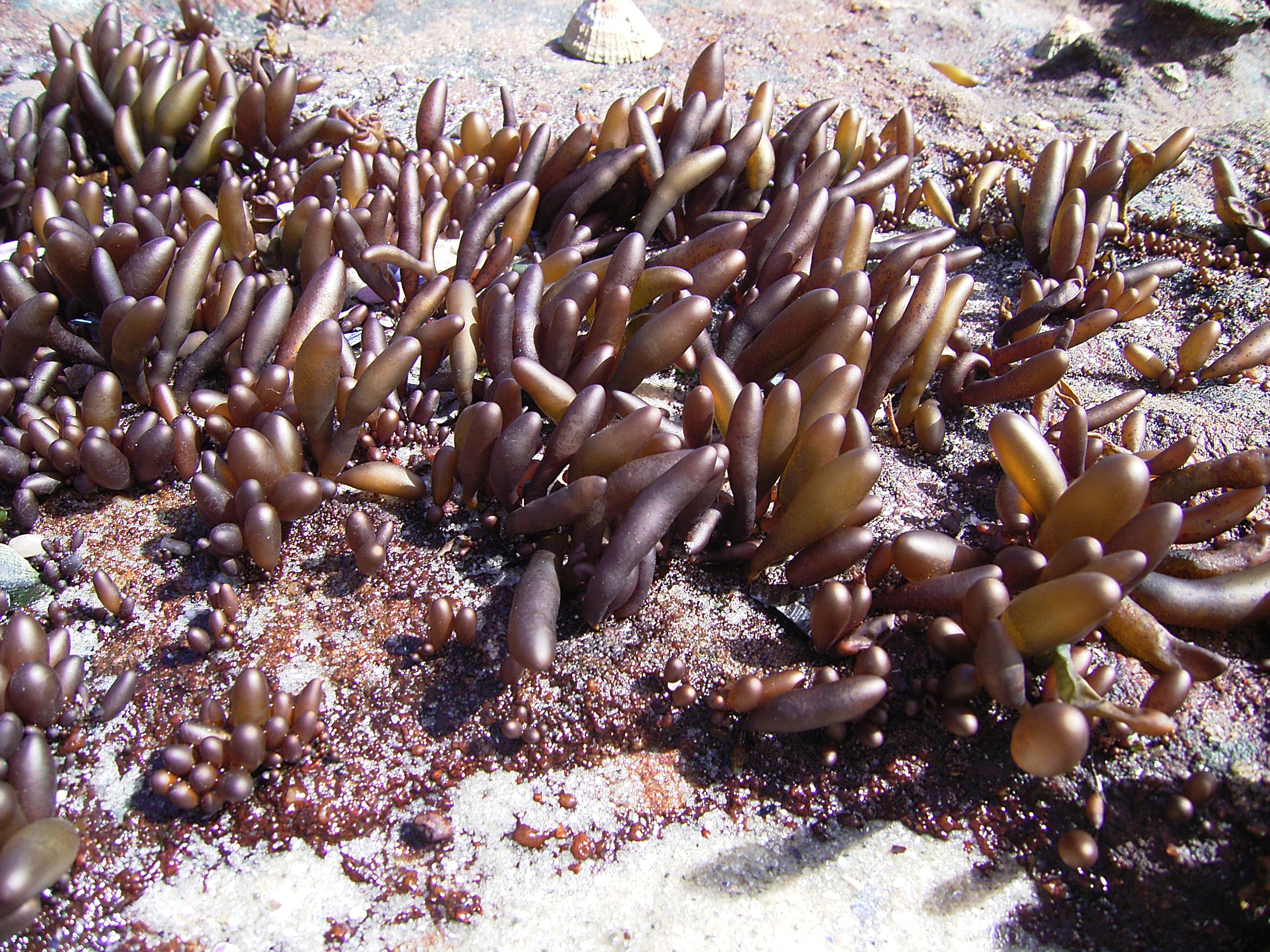 Nothogenia ovalis, bladder-like thalli on rock covered by thin red crust, some of which may be the tetrasporophyte of this species.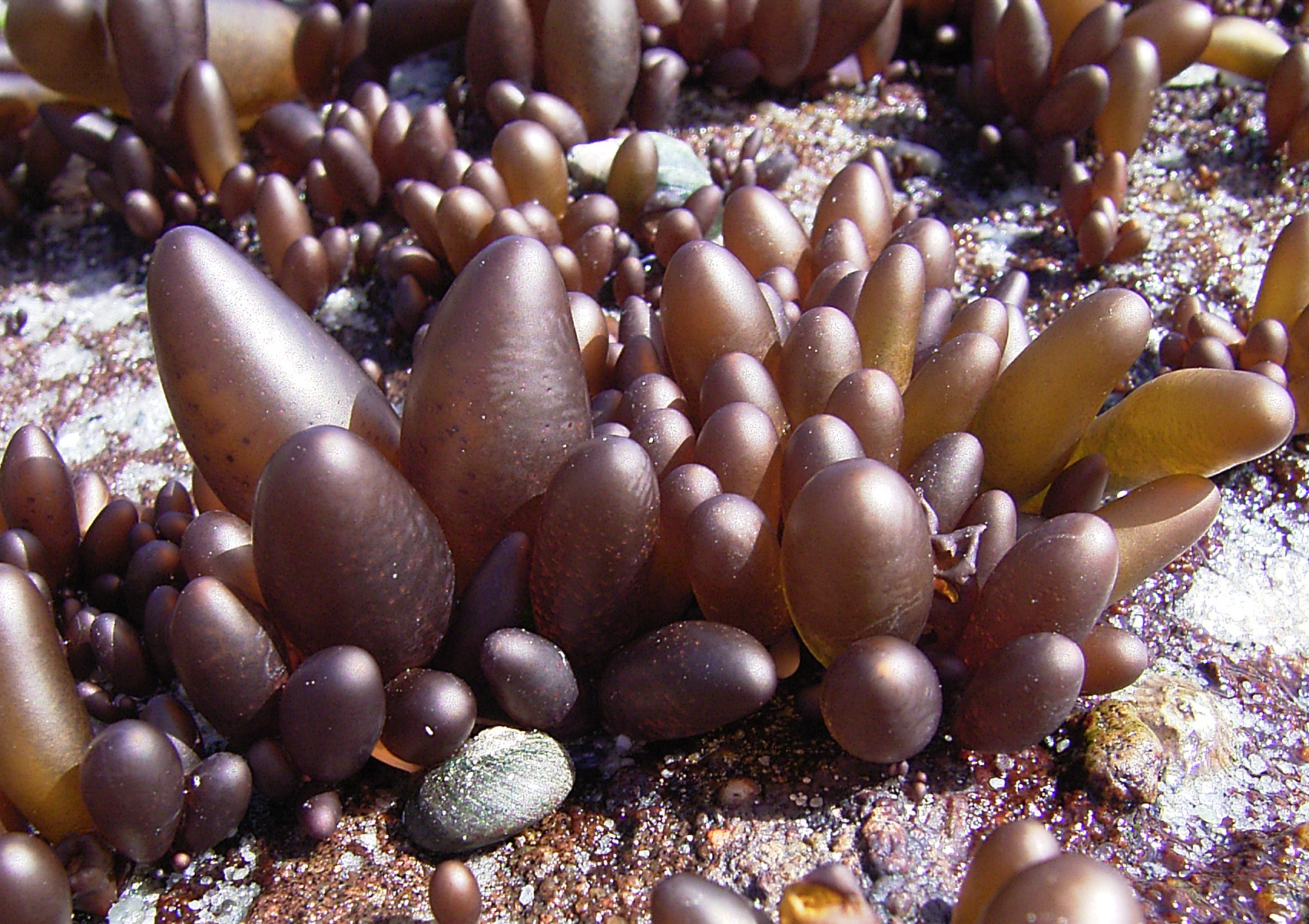 Nothogenia ovalis, close-up of the bladder-like gametophytes.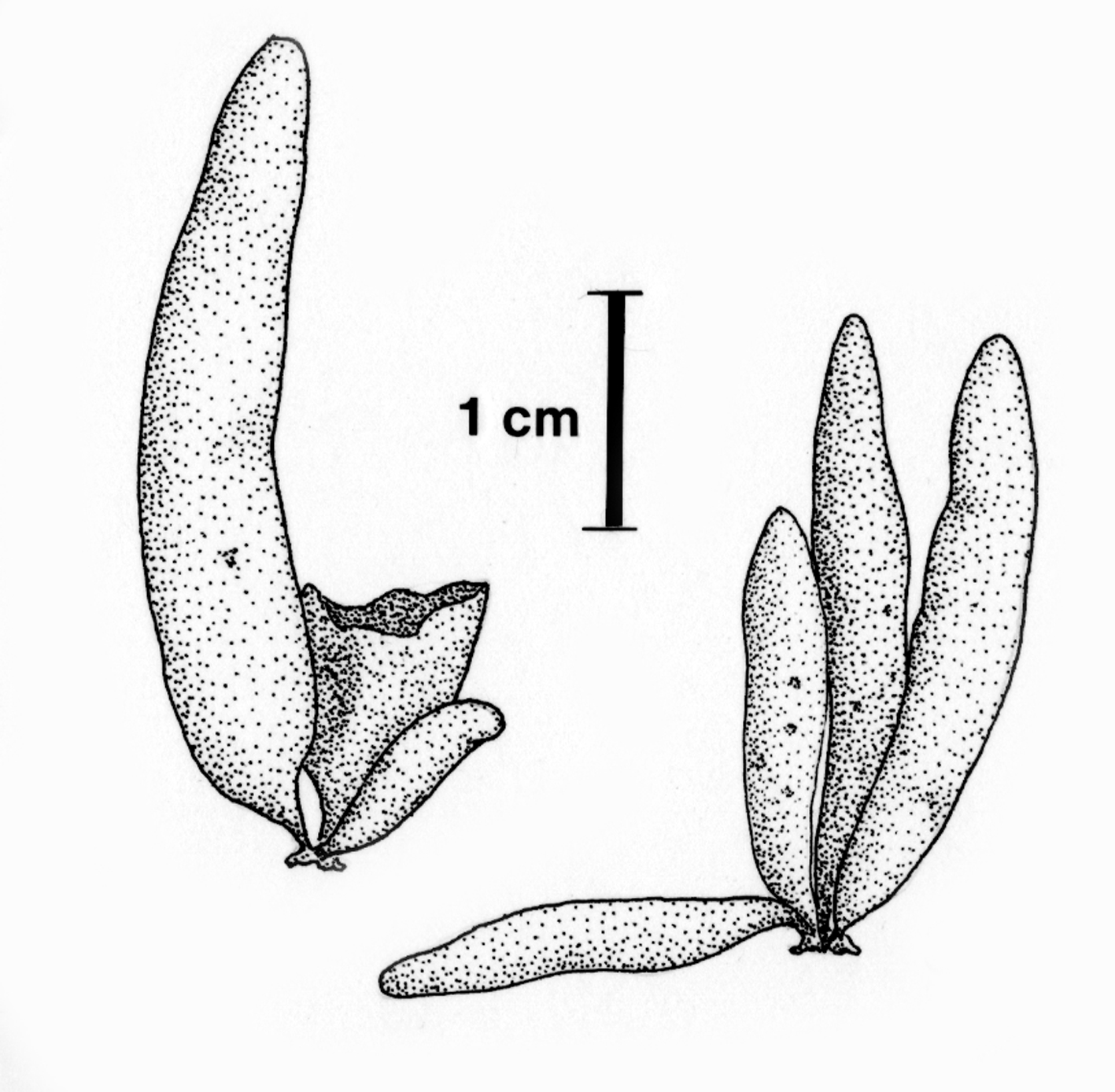 Nothogenia ovalis, habit. Reproduced from Stegenga et al. (1997).
References Nothogenia ovalis
Anderson, R. J. & H. Stegenga 1985. A crustose tetrasporophyte in the life history of Nothogenia erinacea (Turner) Parkinson (Galaxauraceae, Rhodophyta). Phycologia 24: 111-118.
Baardseth E. 1941. The marine algae of Tristan da Cunha. Results of the Norwegian Scientific Expedition to Tristan da Cunha, 1937-1938, 9: 1-137.
Parkinson P. G. 1983. the typification and status of the name Chaetangium ((Algae). Taxon 32: 605-610.
Silva, P.C., Basson, P.W. & Moe, R.L. (1996). Catalogue of the benthic marine algae of the Indian Ocean. University of California Publications in Botany 79: 1-1259.
Stegenga, H., Bolton, J.J. and R. J. Anderson. 1997. Seaweeds of the South African west coast. Contributions from the Bolus Herbarium 18: 655 pp.
Cite this record as:
Anderson RJ, Stegenga H, Bolton JJ. 2016. Seaweeds of the South African South Coast.
World Wide Web electronic publication, University of Cape Town, http://southafrseaweeds.uct.ac.za; Accessed on 01 October 2023.