Order Ceramiales
Family Delesseriaceae
Papenfussia minuta Kylin 1938: 17, pl. 5: fig. 15
Plants bright red, often with pale spots, up to 3 cm tall, comprising small prostrate basal part, sometimes short stipe, and almost circular blades a few to 7 (-8) mm in diameter. Blades incised and with dentate margins from which proliferations sometimes arise. Anatomy and mode of growth as in P. laciniata. Tetrasporangia in circular sori in subapical areas of blade. Cystocarps not seen.
Collections, ecology and regional distribution
Recorded from Hangklip (120 km west of Cape Agulhas) to about 40 km north of Durban (19-52). Epilithic or epiphytic in lower eulittoral, in pools and algal turfs.
World distribution: South African endemic.
Type locality: Port Elizabeth, South Africa (Silva et al. 1996).
Note: may be conspecific with P. laciniata (Stegenga et al. 1997, as Pollexfenia ).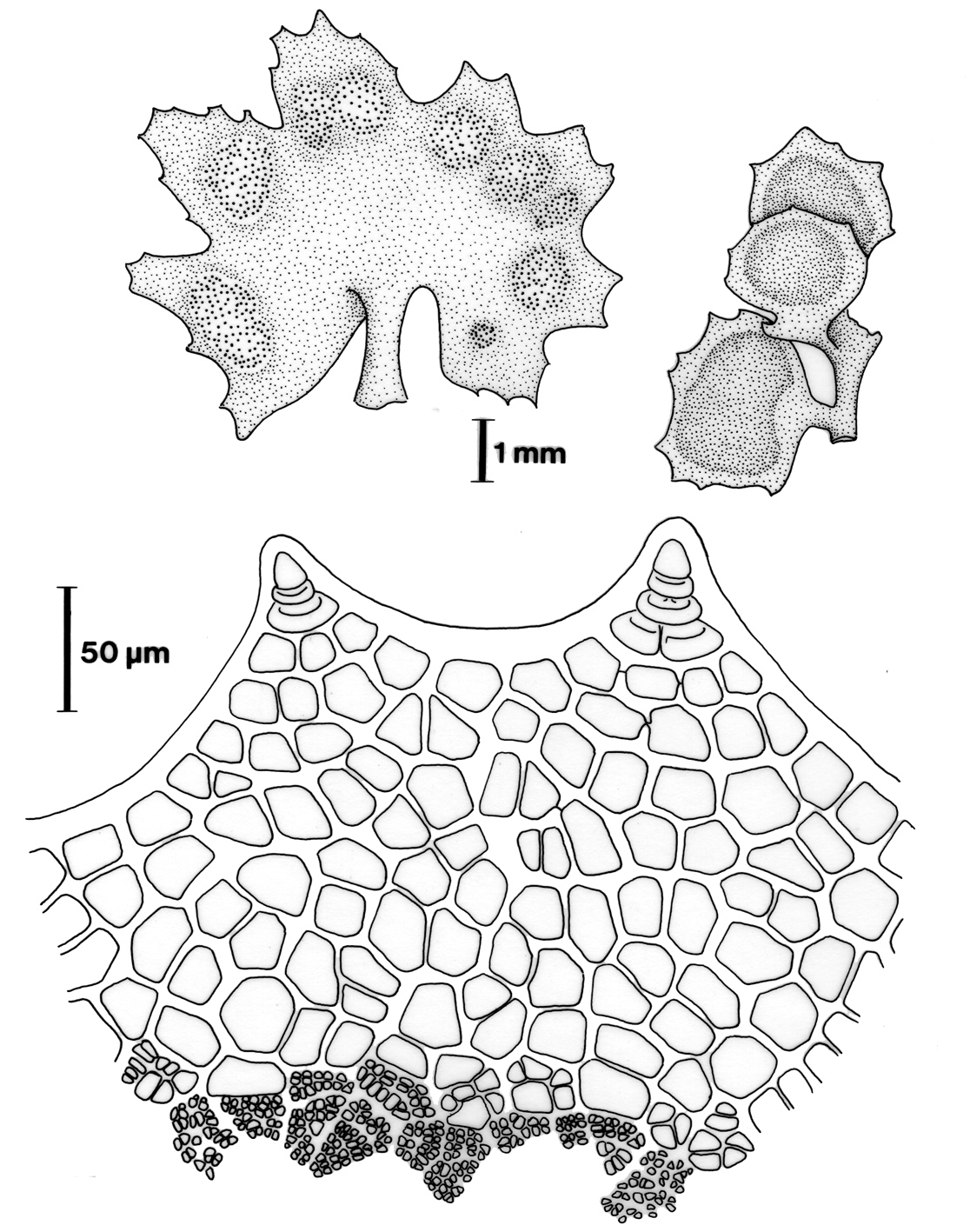 Papenfussia minuta. Habit of small plants: tetrasporangial (on left) and male (on right). Margin of plants with spermatangial sorus (below). Reproduced from Stegenga et al. (1997) (as Pollexfenia minuta).
References Papenfussia minuta
Kylin, H. 1956. Die Gattungen der Rhodophyceen. pp. i-xv, 1-673, 458 figs. Lund: C.W.K. Gleerups.
Silva, P.C., Basson, P.W. & Moe, R.L. 1996. Catalogue of the benthic marine algae of the Indian Ocean. University of California Publications in Botany 79: 1-1259.
Stegenga, H., Bolton, J.J. & R. J. Anderson. 1997. Seaweeds of the South African west coast. Contributions from the Bolus Herbarium 18: 655 pp.
Cite this record as:
Anderson RJ, Stegenga H, Bolton JJ. 2016. Seaweeds of the South African South Coast.
World Wide Web electronic publication, University of Cape Town, http://southafrseaweeds.uct.ac.za; Accessed on 21 September 2023.