Order Ceramiales
Family Delesseriaceae
Platysiphonia delicata (Clemente y Rubio) Cremades 1990: 492
Plants lax, delicate, red, comprising horizontal basal axes bearing soft, compressed upright axes to several cm high, forming short turfs. Horizontal basal axes terete, up to 200 µm diameter, attached by unicellular rhizoids. Upright axes flattened, up to 100 µm wide, laxly branched from midrib; composed of central axial filament with two transverse and two lateral pericentral cells, the latter each forming two flanking cells; cortication present only in most proximal parts and then poorly developed. Tetrasporangia borne in stichidia up to 1 mm long and 170 µm wide, arranged distichously in up to 20 fertile segments, cut off from lateral pericentrals and covered by 2 cover cells and 4 flanking cells. Spermatia borne in stichidia similar to those bearing tetrasporangia. Cystocarps without stalk, flask-shaped when mature, to 800 µm long and 550 µm diameter, with single prominent ostiole.
Collections, ecology and regional distribution
Recorded from De Hoop along the south and east coasts to northern Kwazulu-Natal (24-58). A common component of algal turfs or epiphytic on other seaweeds, in lower eulittoral pools, sublittoral fringe and down to at least 10 m depth.
World distribution: widespread in the warm temperate eastern Atlantic, along the African east coast to Kenya. Also in India, Oman, Iran, Australia and Brazil (Guiry & Guiry 2013).
Type locality: Cadiz, Spain (Silva et al. 1996).
Note: This species, which was previously called P. miniata (C. Agardh) Boergesen, is distinguished from the larger west coast Platysiphonia intermedia (Grunow) Wynne which has 2 rather than 4 flanking cells in tetrasporangial stichidia. (see Stegenga et al. 1997).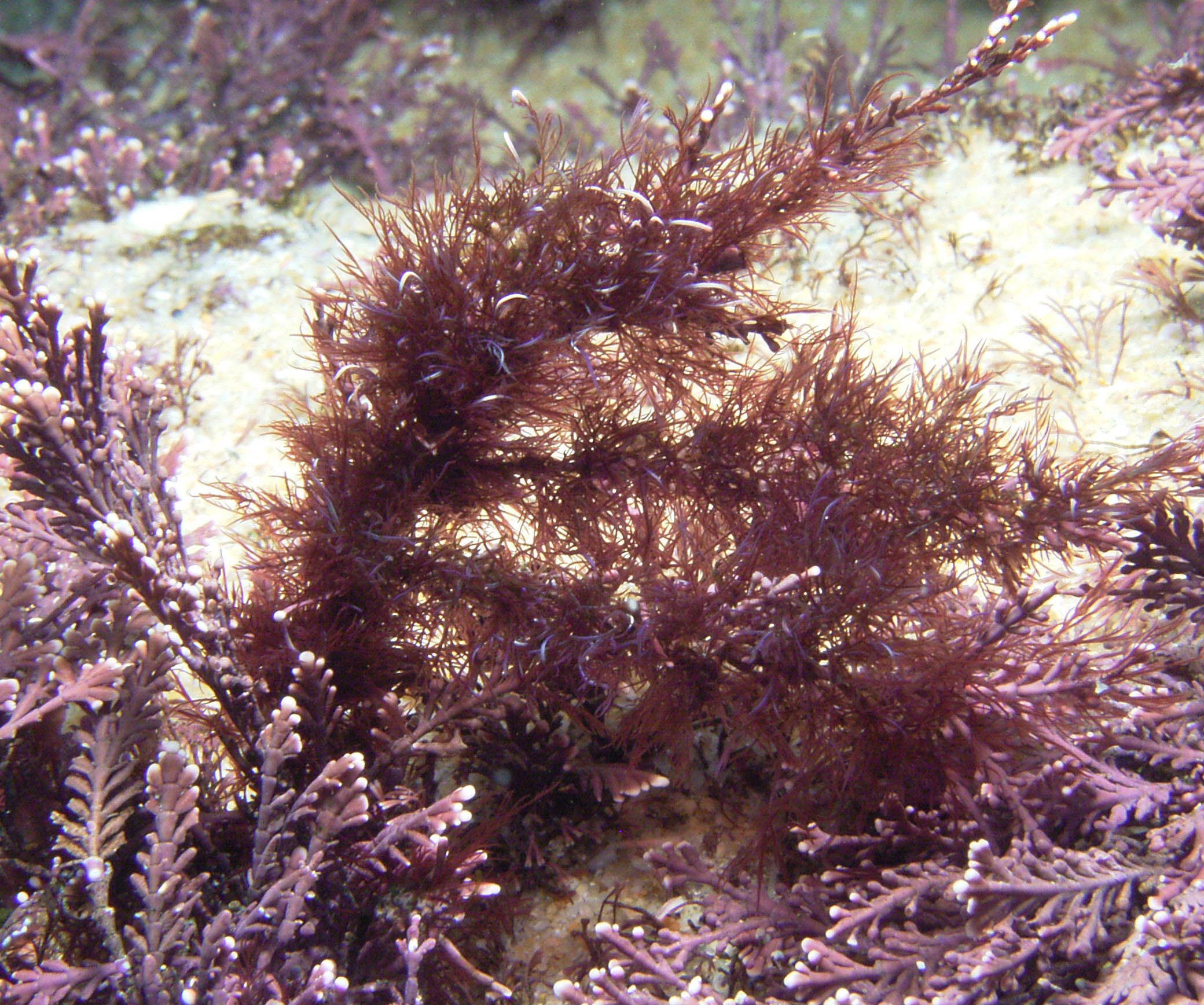 Platysiphonia delicata, attached to Corallina sp. In tide pool, Kenton on Sea.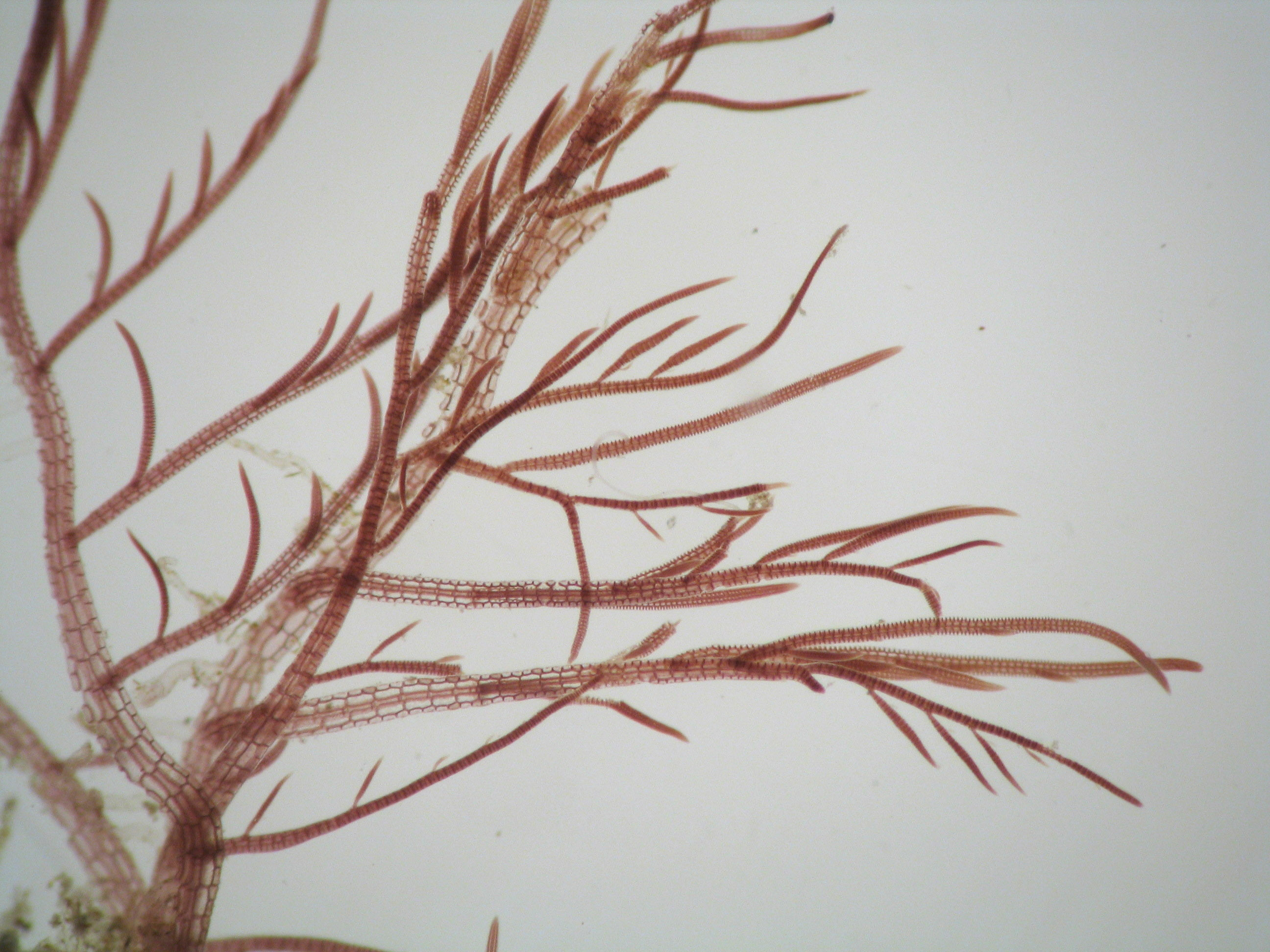 Platysiphonia delicata, horizontal axis with rhizoids (underneath), bearing erect axes.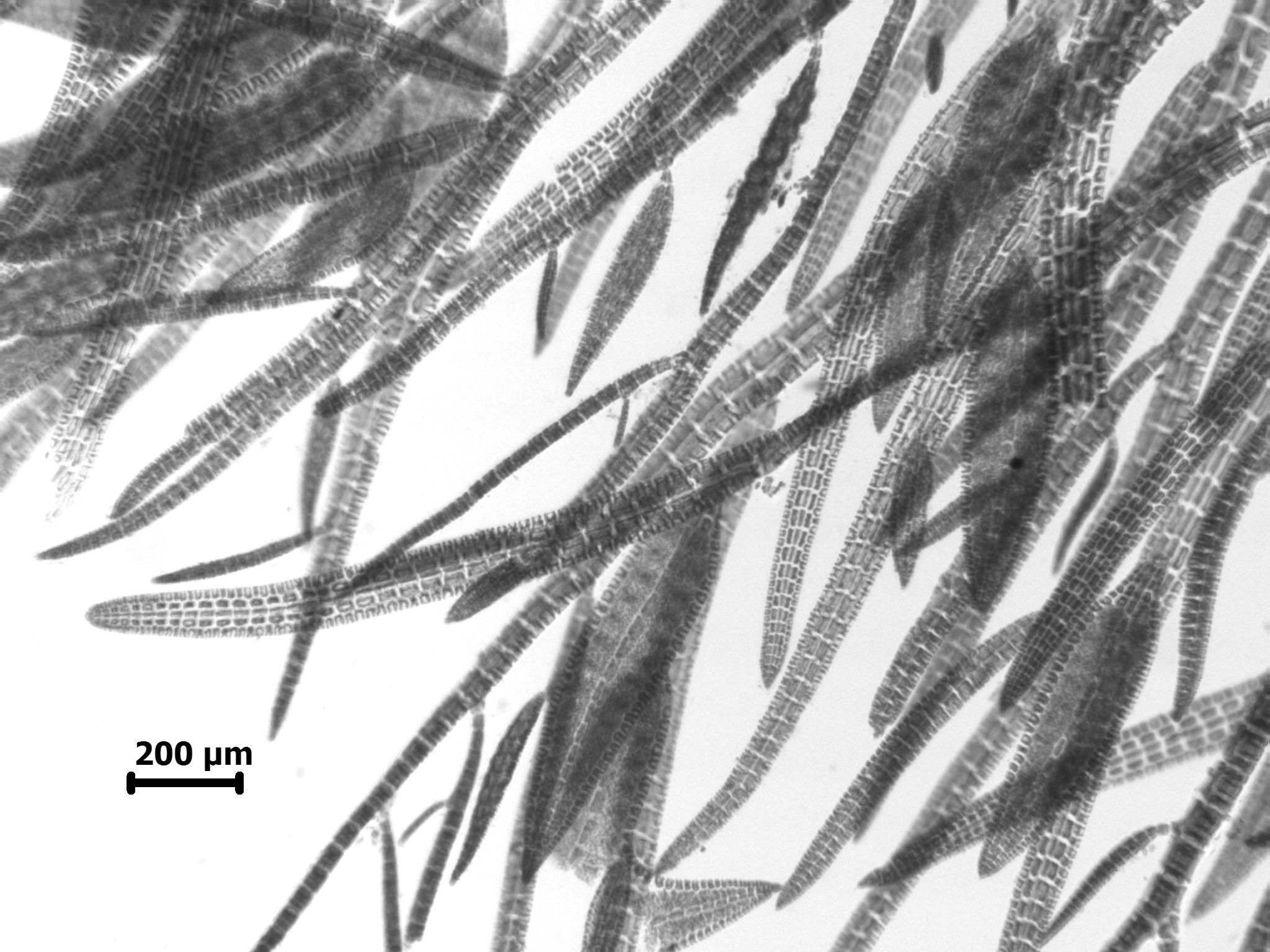 Platysiphonia delicata, detail of erect axes.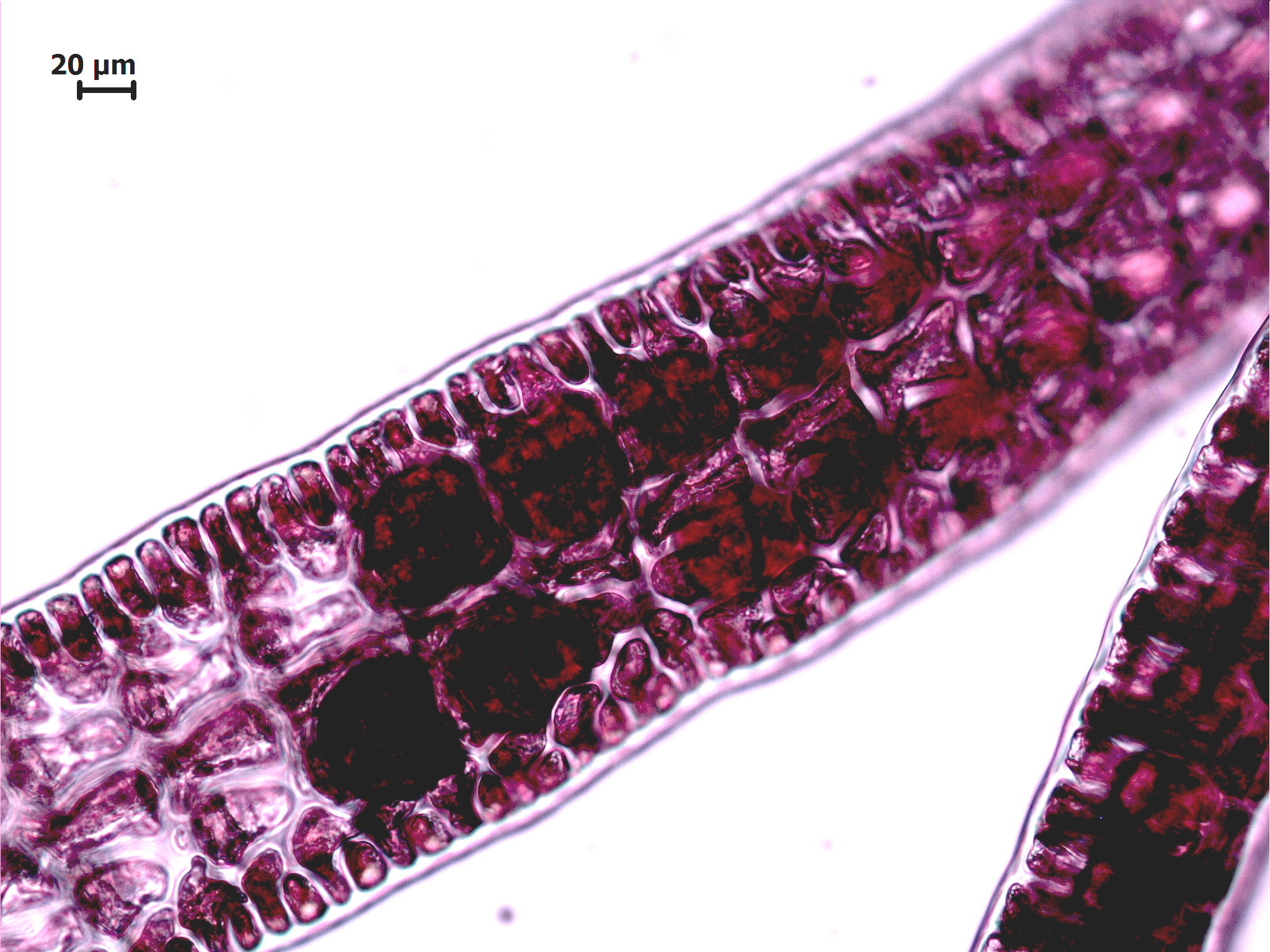 Platysiphonia delicata, tetrasporangia (Nature's Valley).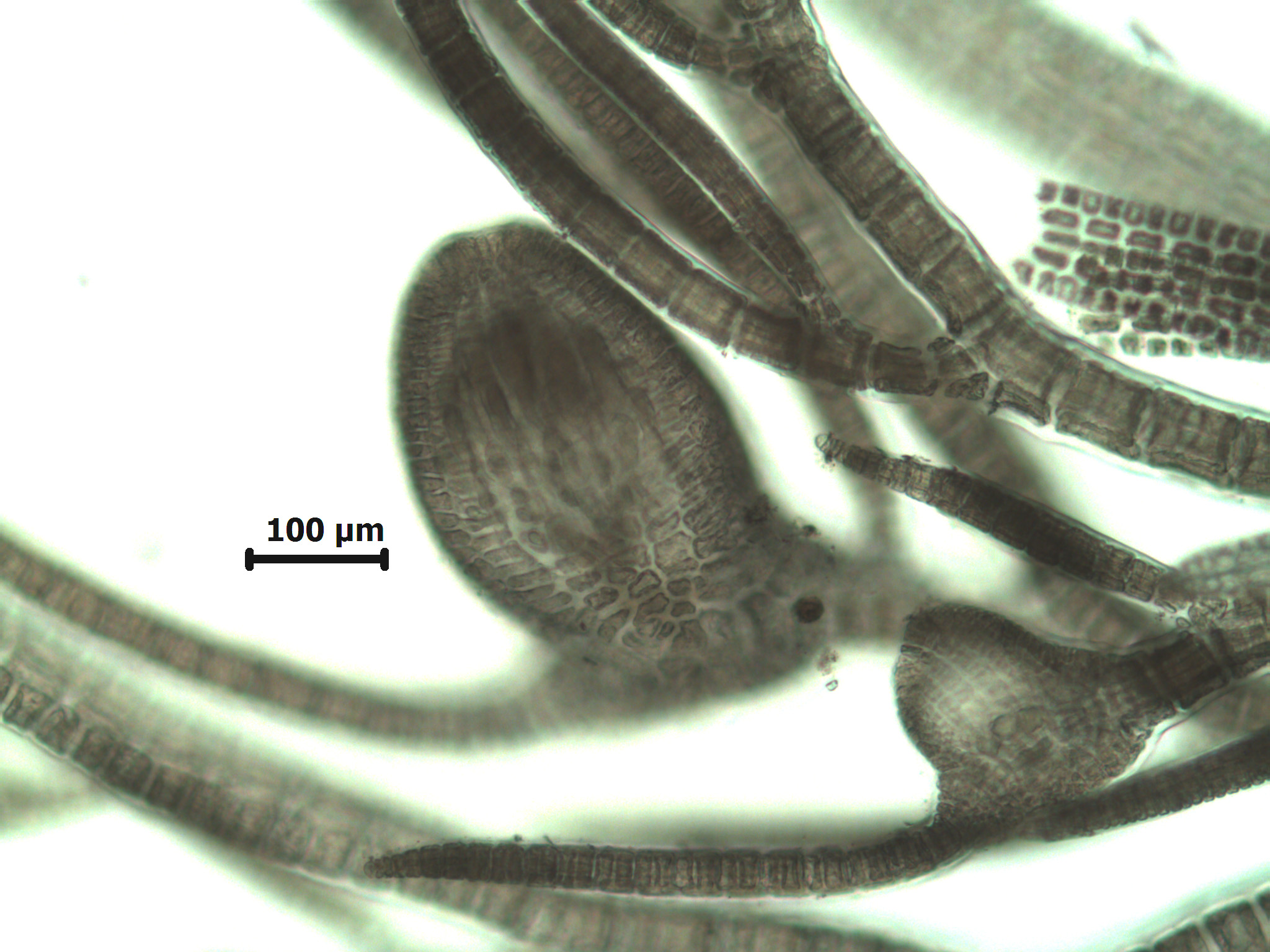 Platysiphonia delicata, with developing flask-shaped cystocarps.
References Platysiphonia delicata
Cremades J and Pérez-Cirera JL 1990. Nuevas combinaciones de algas bentónicas marinas, como resultado del studio del herbario de Simon de Rojas Clemente y Rubio (1777-1827). Anales del Jardin Botánico de Madrid 47 (2): 489-492.
Guiry, M.D. & Guiry, G.M. 2013. AlgaeBase. World-wide electronic publication, National University of Ireland, Galway. http://www.algaebase.org; searched on 20 May 2013.
Silva, P.C., Basson, P.W. & Moe, R.L. 1996. Catalogue of the benthic marine algae of the Indian Ocean. University of California Publications in Botany 79: 1-1259.
Stegenga, H., Bolton, J.J. & R. J. Anderson. 1997. Seaweeds of the South African west coast. Contributions from the Bolus Herbarium 18: 655 pp.
Cite this record as:
Anderson RJ, Stegenga H, Bolton JJ. 2016. Seaweeds of the South African South Coast.
World Wide Web electronic publication, University of Cape Town, http://southafrseaweeds.uct.ac.za; Accessed on 21 September 2023.