Order Gigartinales
Family Plocamiaceae
Plocamium corallorhiza (Turner) J.D. Hooker & Harvey 1845: 542
Plants erect, bright pink sometimes with bluish cast, up to 30 cm tall, robust; well-developed stoloniferous holdfast bearing several to many erect axes; erect axes complanate, foliaceous, up to 7 mm wide, branching distichous, alternate; Series of laterals comprising simple lateral alternating with a compound lateral, simple laterals incurved when young, triangular when mature, up to 5 mm wide at base, abaxial margin distinctly dentate. Tetrasporangial stichidia densely clustered in the axils of laterals, cylindrical, simple or once-forked, about 120 µm in diameter; tetrasporangia zonately divided, about 65 µm long.
Collections, ecology and regional distribution
Recorded from Yzerfontein on the west coast to northern Kwazulu-Natal (14-58). This species is often common and abundant, forming stands in the shallow sublittoral.
World distribution: Also recorded from Namibia, Cape Verde Islands, Madagascar, Mozambique, and Amsterdam and St. Paul Islands (Guiry & Guiry 2009).
Type locality: Cape of Good Hope (Silva et al. 1996).
Note: Plocamium robertiae F. Schmitz ex Mazza may be a valid species, although it is currently regarded as a synonym of a P. corallorhiza. (Simons 1964; Stegenga et al. 1997). However, DNA sequences of the two species need to be compared.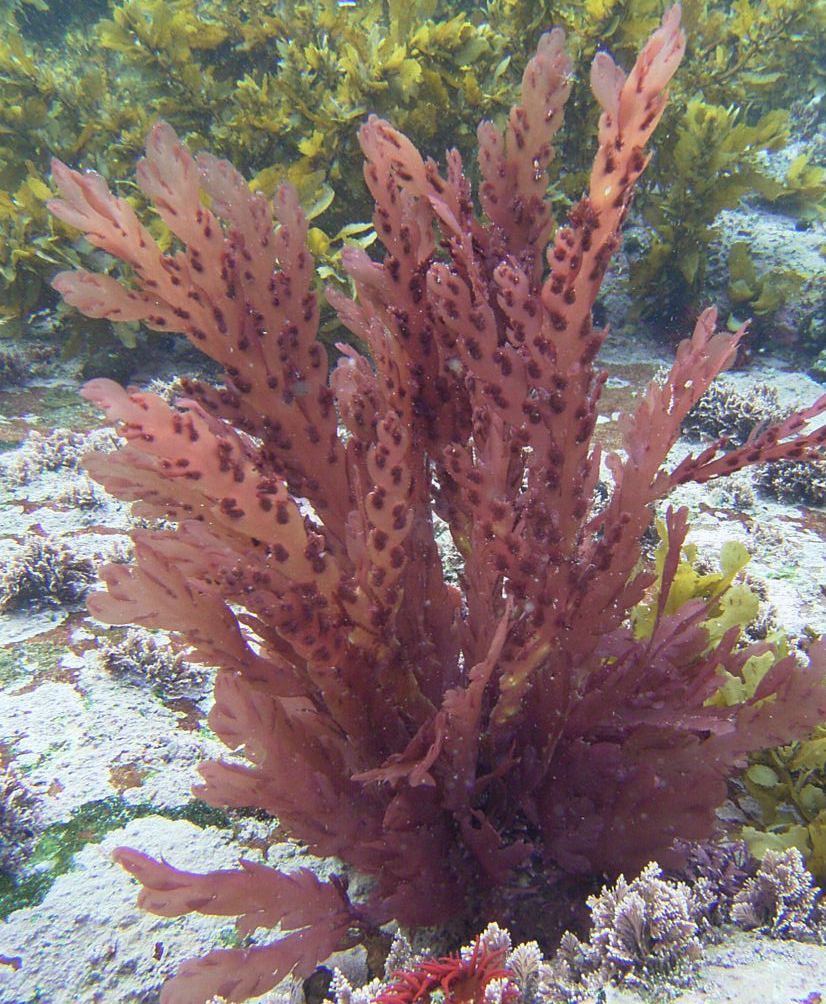 Plocamium corallorhiza, Arniston, showing stichidia (dark spots) in axils of branchlets.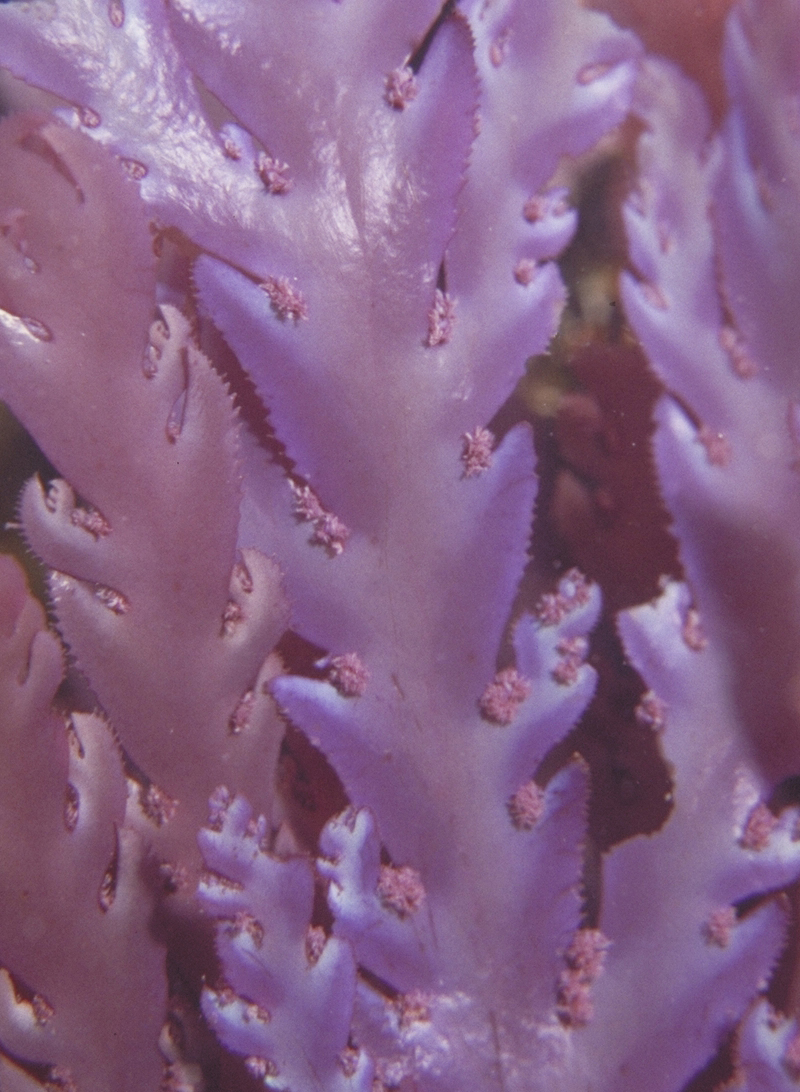 Plocamium corallorhiza, showing stichidia in branch axils. Plants often have a bluish iridescence.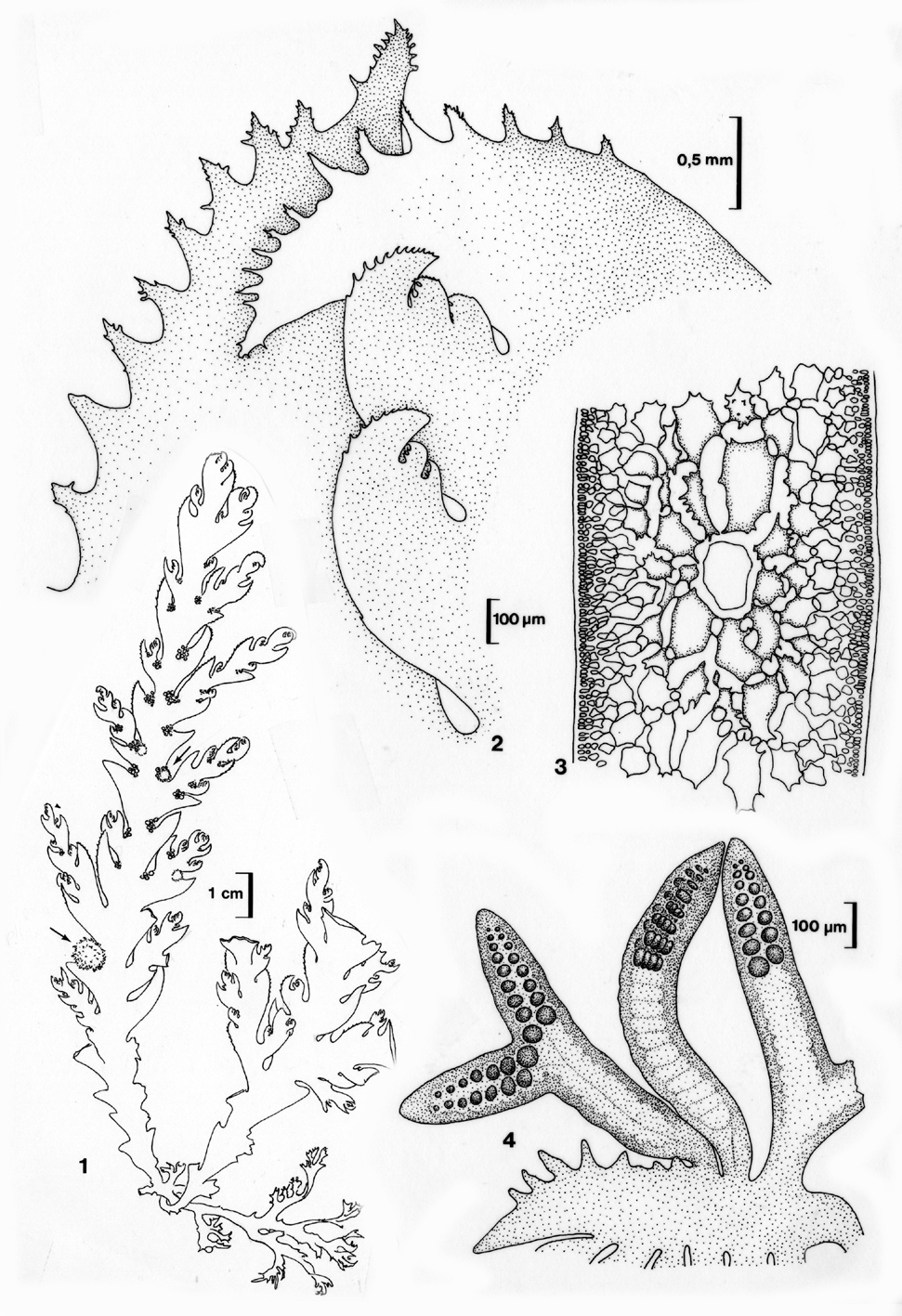 Plocamium corallorhiza. 1. Habit (with the parasite Plocamiocolax papenfussianum – arrowed). 2. Thallus apex. 3. Cross section. 4. Tetrasporangial stichidia. Reproduced from Stegenga et al. (1997).
References Plocamium corallorhiza
Guiry, M.D. & Guiry, G.M. 2009. AlgaeBase. World-wide electronic publication, National University of Ireland, Galway. http://www.algaebase.org; searched June 2009.
Hooker, J.D. & Harvey, W.H. 1845. Algae Novae Zelandiae. Journal of Botany, London, 4: 521-551.
Silva, P.C., Basson, P.W. & Moe, R.L. 1996. Catalogue of the benthic marine algae of the Indian Ocean. University of California Publications in Botany 79: 1-1259.
Simons, R.H. 1964. Species of Plocamium on the South African coast. Bothalia 8: 183-193.
Stegenga, H., Bolton, J.J. & R. J. Anderson. 1997. Seaweeds of the South African west coast. Contributions from the Bolus Herbarium 18: 655 pp.
Cite this record as:
Anderson RJ, Stegenga H, Bolton JJ. 2016. Seaweeds of the South African South Coast.
World Wide Web electronic publication, University of Cape Town, http://southafrseaweeds.uct.ac.za; Accessed on 21 September 2023.