Order Gigartinales
Family Plocamiaceae
Plocamium glomeratum J. Agardh 1851: 397
Plants bright to dark red, up to 10 cm tall. Axes complanate, flattened, up to 1 mm wide, branching subdichotomous to irregular; alternating series of laterals comprising up to 6 (-10) branchlets, all compound or proximal branchlet at first simple and later branching; young branchlets somewhat incurved, older branchlets almost straight and with acute apex. Tetrasporangial stichidia developing from apical parts of plant, becoming crowded and almost ball-like.
Collections, ecology and regional distribution
Recorded from Namibia to Still Bay (Simons 1964) (1-26). Epilithic in the subtidal fringe and in tidal pools, often associated with sand.
World distribution: Also recorded from Madagascar and Mozambique (Silva et al. 1996).
Type locality: Cape of Good Hope, South Africa (Silva et al. 1996).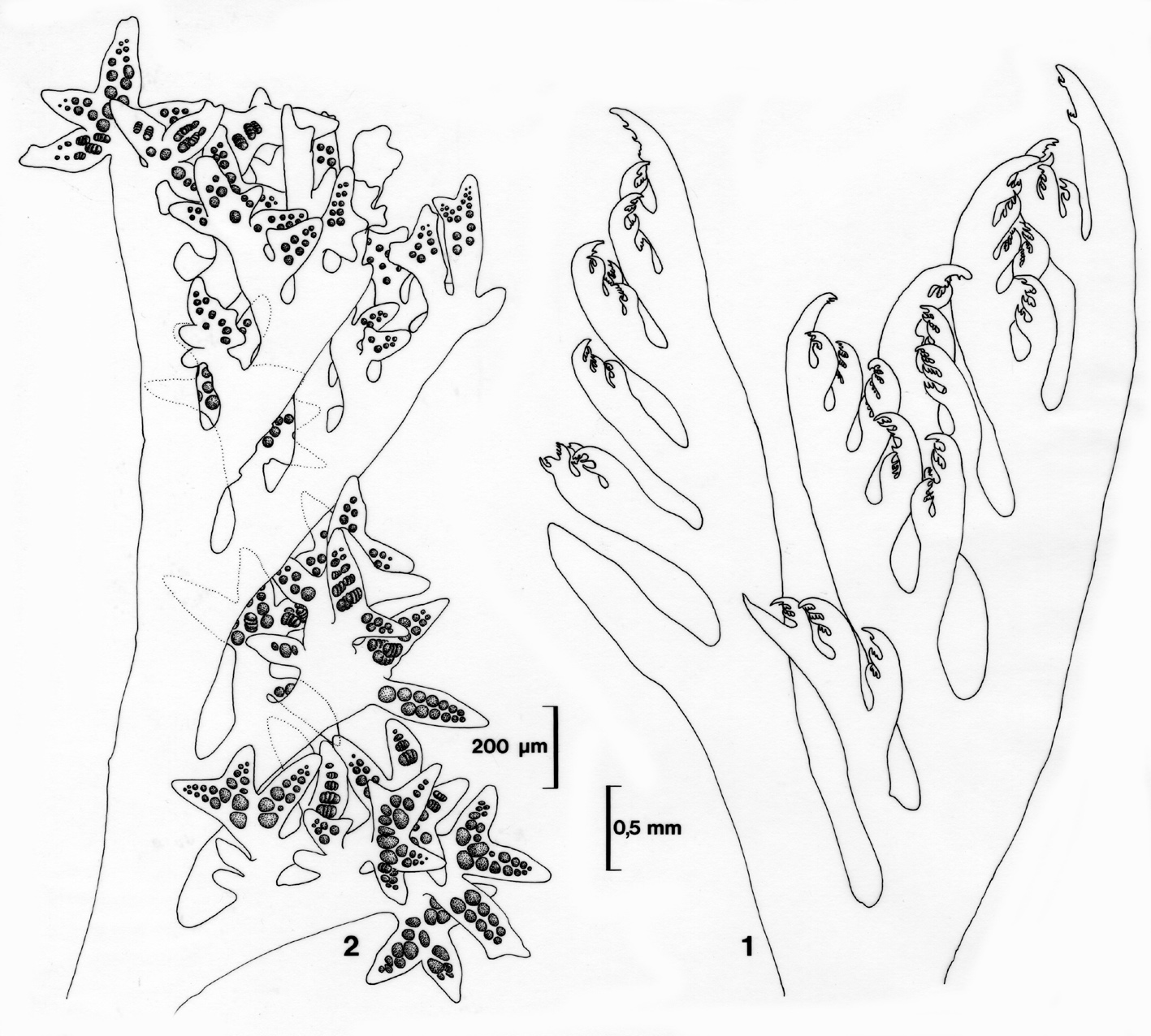 Plocamium glomeratum. 1. Thallus apex. 2. Thallus apex, with tetrasporangial stichidia. Reproduced from Stegenga et al. (1997).
References Plocamium glomeratum
Agardh, J.G. 1851. Species genera et ordines algarum, seu descriptiones succinctae specierum, generum et ordinum, quibus algarum regnum constituitur. Volumen secundum: algas florideas complectens. Part 2, fasc. 1. pp. 337 [bis]-351 [bis] 352-506. Lundae [Lund]: C.W.K. Gleerup.
Silva, P.C., Basson, P.W. & Moe, R.L. 1996. Catalogue of the benthic marine algae of the Indian Ocean. University of California Publications in Botany 79: 1-1259.
Simons, R.H. 1964. Species of Plocamium on the South African coast. Bothalia 8: 183-193.
Stegenga, H., Bolton, J.J. & R. J. Anderson. 1997. Seaweeds of the South African west coast. Contributions from the Bolus Herbarium 18: 655 pp.
Cite this record as:
Anderson RJ, Stegenga H, Bolton JJ. 2016. Seaweeds of the South African South Coast.
World Wide Web electronic publication, University of Cape Town, http://southafrseaweeds.uct.ac.za; Accessed on 25 September 2023.