Order Gigartinales
Family Plocamiaceae
Plocamium telfairiae (W. J. Hooker & Harvey) Harvey ex Kützing: 1849: 885
Plants reddish-pink, up to 9 cm tall, somewhat membranous, rather triangular in outline. Erect axes slender, compressed, 1 (-2) mm wide, lateral branchlets in alternating series of one simple, entire, narrowly triangular branchlet and one compound branchlet. Tetrasporangial stichidia stellate or tree-shaped, replacing a compound branchlet.
Collections, ecology and regional distribution
Recorded from Port Alfred to northern Kwazulu-Natal (39-58). Found in intertidal pools and the sublittoral zone (to at least 20 m depth in Kwazulu-Natal).
World distribution: Also recorded from Ghana, Mozambique, and many other warm temperate and tropical localities (Guiry & Guiry 2009). Curiously, recorded from Antarctica by Papenfuss (1964).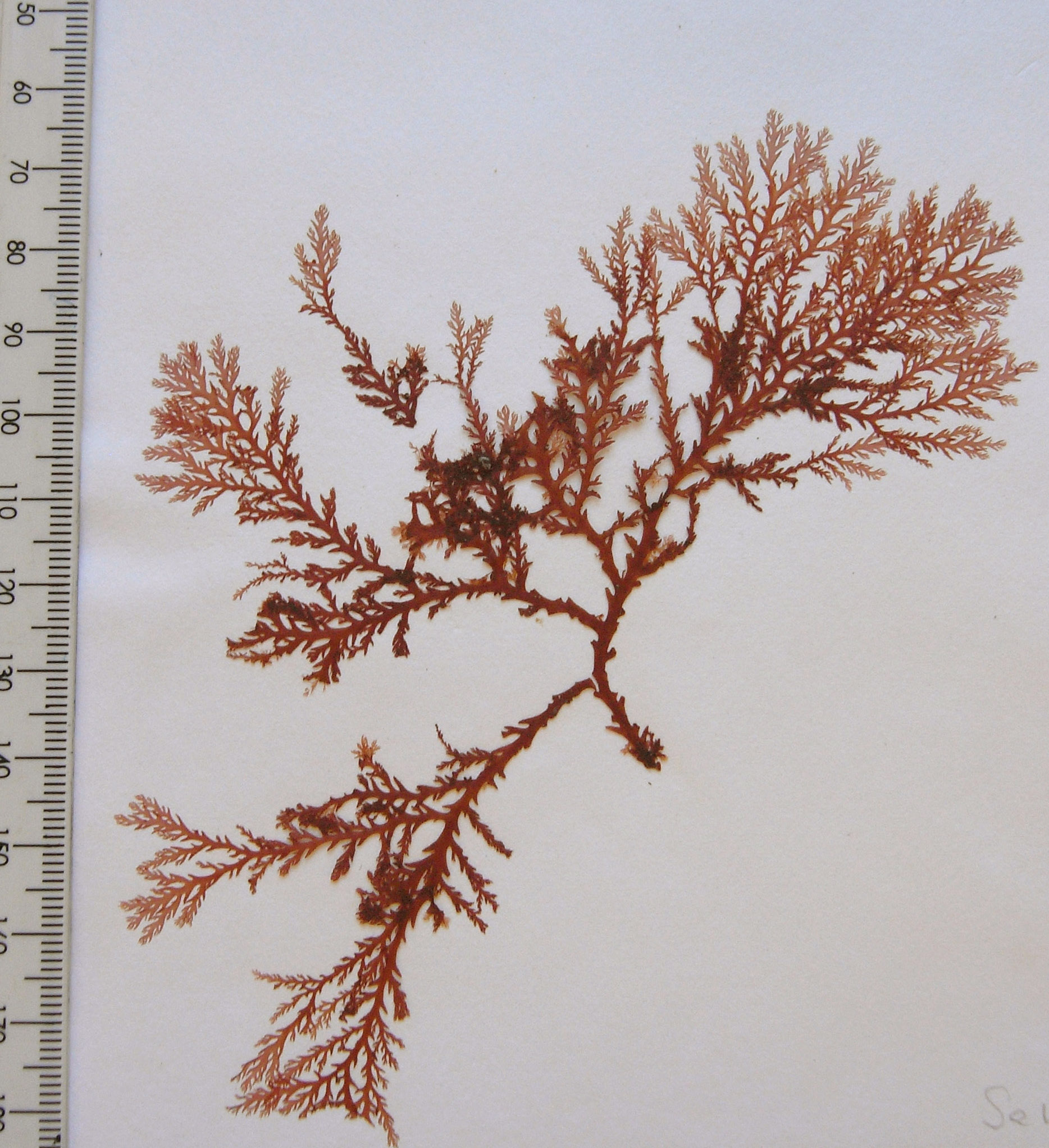 Plocamium telfairiae, BOL.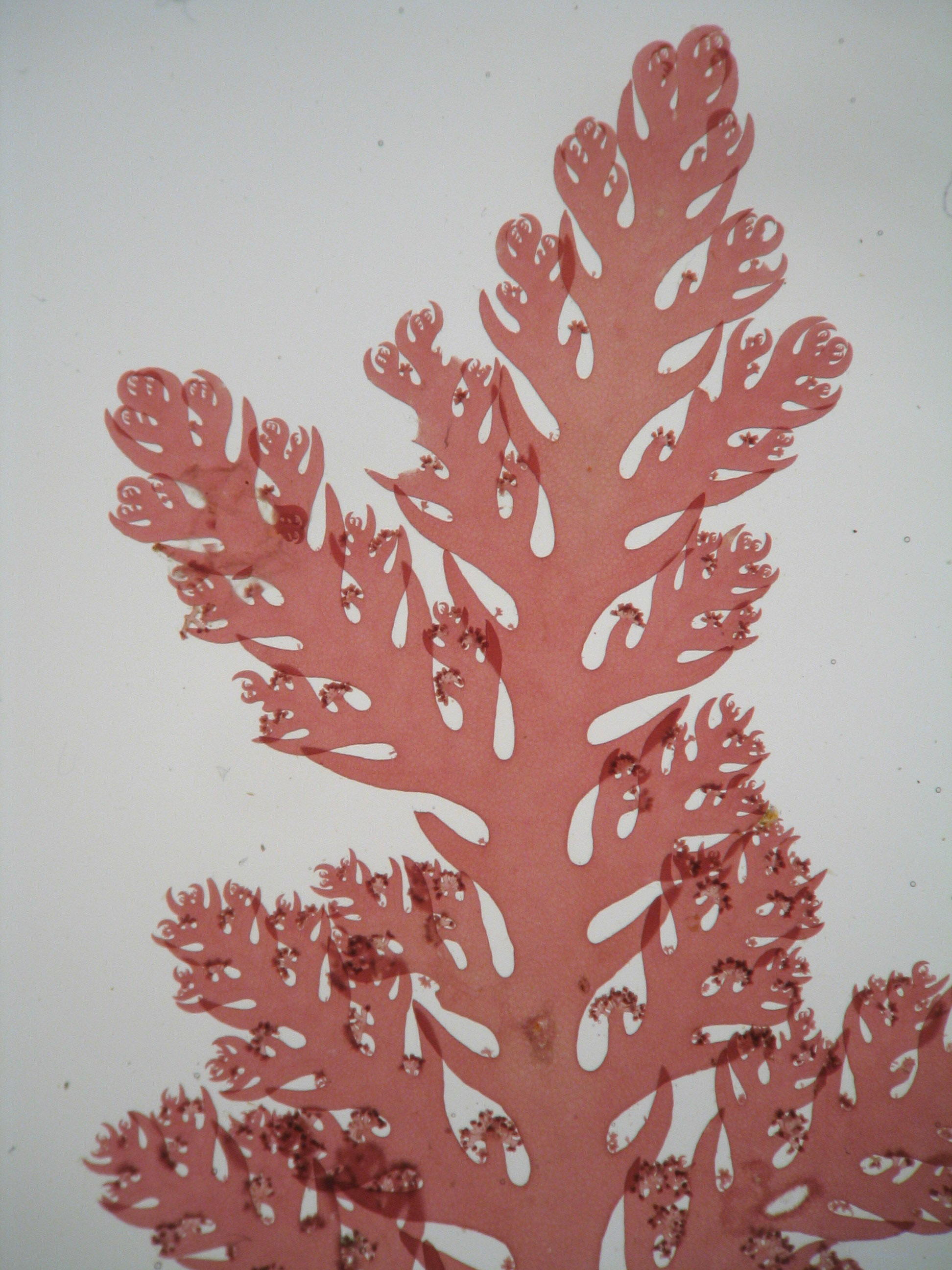 Plocamium telfairiae, specimen from northern KZN. Note stichidial branchlets lower down on thallus.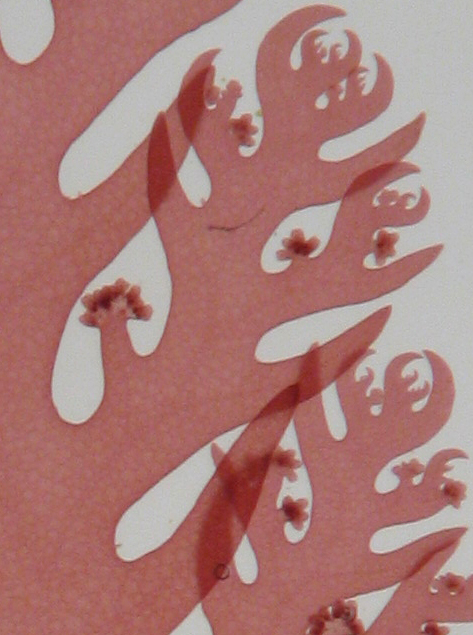 Plocamium telfairiae, with terminal stichidia on branchlets.
References Plocamium telfairiae
Guiry, M.D. & Guiry, G.M. 2009. AlgaeBase. World-wide electronic publication, National University of Ireland, Galway. http://www.algaebase.org; searched June 2009.
Kützing, F. T. 1849. Species Algarum. Leipzig, 922 pp.
Papenfuss, G.F. 1964. Catalogue and bibliography of Antarctic and Sub-Antarctic benthic marine algae. In: Bibliography of the Antarctic Seas. (Lee, M.O. Eds) Vol.1, pp. 1-76. Washington D.C.: American Geophysical Union.
Cite this record as:
Anderson RJ, Stegenga H, Bolton JJ. 2016. Seaweeds of the South African South Coast.
World Wide Web electronic publication, University of Cape Town, http://southafrseaweeds.uct.ac.za; Accessed on 25 September 2023.