Order Ceramiales
Family Rhodomelaceae
Polysiphonia foetidissima Cocks ex Bornet 1892: 314
Plants creeping, the apices ascending , up to 5 (-10) mm tall, the creeping parts (much) longer. Axes attached by unicellular rhizoids, cut off from the pericentral cells, usually one or two per segment. Laterals of exogenous origin, at intervals of ca. 10-20 segments, in principle indeterminate. Trichoblasts at intervals of several segments, unbranched or with a single forking. Segments with ca. 8 pericentral cells, without cortication. Segments to 150 µm in diameter (in creeping parts), throughout most of the thallus slightly longer than broad, in the creeping parts somewhat shorter than broad.
Tetrasporangia in several subapical segments, in orthostichous rows of about 3-6 segments. Mature sporangia round, ca. 70 µm in diameter, with only two long cover cells. Male stichidia up to 150 x 37.5 µm, accompanied by a sterile branch of the trichoblast. Stichidia at intervals of a few segments. Female structures not seen.
Collections, ecology and regional distribution
Recorded from Hangklip (Western Cape) to Kei Mouth (19-43). Epilithic and epiphytic in the eulittoral zone and in rock pools, often in turfs.
World distribution: virtually worldwide on temperate and tropical coasts (MD Guiry in Guiry & Guiry 2016).
Lectotype locality: Plymouth, Cornwall, England (Maggs & Hommersand 1993).
Note: previously known as Polysiphonia tepida Hollenberg .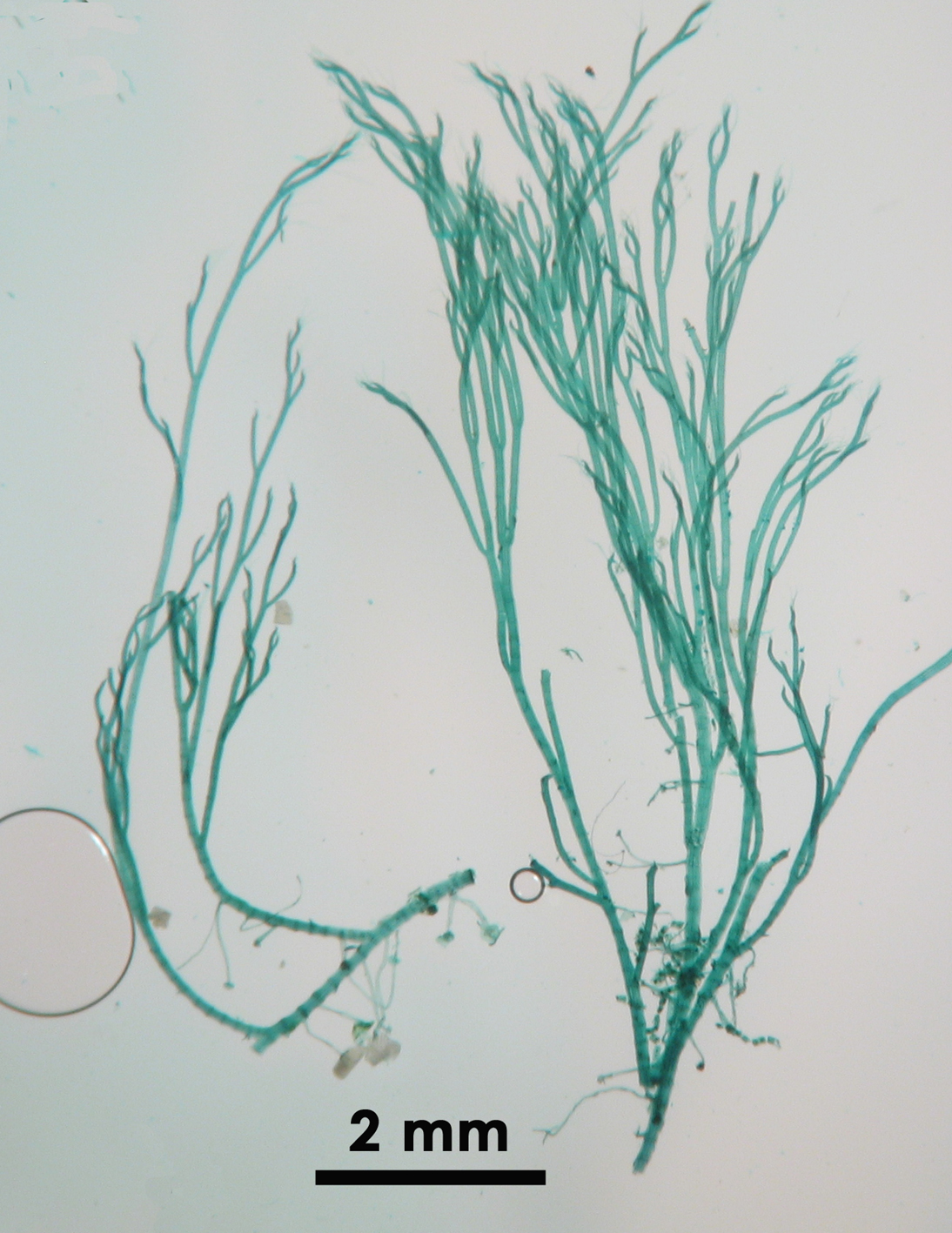 Polysiphonia foetidissima. Habit, stained microscope slide.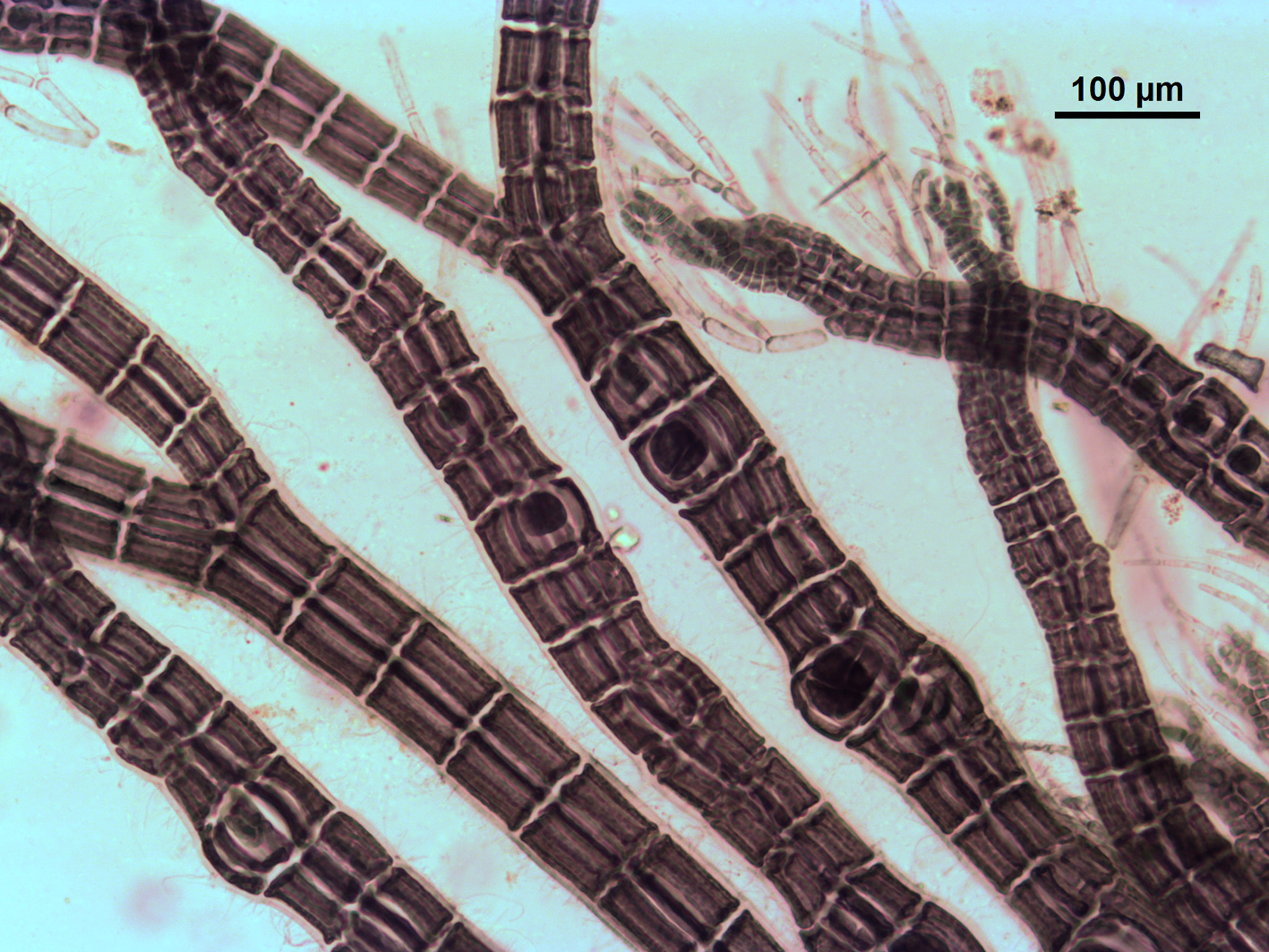 Polysiphonia foetidissima. Tetrasporangial thallus.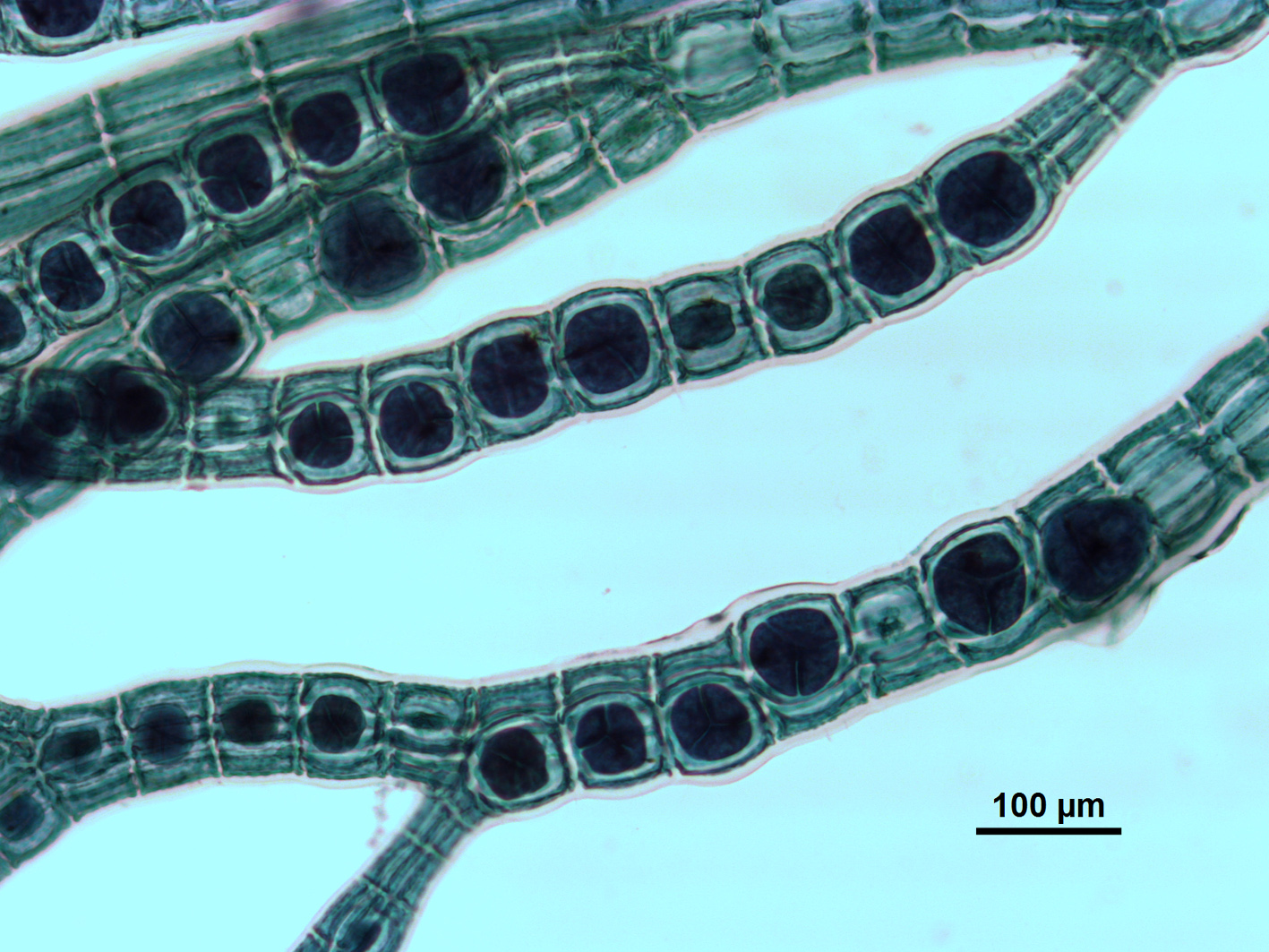 Polysiphonia foetidissima. Tetrasporangial thallus, stained slide.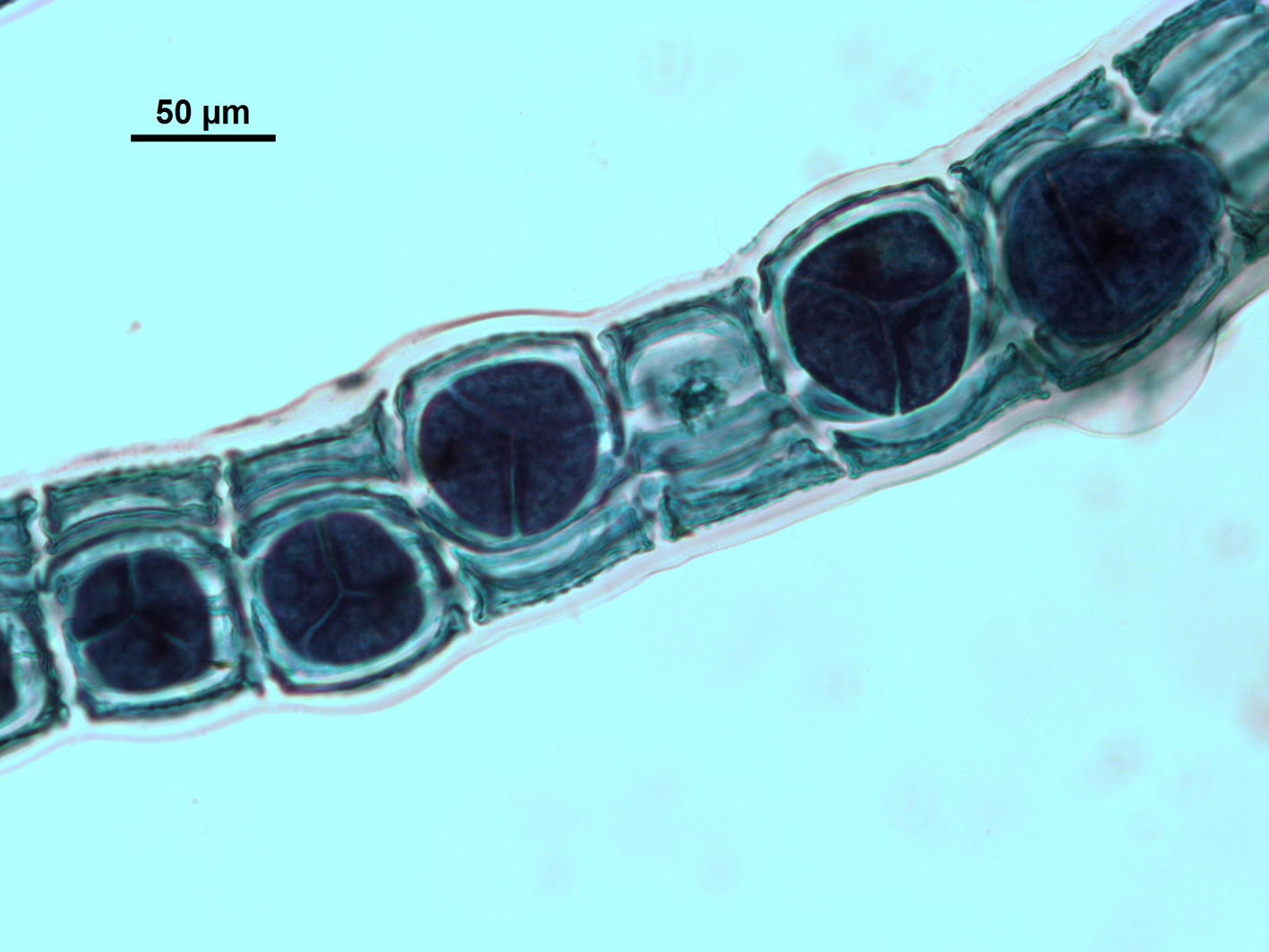 Polysiphonia foetidissima. Detail of tetrasporangia, stained slide.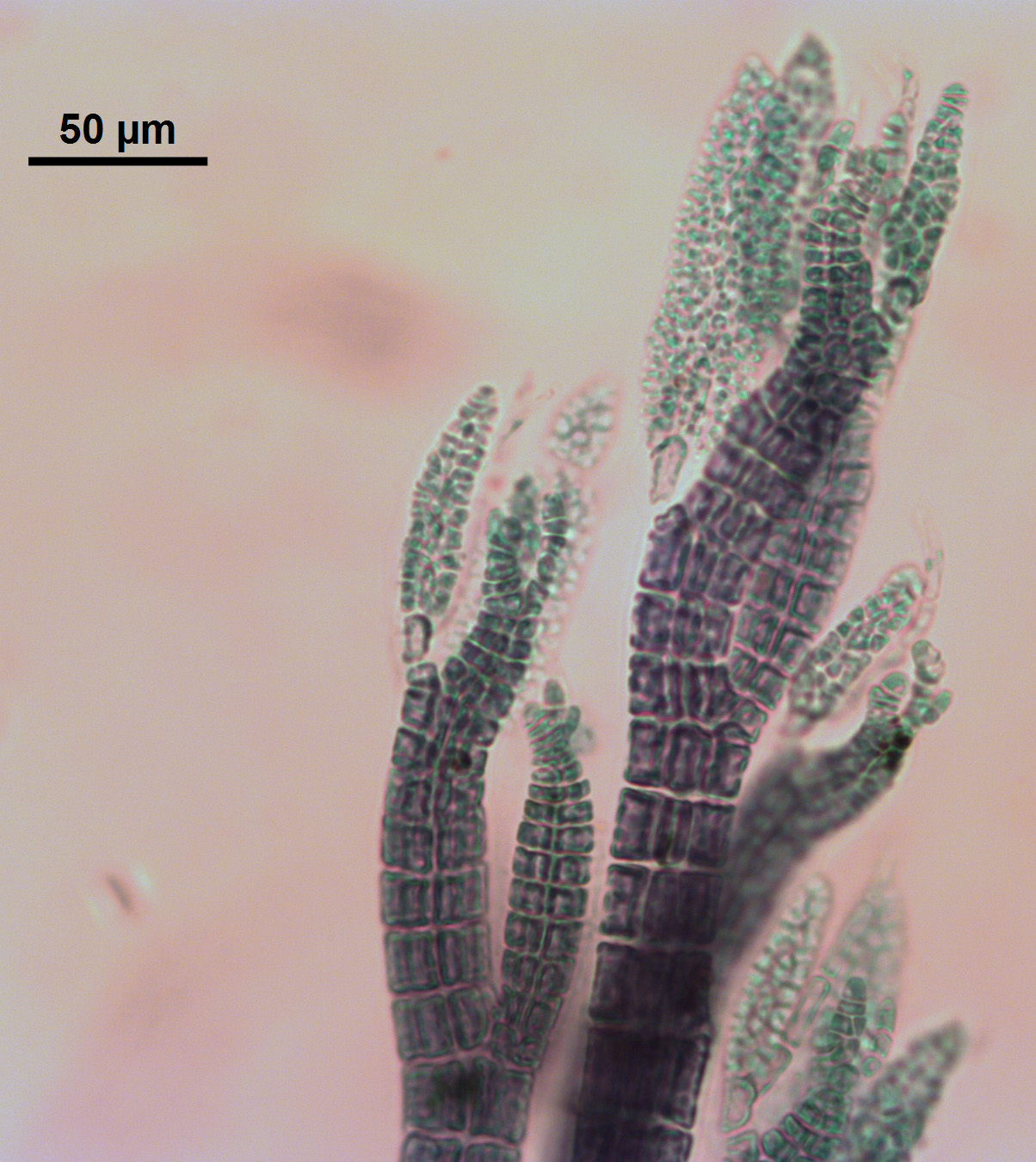 Polysiphonia foetidissima. Male thallus with spermatangial stichidia (stained slide).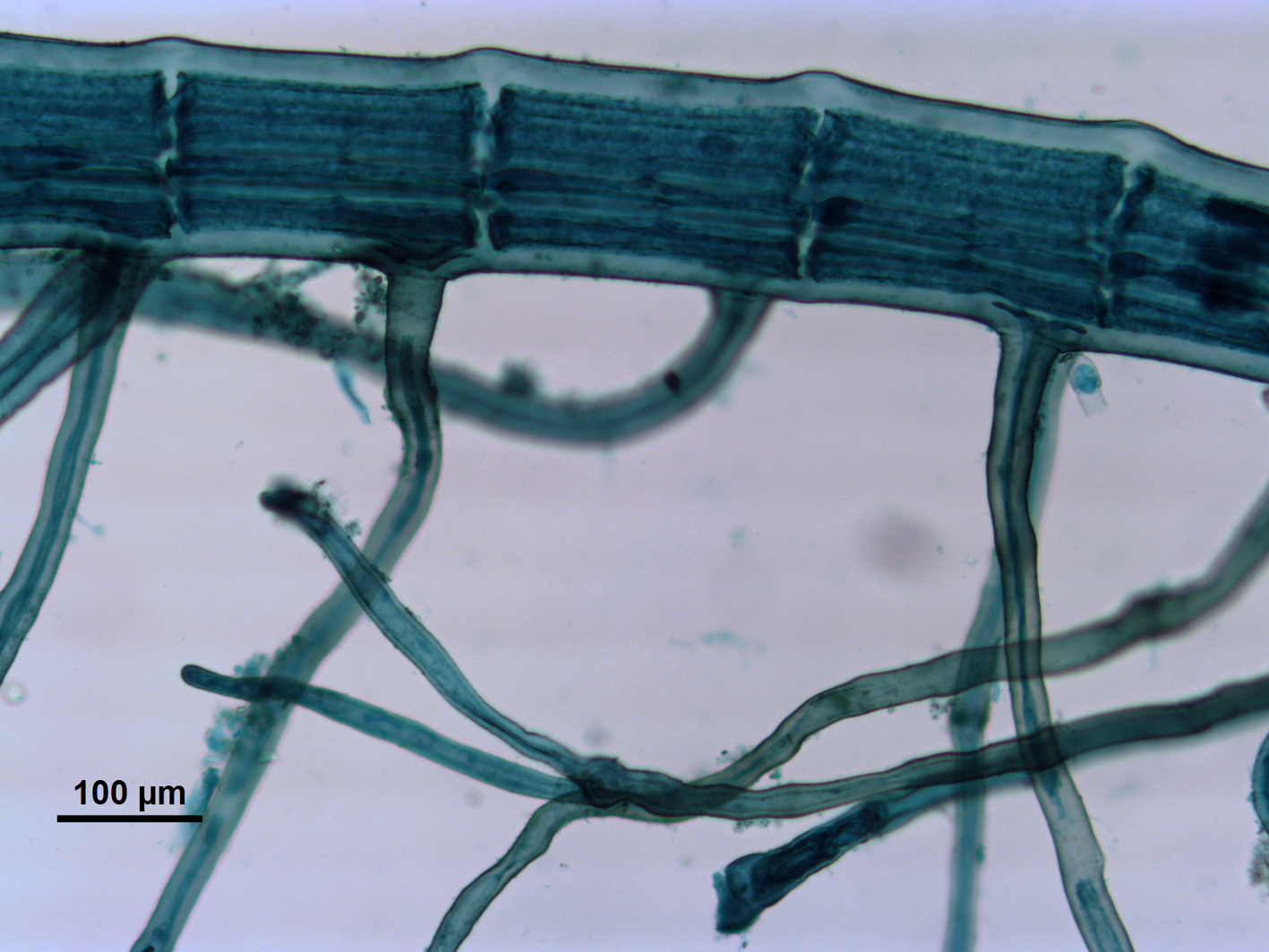 Polysiphonia foetidissima. Basal axis with 1-2 attachment rhizoids per segment, originating from pericentral cells.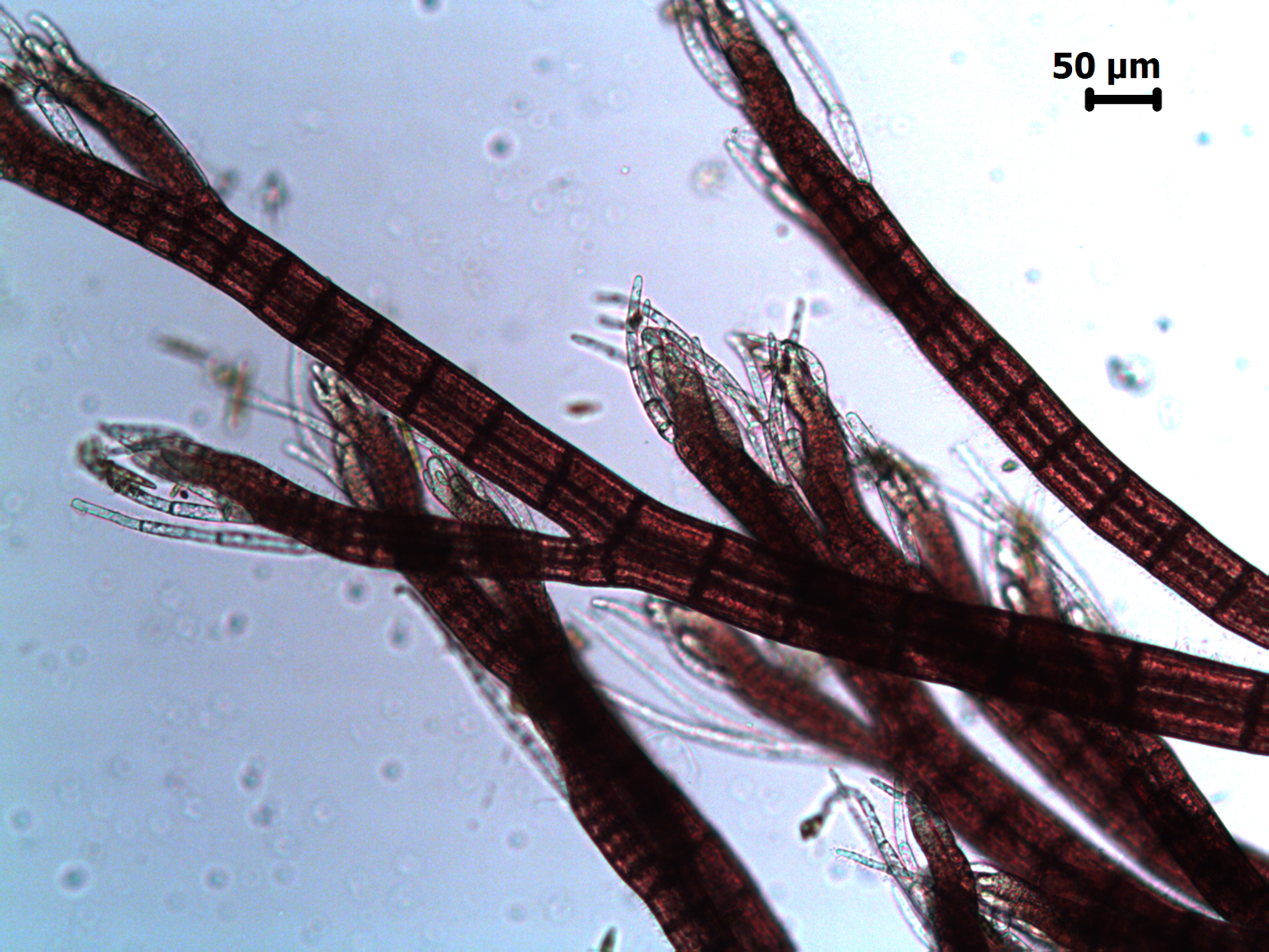 Polysiphonia foetidissima. Branch apices with trichoblasts.
References Polysiphonia foetidissima
Bornet, E. 1892. Les algues de P.-K.-A. Schousboe. Mémoires de la Société des Sciences Naturelles et Mathématiques de Cherbourg 28: 165-376, pls I-III.
M.D. Guiry in Guiry, M.D. & Guiry, G.M. 2016. AlgaeBase. World-wide electronic publication, National University of Ireland, Galway. http://www.algaebase.org; searched on 03 June 2016.
Maggs, C.A. & Hommersand, M.H. 1993. Seaweeds of the British Isles. Volume 1. Rhodophyta. Part 3A. Ceramiales. pp. [i]-xv, 1-444, 129 figs, map. London: HMSO.
Cite this record as:
Anderson RJ, Stegenga H, Bolton JJ. 2016. Seaweeds of the South African South Coast.
World Wide Web electronic publication, University of Cape Town, http://southafrseaweeds.uct.ac.za; Accessed on 21 September 2023.