Order Erythropeltidales
Family Erythrotrichiaceae
Porphyrostromium boryanum (Montagne) P.C. Silva in Silva, Basson & Moe 1996: 914
Plants with several erect, unbranched axes up to 5 mm long arising from a multicellular, monostromatic basal disc; erect axes initially uniseriate, becoming multiseriate (several cells wide), ribbon-shaped and up to 100 µm wide. Cells somewhat squarish in surface view, 5-10 µm in diameter, lying in transverse and longitudinal rows. Monosporangia formed by unequal divisions of the cells in the multiseriate parts of the thallus.
Collections, ecology and regional distribution
Epiphytic on larger algae. Recorded from Yzerfontain on the west coast to Mkambati in Transkei (14-47).
World distribution: in southern Africa also recorded from Namibia (Rull Lluch, 2002; as Erythrotrichia boryana; Stegenga et al. 2001), but widespread in temperate seas (Guiry & Guiry, 2012).
Type locality: Algeria (Ardré, 1970).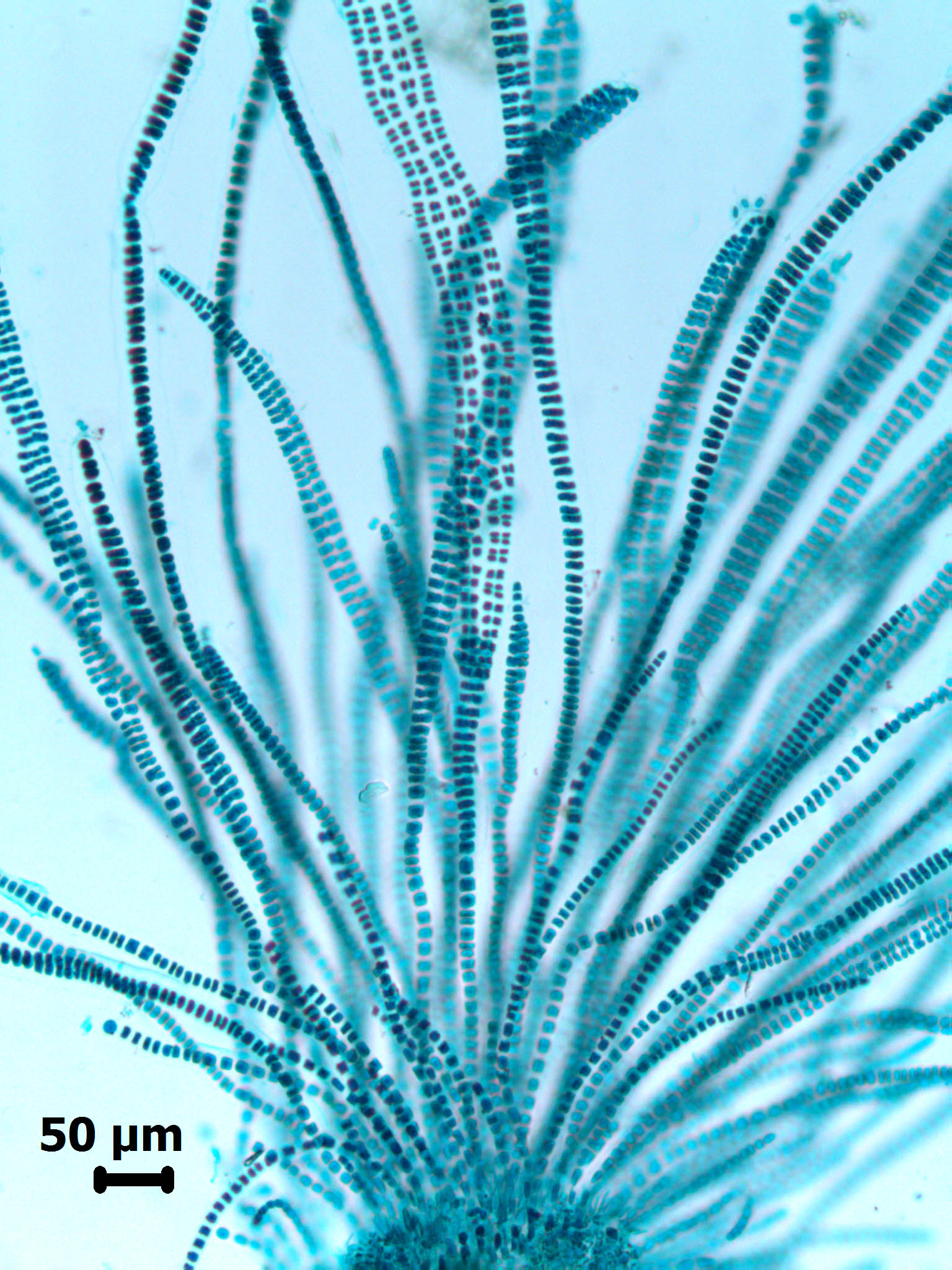 Porphyrostromium boryanum (stained slide material).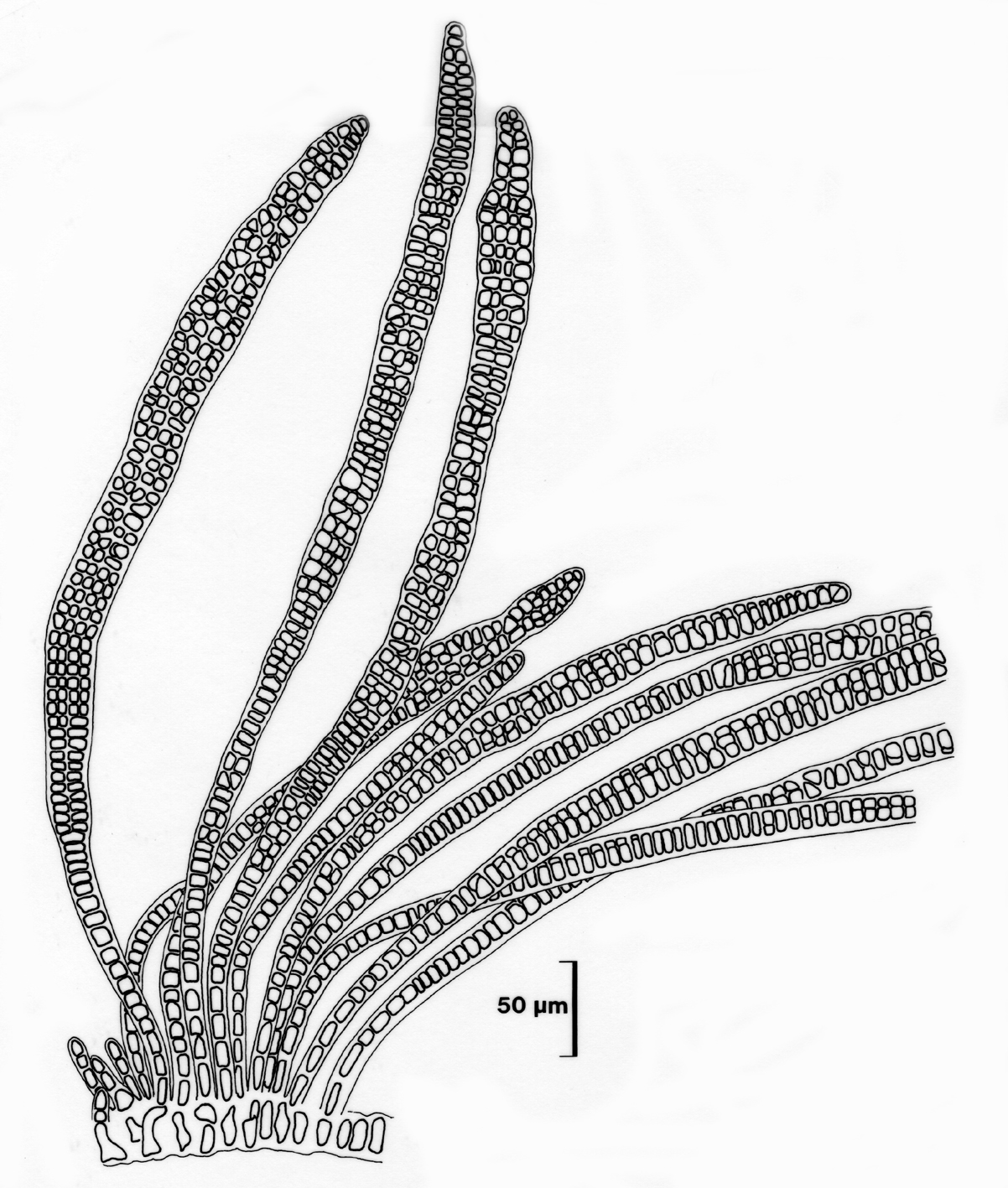 Porphyrostromium boryanum, microscopic habit, basal disc in section Reproduced from Stegenga et al. (1997)(as Erythrotrichia boryana).
References Porphyrostromium
Ardré, F. (1970). Contribution à l'étude des algues marines du Portugal. I. La flore. Portugalia Acta Biologica sér. B, 10: 137-555.
Guiry, M.D. & Guiry, G.M. 2012. AlgaeBase. World-wide electronic publication, National University of Ireland, Galway. http://www.algaebase.org; searched September 2012.
Rull Lluch, J. (2002). Marine benthic algae of Namibia. Scientia Marina 66 (Supplement 3): 258 pp.
Silva, P.C., Basson, P.W. & Moe, R.L. (1996). Catalogue of the benthic marine algae of the Indian Ocean. University of California Publications in Botany 79: 1-1259.
Stegenga, H., Bolton, J.J. and R. J. Anderson. 1997. Seaweeds of the South African west coast. Contributions from the Bolus Herbarium 18: 655 pp.
Stegenga, H., Engledow, H.R., Bolton, J.J. & Anderson, R.J. (2001). The distribution of the family Erythropeltidaceae (Rhodophyta) along the temperate Southern African coast, with the description of Erythrotrichia platyphylla nov. spec. Nova Hedwigia 73(3-4): 367-379.
Cite this record as:
Anderson RJ, Stegenga H, Bolton JJ. 2016. Seaweeds of the South African South Coast.
World Wide Web electronic publication, University of Cape Town, http://southafrseaweeds.uct.ac.za; Accessed on 01 October 2023.