Order Gigartinales
Family Rhizophyllidaceae
Portieria hornemannii (Lyngbye) Silva in Silva et al. 1987: 129
Plants bright to orange-red, up to 20 cm tall, comprising complanate fronds arising from a small discoid to encrusting holdfast. Thallus pinnately branched, up to 5 (7) orders of alternate or subopposite laterals, indeterminate branches arising irregularly. Tips of indeterminate branches curved. Axes compressed to flattened, 1-3 mm wide, narrowest at tips, about 500 µm thick. Growth pattern uniaxial, in cross- section central axis ovoid, narrow, conspicuous, up to 170 µm in diameter; large-celled pseudoparenchymatous medulla of globose cells ranging in diameter from 17 µm in apical parts to 180 µm in basal parts, decreasing in size towards periphery and surrounded by cortex of small pigmented cells, 3-25 µm long, 3-12 µm wide, disposed in anticlinal filaments. Tetrasporangia in nemathecia concentrated along thallus edge, zonately divided and forming solid surface layer without interspersed sterile cells. Wart-like cystocarps on surface of terminal branches, developing several gonimolobes separated by thin sterile partitions.
Collections, ecology and regional distribution
Found from Table Bay to northern KZN and eastward (15-58). Epilithic, extending from intertidal zone and rock pools into subtidal zone down to at least 20 m.
World distribution: South Africa, Mozambique and widespread in Indo-Pacific (Silva et al. 1996; Guiry & Guiry 2013).
Type locality: Probably the Red Sea, although stated as Scandinavia (Silva et al., 1996).
Notes: 1. This species was formerly known as Chondrococcus hornemannii (Lyngbye) Schmitz (see Silva et al. 1987).
2. De Clerck et al. (2005) point out that tropical specimens of P. hornemannii have narrower axes and a wider branching angle than South African specimens. They also note that the South African entity once known as Chondrococcus lambertii (Grunow) Schmitz, but considered a synonym of P. hornemannii by Papenfuss (see Silva et al. 1996), may require further examination.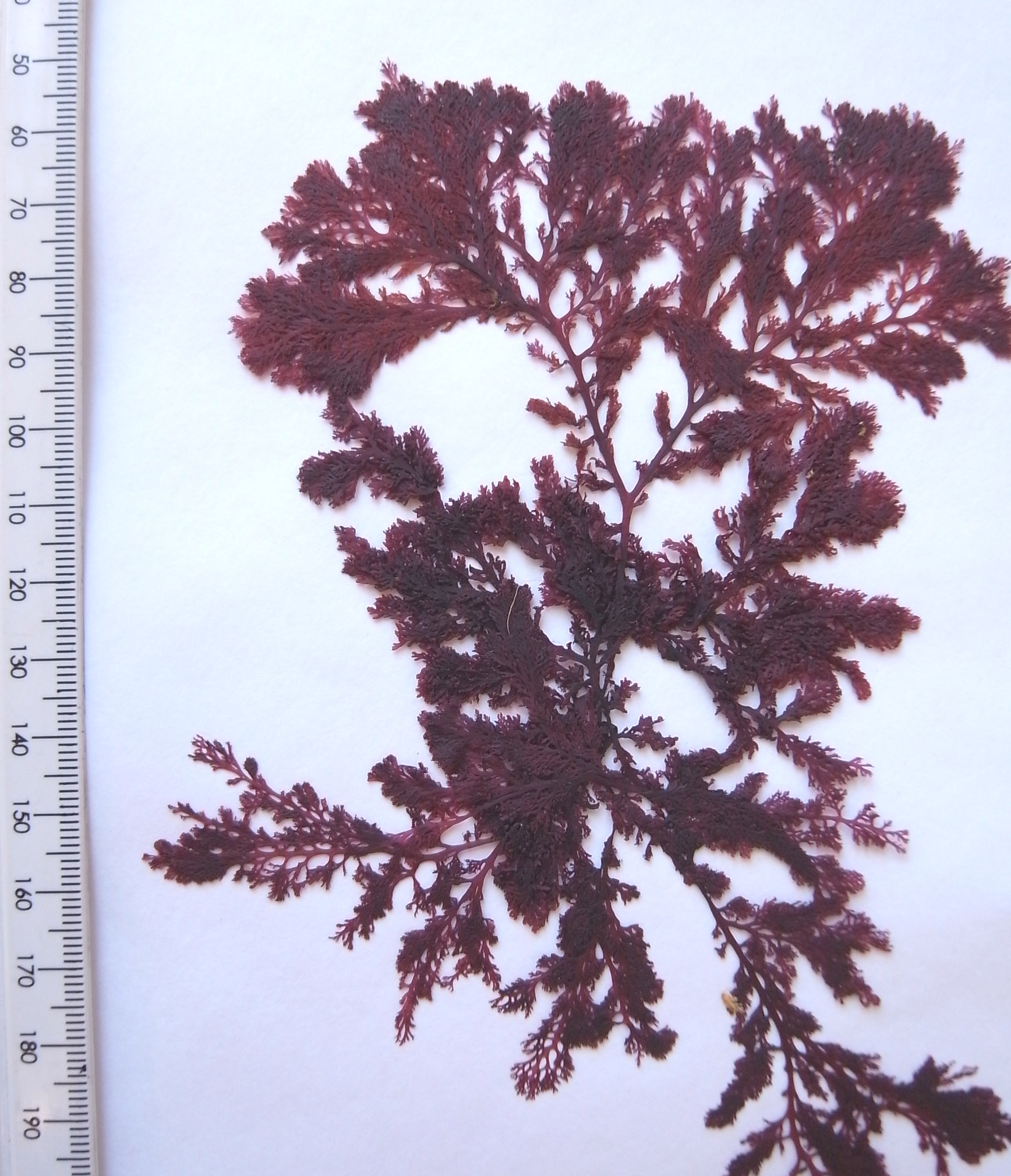 Portieria hornemannii, Stilbaai specimen (BOL).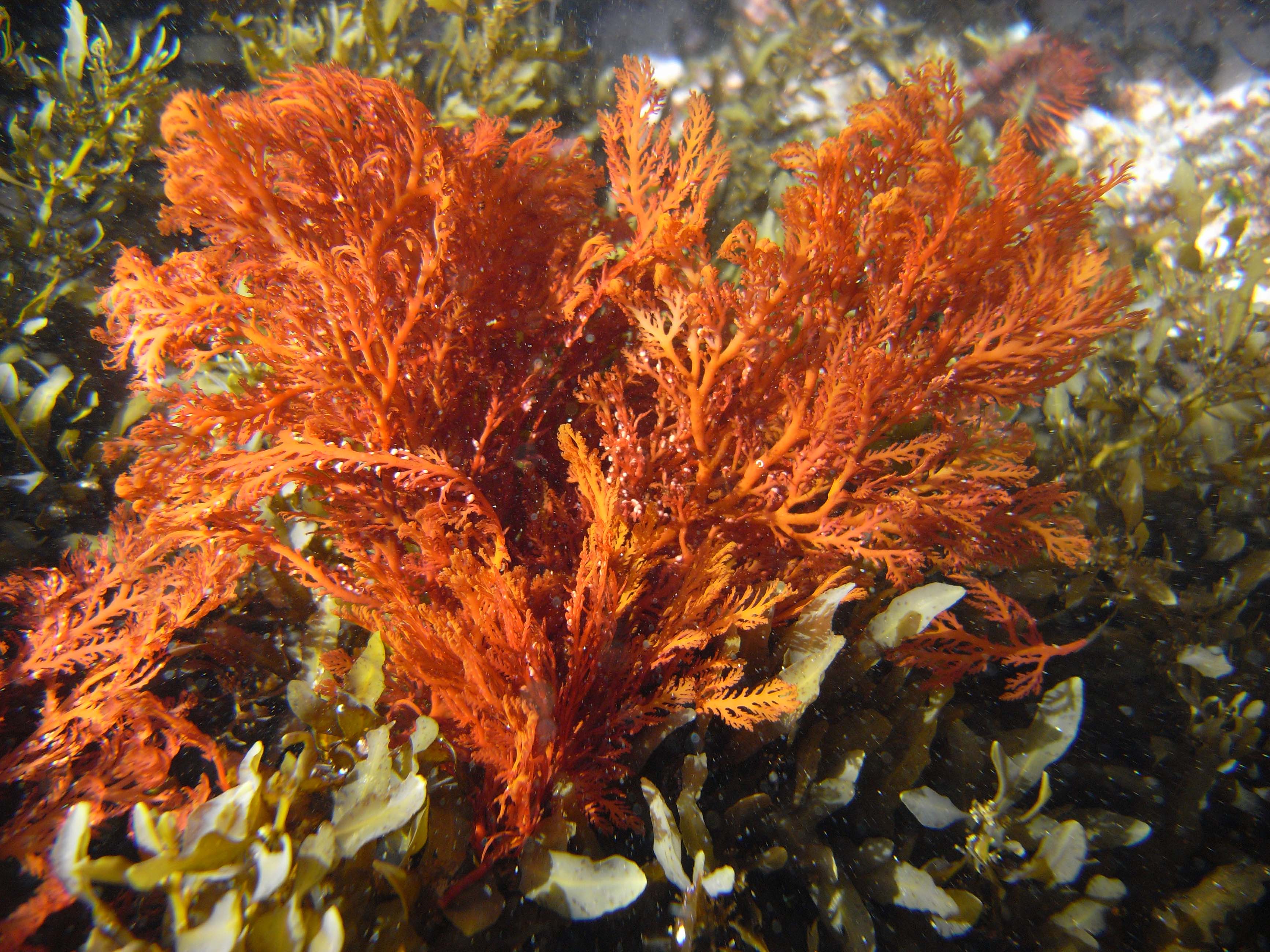 Portieria hornemannii, Natures Valley. Many shallow-water specimens can be bright orange.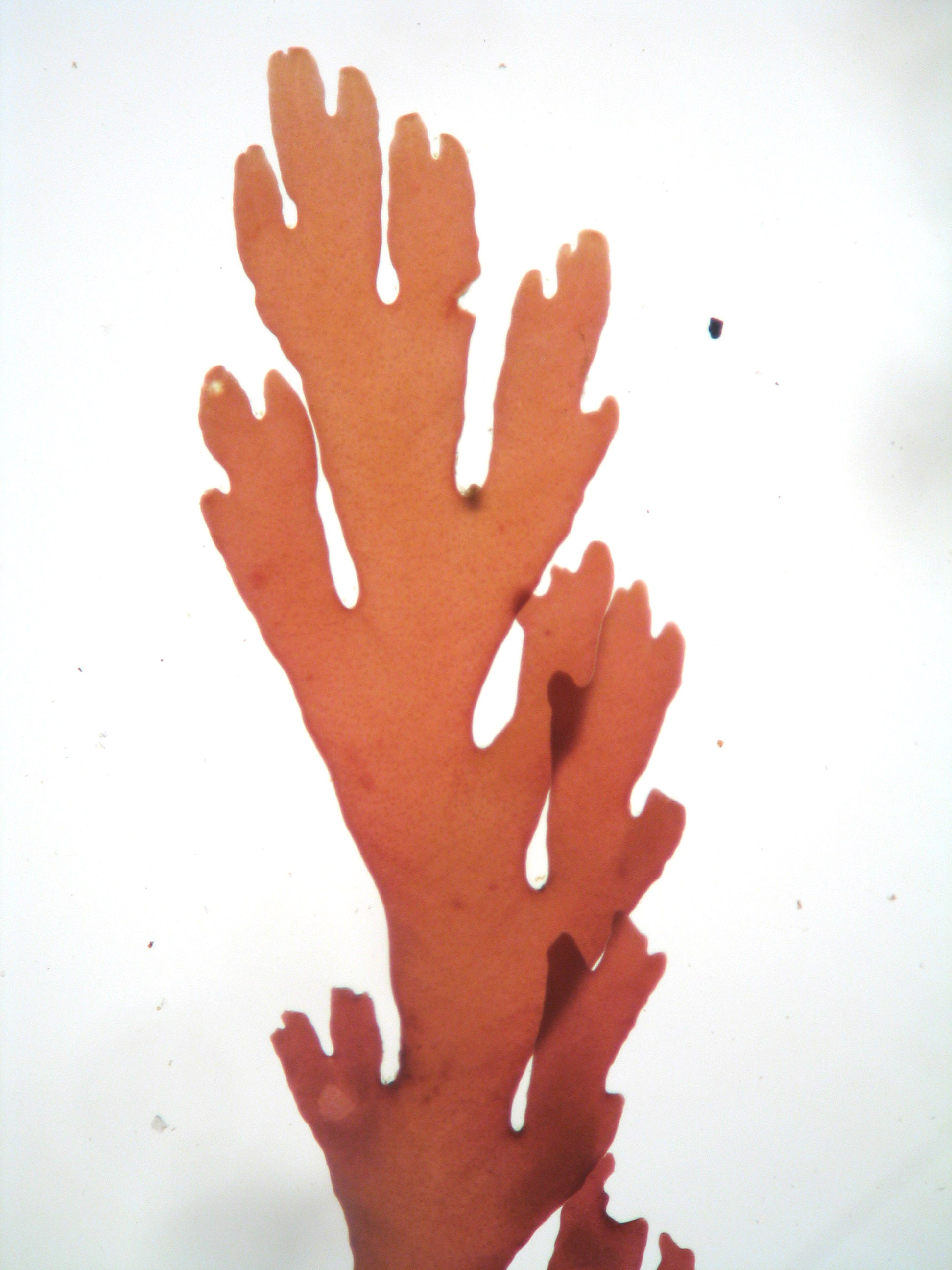 Portieria hornemannii, detail of branch apices.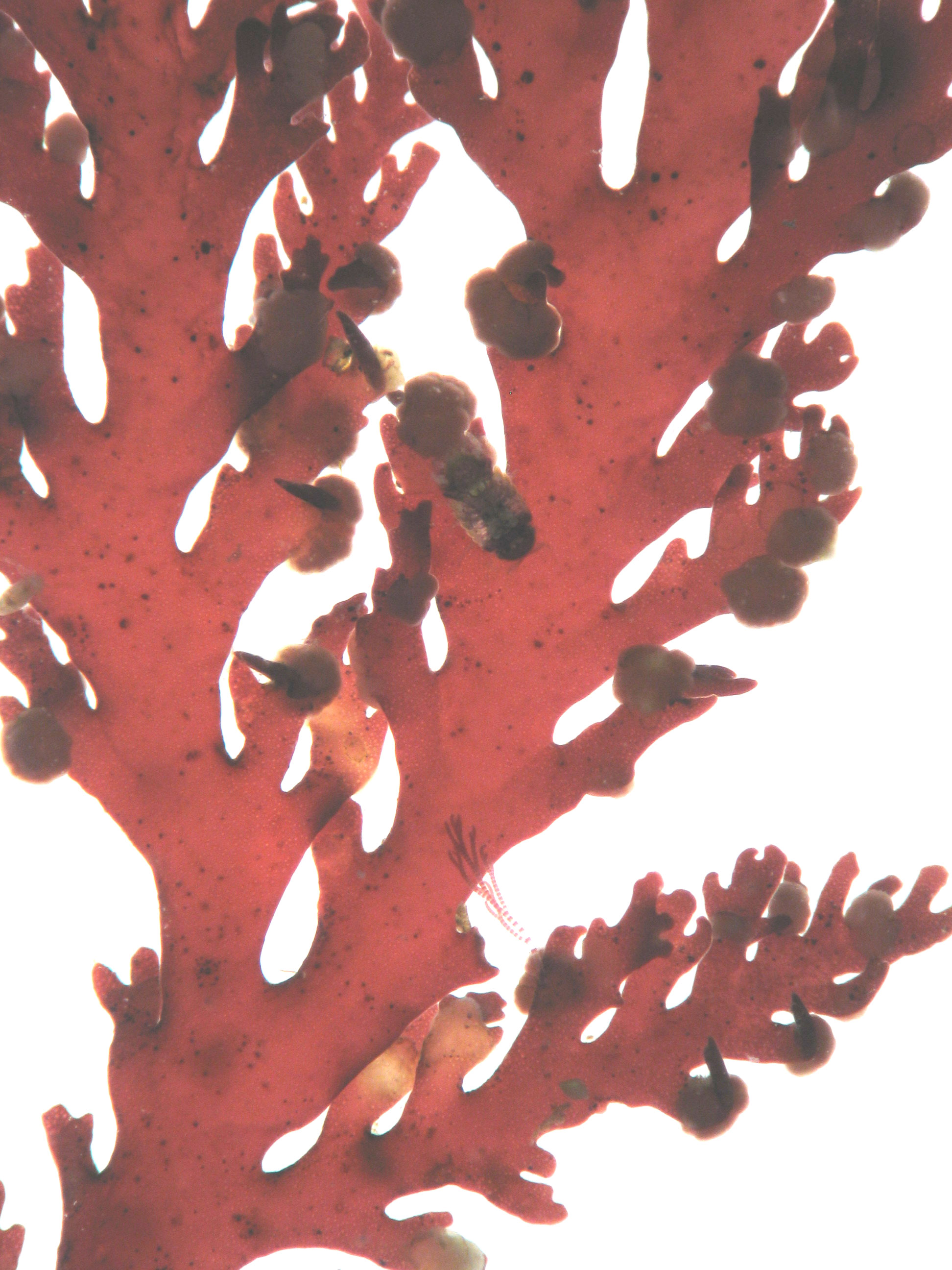 Portieria hornemannii, female plant with cystocarps (Natures Valley).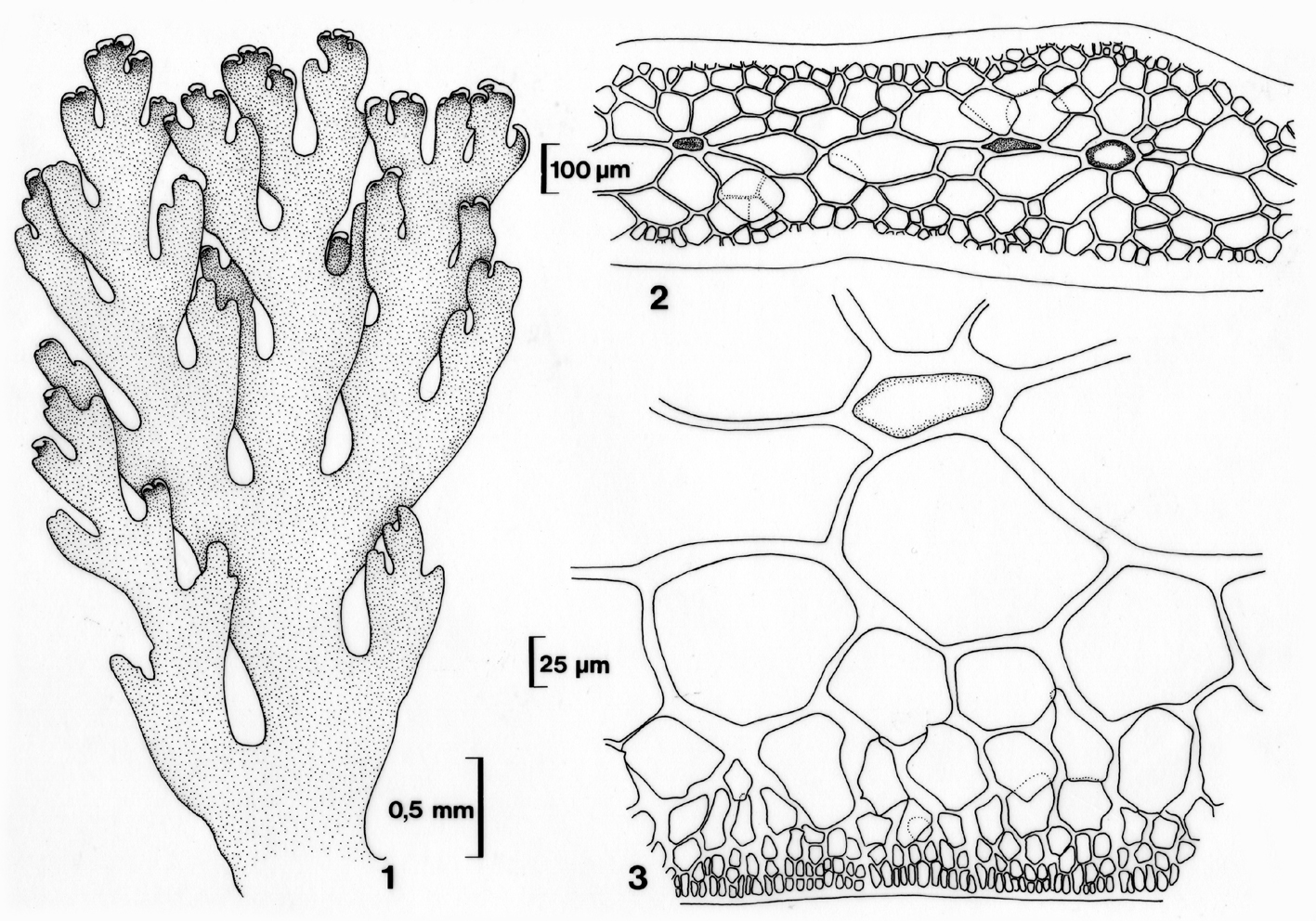 Portieria hornemannii. 1. Thallus apex. 2-3. Cross sections. Reproduced from Stegenga et al. (1997).
References Portieria hornemannii
De Clerck, O, Tronchin, E. M., Schils, T. 2005. Red algae. In: De Clerck, O., J.J.Bolton, R. J. Anderson and E. Coppejans, 2005. Guide to the Seaweeds of Kwazulu-Natal. National Botanic Garden of Belgium, Brussels (Scripta Botanica Belgica), pp. 130-269.
Guiry, M.D. & Guiry, G.M. 2013. AlgaeBase. World-wide electronic publication, National University of Ireland, Galway. http://www.algaebase.org; searched on 20 May 2013.
Silva, P.C., Basson, P.W. & Moe, R.L. 1996. Catalogue of the benthic marine algae of the Indian Ocean. University of California Publications in Botany 79: 1-1259.
Silva, P. C., Menez, E. G. & Moe, R. L. 1987. Catalog of the benthic marine algae of the Philippines. Smithsonian Contr. Mar. Sci. 27: 1-179.
Stegenga, H., Bolton, J.J. & R. J. Anderson. 1997. Seaweeds of the South African west coast. Contributions from the Bolus Herbarium 18: 655 pp.
Cite this record as:
Anderson RJ, Stegenga H, Bolton JJ. 2016. Seaweeds of the South African South Coast.
World Wide Web electronic publication, University of Cape Town, http://southafrseaweeds.uct.ac.za; Accessed on 01 October 2023.