Order Ceramiales
Family Ceramiaceae
Pterothamnion recurvatum (Wollaston) Athanasiadis & Kraft 1994: 130
Plants up to 2 cm tall, alternately branched at intervals of 3-5 segments; indeterminate laterals replacing a major whorl branchlet. Main axis up to 250 µm in diameter, the cells 1-2 times as long as broad. Major whorl branchlets up to 500 µm long, the proximal cells each with two dorsal pinnules, the latter re-branched adaxially. Branchlets strongly recurved; apices of all ramuli acuminate. Minor whorl branchlets smaller, about equivalent to a pinnule of a major branchlet. Gland cells numerous and rather prominent, usually on the fourth or fifth cell from the apex of the ultimate ramuli. Tetrasporangia singly sessile or in small pedicellate clusters, adaxial on whorl branchlets and pinnules. Sporangia ovate, ca. 45 x 35 µm, cruciately divided. Spermatangial heads paniculate, in general replacing first or second order pinnules on both major and minor branchlets. Female structures not seen. Description from Stegenga et al. (1997): based on west coast material, as Platythamnion recurvatum.
Collections, ecology and regional distribution
Recorded from Paternoster and a few other sites on the west coast, with the most easterly south coast site being Port Alfred (11-39). An infrequent species, only found in drift; epiphytic or epizoic.
World distribution: Apparently only otherwise known from California, USA.
Type locality: Moss Beach, Monterey Co., California, USA (Silva et al. 1996).
Note: 1. The genus Pterothamnion now includes the former genera Platythamnion and Glandothamnus (see Athanasiadis & Kraft 1994). The species of Platythamnion that we had recorded on our west coast (Stegenga et al. 1997) and south coast are therefore now placed in Pterothamnion.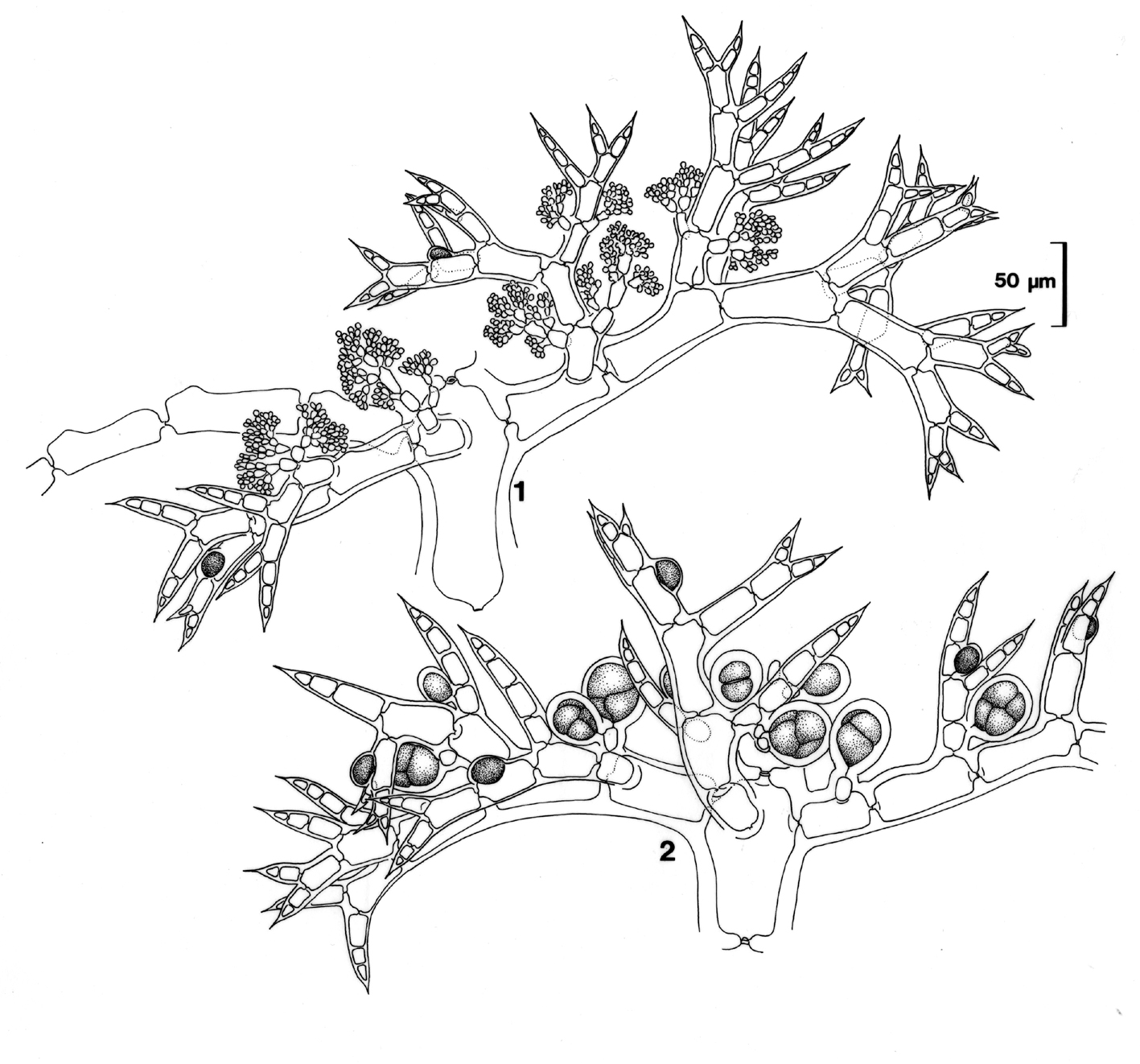 Pterothamnion recurvatum. 1 Whorl branchlets with spermatangial heads. 2 Tetrasporangia. Reproduced from Stegenga et al. (1997) (as Platythamnion recurvatum).
References Pterothamnion recurvatum
Athanasiadis, A. & Kraft, G.T. 1994. Description of Pterothamnion squarrulosum (Harvey) comb. nov. from south-eastern Australia and southern New Zealand, with a taxonomic re-assessment of the genera Pterothamnion, Platythamnion and Glandothamnus (Ceramiaceae, Rhodophyta). European Journal of Phycology 29: 119-133, 27 figs, 1 table.
Silva, P.C., Basson, P.W. & Moe, R.L. 1996. Catalogue of the benthic marine algae of the Indian Ocean. University of California Publications in Botany 79: 1-1259.
Stegenga, H., Bolton, J.J. & R. J. Anderson. 1997. Seaweeds of the South African west coast. Contributions from the Bolus Herbarium 18: 655 pp.
Cite this record as:
Anderson RJ, Stegenga H, Bolton JJ. 2016. Seaweeds of the South African South Coast.
World Wide Web electronic publication, University of Cape Town, http://southafrseaweeds.uct.ac.za; Accessed on 01 October 2023.