Order Ceramiales
Family Ceramiaceae
Pterothamnion sp.
Plant (fragment) only 2 mm long, with a prominent main axis and two opposite rows of branchlets. Main axial cells up to 100 µm in diameter and about as long. Laterals much narrower, to 400 µm long, branched at the adaxial side for a number of segments. Apical cells of branchlets and ramuli with a sharp spike. Second order branchlets often with two ramuli on the basal segments, otherwise with one ramulus per segment, mainly adaxially. Gland cells present in various positions on second and third order ramuli, prominent, measuring up to 25 µm across. Material not fertile, hence we have not been able to identify this specimen.
Only found at Xora River, May 1999 (slide X001).
Note: Note: the genus Pterothamnion now includes the former genera Platythamnion and Glandothamnus (see Athanasiadis & Kraft 1994).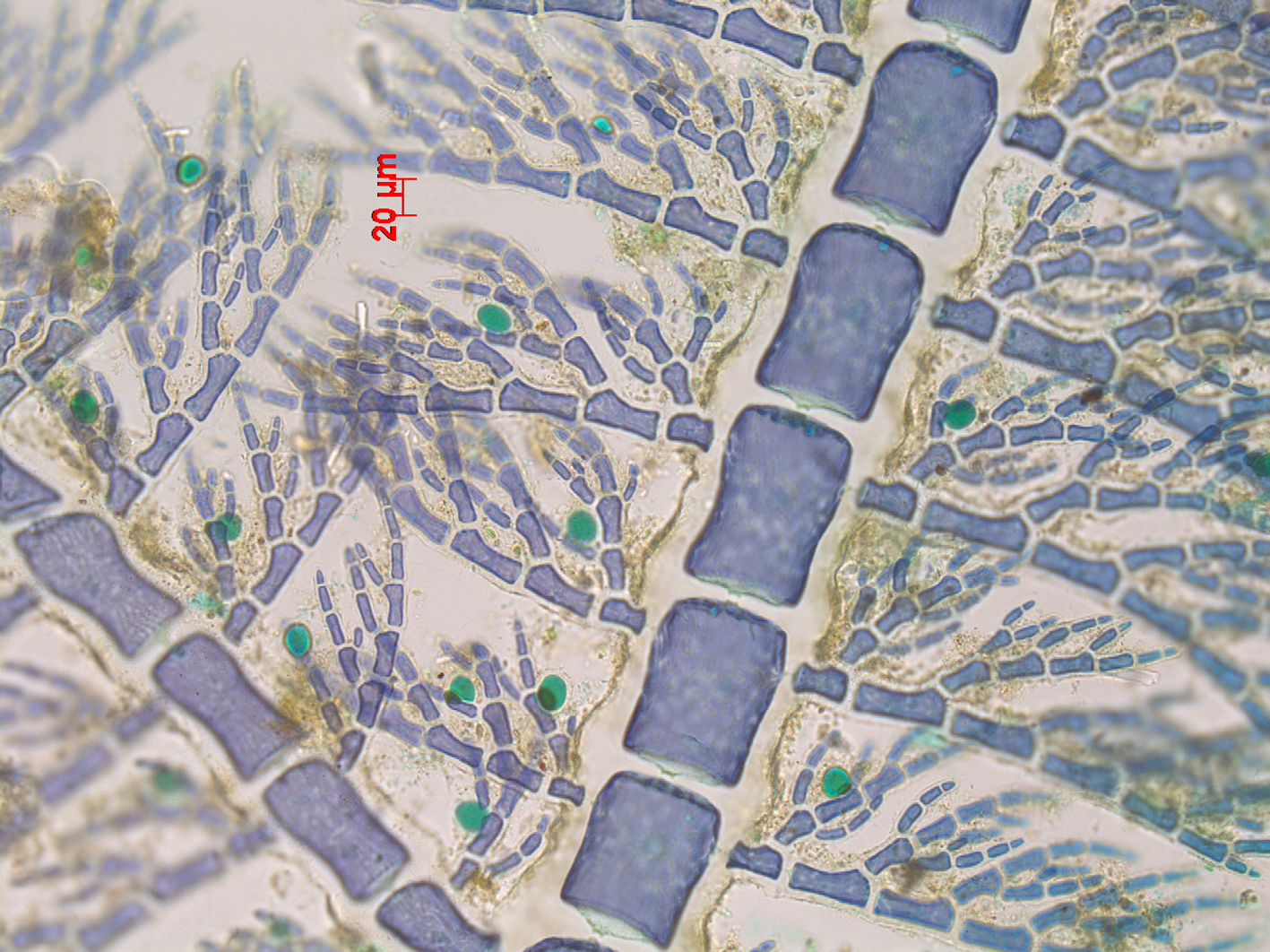 Pterothamnion species. Note opposite rows of branchlets.
References Pterothamnion sp.
Athanasiadis, A. & Kraft, G.T. (1994). Description of Pterothamnion squarrulosum (Harvey) comb. nov. from south-eastern Australia and southern New Zealand, with a taxonomic re-assessment of the genera Pterothamnion, Platythamnion and Glandothamnus (Ceramiaceae, Rhodophyta). European Journal of Phycology 29: 119-133, 27 figs, 1 table.
Cite this record as:
Anderson RJ, Stegenga H, Bolton JJ. 2016. Seaweeds of the South African South Coast.
World Wide Web electronic publication, University of Cape Town, http://southafrseaweeds.uct.ac.za; Accessed on 21 September 2023.