Order Ceramiales
Family Ceramiaceae
Ptilothamnion codicola (E.Y.Dawson) I.A. Abbott 1971: 355, no fig. (as 'codicolum' )
Plants semi-endophytic in the felty foot of Zonaria subarticulata, endophytic part frequently branching; emergent filaments up to 0.5 (-1) mm long, only branched at the foot, ca. 25 µm in diameter, the cells little longer than broad.
Polysporangia terminal on short filaments from the base of the emergent filaments, measuring ca. 62 µm in diameter, with 16 spores measuring ca. 25 µm across at maturity. Spermatangial heads terminal on short erect filaments that originate in the endophytic part or from the base of the erect filaments, with a three-celled axis, almost globular at maturity, ca. 50 x 45 µm. Female fertile filaments two-celled, terminal on short filaments from the bases of emergent filaments. The subapical cell of the fertile filaments bears two pericentral cells, one becoming the supporting cell and bearing a sterile cell and a 4-celled carpogonial filament. The trichogyne is long and thick (12 µm). Post-fertilization structures have not been observed in our material. If involucral filaments are present, then they develop only after fertilization.
Collections, ecology and regional distribution
In South Africa only known from the south coast, collected between Stilbaai and Morgan Bay (25-43).
World distribution: recorded elsewhere only from Pacific North-America and Portugal.
Type locality: Isla Guadalupe, Baja California, Mexico (Dawson 1962).
Note: There remains some doubt as to the identity of this species in comparison with material described from California (Abbott 1971).

Ptilothamnion codicola, habit, in rhizoidal part of Zonaria.subarticulata, Jongensfontein. Stained slide.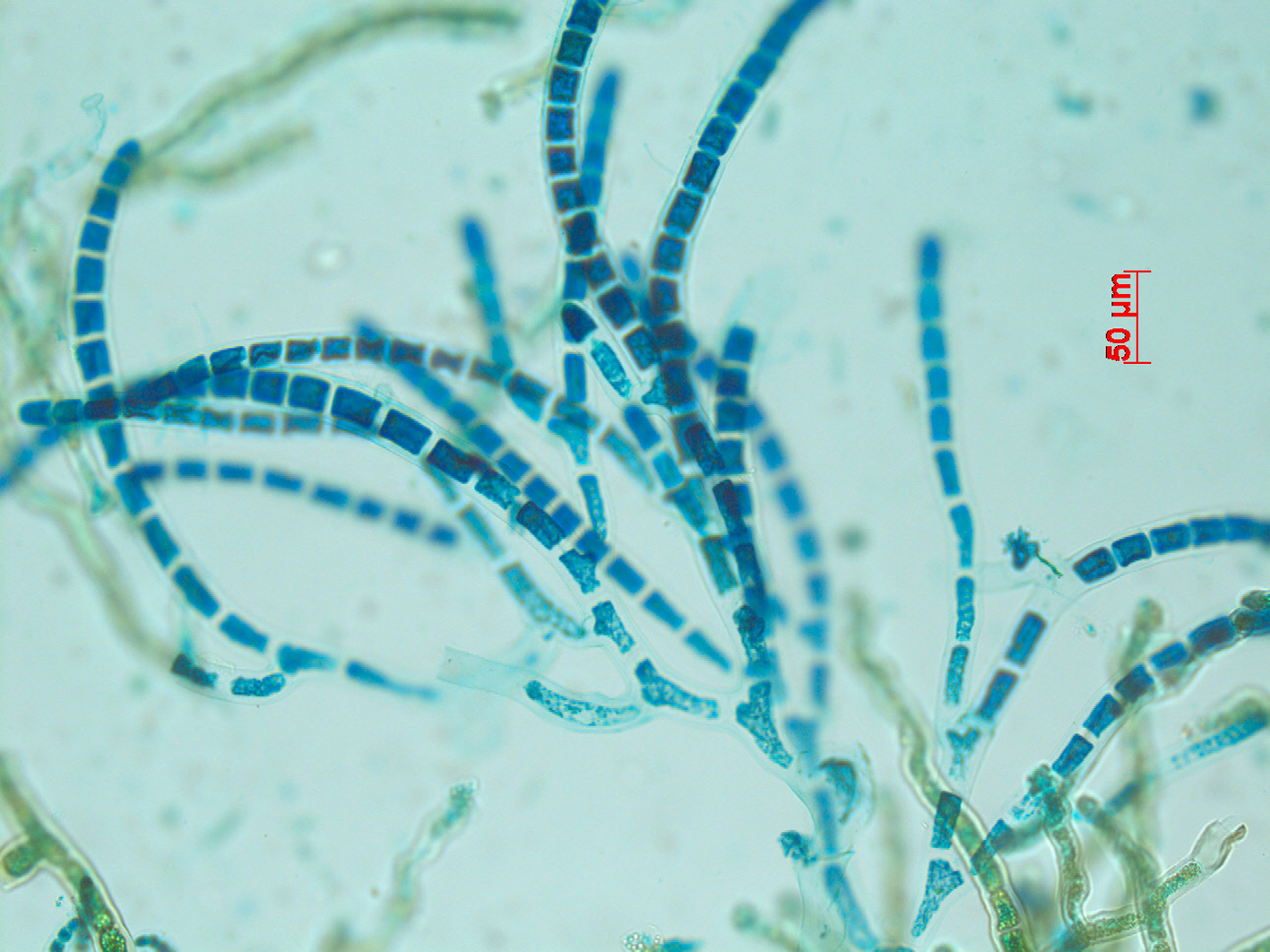 Ptilothamnion codicola, habit. Stained slide.
References Ptilothamnion codicola
Abbott, I.A. 1971. On some Ceramiaceae (Rhodophyta) from California. Pacific Science 25: 349-356.
Dawson, E.Y. 1962. Marine red algae of Pacific Mexico. Part 7. Ceramiales: Ceramiaceae, Delesseriaceae. Allan Hancock Pacific Expeditions 26: 1-207, 50 plates.
Cite this record as:
Anderson RJ, Stegenga H, Bolton JJ. 2016. Seaweeds of the South African South Coast.
World Wide Web electronic publication, University of Cape Town, http://southafrseaweeds.uct.ac.za; Accessed on 25 September 2023.