Order Ceramiales
Family Ceramiaceae
Ptilothamnion goukammae Stegenga, Bolton & R.J. Anderson 2002: 583, figs 2, 3
Plants caespitose, partly endophytic, emergent filaments numerous, up to 2.5 mm tall. Filaments throughout the plant 25-35 µm, not notably tapering toward the apices. Cell length varying a great deal, up to 300 µm in the endophytic part, down to 37.5 µm in apical parts bearing reproductive structures. Branching rather irregular, becoming more intensive in the apices as reproductive structures emerge.
Tetrasporangia mainly in adaxial rows on the proximal parts of the branches, measuring 50-62.5 x 40-50 µm, tetrahedrally divided. Spermatangial heads terminal on branches, ovoid to short cylindrical, with a 3(-4)-celled axis, measuring 75-87.5 x 52.5-62.5 µm. Female fertile filaments two-celled, the second cell with three pericentrals, two remaining sterile. The fertile pericentral cell with a four-celled carpogonial filament and a sterile cell. The mature carposporophyte with two or three gonimolobes, roundish, up to 180 µm in diameter, carpospores ca. 25 µm in diameter, in a gonimolobe showing simultaneous development. Prior to fertilization, single involucral filaments develop from hypogenous and subhypogenous cell and sometimes from the cell below as well.
Collections, ecology and reginal distribution
This species is known from Goukamma only (29). With its substratum species (Dichotomaria obtusata and Dichotomaria diessingiana) , it grows in deep intertidal pools with much influence of sand. It grows on subterminal sections of the substratum, while lower down another species of the genus, Ptilothamnion polysporum, may be found.
World distribution: South African endemic.
Type locality: Oesterbank (oyster beds) of the Goukamma Nature Reserve, Western Cape Province, South Africa (Stegenga et al. 2002).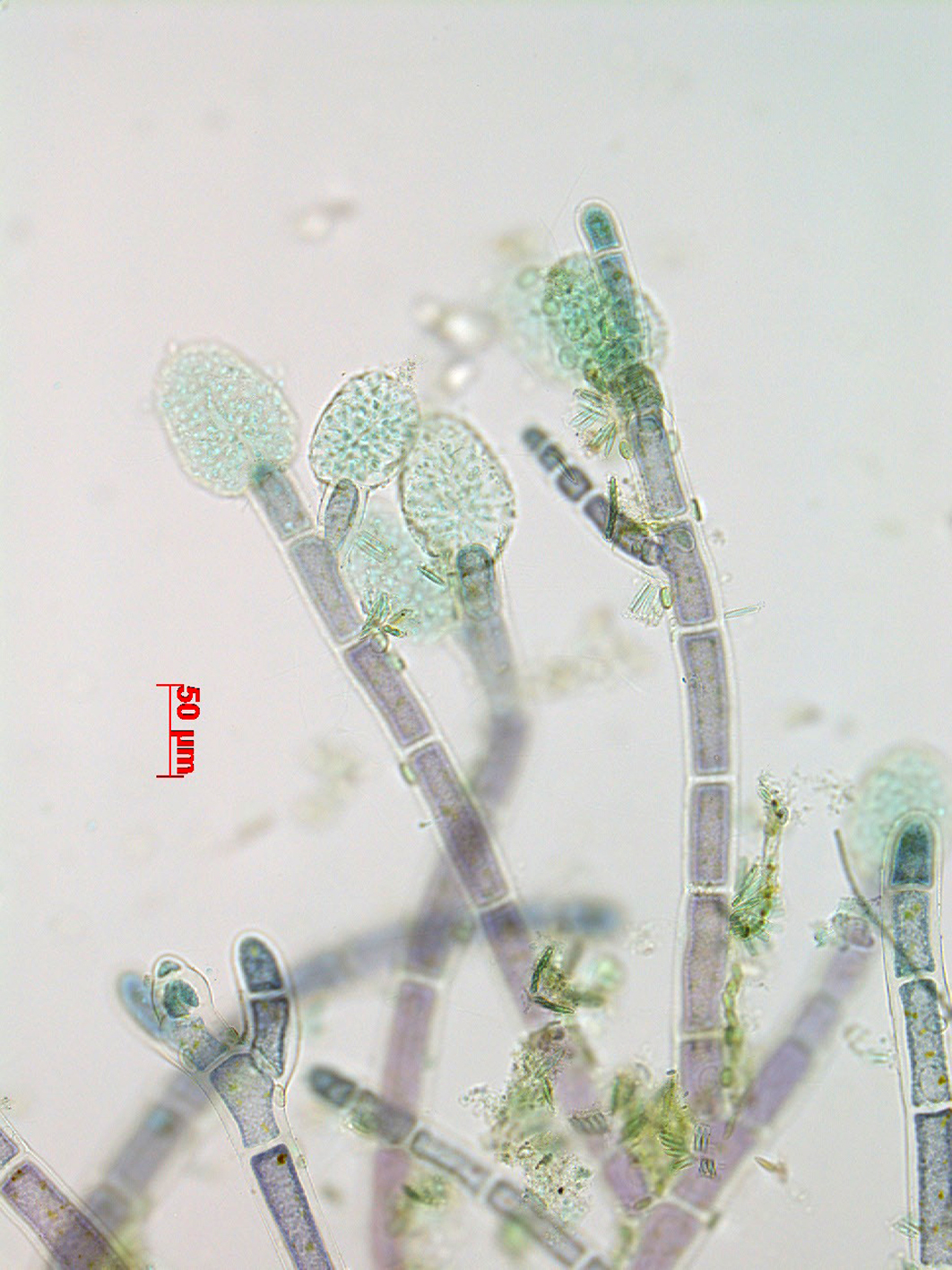 Ptilothamnion goukammae, male stands, Goukamma oyster beds, growing on Dichotomaria diessingiana and Dichotomaria obtusata. Stained slide.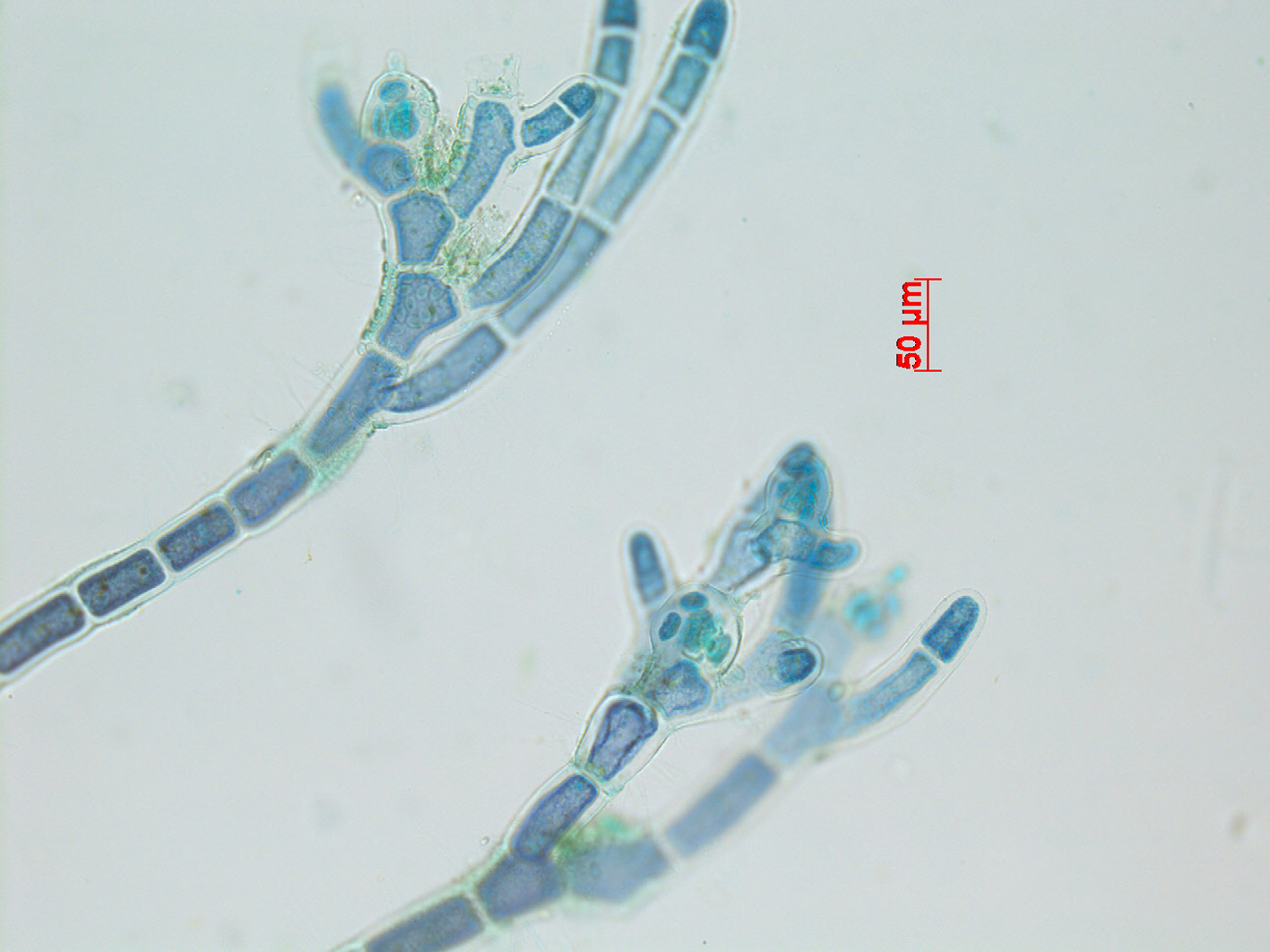 Ptilothamnion goukammae, female fertile filaments (unfertilized), Goukamma oyster beds, growing on Dichotomaria diessingiana and Dichotomaria obtusata. Stained slide.
References Ptilothamnion goukammae
Stegenga, H., Bolton, J.J. & Anderson, R.J. 2002. The genus Ptilothamnion (Ceramiaceae, Rhodophyta) in South Africa, with the description of P. goukammae spec. nov.. Blumea 47: 581-595.
Cite this record as:
Anderson RJ, Stegenga H, Bolton JJ. 2016. Seaweeds of the South African South Coast.
World Wide Web electronic publication, University of Cape Town, http://southafrseaweeds.uct.ac.za; Accessed on 25 September 2023.