Order Gigartinales
Family Kallymeniaceae
Pugetia harveyana (J. Agardh) R.E. Norris 1964: 119
Plants foliaceous, membranous, slippery, bright red to orange-red, with small holdfast, short stipe (1-4 mm) and broad rounded or lobed blade up to about 15 cm in diameter, with smooth, often ruffled margin. Blade up to 700 µm thick. Medulla of 1-2 layers of large cells loosely interwoven with branched filaments of smaller cells. Cortex of several layers of small cells showing no anticlinal cell rows. Tetrasporangia scattered over thallus, immersed in cortex, 25-30 x 12-15 µm, cruciately divided. Cystocarps large, immersed and visible as dark red circular (to 2 mm diameter) patches, not causing notable swelling.
Collections, ecology and regional distribution
Recorded from Namibia to Tsitsikamma (1-32). Usually epiphytic on other seaweeds (e.g. Gigartina, Trematocarpus), subtidal.
World distribution: Also recorded from Korea (Lee 2008 in Guiry & Guiry 2010).
Type locality: Unknown. Agardh Herb No 24582 Kallymenia harveyana (Norris 1964). bears no information on locality.
Note: South coast specimens of P. harveyana that we have seen do not appear to reach the size of those on the west coast (to 30 cm).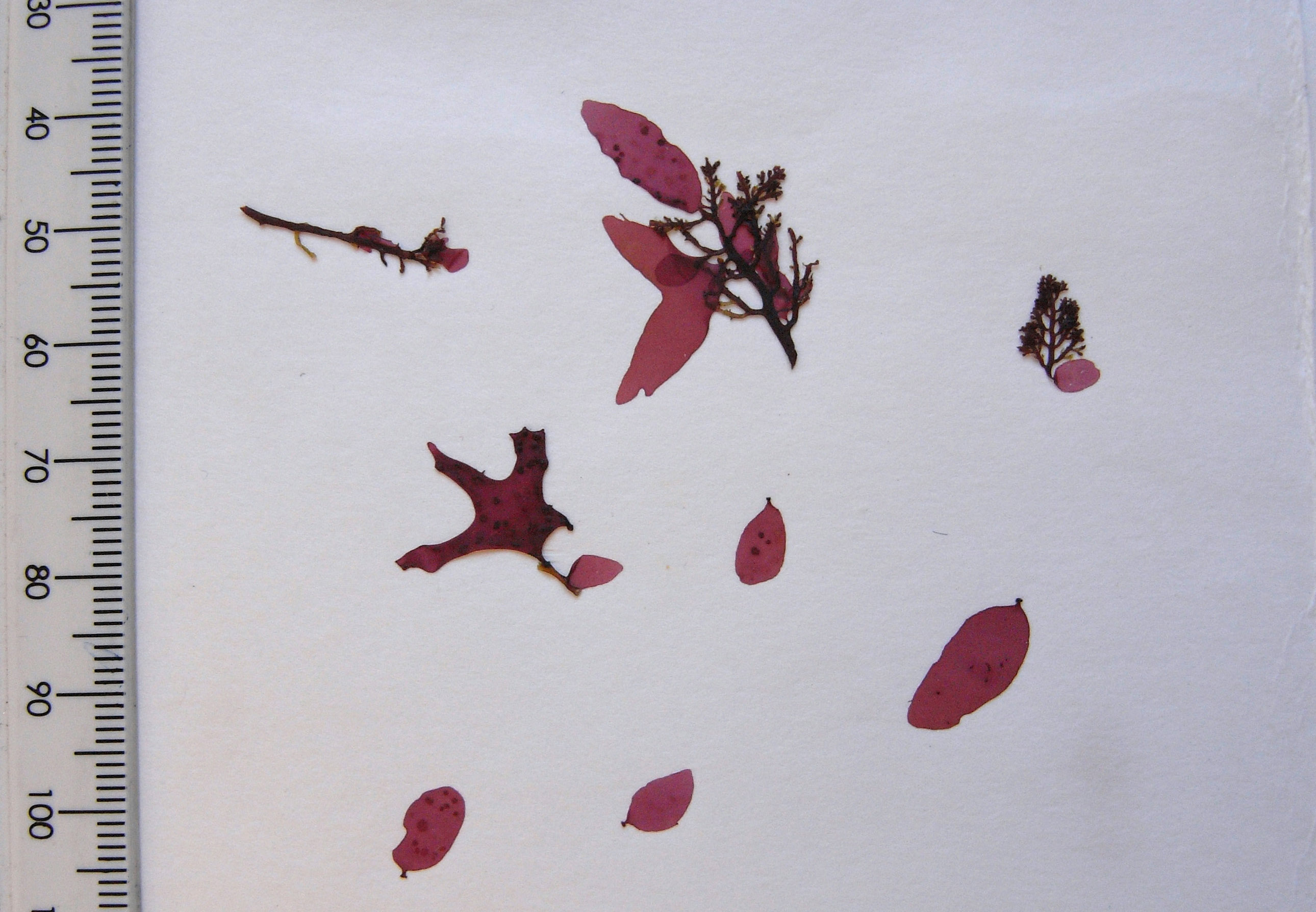 Pugetia harveyana, Tsitsikamma, on Gelidium capense (BOL).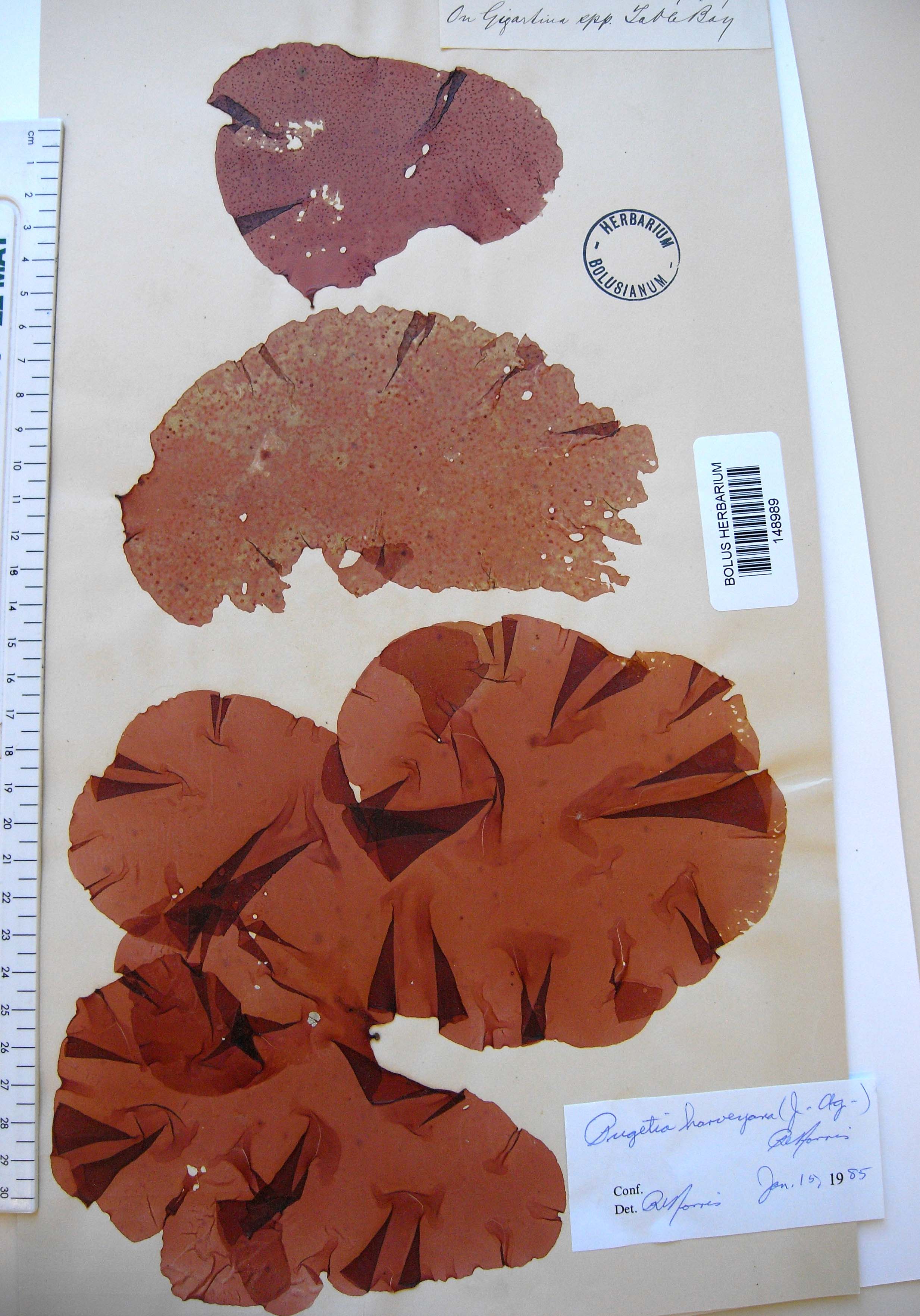 Pugetia harveyana, large west coast specimens from Table Bay (BOL).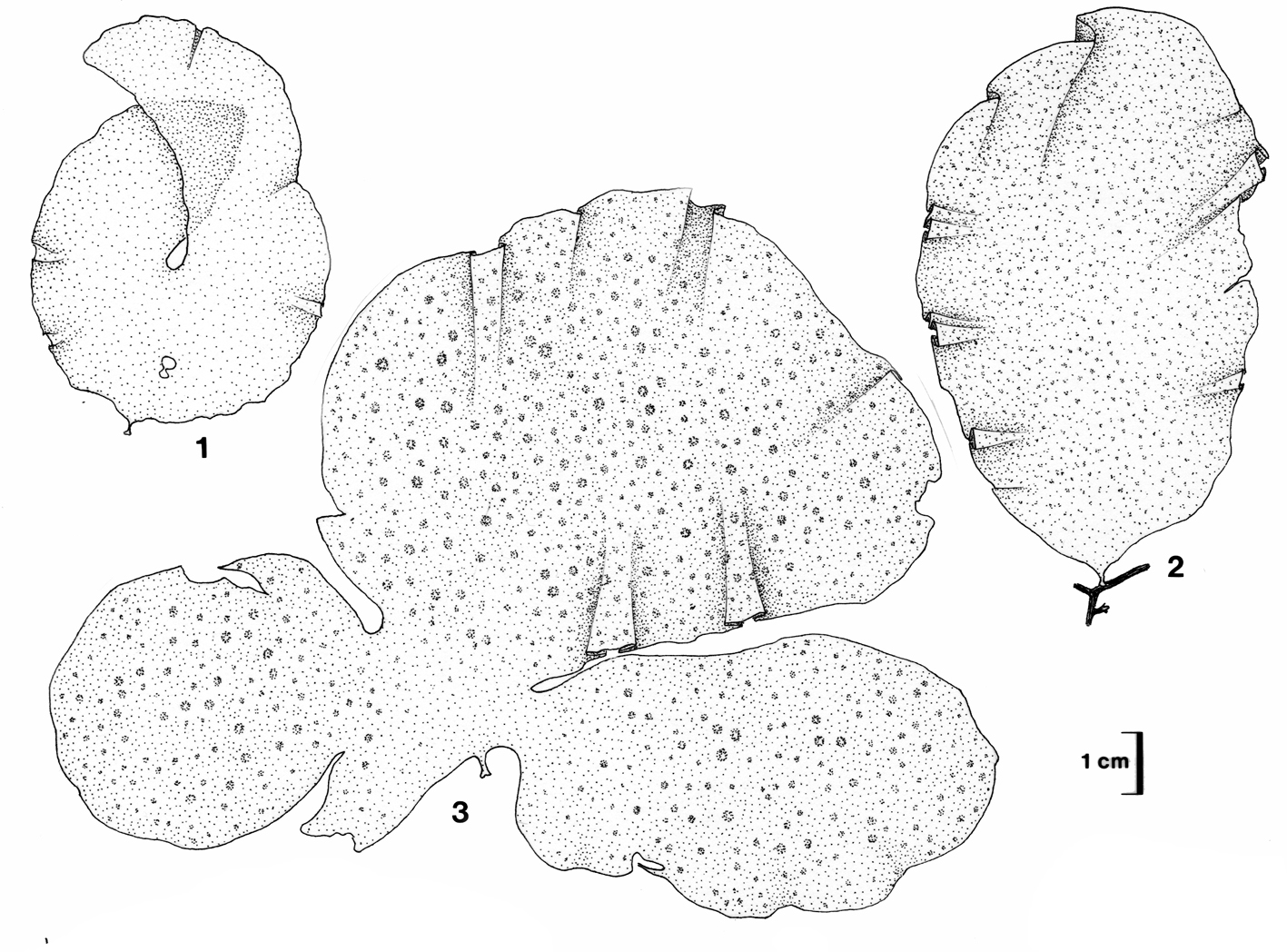 Pugetia harveyana, west coast specimens. 1-3. Habit, 2 and 3 with carposporophytes.
Reproduced from Stegenga et al. (1997).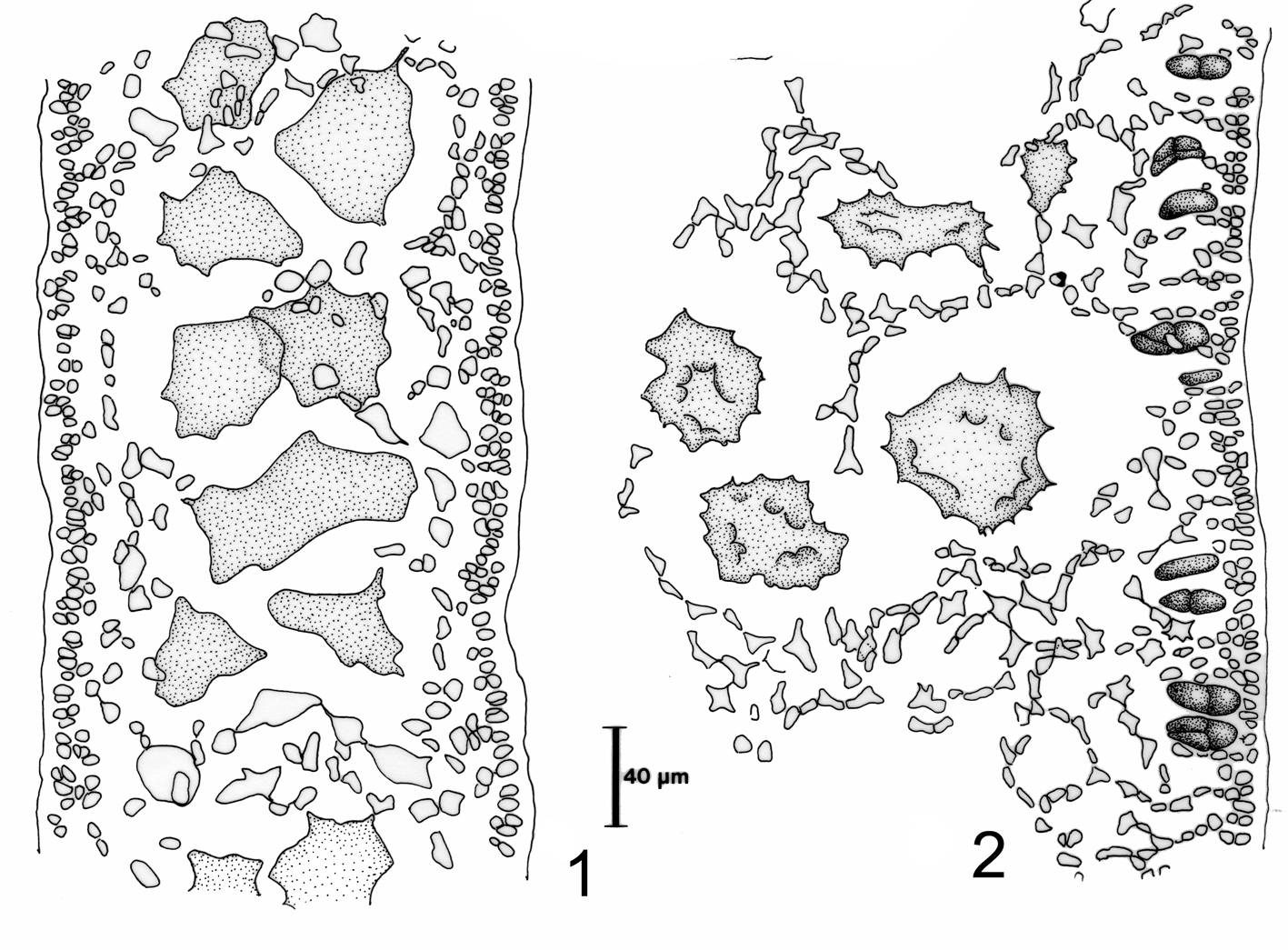 Pugetia harveyana. 1. Cross section. 2. Corss section of tetrasporangial thallus.
Reproduced from Stegenga et al. (1997).
References Pugetia harveyana
Guiry, M.D. & Guiry, G.M. 2010. AlgaeBase. World-wide electronic publication, National University of Ireland, Galway. http://www.algaebase.org; searched May 2010.
Lee, Y. 2008. Marine algae of Jeju. pp. [i]-xvi, 1-177, map. Seoul: Academy Publication.
Norris, R. E. 1964. The morphology and taxonomy of South African Kallymeniaceae. Botanica Marina 7: 90-129.
Stegenga, H., Bolton, J.J. and R. J. Anderson. 1997. Seaweeds of the South African west coast. Contributions from the Bolus Herbarium 18: 655 pp.
Cite this record as:
Anderson RJ, Stegenga H, Bolton JJ. 2016. Seaweeds of the South African South Coast.
World Wide Web electronic publication, University of Cape Town, http://southafrseaweeds.uct.ac.za; Accessed on 25 September 2023.