Order Ceramiales
Family Ceramiaceae
Scageliopsis tsitsikammae Stegenga, R.J. Anderson & J.J. Bolton 2000: 485, figs 5-12
Plants without a rigid distinction between creeping and upright filaments. Creeping filaments ca. 20 µm in diameter, cells up to 50 µm long. Erect axes to 1 mm tall, 15(-20) µm in diameter basally, decreasing to 5 µm apically, cells (much) shorter than in the basal filaments, especially near the apices. Each segment with two or three branchlets, these up to 100 µm long, a few times forked. Indeterminate branches few, developing from determinate branchlets. Gland cells varying in number and position, abutted by a single vegetative cell.
Tetrasporangia not seen or at least only seen in an early (undivided) stage. Spermatangial clusters on a number of proximal cells of the branchlets, usually replacing a vegetative lateral. Carpogonial filament developing on the basal cell of ordinary branchlets. This cell cuts of an auxiliary cell, which after fertilization cuts off or functions immediately as a gonimoblast initial, producing a number of gonimolobes in succession. Gonimolobes up to 100 µm in diameter, carpospores produced simultaneously; ripe carpospores ca. 25 µm in cross section. Special involucral filaments lacking. (Description according to Stegenga et al. 2000).
Collections, ecology and regional distribution
Known only from the type locality, Tsitsikamma (32), where it grew on sponge at ca. 24 m depth.
World distribution: South African endemic.
Type locality: Middlebank, ca. 1.5 km offshore near Storms River Tsitsikamma Coastal National South Africa (Stegenga et al. 2000).
Note: see Stegenga et al. (2000) for further details and illustrations.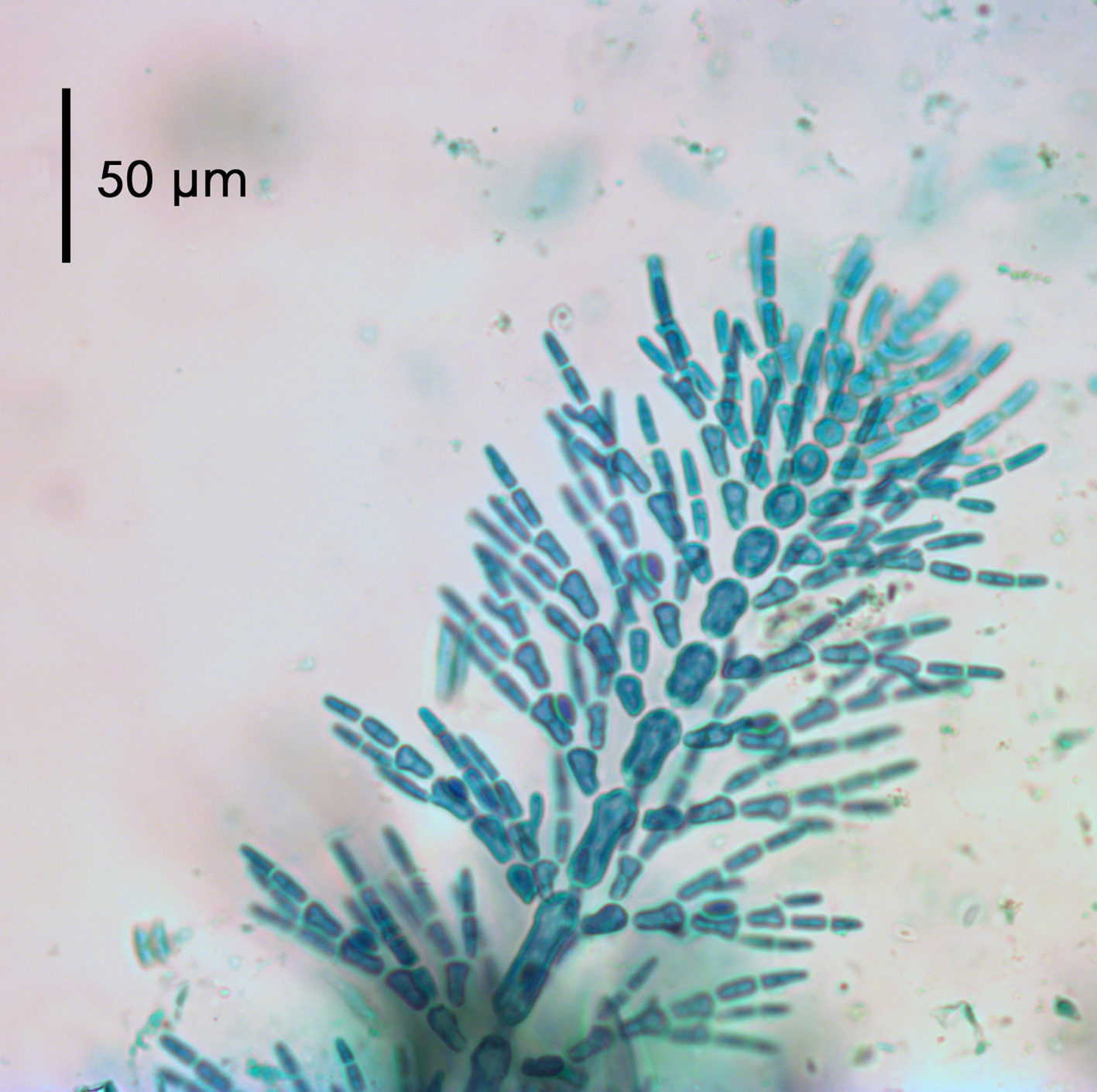 Scageliopsis tsitsikammae, vegetative thallus. Stained slide.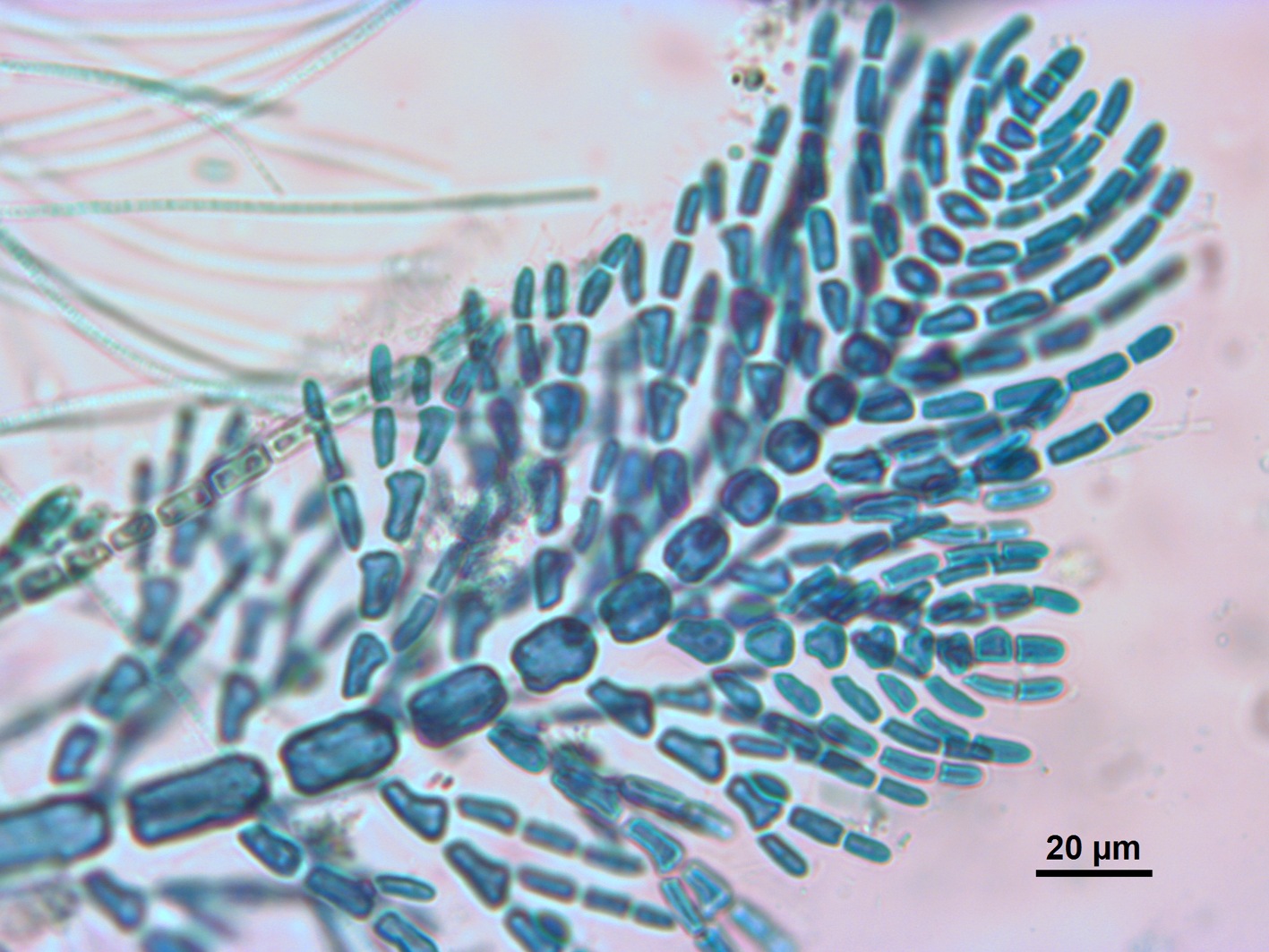 Scageliopsis tsitsikammae, vegetative thallus showing main axis. Stained slide.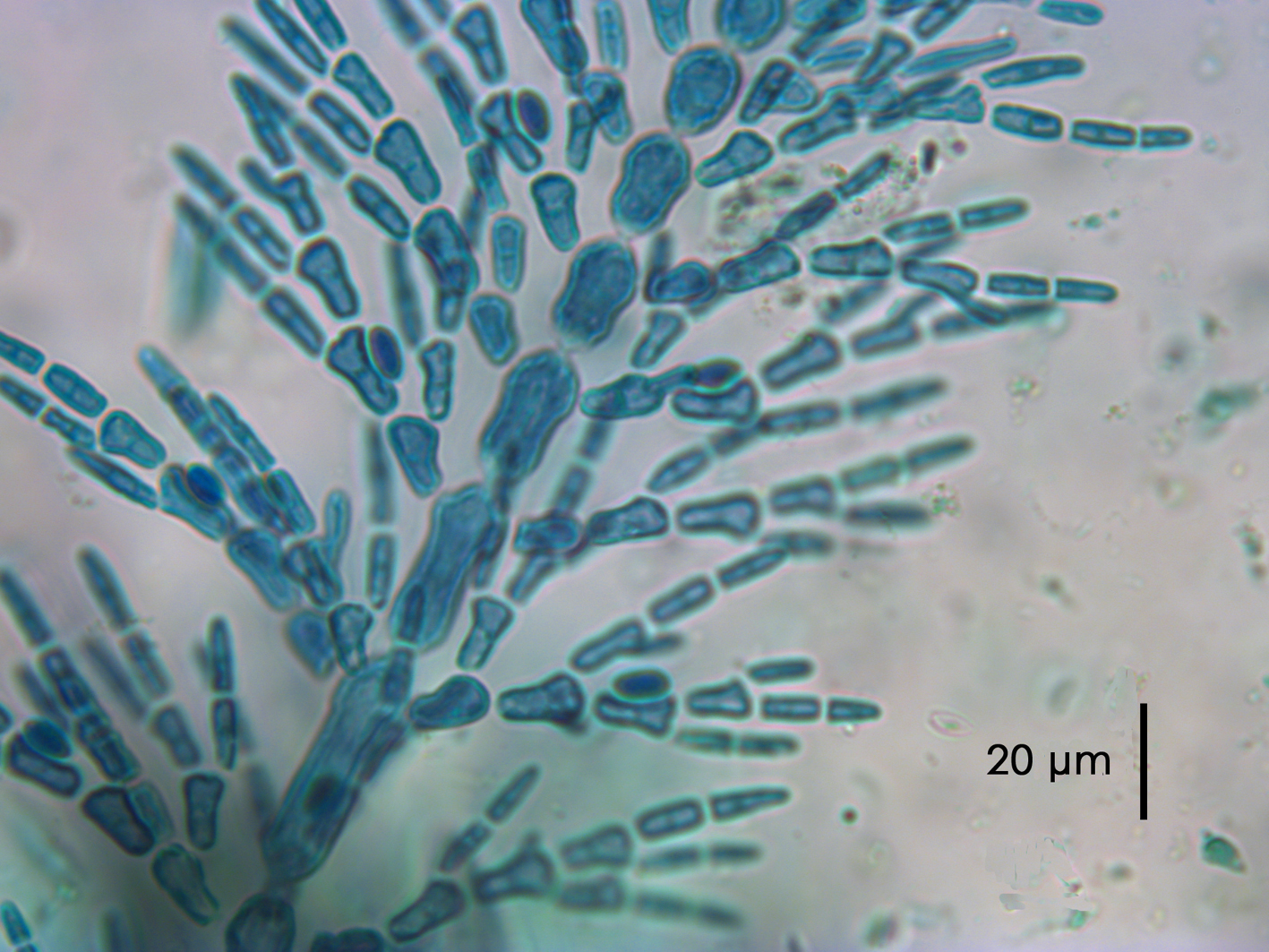 Scageliopsis tsitsikammae, vegetative thallus showing gland cells (dark blue). Stained slide.
References Scageliopsis tsitsikammae
Stegenga, H., R.J. Anderson & J.J. Bolton 2000. Notes on Ceramiaceae (Rhodophyta) from the Eastern Cape Province, South Africa III. New records from the Tsitsikamma coastal Park, with the description of Scageliopsis tsitsikammae. Blumea 45: 485-494.
Cite this record as:
Anderson RJ, Stegenga H, Bolton JJ. 2016. Seaweeds of the South African South Coast.
World Wide Web electronic publication, University of Cape Town, http://southafrseaweeds.uct.ac.za; Accessed on 01 October 2023.