Order Peyssonneliales
Family Peyssonneliaceae Denizot
Sonderopelta capensis (Montagne) D.M. Krayesky in D.M. Krayesky et al. 2009: 385
Plants bright to dark red, crustose, fan-shaped, up to 6 cm long and 3 cm long, with variously-incised lobes. Thalli with only small basal area attached, and loose, projecting lobes (resembling bracket fungus). Dorsal surface smooth with concentric rings; ventral surface pale to beige, felty. In radial vertical section, thallus 300-400 µm thick, margin rounded, cells of basal layer each bearing 1-2 multicellular rhizoids on ventral side and ascending filaments at acute angles on upper side; ascending filaments curving upwards and becoming erect or almost erect only at the surface of thallus; cystoliths (calcified cells) conspicuous in middle to upper regions of thallus, also sometimes in hypobasal layer. Tetrasporangia in raised nemathecia, cruciately divided, about 50 µm long x 15 µm wide, borne on elongated stalk cells; paraphyses very slender, up to 120 µm (6-8 cells) long. Sexual reproductive structures unknown.
Collections, ecology and regional distribution
Found from the Cape Peninsula eastward along the rest of the South African coast (16-58), and in Mozambique and Tanzania, also in Angola. Subtidal, epilithic, commonly in caves, under overhangs or at depth: found to at least 30m.
World distribution: widely distributed in warm temperate and tropical waters of the Indian and Pacific Oceans (Guiry & Guiry 2013).
Type Locality: Durban (Silva et al. 1996).
Note: this species was previously known as Peyssonnelia capensis Montagne.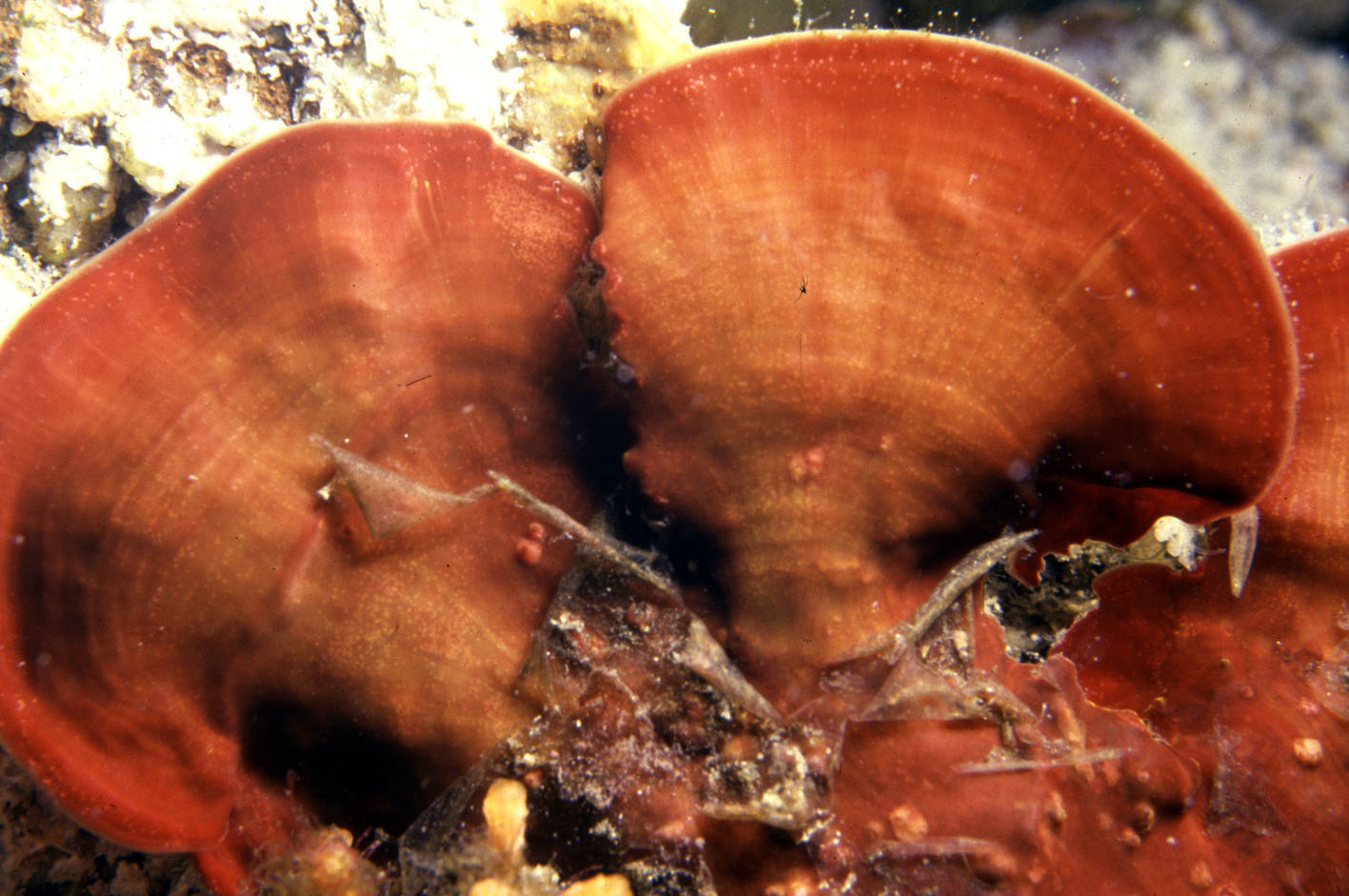 Sonderopelta capensis, showing concentric growth rings (Keurboomstrand).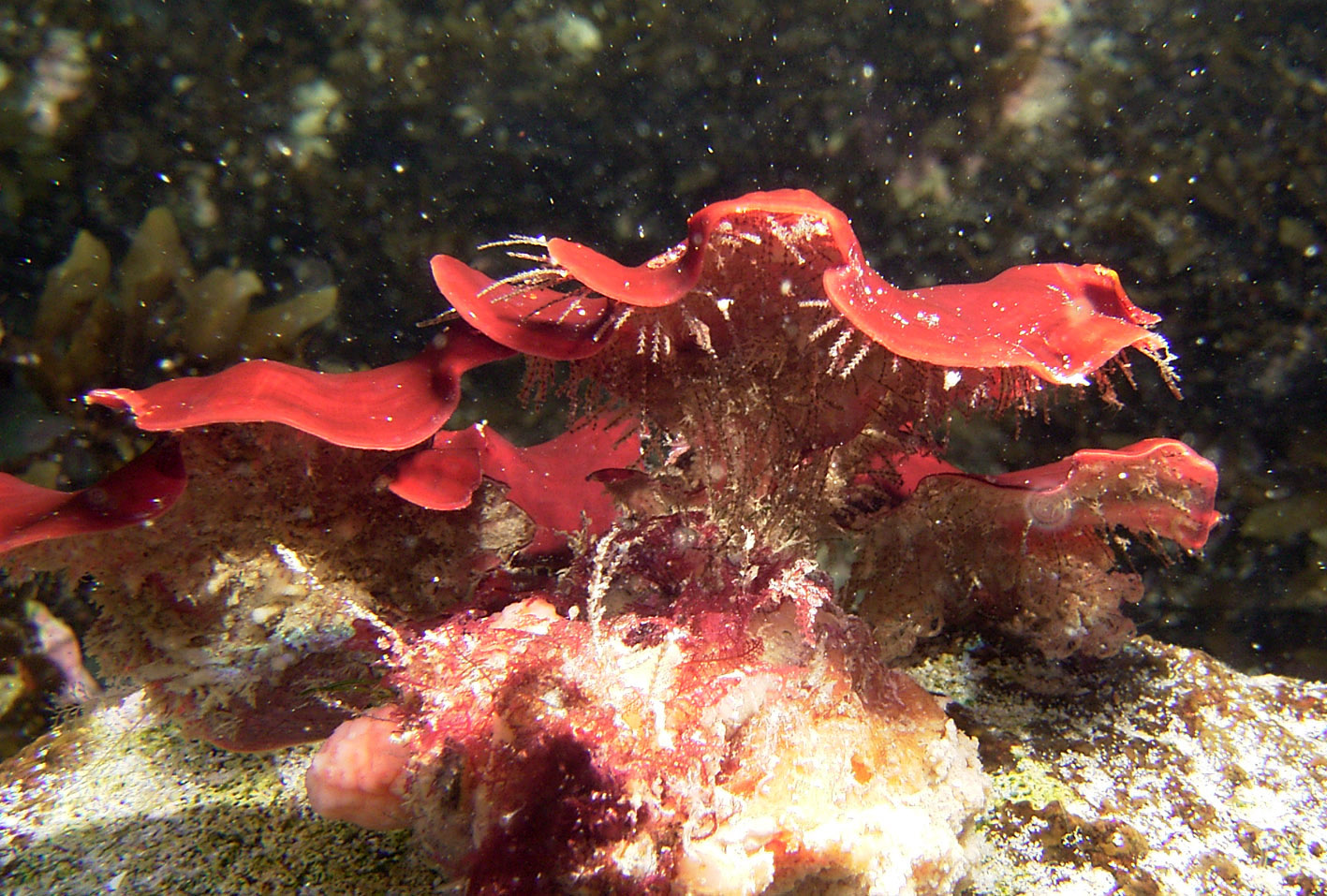 Sonderopelta capensis, side view showing typical bracket-fungus- like habit. Threadlike structures below thallus are hydroids.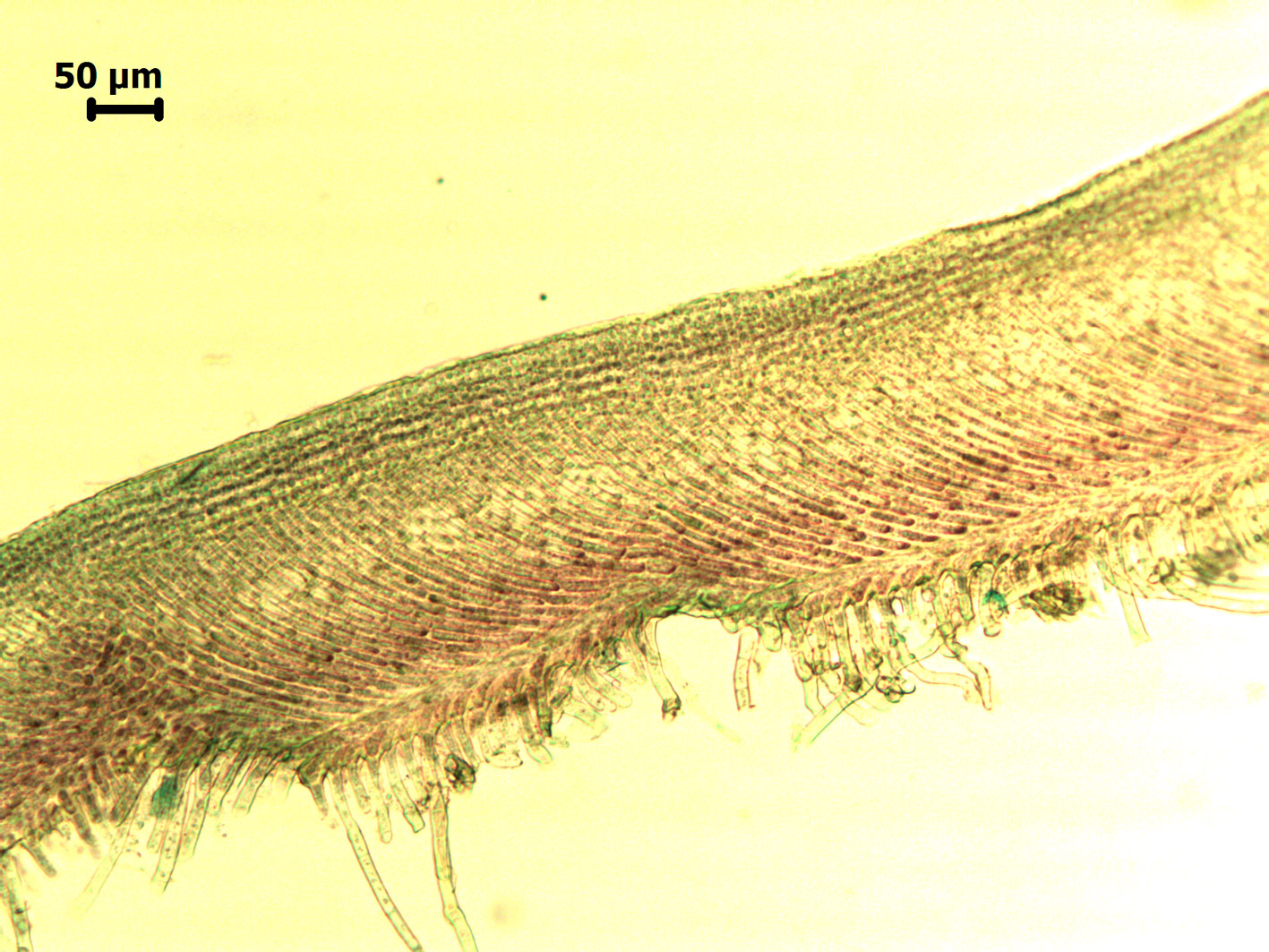 Sonderopelta capensis, radial section through vegetative thallus showing basal rhizoids and curved ascending filaments (stained microscope slide).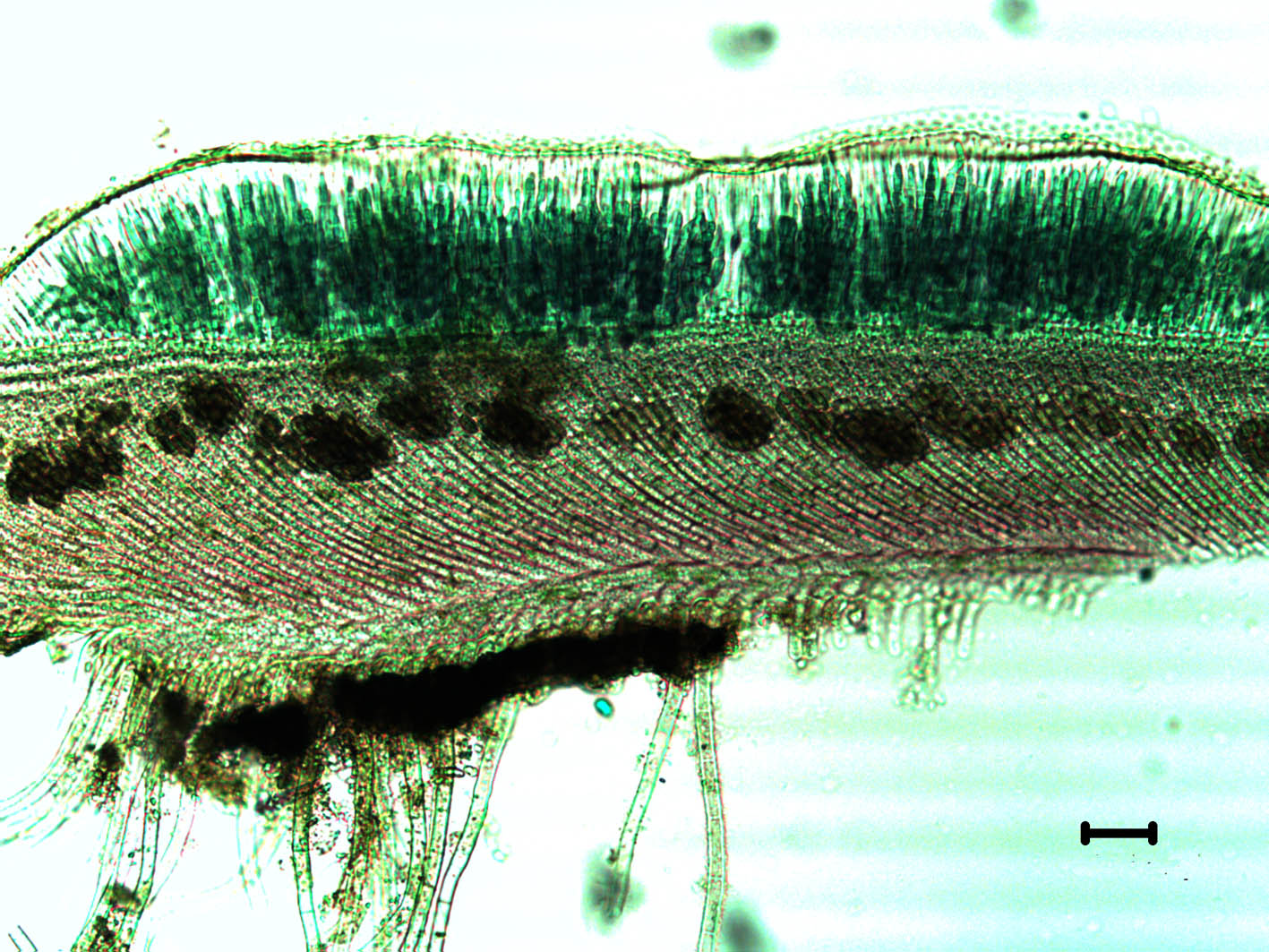 Sonderopelta capensis, radial section of tetrasporic thallus showing tbasal rhizoids, curved ascending filaments with dark cystoliths and tetrasporangia in surface nemathecium (stained microscope slide). Scale bar = 50 µm.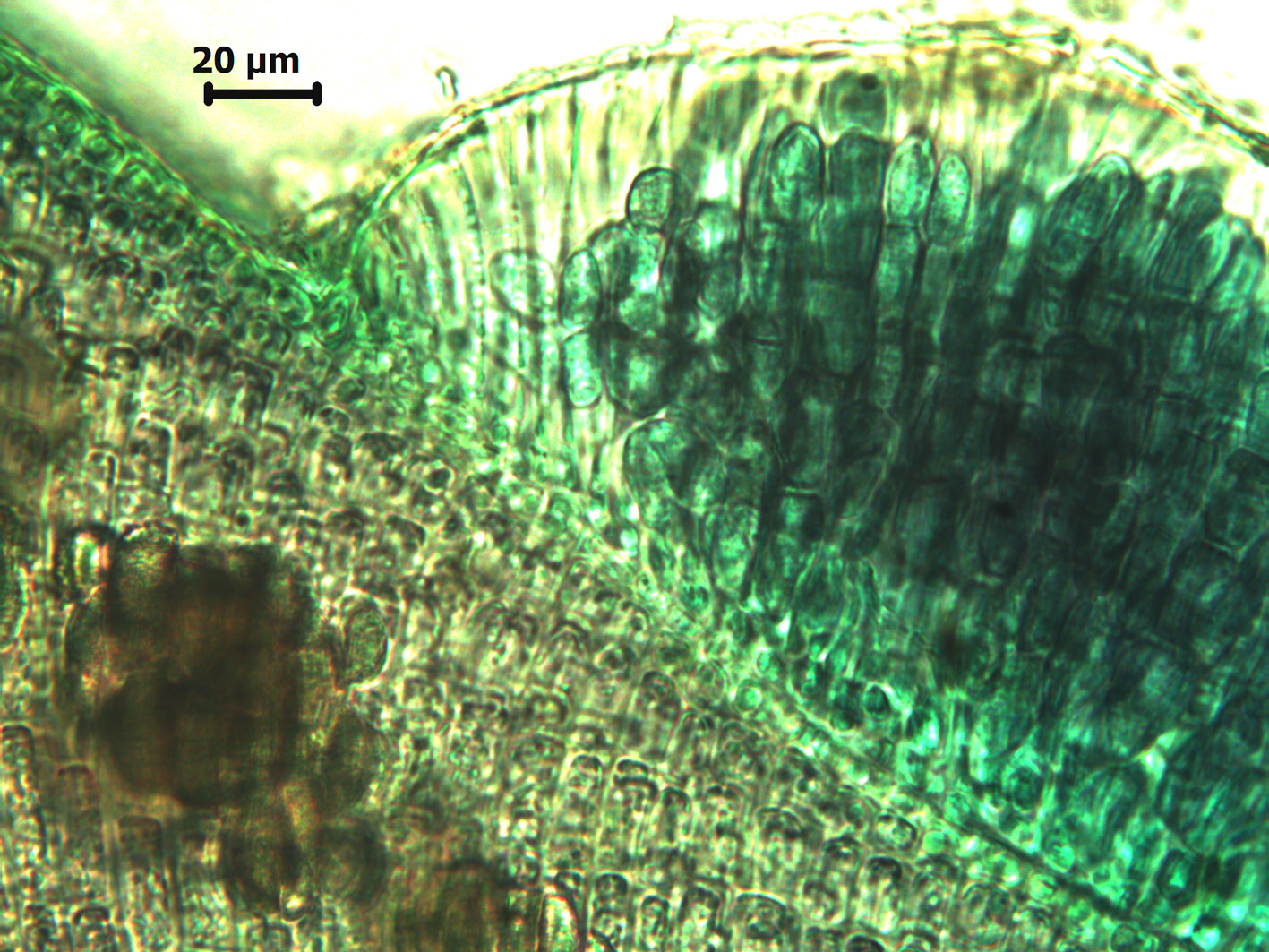 Sonderopelta capensis, section through edge of tetrasporangial nemathecium containing chains of tetrasporangia (stained microscope slide).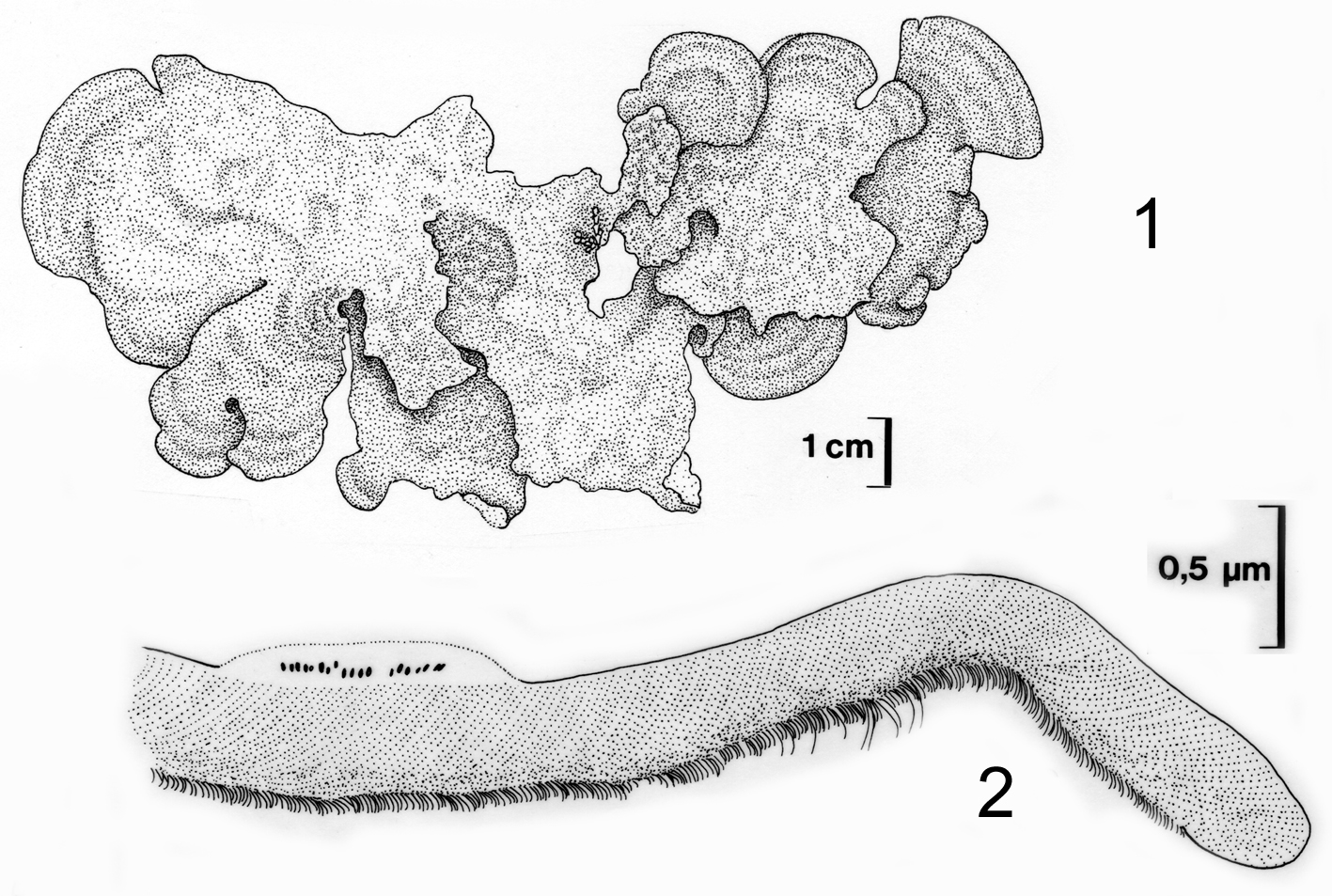 Sonderopelta capensis. 1. Habit. 2. Radial section. Reproduced from Stegenga et al. (1997)(as Peyssonnelia cpaensis).
References Sonderopelta capensis
Guiry, M.D. & Guiry, G.M. 2013. AlgaeBase. World-wide electronic publication, National University of Ireland, Galway. http://www.algaebase.org; searched on 27 September 2013
Krayesky, D.M., Norris, J.N., Gabrielson, P.W., Gabriela, D. & Fredericq, S. (2009). A new order of red algae based on the Peyssonneliaceae, with an evaluation of the ordinal classification of the Florideophyceae (Rhodophyta). Proceedings of the Biological Society of Washington 122: 364-391.
Silva, P.C., Basson, P.W. & Moe, R.L. 1996. Catalogue of the benthic marine algae of the Indian Ocean. University of California Publications in Botany 79: 1-1259.
Stegenga, H., Bolton, J.J. and R. J. Anderson. 1997. Seaweeds of the South African west coast. Contributions from the Bolus Herbarium 18: 655 pp.
Cite this record as:
Anderson RJ, Stegenga H, Bolton JJ. 2016. Seaweeds of the South African South Coast.
World Wide Web electronic publication, University of Cape Town, http://southafrseaweeds.uct.ac.za; Accessed on 01 October 2023.