Order Ceramiales
Family Ceramiaceae
Syringocolax macroblepharis Reinsch 1875: 66, Rhodophyceae pl. IV, pl. LVII: fig. 2
Plants parasitic, forming whitish pustules a few mm in diameter on the main axes of the host (Gelidium spp.). centre of the pustule pseudo-parenchymatous, a more or less compact "stalk" penetrating the host tissue; pustule on the periphery covered with unbranched filaments up to 1.5 mm long bearing the reproductive structures. Filaments slightly curved at the apex, uniaxial, each cell of the central filament with a ring of periaxial cells; number of periaxial cells varying from 3 in the proximal parts to 7 (-8) in the more distal and fertile parts; some secondary cortication usually developing, almost exclusively in acropetal direction ; downward-growing rhizoids formed in the proximal part of the axes, contributing to the formation of the pseudo-parenchymatous core of the plant.
Tetrasporangia formed in whorls of up to seven per segment, cut off from the periaxial cells, immersed in the cortex, but exposed in the periphery; sporangia measuring up to 30 x 25 µm, tetrahedrally divided. Sexual plants dioecious. Spermatangia formed on the surface of most of the male axes. Carpogonial filaments in a secund series on the convex side of apical sections of the axes, periaxial cells functioning as supporting cells; usually a row of sterile hairs running parallel to the row of carpogonial filaments. Only one carposporophyte maturing per erect axis, consisting of 2-4 globose stalked gonimolobes, surrounded by up to 8 involucral filaments originating from one or two segments below the fertile segment.
Collections, ecology and regional distribution
We have not found this species in the area, but Martin & Pocock (1953) record it between Cape Agulhas and Morgan Bay (22-43), as a parasite on Gelidium spp.
World distribution: South African endemic.
Type locality: Cape Agulhas, Cape Province, South Africa (Martin & Pocock 1953).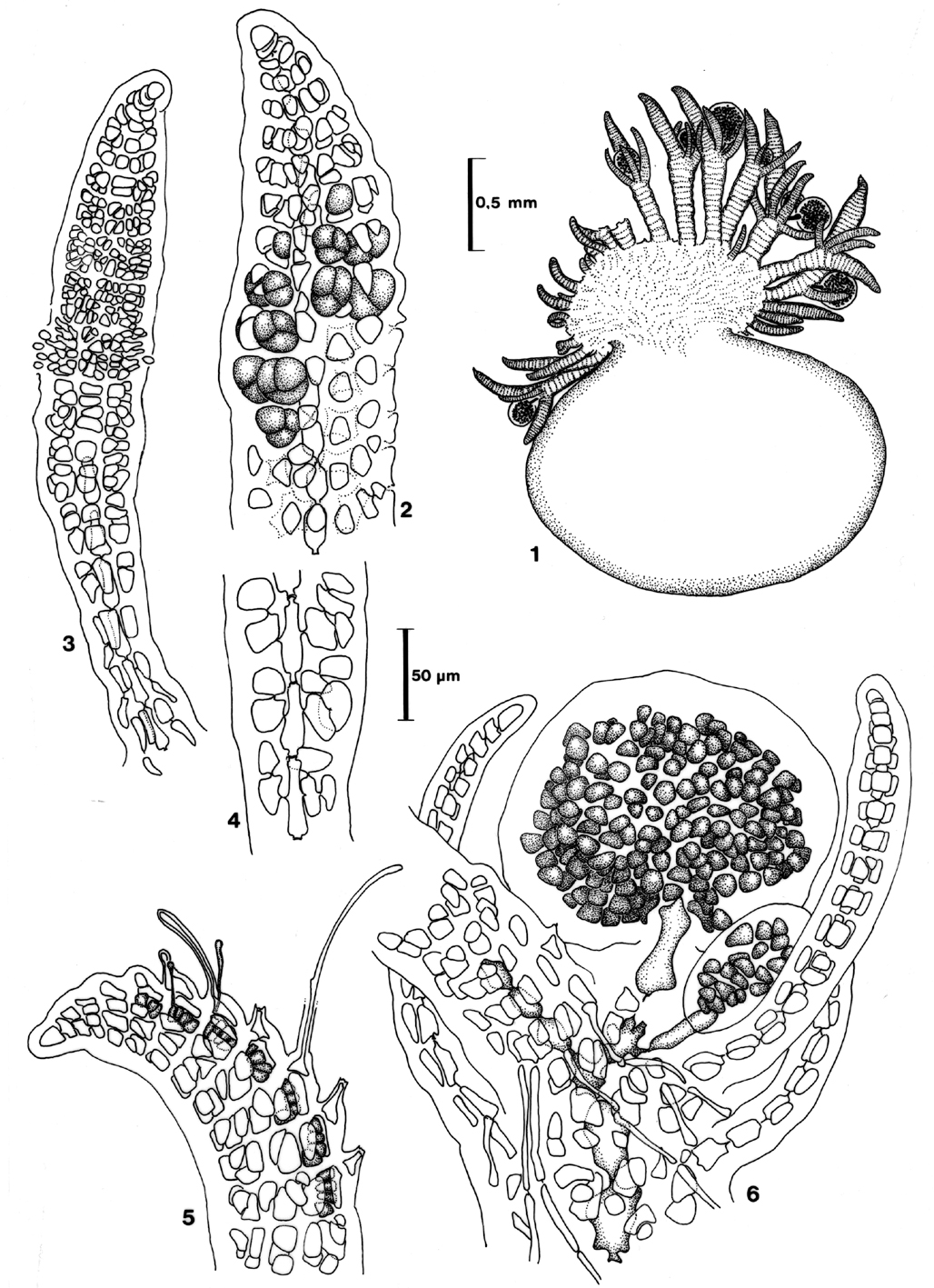 Syringocolax macroblepharis. 1 Habit of female plant (on Gelidium sp. sectioned). 2 Apex of tetrasporiferous axis. 3 Male axis with spermatangia, juvenile. 4 Cortication pattern: older axis, proximal part. 5 Top of female fertile axis. 6 Carposporophyte. Reproduced from Stegenga et al. (1997).
References Syringocolax macroblepharis
Martin, M.T. & Pocock, M.A. 1953. South African parasitic Florideae and their hosts. 2. Some South African parasitic Florideae. Journal of the Linnean Society of London, Botany 55: 48-64, 7 figs, pls 10-12.
Reinsch, P.F. 1875 '1874/75'. Contributiones ad algologiam et fungologiam. Vol. 1 pp. [i]-xii, [1]-103, [104, err.], 131 plates [I-III, IIIa, IV-VI, VIa, VII-XII, XIIa, XIII-XX, XXa, XXI-XXXV, XXXVa, XXXVI (Melanophyceae); I-XLII, XLIIa, XLIII-XLVII, XLVIIa, XLVIII-LXI (Rhodophyceae); I-XVIII (Chlorophyllophyceae); I-IX (Fungi)]. Norimbergae [Nürnberg]: Typis Theodor Haesslein.
Stegenga, H., Bolton, J.J. & R. J. Anderson. 1997. Seaweeds of the South African west coast. Contributions from the Bolus Herbarium 18: 655 pp.
Cite this record as:
Anderson RJ, Stegenga H, Bolton JJ. 2016. Seaweeds of the South African South Coast.
World Wide Web electronic publication, University of Cape Town, http://southafrseaweeds.uct.ac.za; Accessed on 25 September 2023.