Order Ceramiales
Family Delesseriaceae
Valeriemaya seagriefii De Clerck, Wynne and Stegenga 2002: 199-204
Plants bright red, to 16 (-35) mm tall, with well-developed rhizomatous basal system and stipitate upright blades. Rhizomatous stolons branched, 500-700 µm diameter; blades ovate to oblong, simple or sometimes bifurcate, 2-4 (-6) mm wide, 8-20 (-30) mm long; blades arising from basal system or stipes or from blade margins, monostromatic and 70-85 µm thick except for indistinct midrib region which is up to 300 µm thick, blade apices broadly rounded, margins entire. Tetrasporangial sori paired on each side of midrib, or single large ovate sorus varying in position on blade; tetrasporangia tetrahedrally divided; cystocarps scattered over surface of blade.
Collections, ecology and regional distribution
Recorded from Glencairn in False Bay to Hluleka, Transkei (17-45). Found from intertidal pools to the shallow sublittoral, but most common as a turf component on vertical surfaces in the lower eulittoral (De Clerck et al. 2002).
World distribution: South African endemic (De Clerck et al. 2002).
Notes: 1. This species is named after the late Professor S. C. Seagrief, who made important contributions to our knowledge of South African seaweeds.
2. V. seagriefii was previously recorded from Hluleka, Transkei as "Delesseriaceae indet. (Bolton & Stegenga 1987), as Erythroglossum sp. from the Eastern Cape (Seagrief 1988) and as Erythroglossum sp. indet. from the Western Cape (Stegenga et al. 1997).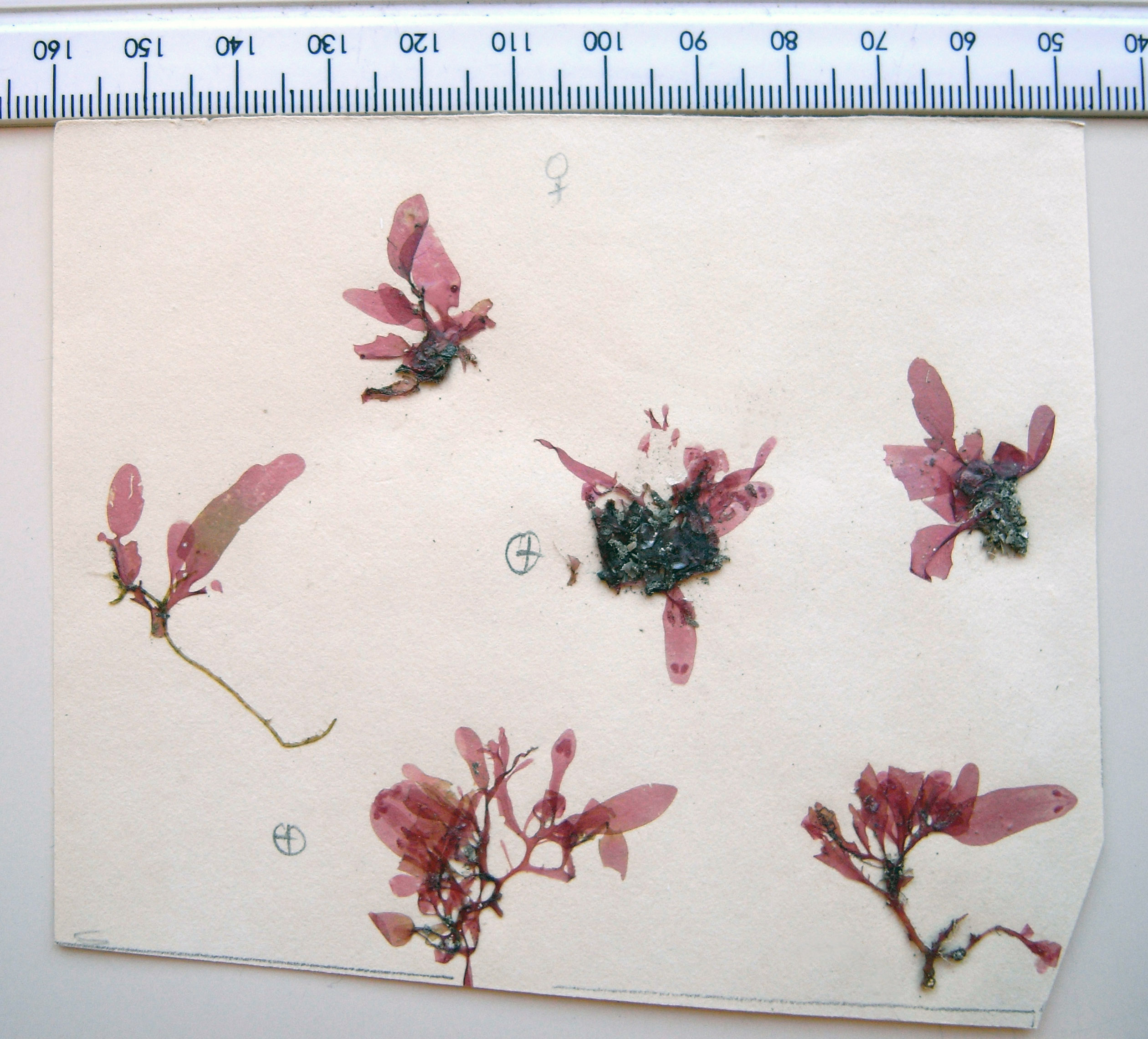 Valeriemaya seagreafii, isotype specimens (BOL), from Bat's Cave, East London.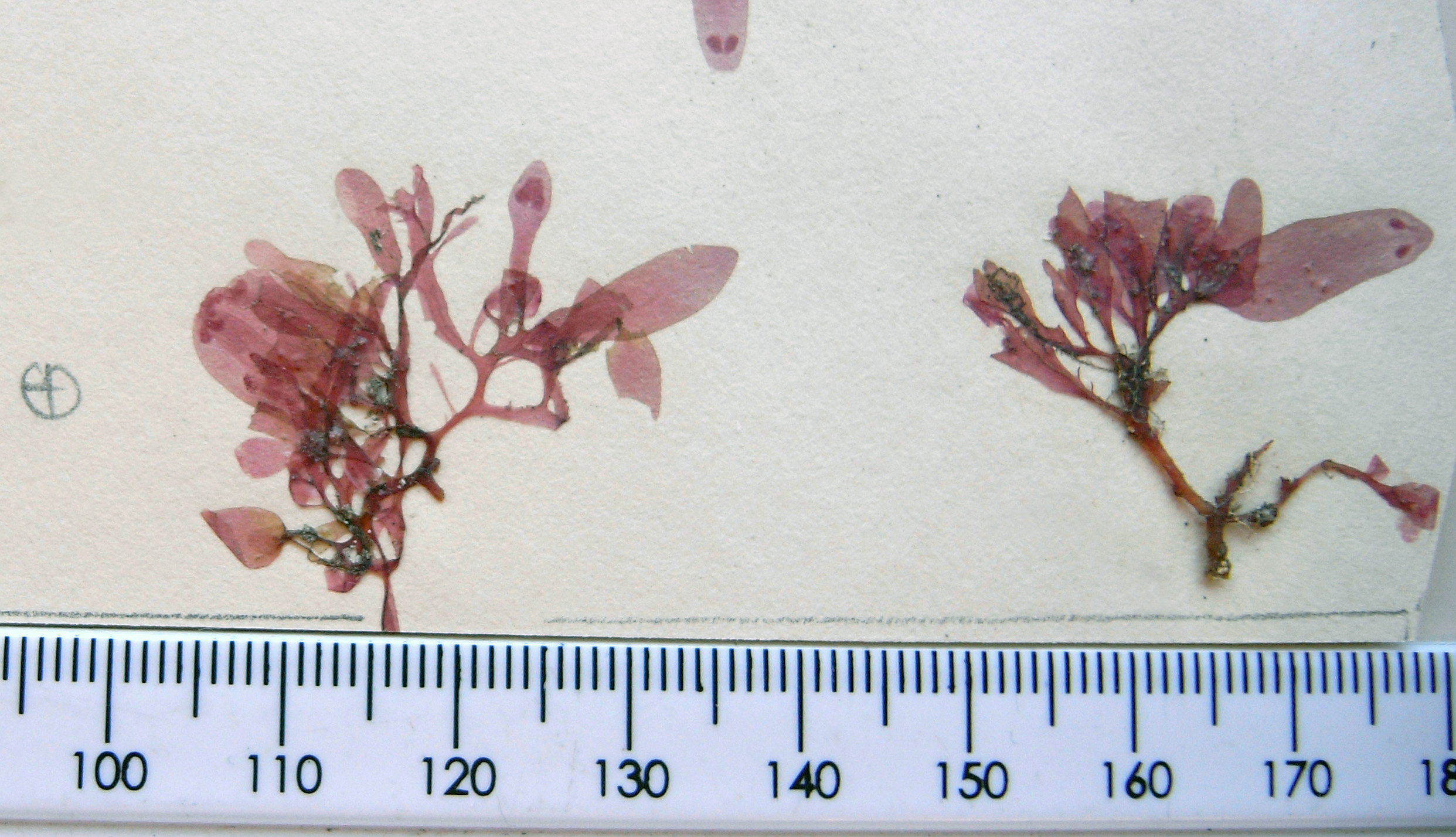 Valeriemaya seagreafii, isotype specimens (BOL), Bat's Cave, East London.
Valeriemaya seagriefii. 1. Habit. 2. Detail of thallus margin. 3. Cross section. 4 Thallus apex. Reproduced from Stegenga et al. (1997) (as Erythroglossum sp. indet.).
References Valeriemaya
Bolton JJ and H Stegenga 1987. The marine algae of Hluleka (Transkei) and the warm temperate / sub-tropical transition on the east coast of southern Africa. Helgolander Meeresuntersuchungen 41: 165-183.
De Clerck, O, MJ Wynne and H Stegenga 2002. Valeriemaya seagriefii sp. nov. (Delesseriaceae, Rhodophyta) from South Africa. South African Journal of Botany 68: 199-204.
Seagrief SC 1988. Marine algae: In: Lubke RA, Gess FW and Bruton MNA (eds) Field Guide to the Eastern Cape Coast. Wildlife Society of Southern Africa, Grahamstown, South Africa, pp 35-72.
Guiry, M.D. & Guiry, G.M. 2013. AlgaeBase. World-wide electronic publication, National University of Ireland, Galway. http://www.algaebase.org; searched on 20 May 2013.
Stegenga, H., Bolton, J.J. & R. J. Anderson. 1997. Seaweeds of the South African west coast. Contributions from the Bolus Herbarium 18: 655 pp.
Cite this record as:
Anderson RJ, Stegenga H, Bolton JJ. 2016. Seaweeds of the South African South Coast.
World Wide Web electronic publication, University of Cape Town, http://southafrseaweeds.uct.ac.za; Accessed on 25 September 2023.